Want to know how to remove photos from your iPhone? Here's how to select, delete and otherwise remove photos from your iPhone – and how to get them back if you change your mind.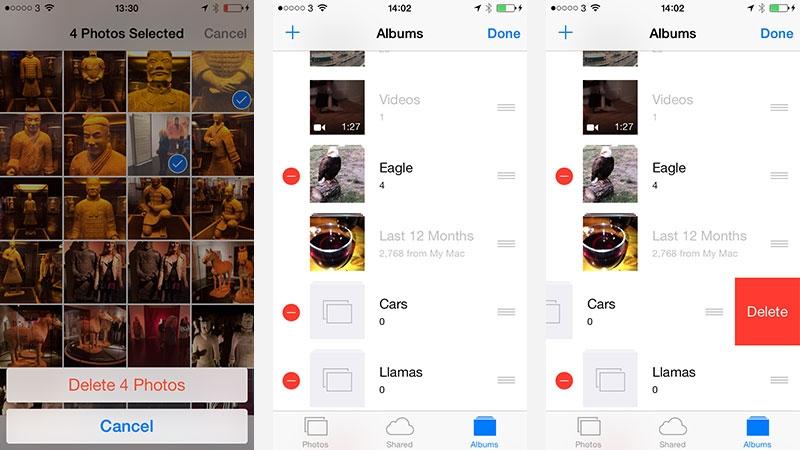 It's easy to delete iPhone photos. Photos captured with the iPhone's camera are saved to Camera Roll, and a few taps removes photos from your iPhone. In this tutorial, we'll show all the different ways to delete or remote iPhone photos, and how to recover them afterwards if you change your mind.
How to delete photos from your iPhone: Why it's important to remove unwanted iPhone photos
Why would you want to delete photos from your iPhone? Removing unwanted photos cleans up your Photo Collection, making it easier to show off the images you want. Deleting unwanted photos also frees up space on your iPhone, allowing you space to store more photos.
How to delete photos/albums from your iPhone easily with Syncios Manager.
Now and then, you may need to delete a number of photos on your iPhone. If you would like to turn your iPhone to someone else, you may need to delete all data including photos at once.
Syncios Manager is designed to delete photos on iPad, it enables iPad users to delete photos in a few clicks. You can get through the detailed steps to know about it. With Syncios iPad Photo Manager, you can simply delete selected iPad photos within 4 steps.
Step 1: Download and install Syncios Manager on your computer. Please note that iTunes must already be installed on your computer for running Syncios correctly. But you do not have to run iTunes when deleting photos from iPad with Syncios.
Step 2: Connect your iPhone to computer with USB and launch Syncios.
Step 3: Go to the left panel of Syncios, Click Photo tab on the left panel.
Step 4: Select photos/albums you would like to delete and click Remove button to remove all selected iPad photos.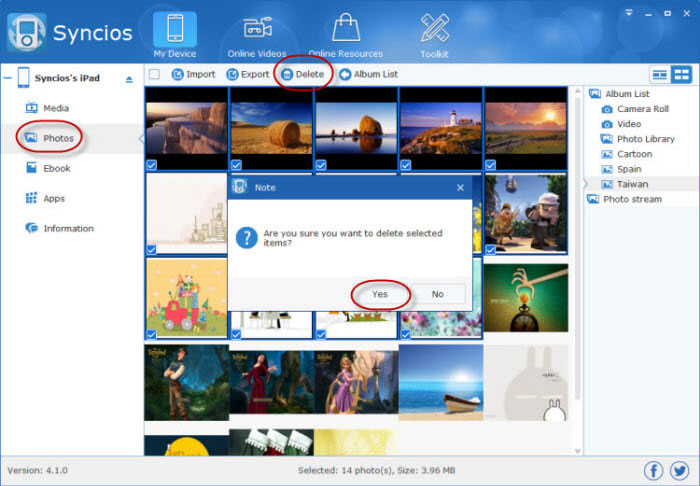 How to delete photos from your iPhone: Deleting photos individually
Follow these steps to delete a photo from your iPhone:
Tap to open the Photos app.

If it's not highlighted already, tap the Photos icon on the left of the bottom bar.

Tap Select (top right).

Tap on the images you want to remove. Each one selected will have a small blue tick on the bottom-right of the thumbnail image.

Tap the Trash icon in the bottom right and then hit 'Delete [x] Photos' to confirm.
Note that the images are permanently deleted from your iPhone at this point. Despite the icon, there is no Trash folder on the iPhone like there is in Mac OS X – there isn't an additional step where you empty the trash.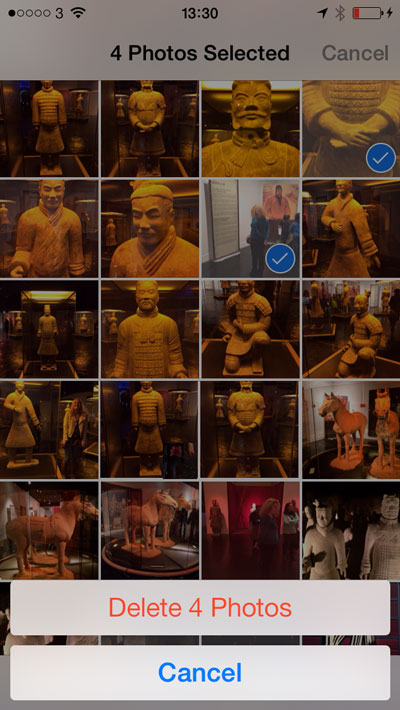 How to delete whole photo albums from your iPhone
Sometimes you send whole albums to the iPhone; these can include pictures snapped on the iPhone, or synced with iPhoto on a Mac. You can remove whole albums from the iPhone. Follow these steps to delete an album:
Tap on Photos
Tap on Albums
Tap on Edit
Tap on the red Remove icon to the left of the album you want to remove
Tap on Delete and choose Delete Album
Note that deleting albums does not delete the photos from Camera Roll or Photo Stream. It simply removes the copies of the photos that are stored inside the album.