Syncios Free iPod Transfer Software Reviews
Pretty easy to use. All the items are well categorized like iTunes, but offering choice to transfer all my files to my own PC. It can manage different files in iPad like my movie, TV shows, music videos, photos, songs, ebooks, etc. I can select the wanted items for backup with few clicks. Or add movie and songs from my PC. Very convenient!
-- Louis White, Canada
I have been using Syncios iPod Transfer for a few weeks now and just wanted to thank you for such an excellent free program, It is much simpler and easier than iTunes. iTunes has so many limitations. I will recommend this to anybody when the subject arises.
-- Ross, California
Hello! I absolutely love your product! After trying a handful of ipod transfers, I've found yours to not only do the best job, but is also incredibly user-friendly and very versatile as to the transferring files between iPod and PC. I strongly recommend it for every iPod owner.
-- Gina Trapani, Utah
After searching, comparing, using others for a few months I finally ran into your freeware. It is the easiest and best freeware out there for your iPod transfer needs. No bugs, No hassles, No BS. Just good freeware. It has made my life much easier for me and my tasks at hands. I would just like to show my appreciation with this little note to you.
-- Frank, San Francisco
Seems that it only adds common file types(MOV, M4V, MP4) supported by iPad(I didn't test other device). Of course, but I mean could it also include some converting functions? There are lots of self-made videos in my PC(taken by my own camera) I really hope this tool can also get them into something that can play on iPad.
-- David, Australia
Can do some iTunes can't. Like access to other file in iPad. Backup music/videos/photos to my PC. Great piece of freeware.
-- Marcin Langer, New Mexico
Syncios iPod Transfer -- The Best Software to Manage Your iPod, iPad, iPhone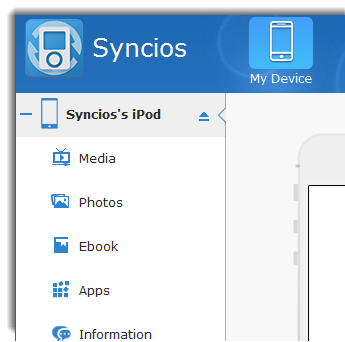 Copy everything without limitations
With Syncios iPod Transfer, there will not be any limitations in copying and transferring iPod files to PC any more. Syncios iPod Transfer allows you easily copy everything in your device to PC. Including music, photos, iBooks, Apps, podcasts, videos, itunes U and more. For playlists in your device, you can also manage or transfer between your device and PC freely! Besides, Syncios iPod Transfer also features the functions as accessing iOS file system which enables you to use your iOS device as an external USB Key for extra convenient storage.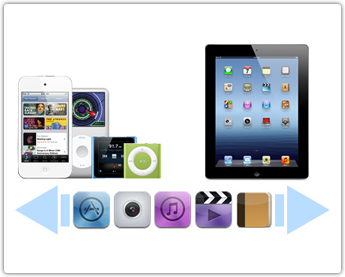 More functions
No matter what device you use, iPod classic, ipod touch, iphone or iPad, our application always work for you. For ios devices, Syncios iPod Transfer support all version, including the latest one. It also allows you to connect and manage multiple devices simultaneously which make it easy to share and transfer files between the devices & PC. You can also use your iPod as a flash drive.
All you need is to connect your device to your computer and then run our application. Get anything you want to copy in few steps. It's fast and reliable.
Syncios iPod Transfer Related Resources
Supported iOS: iOS 5, iOS 6, iOS 7, iOS 8

Supported device:
iPad:iPad Air, iPad mini with Retina display, iPad mini, iPad with Retina display, The New iPad, iPad 2, iPad
iPhone: iPhone 6, iPhone 6 Plus, iPhone 5S, iPhone 5C, iPhone 5, iPhone 4S, iPhone 4, iPhone 3GS;
iPod: iPod touch 5, iPod touch 4, iPod touch 3, iPod classic 3, iPod classic 2, iPod classic, iPod shuffle 4 , iPod shuffle 3, iPod shuffle 2, iPod shuffle 1, iPod Nano 7, iPod nano 6, iPod nano 5, iPod nano 4, iPod nano 3, iPod nano 2, iPod nano
Supported file types:
Media File: Music, ringtone, Movie, TV Shows, Podcast, iTunes U, eBooks, audiobook, Pictures(Photos), Contacts;
File format: Image(JPG, JPEG, PNG, BMP, TIF, TIFF), Video(MOV, M4V, MP4), app(IPA), Audio(MP3, M4A, WAV, AIFF, M4R, M4B).
Required iTunes version:

iTunes: iTunes 9.0 or later is needed
iTunes: iTunes 9.1 or later is needed to support iPad OS 3.2.2
iTunes: iTunes 9.2 or later is needed to support iOS 4.0.2
iTunes: iTunes 10 or later is needed to support iOS 4.1
iTunes: iTunes 10.1 or later is needed to support iOS 4.2
iTunes: iTunes 10.2 or later is needed to support iOS 4.3
iTunes: iTunes 10.5 or later is needed to support iOS 5
iTunes: iTunes 10.6 or later is needed to support iOS 6
iTunes: iTunes 11 or later is needed to support iOS 7, iOS 8