Mobiledit may appeal to anyone who's looking to manage their mobile phone. Mobiledit is a comprehensive set of tools for managing your phone from your computer. It works with a variety of handsets and is easy to use. To transfer and manage files in iOS device freely, you can use Syncios.
MOBILedit - Control your phone from your PC
MOBILedit is a handy utility that allows you to easily manage the data stored on your phone (from basic handsets to iOS and Android smartphones) directly from your computer. The communication between the PC and phone can be accomplished using Bluetooth, infrared or cable.
Once the phone is connected, Mobiledit allows you to browse its contents using a Windows Explorer-like folder structure. The first screen after you connect shows your phone's manufacturer, model, IMEI number, hardware version is available, software version, battery meter and signal strength meter. The interface is simple that you can operate it with ease.
In addition to viewing the contents of your phone, Mobiledit lets you transfer photos, videos, phonebook content to and from your phone, send text messages from your keyboard, and install applications to your phone.
Mobiledit frees you from the restrictions of iTunes, allowing you to view your iPhone's contents on a more granular level. The $25 fee includes a license for two phones and one PC. A $35 Family Edition ups that to 5 phones, while a $59 Professional Edition covers 10 phones. A free version, called Mobiledit Lite, allows you to view your phone's contents, but not write to it.
Features:
Exchange files between phone and PC
Copy photos, videos, ringtons, notes to iPhone
Support multiple device system: Android, iPhone, Blackberry, Windows Phone, Bada, Symbian and Meego
Remove duplicate contacts with contacts optimizer
Send messages by using computer keyboard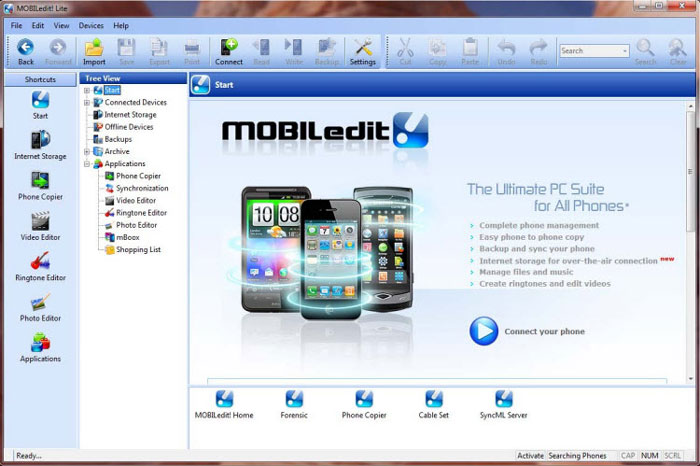 Pros:
Easy to use
Attractive interface
Works with lots of phones
Pros:
Syncios iOS Manager
Syncios is a free application that gives you much more control over your iOS device than iTunes does. With Syncios, you can play music directly from your iPod, iPhone, iPad without iTunes. Even create and edit playlists for your iPod/iPhone/iPad, transfer or delete files between your devices and PC. Syncios is also a perfect assistant for you to add, delete or backup your local eBooks (Epub/PDF) seamlessly between your computer and iPod/iPhone/iPad. If you are still looking for a perfect iOS manager, Syncios will be the best choice. >> Reviews of Syncios