SnapPea Review: Easily Manage Android from Your PC
SnapPea is a free utility that lets you manage the apps, music, photos, and SMS messages on your Android phone from your desktop. Think of the app as something of an "iTunes for Android," without the terrible performance.
Android phone management software is nothing new. But with a more colorful, easy-to-use interface, you will love SnapPea in no time. Let's have a look at the review of this wonderful software.
1. What You Can Do with SnapPea
Send, receive, and delete text messages over your computer
Add and remove contacts, or edit existing ones
Download or transfer apps, pictures, music, and videos
Access the Google Play Store and download apps to your device
Access other app stores, like 1Mobile Apps, iTunes Movie, and TED talks
Download books
View battery life, signal strength, and network connections
Control your phone over a USB connection or over a wireless network
Backup and restore your Android
2. How to use SnapPea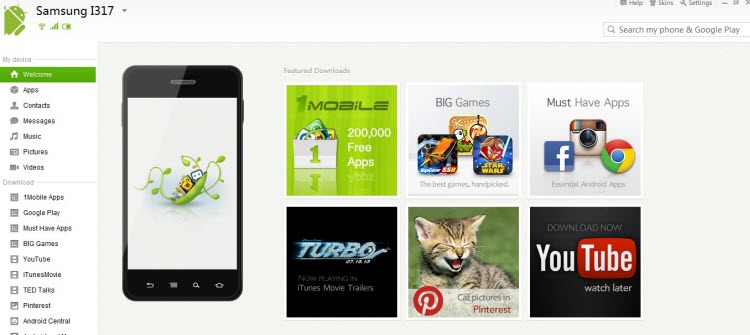 To get started, download and install the SnapPea manager on your Windows. Once that's done, launch the app and connect your phone. There are two ways – USB and Wi-Fi – via which the phone can be connected to SnapPea. The Wi-Fi method is easy and simple, and it needs an additional SnapPea app to be installed on the phone. The app provides a passcode once it's initialized that's used to set up the connection. The USB method is plug and play, and allows the user to take screenshot of the device in real-time.
Once the device is connected, it will ask you whether you would like the device to be connected by default and perform occasional auto backups. Make your decision and open the app's home screen.
Here's our step-by-step guide:
Step 1: Download SnapPea from here on your PC
Step 2: Download the SnapPea app from the Google Play Store on your Android
Step 3: Turn on your phone's debugging mode by going to Settings > Developer options and then ticking the checkbox beside USB Debugging
Step 4: Install SnapPea on your PC and run the program
Step 5: Connect your Android to your computer via USB
Step 6: Let the program install all the necessary permissions and drivers
Step 7: That's it! You'll now be able to access your Android from your computer using the SnapPea interface.
3. Pros & Cons
Pros:
Easy Android management
Enables desktop texting
Imports iTunes songs and playlists
Pros:
Doesn't display images saved from emails.
Only imports iTunes songs and playlists when Android device is connected to PC via USB
Texts takes a long time to send
Syncios: Easily Manage iDevice from Your PC for Free
SnapPea is an excellent Android manager, and we must recommend an amazing iOS manager to you at the same time.
Syncios is a free yet powerful iPod/iPhone/iPad Transfer that can fast detect and sync all iOS devices connected with your PC. It is also compatible with Apple devices in iOS 8 system. Once connected, all file contents will be shown in well-sorted manner in the program in just a few seconds.
Features
Convert audio & video to iPhone/iPod/iPad
Backup & Manage Music, Ringtone, Audiobook, Voice Memos, Playlist
Transfer videos between iOS devices and PC
Transfer photos between iOS devices and PC
Transfer & manage eBooks on iOS devices
Manage iPad/iPhone/iPod Apps, backup apps and data/documents to computer
Use your iOS device as an external USB Key for extra convenient storage.
Screenshot: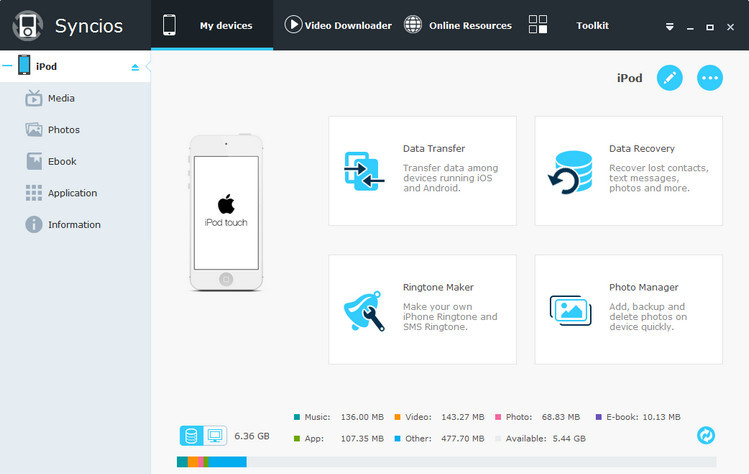 As an easy-to-use iOS manager, Syncios supports accessing any iPod touch, iPhone or iPad to export apps, photos, music, ringtone, videos, and eBooks to your PC for backup. Transfer files from your PC to iOS devices will be also available.
Syncios enables you to synchronize your iPod, iPhone or iPad with the local Windows pc. You can see the content of your iOS device and pick the products that you need to copy to your pc or import to your device, when you link your begin Syncios and device. Along with the sync features, Syncios also comprises a movie and audio converter you could use to change your files to iOS compatible formats (MP4, M4V and MOV) as well as a Ringtone Maker to produce you have ringtones from most audio formats.
Learn More:
If you also want to find a free and easy-to-use Android manager, SyncDroid Free Android Manager will be your best choice.
Free SyncDroid is an Android sync manager works on Windows PC desktop. Keeping SMS, Contacts, Call Logs, Bookmarks, Audio, Videos, Camera Photos and SD Card Photos in sync between your android phone and your computer, through USB connection directly. Supports almost any Android devices, like Samsung Galaxy S4, Galaxy S3, Galaxy S2, Galaxy Note / Note2 / Note3, HTC One, Moto X, Motorola Droid, RAZR, Sony Ericsson Xperia, LG Optimus and many other devices. More >