Switch from HTC Droid to iPhone 6
Ready to make the switch to iPhone but worried losing data on HTC Droid DNA /Droid Incredible /Droid Eris (Android phone)? Although besides Email, iTunes, iCloud transfer solution, Apple do recommend some third-party data transferring apps to get the job done in the tutorial, such as Copy My Data, PhotoSync, and AT&T Mobile Transfer. However the process can be a bit trickier and inconvenient. Are you still looking for the easiest and safest way to transfer data from HTC Droid to iPhone?
I would like to recommend a fastest and safest solution to transfer all data from HTC Droid DNA /Droid Incredible /Droid Eris to iPhone 6 /iPhone 6 plus. Here are some tips for moving or transferring your photos, music, documents, contacts, ebooks, videos and more from your Huawei phone to iPhone.
Firstly, you should download and install the Phone to Phone Data Transfer tool on your Windows PC. Once it is installed, simply follow the steps below.
The Best Way to Transfer HTC Droid to iPhone 6
Step 1: Download and Install Syncios Transfer Tool
Download and install the Syncios Transfer Tool on your PC. Make sure iTunes has been installed on your PC. Please note that you do not have to run iTunes when using this iOS transfer tool.
Step 2: Run the HTC to iPhone Data Transfer Tool on your PC
Run the HTC Droid to iPhone 6 data transfer tool on the computer. There is three models: Phone to Phone Transfer; Backup to Computer; Restore to Cell Phone. Select Phone to Phone Transfer and simply click Start button to move content from Android to iPhone. You will see the main screen shows connecting devices is required.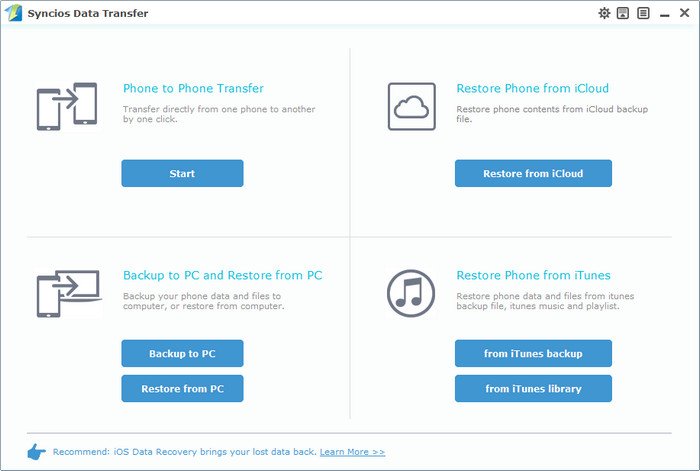 Step 3: Connect both your HTC Droid phone and iPhone6
Connect both your HTC device and iPhone to the computer with USB Cables. Please wait for a while for the devices to be detected. Android device may need to install drivers. Once detected, the devices will be displayed in the window.
If the phone is not detect, please try the following tips.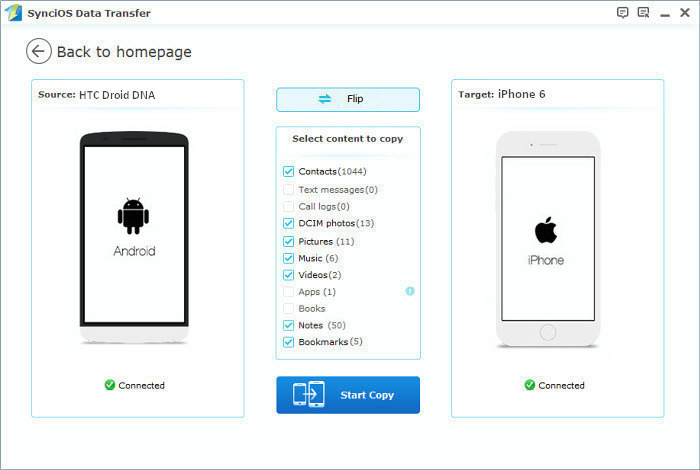 Step 4: Transfer SMS, Contacts, Calendar, Photos, Video, Ebooks and Music from HTC to iPhone 6
Please make sure iPhone 6 is in the Target Device pane. (Note: You can switch the device positions by clicking Flip button). The program will load the files on your source HTC Droid DNA /Droid Incredible /Droid Eris. Then tick the data you want to transfer and click on "Start Copy". A message is going to be presented to you saying Copying Data. After a while, the data you chose will be transferred to your new iPhone6.
Important: During the process, never disconnect either phone.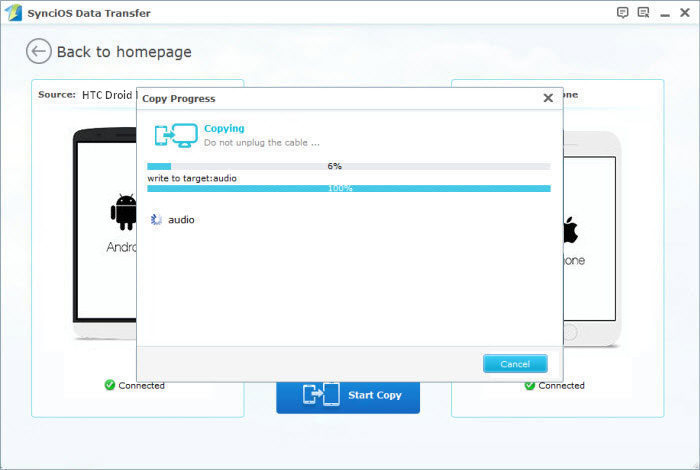 Now, we have finished the transferring process.It is extremly easy, isn't it? However, many users are likely to use iCloud, Google, or another cloud service to store personal information such as contacts and calendars. But what about those who don't use a cloud service, or those who want to easily transfer photos, videos, and even wallpaper from an HTC Droid DNA /Droid Incredible /Droid Eris to iPhone6/6plus even the up coming iPhone 6c/iphone 7. Syncios Data Transfer must always be your first choice
Tags
HTC Droid to iPhone Transfer | HTC Droid to iPhone Transfer | Sync HTC Droid to iPhone | Transfer data between HTC Droid and iPhone 6 | copy HTC Droid to iPhone 6 | Android to iOS transfer
Supported HTC to iPhone Transfer
HTC

HTC One M9/ M9 +/ M8/ M7; HTC One E9/ E9+; HTC Desire 626d; HTC Desire 826w; HTC G23/G22/G12 ;HTC S710e;HTC Droid

Apple

iPhone 6/6 Plus, iPhone 5S/5C/5/4S/4/3GS, iPad, iPad Mini, iPad Air, iPod Touch etc.
Support iOS 8.