Switch from Lenovo K900 to iPhone 6
The Lenovo K900 is a large phone, boasting at 5.5-inch screen that matches the Samsung Galaxy Note 2. This will automatically put it out of the running for some people, but for its size it feels distinctly light. And it's seriously slim too, just a shade under 7mm. The k900's severe, sharp-edges and boxy design don't make too much of the phone's lithe dimensions, though.
It uses what Lenovo calls its unibody design. The Lenovo K900's rear is brushed aluminium, with the top and bottom segments using an anodised finish for a bit of differentiation.
Unibody designs generally give phones a sense of design cohesion, but the deliberate exposed screws on the rear make it look a bit like a Frankenstein phone. The Lenovo K900 isn't shy about showing its speaker grille either, which sits at the bottom of the phone's rear.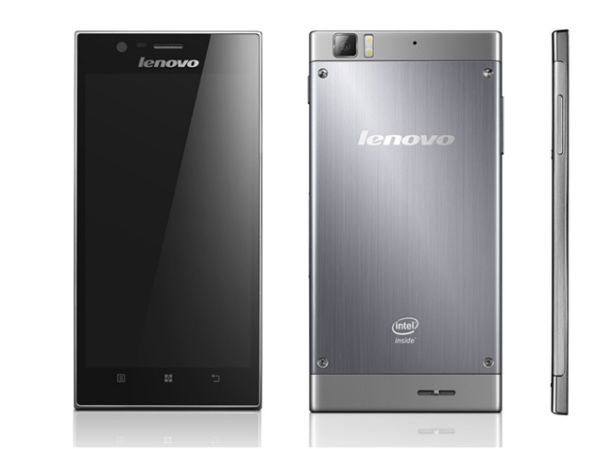 KEY SPECS:
Display

5.50-inch

Processor

2GHz

Front Camera

 2-megapixel

Resolution

1080x1920 pixels

RAM

2GB

OS

 Android 4.1.2

Storage

16GB

Rear Camera

13-megapixel

Battery capacity

2500mAh
May be you have downloaded so many new movies like Avengers: Age of Ultron, Fast and Furious 7, HOME and soon on your new Lenovo K900. If you want to share information or files to your friends but they only have iphones, the excellent software - Syncios Data Transfer can be your best choice to solve this problem. Because it support moving or transferring your photos, music, documents, contacts, ebooks, videos and more from your Android phone to iPhone.
Firstly, you should download and install the Phone to Phone Data Transfer tool on your Windows PC. Once it is installed, simply follow the steps below.
The Best Way to Transfer Lenovo K900 to iPhone 6
Step 1: Download and Install Syncios Transfer Tool
Download and install the Syncios Transfer Tool on your PC. Make sure iTunes has been installed on your PC. Please note that you do not have to run iTunes when using this iOS transfer tool.
Step 2: Run the Lenovo K900 to iPhone Data Transfer Tool on your PC
Run the Lenovo K900 to iPhone 6 data transfer tool on the computer. There is three models: Phone to Phone Transfer; Backup to Computer; Restore to Cell Phone. Select Phone to Phone Transfer and simply click Start button to move content from Android to iPhone. You will see the main screen shows connecting devices is required.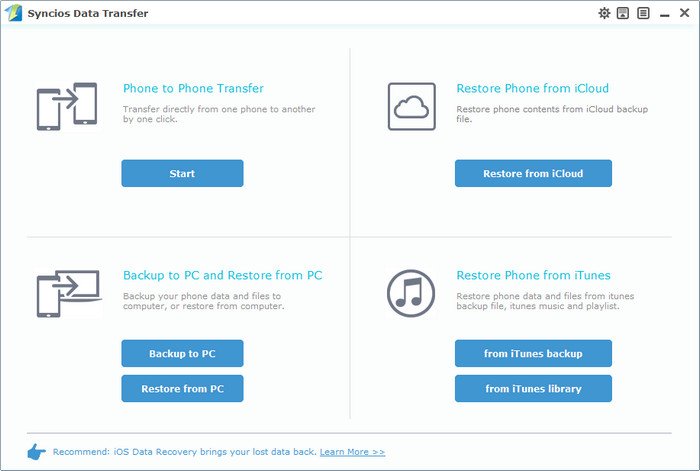 Step 3: Connect both your Lenovo K900 and iPhone
Connect both your Lenovo K900 and iPhone to the computer with USB Cables. Please wait for a while for the devices to be detected. Android device may need to install drivers. Once detected, the devices will be displayed in the window.
If the phone is not detect, please try the following tips.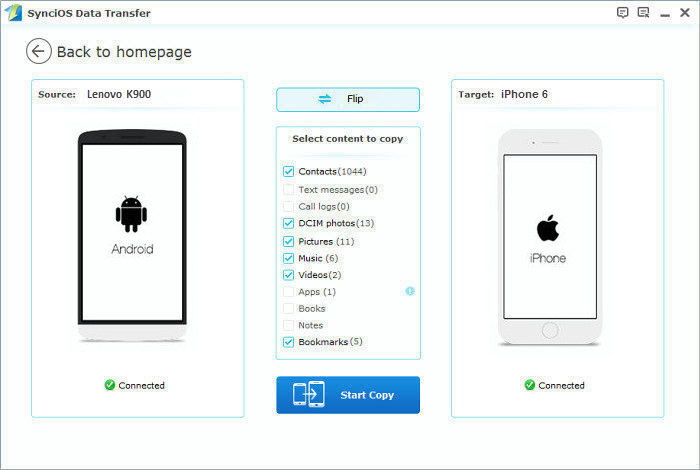 Step 4: Transfer SMS, Contacts, Calendar, Photos, Video, Ebooks and Music from Lenovo K900 to iPhone 6
Please make sure iPhone 6 is in the Target Device pane. (Note: You can switch the device positions by clicking Flip button). The program will load the files on your source Lenovo K900. Then tick the data you want to transfer and click on "Start Copy". A message is going to be presented to you saying Copying Data. After a while, the data you chose will be transferred to your new iPhone.
Important: During the process, never disconnect either phone.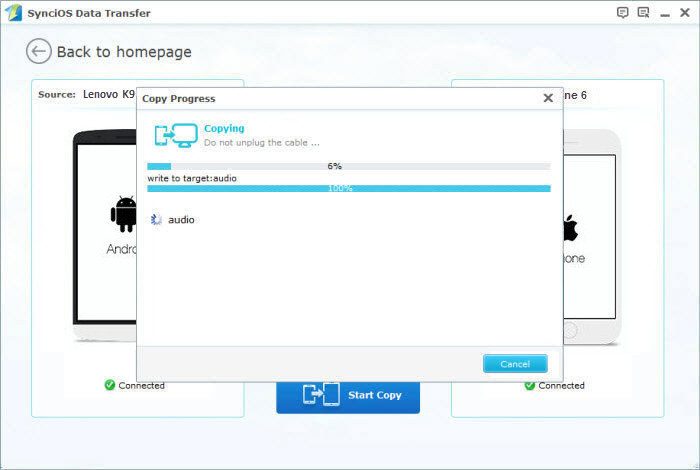 Now, it's time to let your friends or family members enjoy the latest movies, so they do not need to watch them in cinema. Only few steps are needs to achieve the goal through the excellent tool.
Tags
Lenovo K900 to iPhone Transfer | Lenovo Vibe Shot to iPhone Transfer | Lenovo S60 to iPhone Transfer | Lenovo K3 Note to iPhone Transfer | Lenovo A6000 Plus to iPhone Transfer | Lenovo A9300 iPhone Transfer
Supported Lenovo K900 to iPhone Transfer
Lenono

Lenovo K900, Lenovo Vibe Shot, Lenovo S60, Lenovo A9300, Lenovo K80, Lenovo A6000 Plus, Lenovo K3 Note

Apple

iPhone 6/6 Plus, iPhone 5S/5C/5/4S/4/3GS, iPad, iPad Mini, iPad Air, iPod Touch etc.
Support iOS 8.