How to Transfer Data from Samsung Galaxy S6 Edge to iPhone 6 & iPhone 6 Plus
Switch from Samsung Galaxy s6 Edge to iPhone 6
Samsung recently launched Samsung Galaxy S6 edge phone with innovative design, that isn't just the first commercial dual-curved display, it's also probably the best screen on a phone today. And although the S6 and S6 Edge share every major spec and nearly every color, it's the S6 Edge that looks and feels like a completely different -- and far more upper-crust -- device. This is the Android phone you want to buy.The Edge also has a slightly higher capacity battery, presumably to work with night mode on the Edge display: 2,600mAh on the Edge versus 2,550mAh for the standard S6. The Edge gives us an average of 13.5 hours of battery run time in our looping-video tests, an hour over the S6's 12.4-hour average.This is the Android phone you want to buy.

If you used Samsung Galaxy S6 or S6 edge and now want to purchase the new iPhone 6 or iPhone 6 plus, what you can do to transfer all from the old Samsung Galaxy to iPhone 6 without complex operation? Or how to transfer from Samsung Galaxy phones to iPhone 6/6plus? Since you can not transfer data to iPhone 6 from other devices running with Android operating systems directly,transferring data to iphone 6 seems like a big deal. Don't worry, Syncios Data Transfer - an Android to iPhone data transfer tool, is the very program you need.
Now, download and install Syncios Data Transfer to copy Contacts, Calendar, Photos, Video, Ebooks, Notes and Music from Samsung Galaxy S6 Edge to iPhone 6 by one click.
The best way to Transfer Samsung Galaxy s6 Edge to iPhone 6
Step 1: Launch Samsung Galaxy to iPhone Transfer tool, connect your devices to PC
After installing, run the Samsung Galaxy S6 edge to iPhone 6 Transfer tool meanwhile connect your samsung galaxy smartphones and iPhone 6 to computer. Click Start button to make samsung galaxy data to iphone 6 transfer.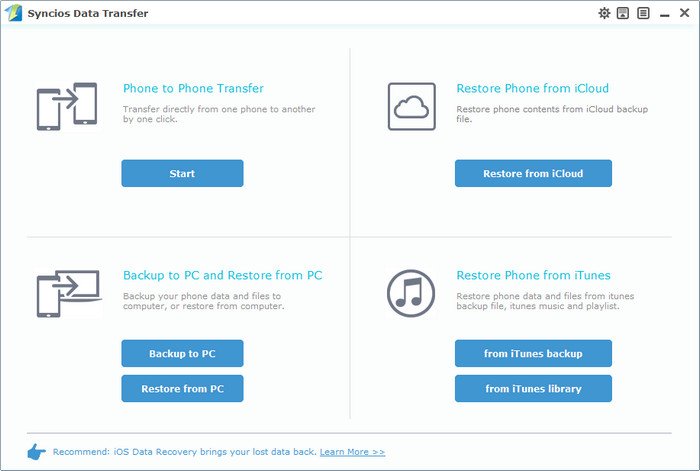 The software will show all your files in the window. Please note that the source phone is on the left and the target phone is on the right. So if you would like to transfer from iPhone to Samsung Galaxy S6 edge, just simply click the Flip button to change positions of Android phone and iPhone.
Step 2: Select content to Transfer to iPhone6
Syncios Data Transfer could automatically find all files on your Samsung Galaxy S6 edge and list them in chronological order. If you do not want to transfer some items, please just uncheck them and click on "Start Copy". A message is going to be presented to you saying Copying notes. After a while, the data you chose will be transferred to your new iPhone 6/6plus.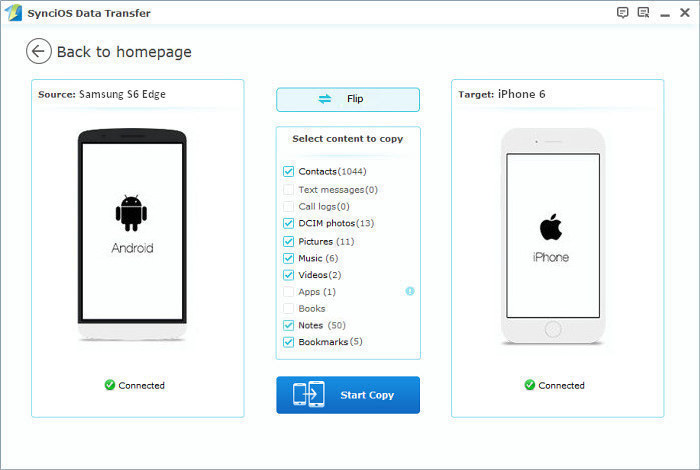 Step 3: Start copying files from Samsung Galaxy S6 edge to iPhone 6.
Hit the Start Copy button. A dialog comes out both showing the files' names and a progress bar, please do not disconnect neither your iPhone nor Samsung Galaxy S6 edge while transferring, or the transfer will stop.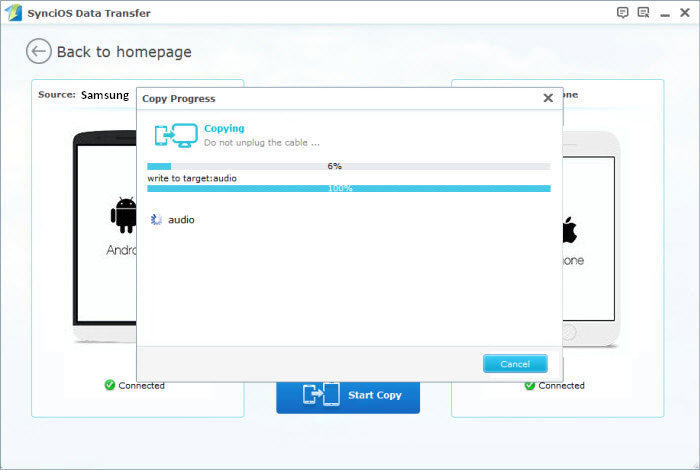 Tags
Samsung Galaxy to iPhone Transfer | Samsung Galaxy S6 Edge to iPhone Transfer | Sync Samsung Galaxy S6 Edge to iPhone | Transfer between Samsung Galaxy S6 Edge and iPhone 6 | copy Samsung Galaxy S6 Edge to iPhone 6 | Android to iOS transfer
Supported Samsung Galaxy to iPhone Transfer
Samsung

Galaxy S6/S6 Edge/S5/S4/S3/S2, Galaxy Note 1/2/3/4/Edge, Galxy S4/S3 mini, Galaxy S Duos, Galaxy Grand, Galaxy Ace, Galaxy Nexus, Galaxy Tap, Galaxy Rugby, Galaxy Fame, and more samsung smartphones.

Apple

iPhone 6/6 Plus, iPhone 5S/5C/5/4S/4/3GS, iPad, iPad Mini, iPad Air, iPod Touch etc.
Support iOS 9.
As you can see, you can transfer your precious data with 3 simple steps. That is, connect, select and transfer. Clearly and easily operated, isn't it? Why not have a try, you can easily move your Samsung Galaxy S6/S5/S4 to your iPhone. Download it and have it a try on your own.