Free Download YouTube Video and Music to Samsung Galaxy S21/S21+/S21 Ultra
Found in 2005, YouTube has been the most popular video-sharing online platform. There are so many intriguing contents covering video clips, TV show clips, music videos, short and documentary films, audio recordings, movie trailers, live streams, video blogging, short original videos, and educational videos. And, this would be an appealing thought if you are able to download the YouTube video or music for locally playing. Best of all, you can transfer the downloaded YouTube video to other devices, such as your Samsung Galaxy 21. Unlike to pay for the download service from YouTube, in this article, we are introducing a way totally free of charge to download your liking YouTube videos. Meanwhile, easily to catch on steps of importing YouTube videos and music to Samsung Galaxy 21 series phone are on this page. So let's go for the ride now!
Part 2. Free Download YouTube Video and Music from Online to Offline
Syncios YouTube Video Downloader owns the ability to download both YouTube video and music from online to offline, saving locally for a worry-free watching at any time. For video enthusiasts and creators, this is such a good news that Syncios YouTube Video Downloader is a totally free of charge program. So let's firstly have a look at some of the highlights: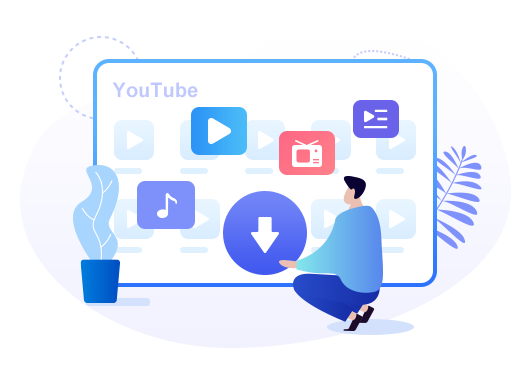 Free YouTube Video/Music Downloader
Download online YouTube video and music to offline playing.
Convert YouTube video to MP4, MKV, M4A, and WEBM.
Convert YouTube music to offline M4A, WEBM files.
Select video quality: 144p, 240p, 360p, 480p, 720p, 1280p, 1440p, 4K.
Free Download

If this is your first come to know Syncios YouTube Video Downloader, then get into the program by entering 'YouTube Video Downloader' mode in Syncios Toolkit entrance. After you get Syncios YouTube Downloader downloaded well on your computer, let's follow the steps below to complete a YouTube Video or Music download.
Step 1:Firstly, simply navigate to the YouTube website, find out a video of your liking and click it to play. There should be a unique URL of the video website, copy the link to clip. For instance, choose one episode from Late Late Show with James Corden channel, and copy the link from the playing window.
Step 2:Run Syncios YouTube Video on your desktop, you will firstly be welcomed with the instruction words: Search video by name or copy link and paste it above. So paste the link you copied in previous, and program will analyze and load the information that you are to download. See the figures below we give for a clear understanding for users in necessary.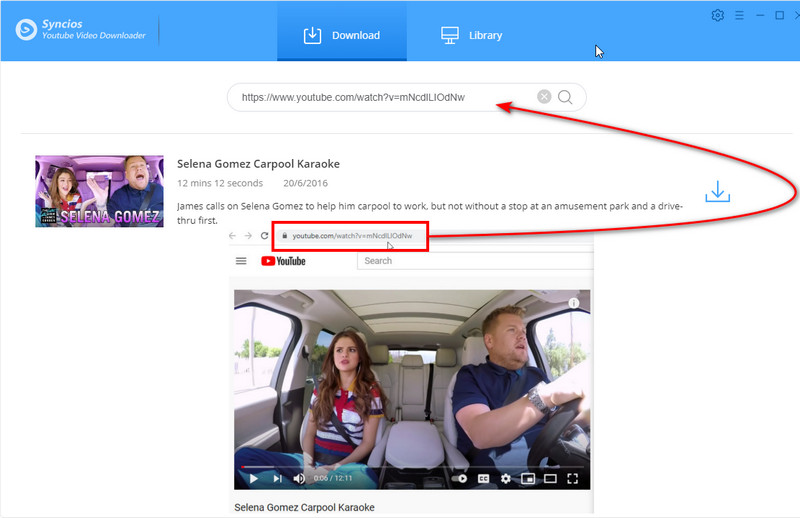 Step 3: Next, click the 'Download' arrow that points down when it will pop up a smaller window, indicating some download options. Here you are mainly faced with 2 choices.
Option ①: Download YouTube Music
In some cases, if you are meant to download some newly released songs from YouTube website, then you can download and convert the music video to an audio file only, which needs less space occupying on devices, as well as less time spending on conversion.
So, below 'Audio Download Links' option, you can choose to download the YouTube video to audio files with different formats: M4A. WEBM 64kbps, 128 kbps, 356kbps. Pick the audio quality you want and tap the download icon to continue.
Option ②: Download YouTube Video
Mainly, people are intend to download the videos. According to various needs, Syncios provides MP4, MKV videos formats to download. As for the video output quality, you can successively choose 144p, 240p, 360p, 480p, 720p, 1280p, 1440p, 4K. On this basic, move the mouse under 'Video Download Links' option and tap the download icon after the parameters combination that you like.
As a reminder, if you choose to download both the audio and video files, you get to watch and play YouTube videos in two ways. But do separate operation to download audio and video downloading.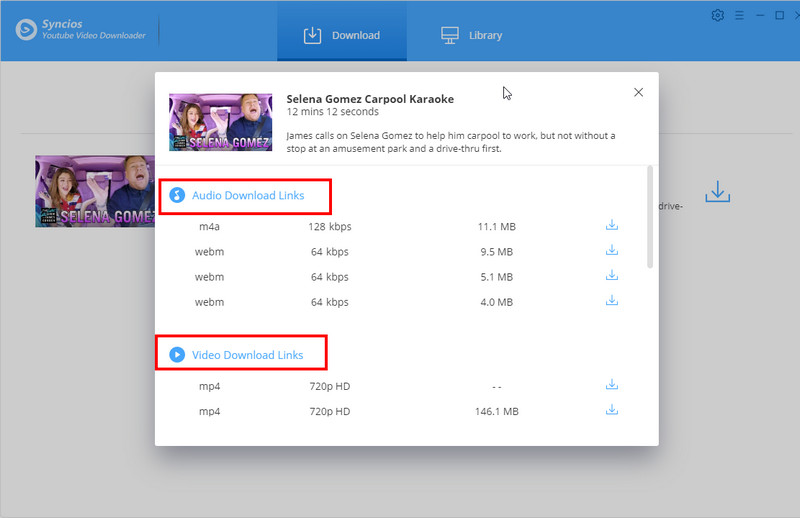 Step 4: And Syncios YouTube Videos Downloader will go with the operation to download the YouTube video or music to your computer. Apparently, downloading a video will take a longer time than an audio will take, so do keep an eye on the process until it completely finished.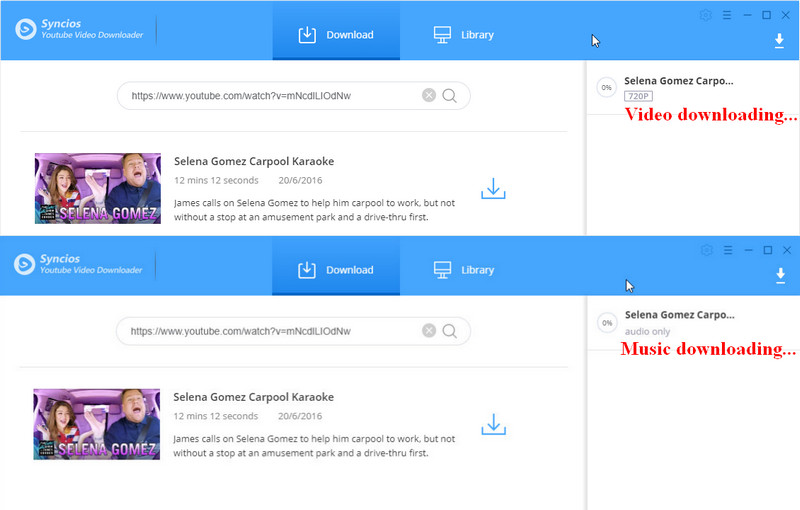 Step 5: Successfully, you can check the downloaded history under 'Library' tab on the top. By taping the folder icon, you can further reach the place where they are stored locally on PC. As long as files are put into PC at local, you can freely manage them for an offline playing on computer, or sync them to MP3 or MP4 to enjoy at ease.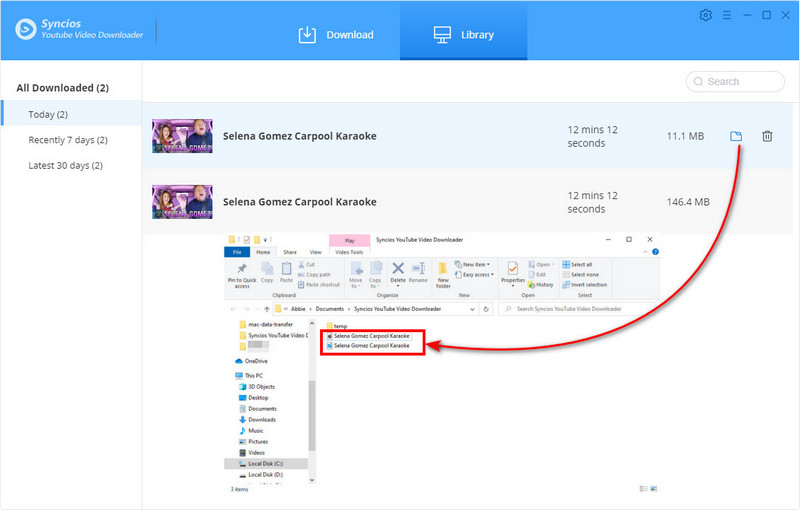 ---
Part 3: Import Downloaded YouTube Video/Music to Samsung Galaxy s21
After you download the YouTube video and music with Syncios YouTube Video Downloader, you are freely to play the files on computer at ease. Alright done? Not yet. Let's work out the last yet important steps together, import the downloaded YouTube video and music to Samsung Galaxy S21. And this part, we will introduce your another flexible tool Syncios Mobile Manager. That is much easier for user to learn how it works. For more, we pick some needs that you may focus on: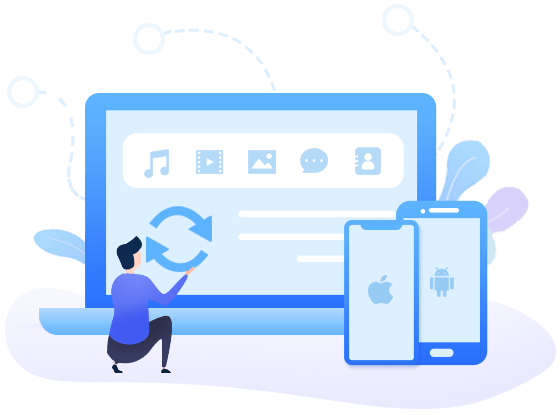 Syncios Mobile Manager
Support to transfer, edit, backup, manage, view mobile data such as contacts, apps, photos, music, ringtone, videos, SMS messages, eBooks and more.
Manage iOS devices/Android music, edit song details and de-duplicate tracks.
Fully compatible with latest Android and iOS devices.
To be continued, we will go directly with the steps to send the YouTube videos and music to your phone. In time, you will be more freely watching YouTube videos and listen to your beloved songs.
Step 1:Download and run Syncios Mobile Manager on computer. On the time you click to download the program provided from above, you will firstly get a Syncios Toolkit. After that, simply choose 'Mobile Manager' on the interface to go into the program.
Step 2: Connect your Samsung Galaxy S21 to computer and Syncios will instantly recognize your phone, noting you to debugging the USB on your phone if this is your first time to work your phone with any Syncios program. Take it easy, Syncios needs the authorization to access and read the data if you permitted. Other possible reasons that you can't fix the connection issue, you can go into this tutorial, How to Fix the Android Device Detection Problem.
See as the images shown below, your phone is now connected with Syncios Mobile Manager. And the file types in according to the tabs (Music, Video, Photos, Contacts, Messages, Call history, Apps, Files and Toolkit with Photo compression, Ringtone Makers and more) on the top will be readable and manageable within Syncios Mobile Manager.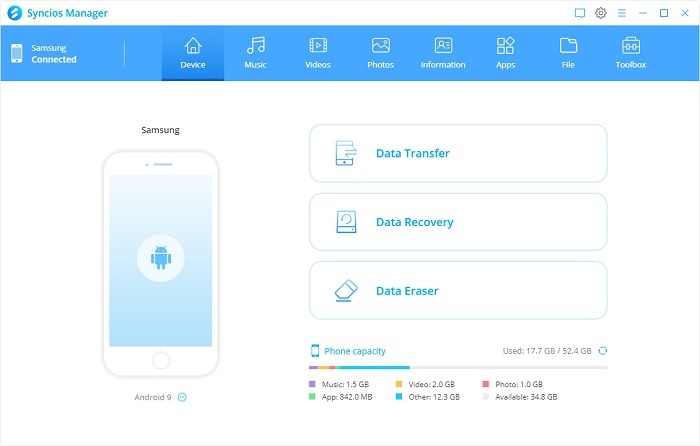 Import Downloaded YouTube Video to Samsung Galaxy S21
Step 3:Go ahead, let's go into the file management so click on the 'Video' tap on the tab menu list. All the videos files on your phone now display on the program. You can manage the files with the functional instructions like Add, Export, Delete and Refresh. Since we are to import the downloaded YouTube videos to your phone, so click on the 'Add' button. And you will be promoted with the PC path. Then you are supposed to guide yourself to the place where you stored the YouTube video files in Part 2. And finally tap on 'Open', Syncios will sync the videos to your Samsung Galaxy S21 at no time.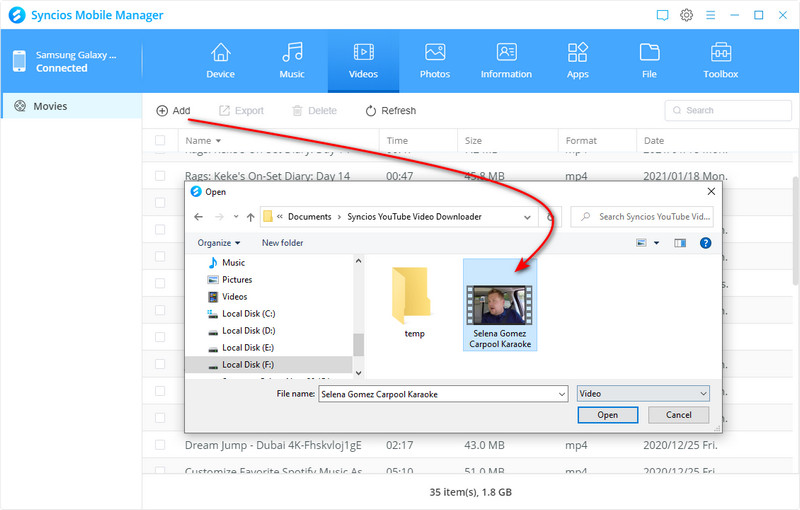 Import Downloaded YouTube Music to Samsung Galaxy s21
Conversely, if you downloaded YouTube music instead, then you need to go into 'Music' management, where you can find the entrance to import any music files from PC to Samsung Galaxy S21.
Step 4:As long as Samsung Galaxy S21 is connected to Syncios Mobile Manager, navigate into the 'Music' section part. Similarly, instruct the 'Add' function and reach the position of YouTube music, and finally do them open. At last, you can click on the 'Refresh' button to update the music files on your phone. By the way, there is a De-duplicate function you can take advantage of ,which allows you to remove those repeated songs on your Samsung Galaxy S21, thus you can get round to your favorite YouTube tunes and playlists.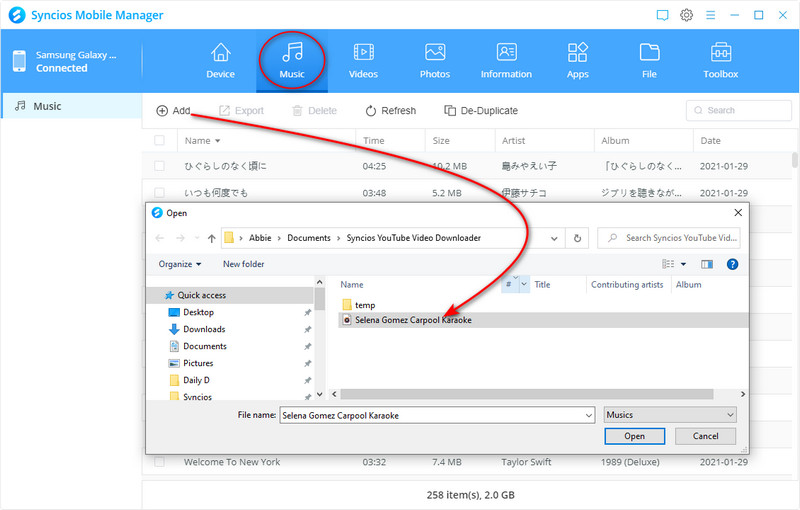 Conclusion
By the sharing in this article, you will find it simple to get online YouTube videos and watch on Samsung Galaxy S21 at local. All the steps and tools we used for are so easily to catch on. In order to master the essentials of this article, it is very worth for you to practice. Tell us which videos and music songs you impress most? Get it download and watch on your Samsung Galaxy S21 for one instant!
Free YouTube Video Downloader:
Syncios Mobile Manager(Win and Mac):
You Might Be Also Interested In: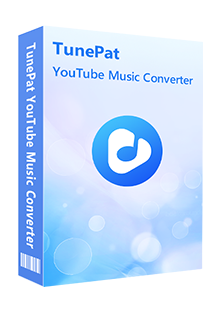 YouTube Music is a music streaming service developed by YouTube under Google. It has also become one of the most popular music streaming platforms in recent years. TunePat YouTube Music Downloader is a converter dedicated to converting and downloading songs from YouTube Music Web Player. It's very easy and fast to use. It can help you create backup copies of all YouTube Music playlists and then transfer these downloaded playlists to any device you want to play offline. Currently, this tool supports exporting MP3, AAC, WAV, FLAC, AIFF or ALAC audio files from YouTube Music.