4 Ways to Transfer WhatsApp to Motorola Edge
Are you a Motorola user? If you own a mobile phone, you could probably a user of WhatsApp. It's one of the most used tools among mobile users. This topic is exactly for people who runs WhatsApp on a Motorola Edge. You can learn how to transfer WhatsApp to Motorola Edge. Even transferring WhatsApp between different accounts are introduced in this post.

We'll show you 4 different methods of transferring your WhatsApp messages to a new Motorola Edge. Here we are going to talk about the story about WhatsApp messages transferring. Choose one method you find it most suitable and get your job done.
Method 1. Directly Merge iOS/Android WhatsApp to Motorola Edge
We propose a best way to transfer WhatsApp chats and attachments from iOS or Android devices to Motorola Edge. It offered by Syncios WhatsApp Transfer. If you check all solutions online, you could only find one way to transfer WhatsApp between iOS and Android devices even without the same account - by using a professional WhatsApp Transfer tool. This is why I recommend you this method.
Among various transfer tools, why Syncios WhatsApp Transfer is most helpful:
🍓 1. Fully compatible with Android and iOS devices.
🍓 2. Directly transfer WhatsApp between phones even for phones running on different OS.
🍓 3. Preview the backup content and restore only the data you want.
🍓 4. No need to link with the same WhatsApp account on both source device and target device.
🍓 5. Be able to print WhatsApp chats you select directly.
🍓 6. Export WhatsApp backup to HTML and CSV files.
🍓 7. Backup and Restore WhatsApp data without restrictions.
Step 1:Choose "Transfer WhatsApp between Devices" mode
Firstly, just download this official version Syncios WhatsApp Transfer below. Then start the installation. For Windows version users, at the start-up interface, choose "WhatsApp Transfer" module. Then you can find four modes on the main interface: Backup WhatsApp, Restore WhatsApp from local backup, Restore WhatsApp from iTunes backup, Transfer WhatsApp between devices. Now go to the upper right, tap the "settings icon" to set a proper output path. We do not suggest you to move backup folder later.
Choose Transfer WhatsApp between devices mode when you need to move WhatsApp data from another iOS or Android phone.
Tips: Failed to download or open WhatsApp Transfer? Check here right now.
Step 2:Backup old iOS or Android device WhatsApp
Under this mode, tap Backup device. Then connect your source device to computer with a USB cable. After your phone is recognized, unlock it in case any prompts pop up. Syncios will back up your WhatsApp from the connected iOS or Android device directly.
Notes for connection:
On Android devices, set the connect mode as "Transfer File" instead of "Charge Only". On iOS devices, choose "Trust" when connecting. When it's failed to connect iOS device, check this tutorial. When it's failed to connect Android device, check this tutorial.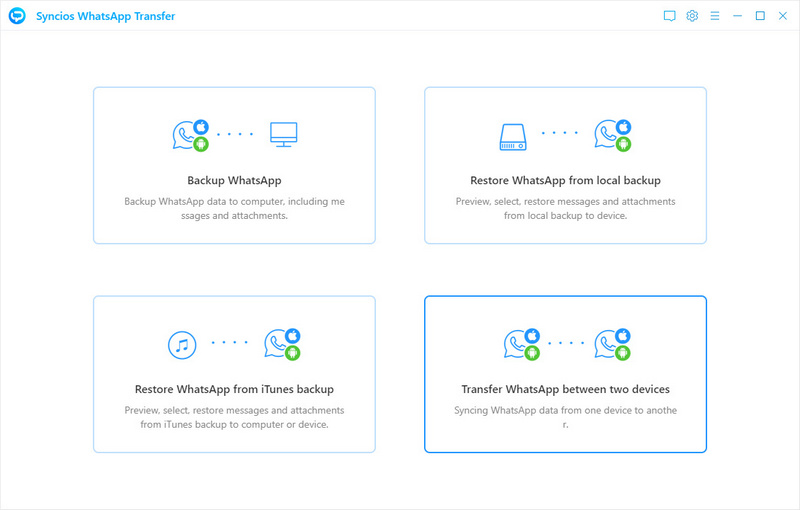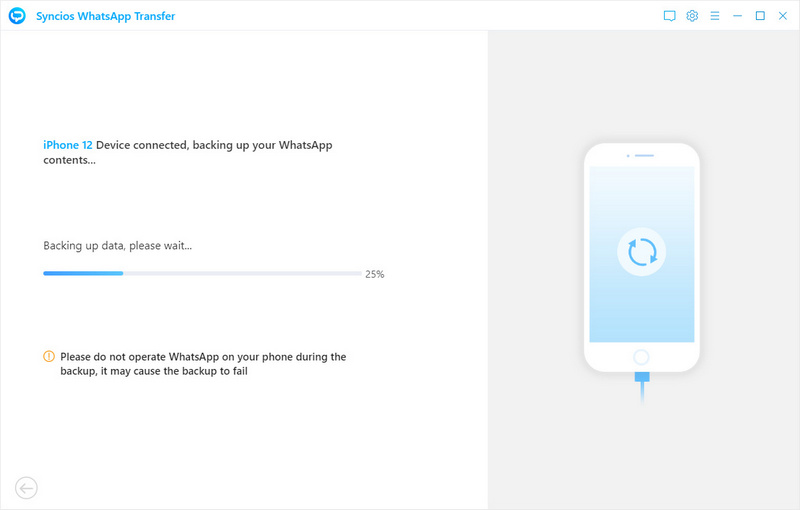 Step 3:Choose WhatsApp backup of the source device
After the backup is finished. Syncios will pop up the backup folder. Do not move them to other places in case Syncios could not detect your backup. Then click View directly or go to previous interface, click Select backup. Now you will see all backups enlisted. Click Browse behind the new created backup you need retrieve WhatsApp from.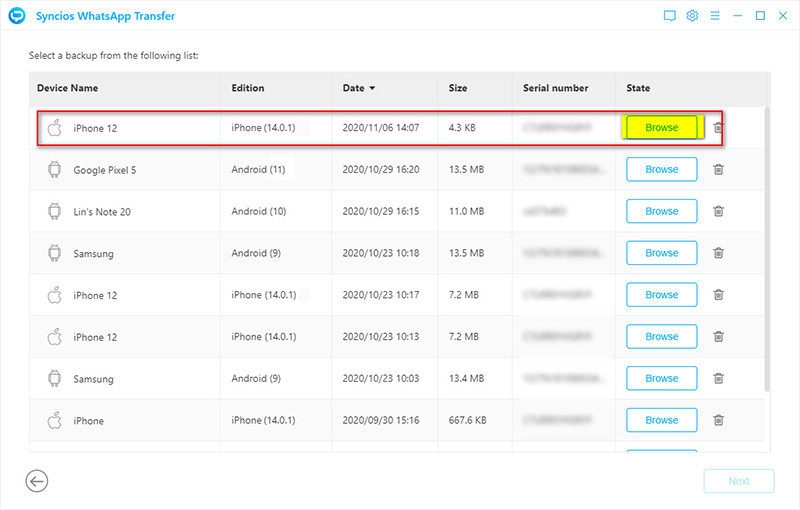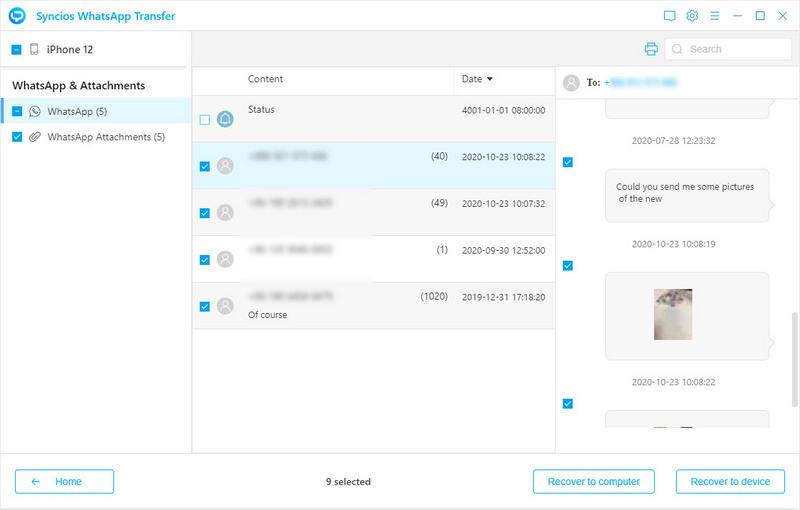 Step 4:Selectively transfer WhatsApp to Motorola Edge
Now Syncios will start loading the WhatsApp data. Select files from WhatsApp Chats and WhatsApp Attachments columns with a detailed preview. Tap Recover to device then choose Recover to Motorola Edge on a pop-up prompt. Click Recover will initiate the transfer to Motorola Edge. After the transfer, just open WhatsApp on your phone to check all imported WhatsApp conversations.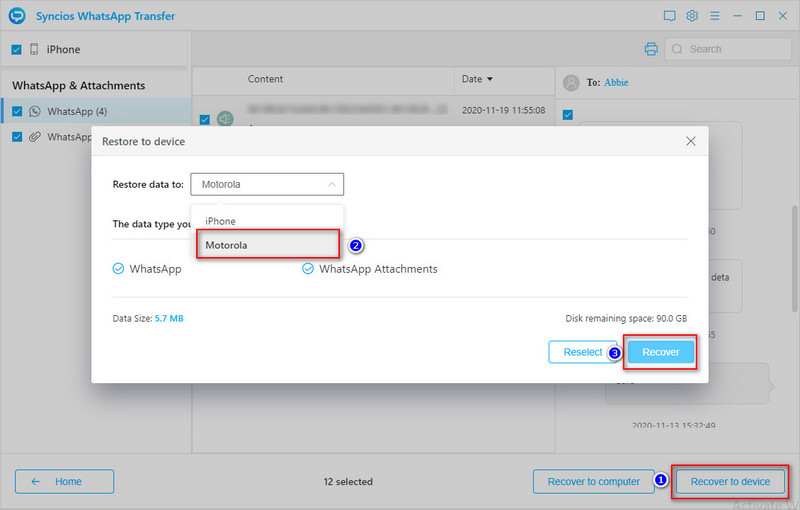 🙋 Print WhatsApp Chats:
By the way, if you need to print WhatsApp chats, just select chats then go to upper right. Tap Print to print chats you need. You are allowed to choose a conversation, then on the right panel, selectively tick off chats and sent photos or videos you need then print. That means you don't need to print all chats of certain contact.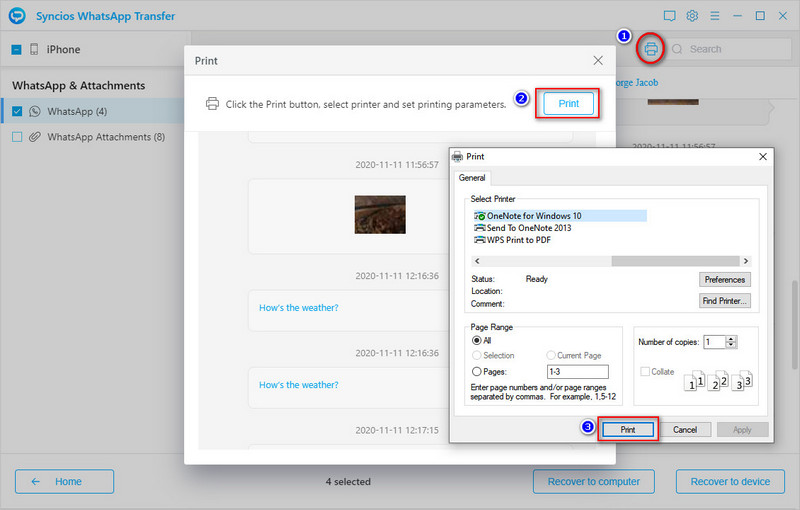 ---
Video Tutorial - Easily Transfer WhatsApp Data to Any Android Phone
---
Method 2. Transfer WhatsApp to Motorola Edge via WhatsApp Cloud
When you running WhatsApp on Android device, you know you can make a backup of all current WhatsApp conversations via its official Chats Backup function. But it only provides an overwriting backup updates, if you want to save backups to extra disk without restrictions, this method could not be followed. In addition, if you need a WhatsApp transfer from an iOS device to Motorola, you could only get help from a third-party tool, such as Syncios WhatsApp Transfer. Back to this solution, when you need to move WhatsApp messages from another Android device to Motorola Edge, it's a free and convenient choice.
Step 1: Now we start with an immediate backup on old Android device. If you've already got a backup and prepare to restore, then you can navigate to step 3. Now we just go to the next step to start backing up WhatsApp on old Android device.
Step 2: Now unlock your old Android device, go to WhatsApp main interface. On the upper right, you will find three vertical dots which is a menu button. Click it to get a pop-up menu. Then choose Settings > Chats > Chat backup. It will create an immediate backup to cloud server and replace the existing WhatsApp backup.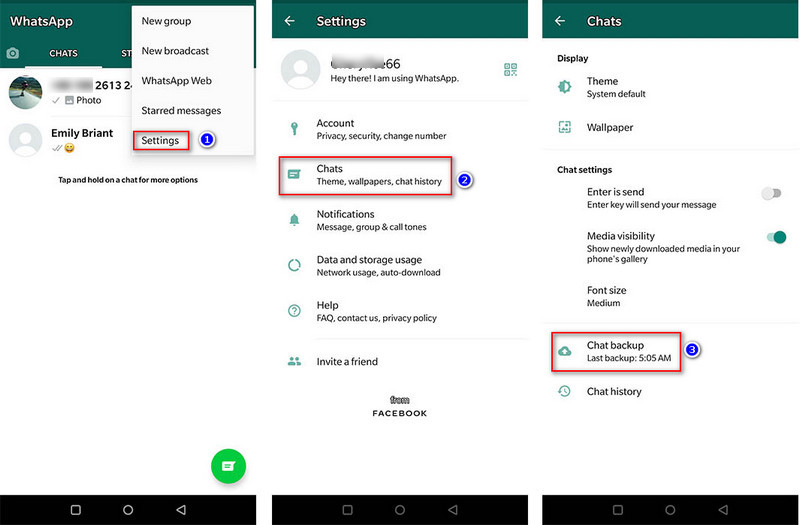 Step 3: Next is to restore the created backup to Motorola Edge. You need to know, without any help from WhatsApp Transfer tool, you could only uninstall WhatsApp on your Motorola then re-install it from Play Store. Because there is no restore option on WhatsApp interface, you could only find the way to restore by resetting it. On the new set-up process, the uploaded backup will be detected. And you will be required to link with the old account as the same.
Step 4: During the start-up process, you can follow its instruction and choose to restore the backup. Then wait for a while. WhatsApp will get your WhatsApp data transferred into this new Motorola. After the completion of chats restoring, you will see the recovery of WhatsApp attached media files. Just wait with patience and keep the internet connection stable.
---
Method 3. Download WhatsApp Chats and Media Files on WhatsApp Web
WhatsApp Web is a very entrusted extension provided by the WhatsApp authorities that provides you with the ability to not only have your media exported to the computer but even use it for sending messages to your friends and colleagues. Just as in the smartphone, you can easily send messages, including emojis, gifs, videos, and documents to communicate. However, considering the issue involving transferring data, WhatsApp Web provides its users this service over a few easy steps which are described as follows:
Step 1: Go to WhatsApp web website www.web.whatsapp.com on your windows PC or MacBook. Then you will get a pop-up log in interface, which allows you to log in via QR code. You need a great network connection otherwise you could not log in.
Step 2: Start WhatsApp on your old iOS or Android device. Now we need to find the WhatsApp web option on your source device. For Android users, go to the upper right, click the three vertical dots to pop up a menu. Then you just tap WhatsApp Web, point your phone to computer to capture the QR code.
For iOS users, you need tap Settings on the main interface of WhatsApp. Then choose WhatsApp Web/Desktop. Quickly point your phone to computer to scan the QR code too.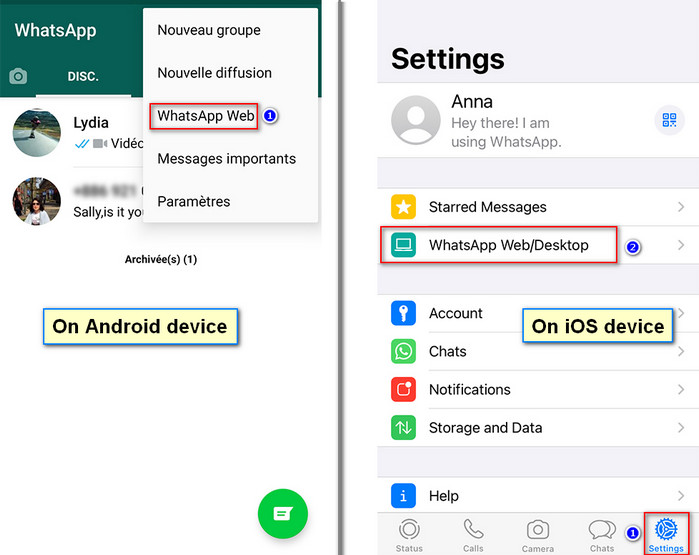 Step 3: After that, you can establish a connection with your computer. You WhatsApp web version will start. You can use WhatsApp on your computer now.
Notes: Internet Connection is required on both the device and the PC.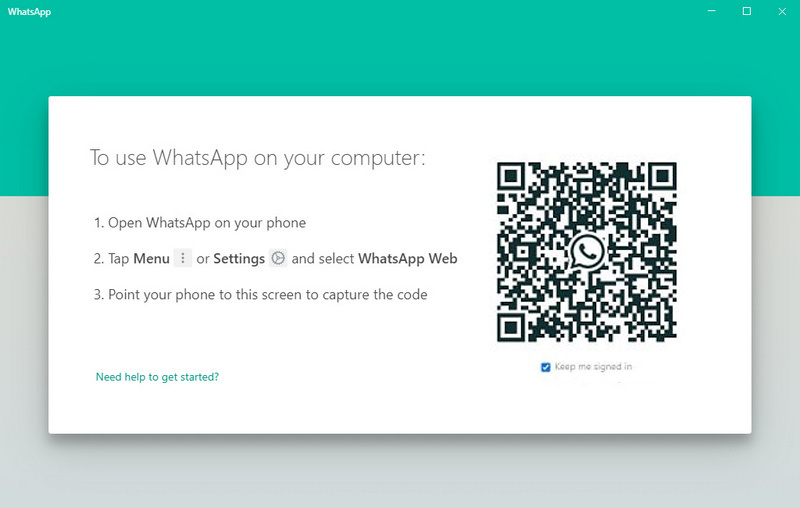 Step 4: It helps you to download mainly media files to PC then import to your Motorola. Select a conversation, then open it. Go to the top-right corner, tap the menu button. Then you can choose "Select Files". Locate photos or videos you need to choose multiple files you need. You can easily download photos and videos from your WhatsApp into your PC by using WhatsApp Web. After saving WhatsApp files you need, just transfer them to your Motorola Edge via USB connection.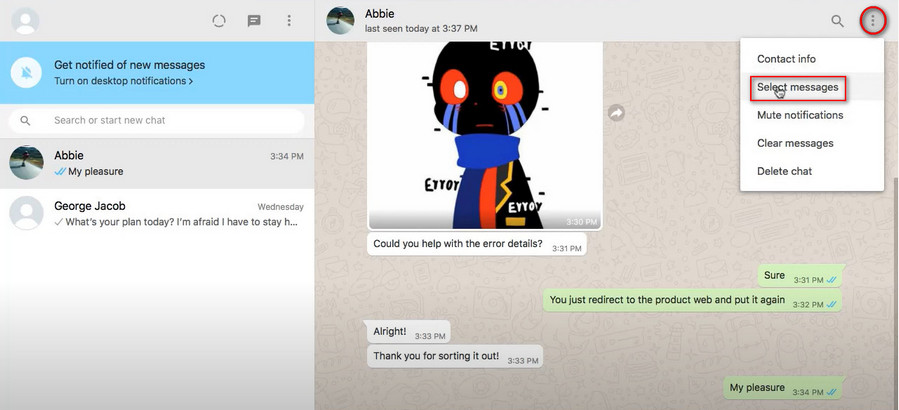 Notes: You could only manually download chats or media files. And you could not select all conversations to download. All downloaded files could not be transferred to your WhatsApp on the target device. Then are saved as local files but not WhatsApp data. You can check them on your phone, but you could not merge them to your WhatsApp.
---
Method 4. Send WhatsApp Conversations to Motorola Edge
If you want to transfer WhatsApp conversations to your Motorola Edge on your phone directly, then you can consider exporting WhatsApp chats and media files. Check more details below then you will know what I am talking about.
WhatsApp settings are little different for iOS and Android users. We provide two options for both old iOS and Android users who want to transfer WhatsApp to Motorola.
🍔 1. On your old iOS device, start WhatsApp, locate the conversation you want, just slide left you will see options. Choose More then you can find Export Chats. Soon, you will get two options: share this conversation "With Media" or "Without Media". Make you decision, then choose the way to share your chats. You can export chats via WhatsApp, Dropbox, Mail, Bluetooth and more. The follow its on-screen steps to upload your chats. For instance, if you upload chats to Dropbox, log in to your Dropbox account on Motorola Edge and then access the WhatsApp backup file there. But you could not sync WhatsApp messages to your WhatsApp application on Motorola. It's limited.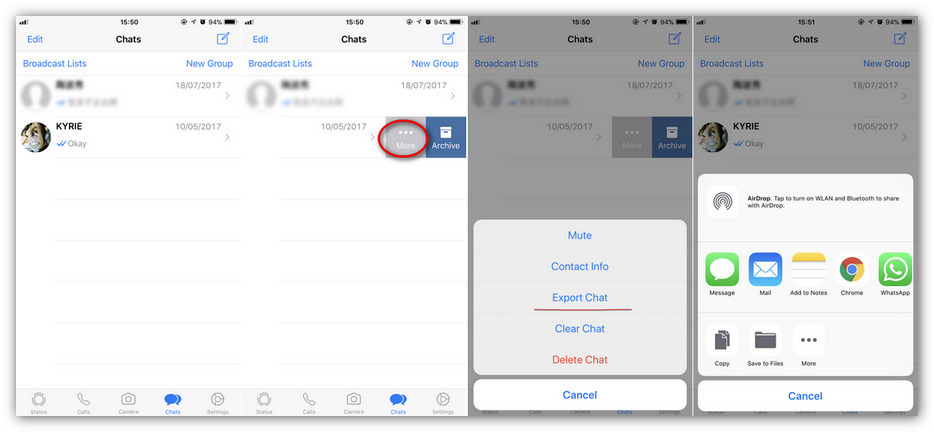 🍔 2. On your old Android device, open WhatsApp, then tap over your desired conversation, open it. You can find a menu button on the upper right. Click it to open its menu. Go to More > Export Chats. Then you are allowed to decide transferring chats "With Media" or "Without Media". Next we choose export chats via WhatsApp, Dropbox, Mail, Bluetooth and more. For instance, if you send chats via email, just choose "Email" and input your email address and send this chats. Then get your Motorola Edge and open the receiver's mail. You are able to view all received chats via Mail. But you can't sync WhatsApp messages to your WhatsApp application, it's only for check.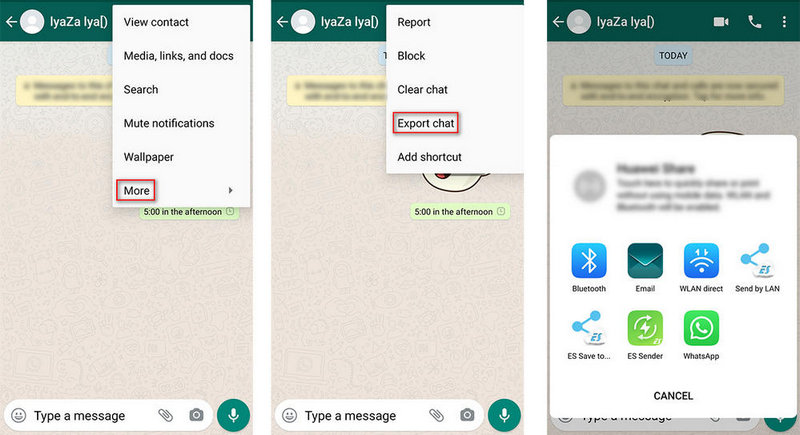 ---
Conclusion
We offer four selected solutions in this article for people who need to transfer WhatsApp data to Motorola. For the rest Android users, even for iOS users, you can also follow this tutorial to locate a suitable method. Keep this article in case you need it later. If this guide helps, don't forget to share it with your friends. If you need transfer tools we listed above, you can download now!
Syncios WhatsApp Transfer (Win and Mac):