How to Download and Transfer Music from YouTube to iPhone
YouTube, one of the most popular video-sharing websites in the world, not only has an all-encompassing range of videos, but also tens of thousands of music or music videos of new singles or albums. You can browse YouTube via a mobile app or on your computer via the website. It is very pleasing to be able to swipe to your favorite music, but it is very inconvenient to listen to music directly on YouTube, as then you cannot switch to another page. Most people prefer to listen to music offline on their phone, but if you don't have a YouTube Premium or YouTube Music Premium subscription, you won't be able to download it directly or play background. Even with a subscription, you need to reconnect to the internet at least every 30 days to keep up with downloads. Previous articles have described how to download and transfer YouTube music to an android phone. This article will introduce you to some new ways to download and transfer YouTube music to your iPhone.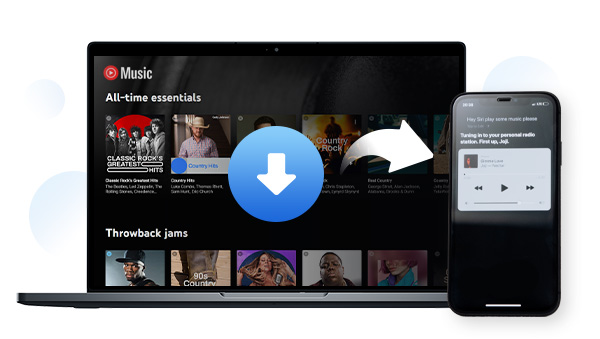 ---
1. Download Music from YouTube with Desktop Software
If you are willing to pay for this, then a subscription to YouTube Premium is definitely your first choice. Well, If you have no such intentions, then please read on. This article is dedicated to showing you how to download for free. Here are two different ways to download music from YouTube for free.
The first and most common one is to download with a desktop program. Syncios YouTube Video Downloader is highly recommended. It enables you downloading YouTube videos, music, playlist in 4K/HD/SD resolution and convert to MP4, extracting audio from music videos and download video/audio files in bulk.
What Syncios YouTube Video Downloader can do for you:
Download online YouTube videos and music for offline playing.
Free download YouTube videos to MP4, MKV, M4A, and WEBM.
Download YouTube videos at fast speed.
Select video quality: 144p, 240p, 360p, 480p, 720p, 1280p, 1440p, 4K.
Free offer and no extra fee.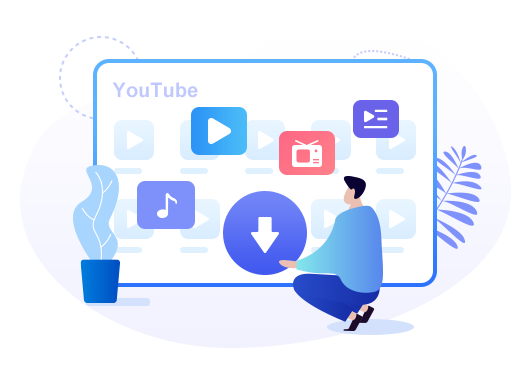 Steps to Download with Syncios YouTube Video Downloader
Step 1 Download and install Syncios YouTube Video Downloader. Double-click to open the Syncios toolkit and select the last panel, Syncios YouTube Video Downloader.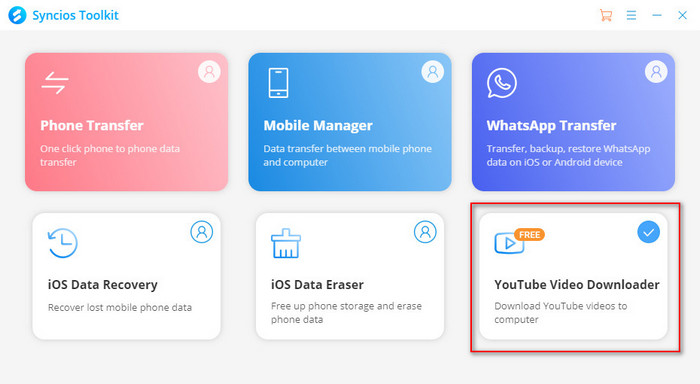 Step 3 Click on the Settings button in to set the video quality and output path.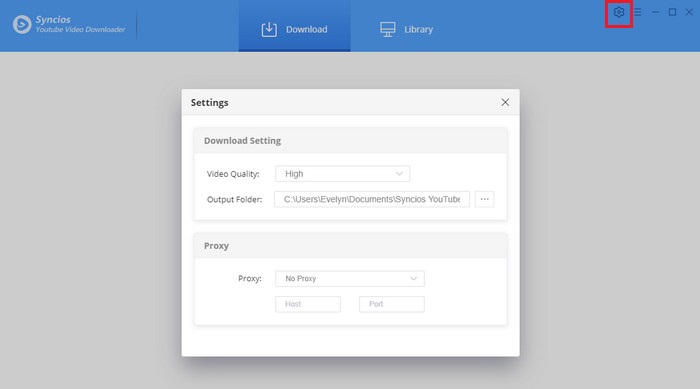 Step 2 Find the link of the music video you want to download, copy its link and paste it into the search box. Just hit the enter key on your keyboard to start the search.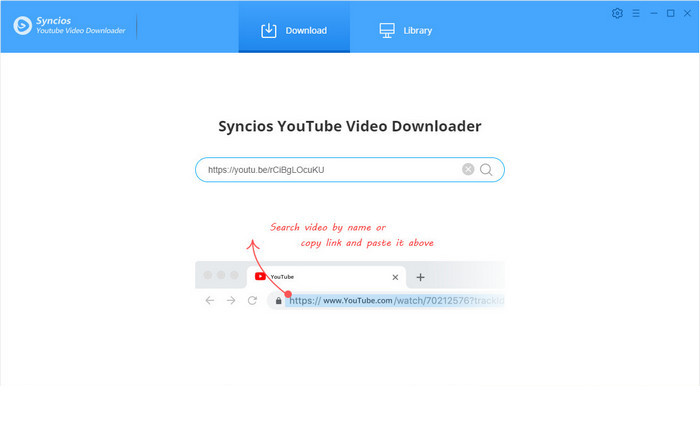 Step 3 Find the video on YouTube, copy the link and paste it into the search box of the Syncios YouTube Video Downloader. Then click the magnifier button or press Enter on the keyboard to start the search directly.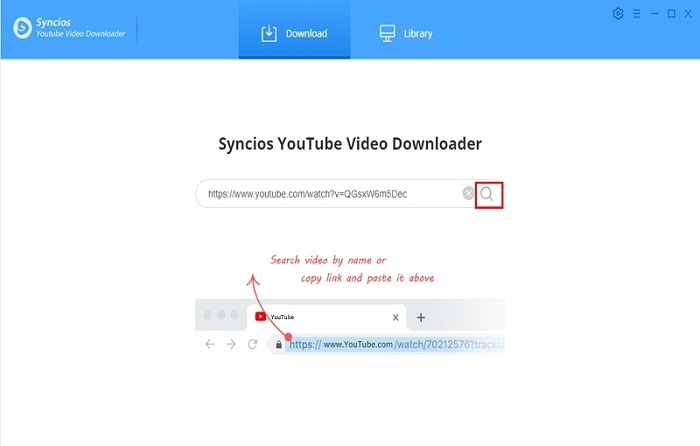 Step 4 Type on the menu button and select the desired audio format and size in the audio download links section. If you want to download a video, then select it in the video download links section, which offers a variety of formats and resolutions.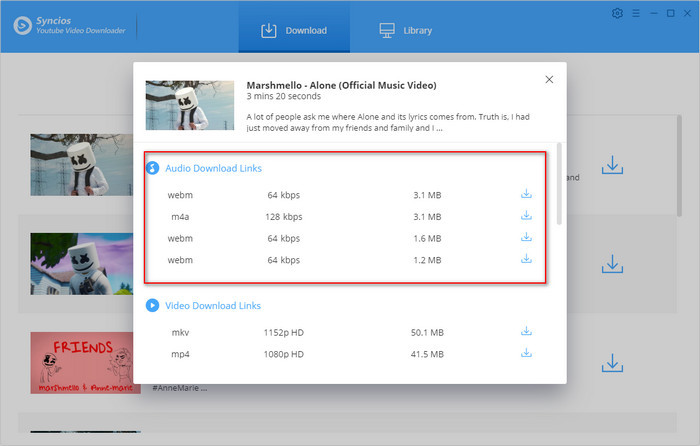 Step 5 Click on the download button. Once the download is complete, you will be able to check the history of all downloaded videos in the Library. You can find the audio or video downloaded to your local drive by looking at the output path set in step 2.
---
2. Download Music from YouTube with Online Service
The second method is to download through an online service. After testing a number of sites, it was found that many of them either reported errors when they started downloading, or the download speed was very slow or had unhealthy ads popping up that made you worry about viruses.
Anyway, finally found a better site. AmoyShare Free YouTube Video Downloader is such a free tool you've been looking for. No registration, no ads, no viruses! What you need to do is copy a link and paste it onto the search bar to download video from YouTube. An alternative is to type in a few words about the video you want to download and get YouTube video downloads by clicking the Download button.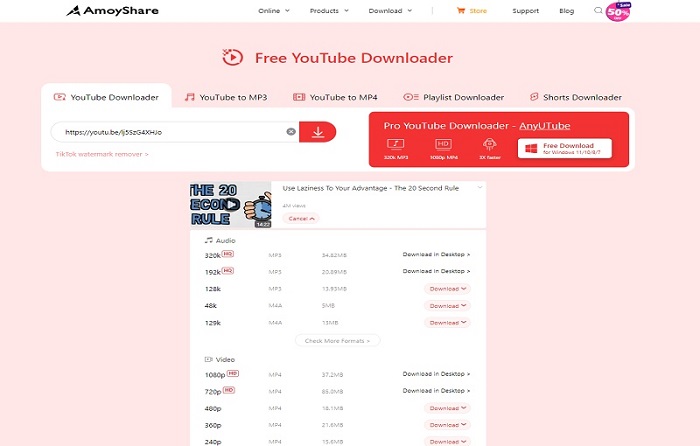 Of course, it's not perfect. The highest resolution of online service video download is 480P, and the audio is only 128K, so people who have high requirements for quality may not be so satisfied. To download video and audio in 1080p and 320k, you still need to download in desktop.
---
3. How to Transfer YouTube Music from Computer to iPhone
Whichever method you take to download, the downloaded video or audio is saved on your computer. Then it all comes down to one question: how to transfer the music to your iPhone?
This is actually quite easy to fix. When you open the Syncios toolkit, you will see six sections. And one of these sections, called Syncios Mobile Manager, will help you to do the transfer easily.
Key Features of Syncios Mobile Manager:
Selectively back up and restore contacts, messages, call logs, music, video, photo, eBooks, apps, etc.
Manage iOS devices/Android music, edit song details and deduplicate tracks.
Preview and export SMS, Call History & Contacts to readable format on the computer.
Handy tools: One-Click Backup/Restore, HEIC Converter, Photo Compression, Ringtone Maker, Audio Converter and Video Converter.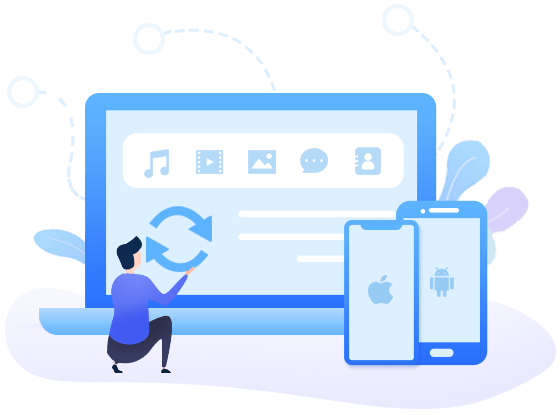 Steps to Transfer YouTube Music from Computer to iPhone
Step 1 Run the Syncios Mobile Manager.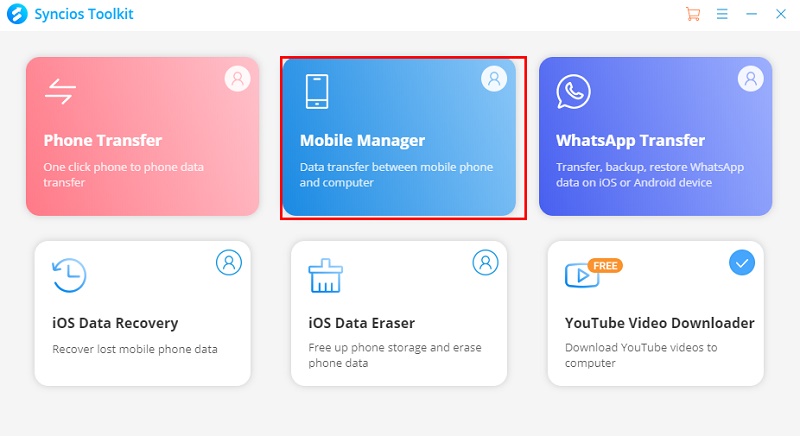 Step 2 Connect your computer to your phone via a USB cable. Once connected, you can see the various directories showing the different files stored on your phone. Since you are transferring music, click on the Music directory and then click on "Add" in the upper-left corner to select music files to select the specific music, or choose "Add Folder" and transfer all the music in this folder at one time.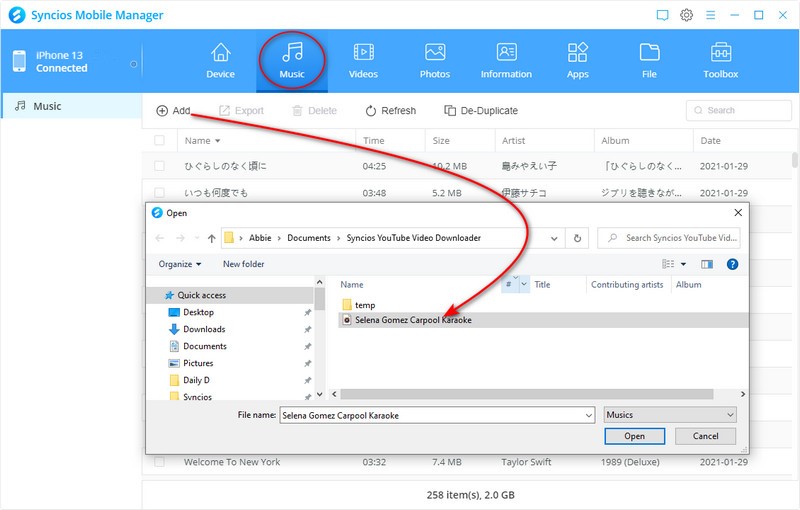 Step 3 Once the transfer is complete, you can view and enjoy the music on your iPhone.
---
Conclusion
In general, official channels are convenient and direct, but cost a lot. Syncios YouTube Downloader is a powerful tool that helps you download the video and music from YouTube and convert them to widely-used formats. It's completely free, easy to use and has no bundles, so it's a good choice for you. Audio and video files downloaded through third-party desktop software are saved in local files on your computer. No matter which program you use to download, Syncios Mobile Manager can always help you transfer them to other mobile devices.
Download YouTube Video Downloader
Download Syncios Mobile Manager