How to Freely Download YouTube Videos on PC
YouTube, the world's largest video website, has brought together many high-quality videos. The world's best video creators like to post their videos on this platform because of its considerable traffic. For the huge number of YouTube users, even if everyone has different interests, they can always find the videos they want to watch and their favorite bloggers on this platform, which is why everyone loves it so much.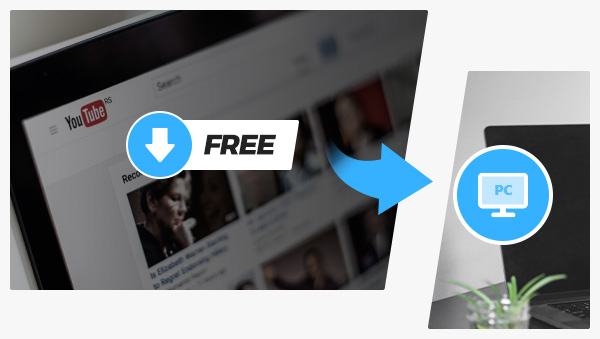 Many people like to browse videos through YouTube on their computers, which are larger than mobile phones and more comfortable to watch videos. However, if you have a bad internet connection, then the experience can be very poor. How to download YouTube videos on PC for free? It's a bit tricky because, in principle, you can't download YouTube videos directly if you don't have a subscription to YouTube Premium. But don't worry, there is always a way. In the following, this article will show you in detail how to download YouTube videos for free on your PC, so you don't have to worry about buffering any more!
---
1. How to Download YouTube Videos with Syncios YouTube Video Downloader
Syncios YouTube Video Downloader is safe, reliable and completely free. You don't have to worry about any bundled software or extra charges. From a functional perspective, it currently mainly supports downloading whole YouTube videos and audio to MP4, MKV, M4A and WEBM formats. From an operational point of view, its interface is very concise, the steps are simple, and the functions are powerful yet easy to operate.
What Syncios YouTube Video Downloader can do for you:
Download online YouTube videos and music for offline playing.
Free download YouTube videos to MP4, MKV, M4A, and WEBM.
Download YouTube videos at fast speed.
Select video quality: 144p, 240p, 360p, 480p, 720p, 1280p, 1440p, 4K.
Free offer and no extra fee.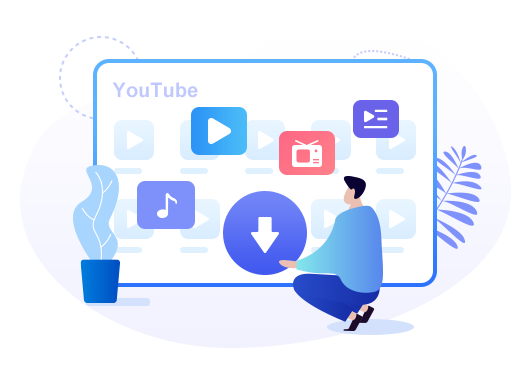 Steps to download YouTube video with Syncios YouTube Video Downloader
Step 1: Download and install Syncios YouTube Video Downloader to your PC. Then launch Syncios Toolkit. Here you will see six panels, select the last one YouTube Video Downloader.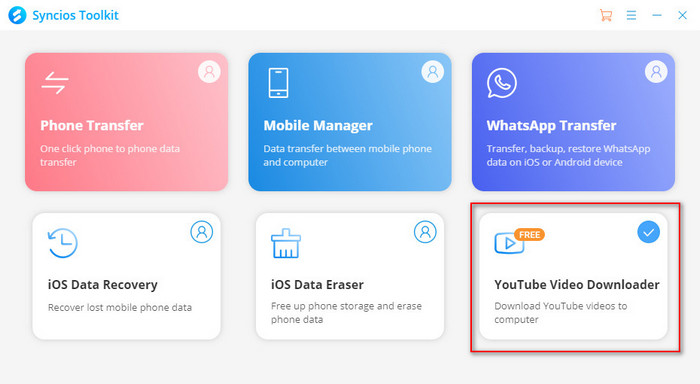 Step 2: Personalize the settings. Click on the Settings button in the top-right corner where you can set the download settings, choose the quality of the downloaded video, the path where the video is downloaded, and whether a proxy is required.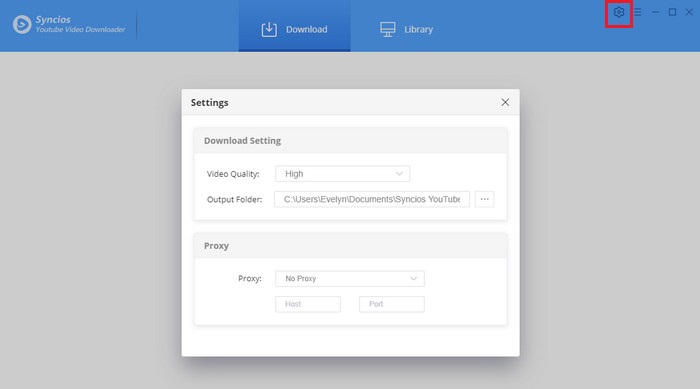 Step 3: After the setup is complete, open the YouTube video website in your browser. Find the link of the video you want to download, copy and paste it into the search box in the interface and search for it.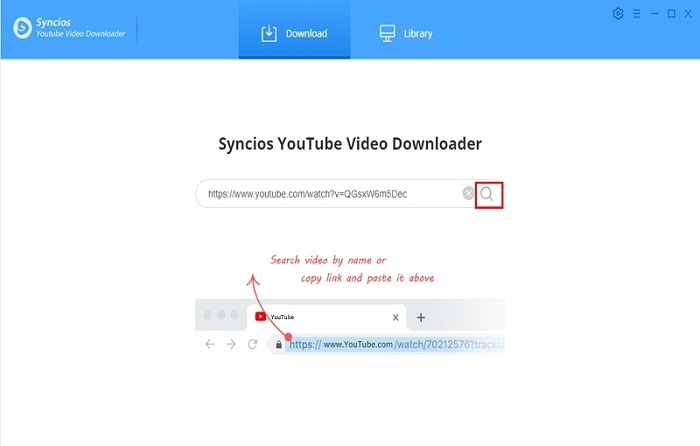 Step 4: Once the search results are available, you can directly click on the download button to start process with the parameters set in step 2. Of course, you can also select other qualities and sizes by clicking the "menu" button next to the download button. When setting the output format, MP4 is highly recommended as it provides a good balance of quality and file size, and will play on basically every device.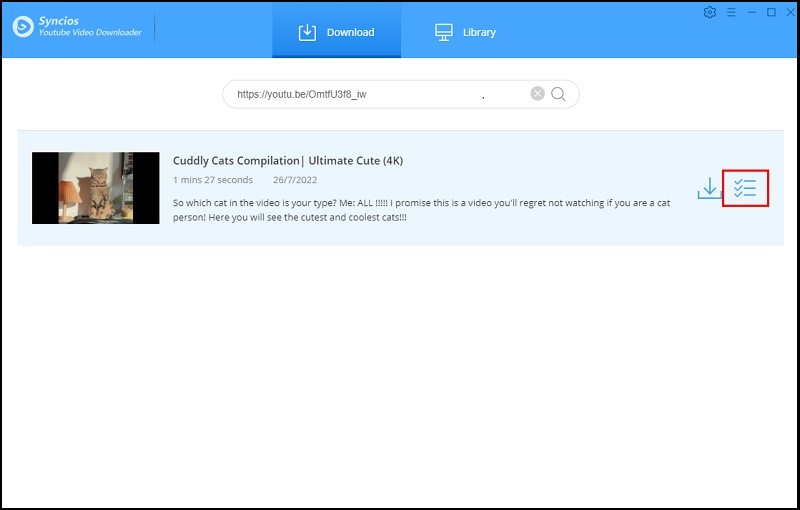 Step 5: Once the download is finally complete, you will be able to find all your recently downloaded videos or audio in the Library. Or locate files in the target folder.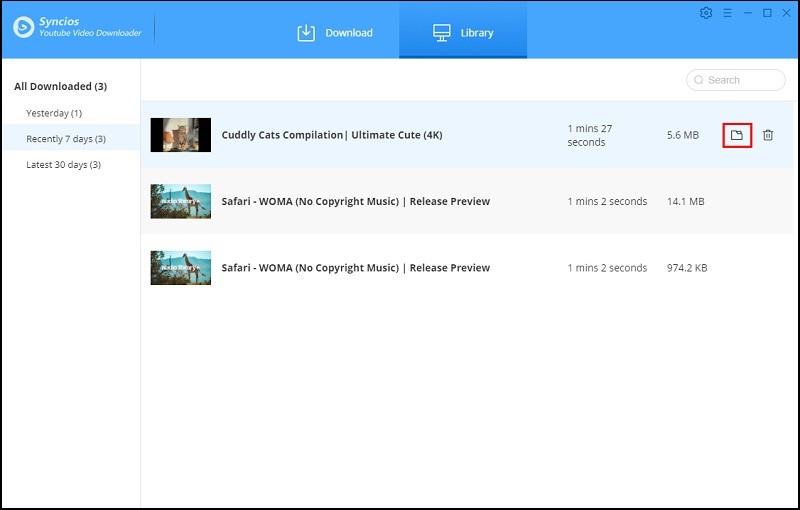 ---
2. How to Download YouTube Videos with Any Video Converter Free
If you google the best software to download YouTube videos for free, without any exception you will see recommendations for Any Video Converter Free, which everyone raves about, and this is because it really deserves these praises. The great thing about this program is that it is comprehensive but still free.
Steps to Download YouTube Videos with Any Video Converter Free
Step 1 Download and run Any Video Converter Free, click on the "Add URL" button, and you will see the following interface.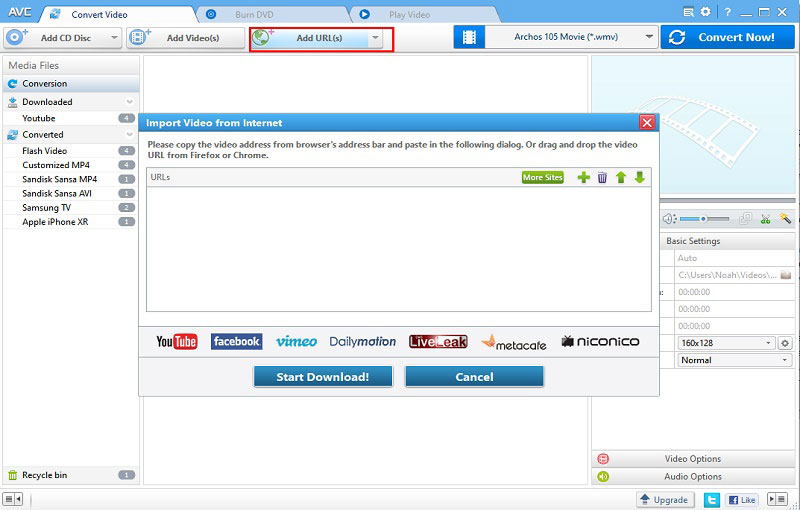 Step 2 Browse the YouTube website and select the video you want to download. Copy the link. Then click on the "plus" button and paste the link into the box below. The software supports downloading multiple videos at the same time, so just keep clicking on the add button and paste the links. Once more than one link has been added, you can adjust the order of the downloads by clicking on the up and down arrows.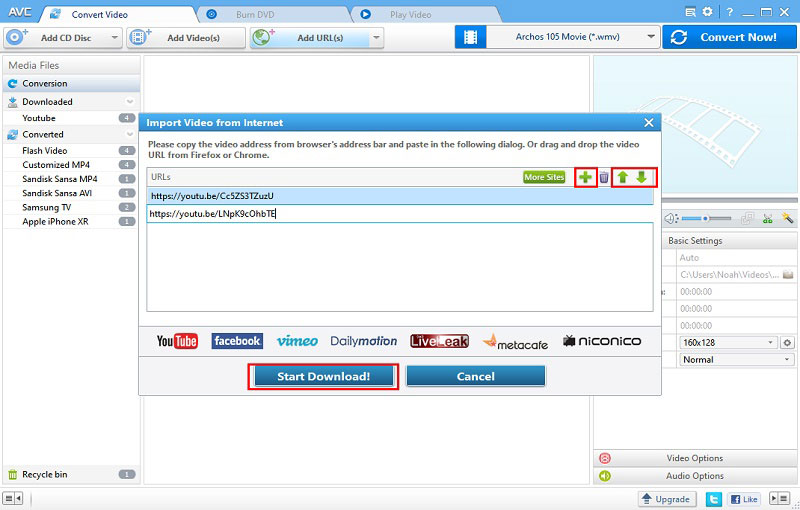 Step 3 Type on the "Start Download" button. Once the download is complete, you can check the download history on the left panel under "Downloaded" and locate the local folder by clicking on the file button.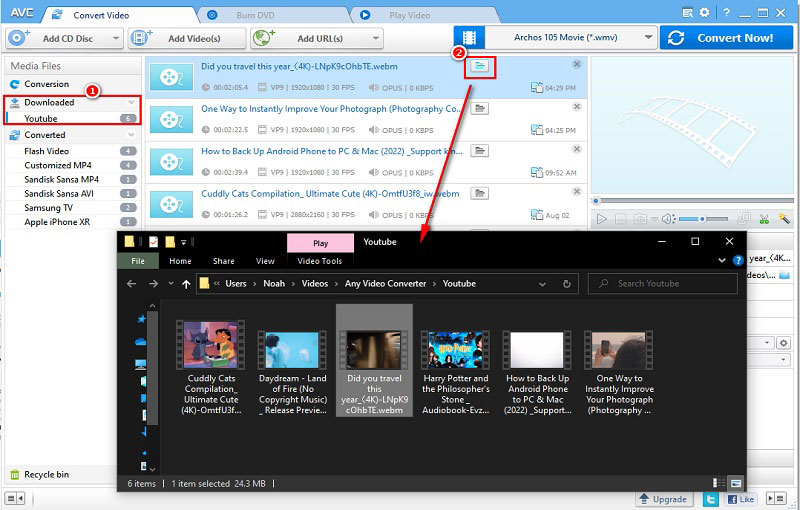 Step 4 The greatness of Any Video Converter Free lies in its comprehensive features. It not only allows you to download videos from YouTube for free, but also helps you edit videos in one-stop because of its built-in basic video editor. Not only can it simply edit videos, add subtitles and effects, but supports a wealth of convertible formats, covering almost all needs.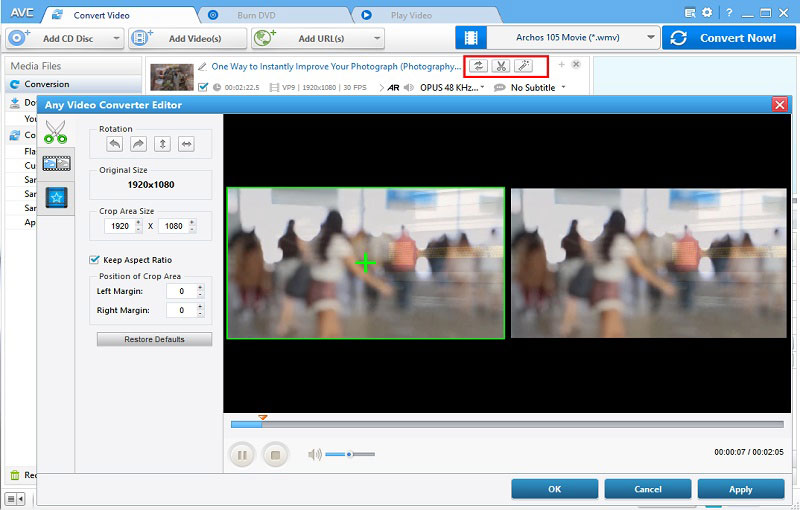 ---
Conclusion
There are certainly more than just two apps that can help you download videos on PC for free, but the two recommended in this article are the best of the lot. None of them are apps with single function to download videos for free, but a combination of multiple functions. Syncios helps you to transfer videos or audio between devices by using some functions in Syncios Mobile Manager after downloading. Any Video Converter Free helps you to simply edit videos and convert them into multiple formats. So just download and try these free tools.
Download YouTube Video Downloader
Download Any Video Converter Free