How to Download YouTube Video to MP3 Freely
If you are someone who likes listening to music, and you also like watching videos on YouTube, then you must be spending a lot of time on the site. However, this is not great news for your data limit and that's because the videos on YouTube are in the format of Flash and not MP3 or any other compressed audio format.
In case you did not know, this means that even though the video sounds great, it still takes up a lot of space when saved on your computer. As a result, if you listen to lots of music from YouTube and have your mobile data or wi-fi switched off at home or work, you will soon begin to hear 'You have used almost all your Internet data usage today…'over and over again. So how can we get around this problem? Read on to find out…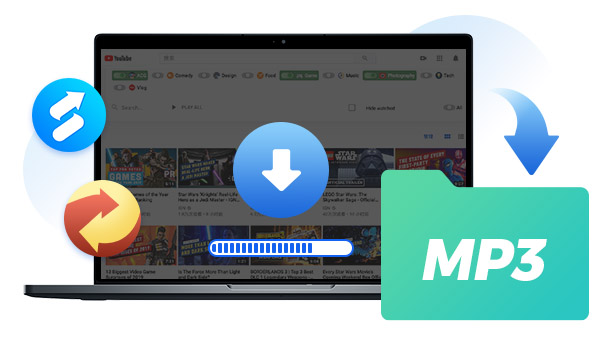 ---
1. Install a Video Downloader
First and foremost, you need a good video downloader. This will be the tool you use to actually download the videos from YouTube. There are tons of video downloaders out there and they all have different strengths and weaknesses. The best video downloader for you will depend on your tablet's operating system, the type of content you're downloading, and your preferred method of file storage. In general, video downloaders are designed to save videos in a format that's easy to transfer to your phone or tablet. The most popular video downloaders work with both Windows and Mac, though some will work better with one operating system than another. Make sure to read reviews before downloading a video downloader and make sure it meets your needs.
---
2. Syncios YouTube Video Downloader
Syncios is a powerful tool that can help you download and manage files on your mobile devices. It offers a variety of features that make it a great choice for anyone looking for an easy way to transfer and manage their data.
It also recently launched Syncios YouTube Video Downloader, which can help you download YouTube videos for free, and even choose to download them as MP3 files. This makes it a great option for anyone who wants to be able to access their favorite videos offline or on the go. After the download is complete, you can also directly use Syncios Mobile Manager to transfer MP3 files to your mobile phone, iPad or various players. Syncios Youtube Video Downloader is a great choice for anyone looking for an easy and convenient way to download YouTube video for free.
What Syncios YouTube Video Downloader can do for you:
Free download YouTube videos to MP3, MP4, MKV, M4A, and WEBM.
Download online YouTube videos and music for offline playing.
Download YouTube videos at fast speed.
Select video quality: 144p, 240p, 360p, 480p, 720p, 1280p, 1440p, 4K.
Free offer and no extra fee.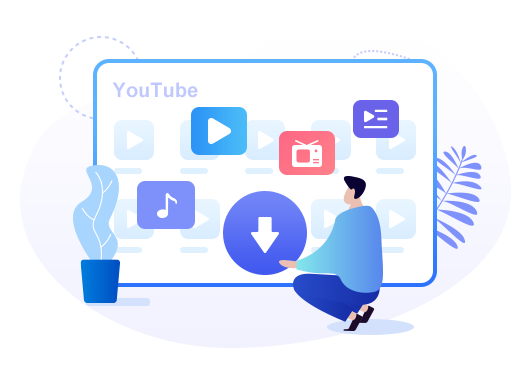 ---
3. Steps to Download YouTube Video to MP3 Using Syncios YouTube Video Downloader
Step 1 Run Syncios YouTube Video Downloader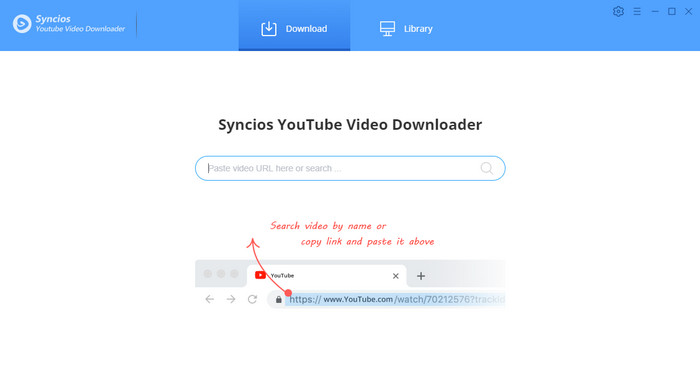 Step 2 Customize Download Settings
First click the settings button

on the top right corner of the program to customize the video quality and output folder.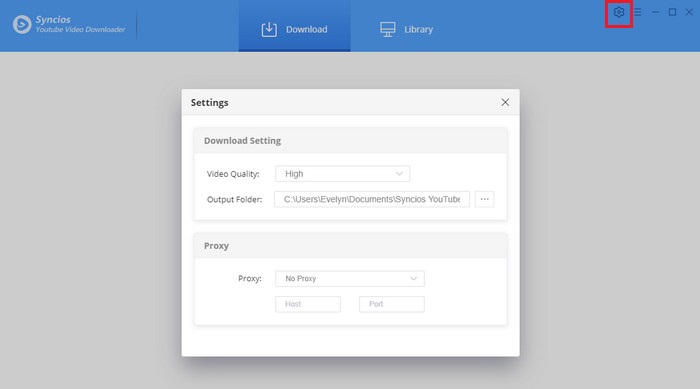 Step 3 Search YouTube Videos on Syncios YouTube Video Downloader
Just go to YouTube website and copy the URL of the YouTube video you want to download into this search box and click search. It will recognize the corresponding YouTube video and display it below the search box in the program.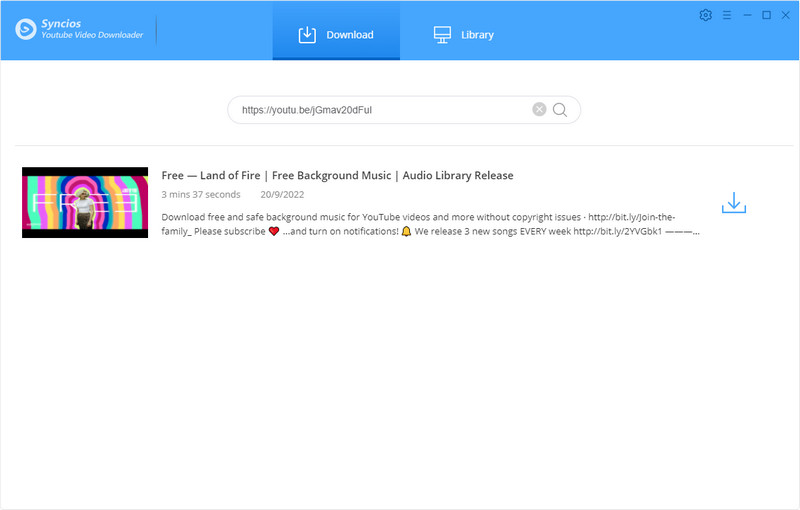 Step 4 Select Output Format & Quality
If you want to download a YouTube video to MP3, just directly hit the

icon. Followed that a window will pop up allowing you to select the corresponding audio in different output format & quality. Three output formats are provided here: mp3, m4a, wepm. Here we only need to select the corresponding quality MP3 then it will start download.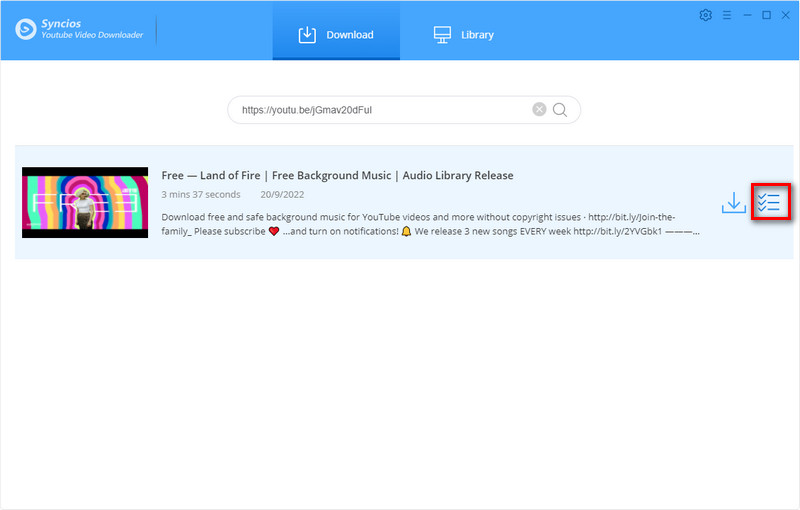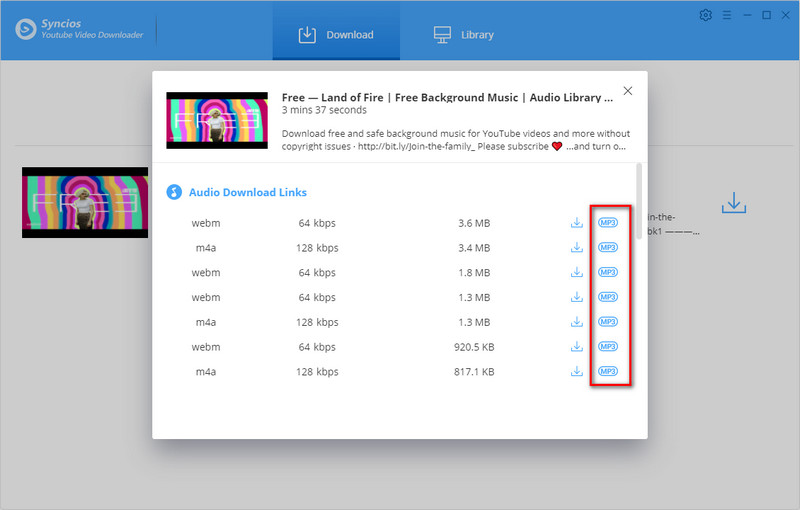 Step 5 After downloading, you can click on Library to find the well-downloaded YouTube MP3 file on local drive. If you need to transfer MP3 files to your phone or iPad, just go back to Syncios Toolkit and use Syncios Mobile Manager to do that.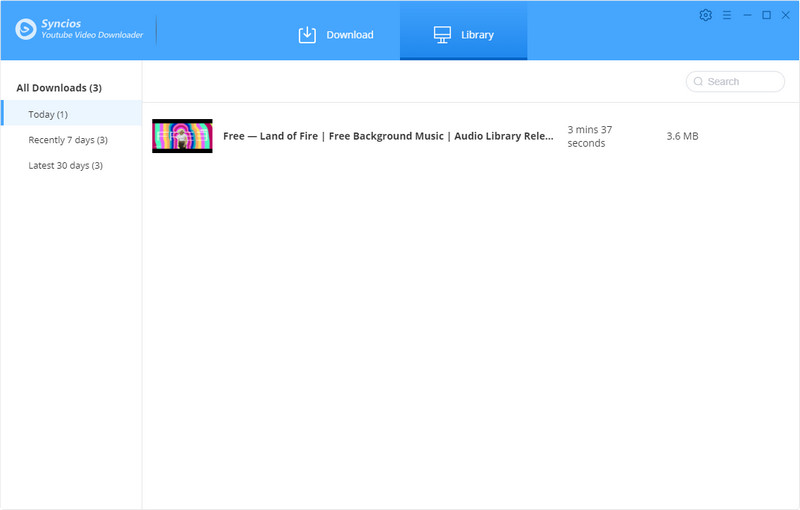 ---
4. Using a Video Converter
There are a few different ways that you can download YouTube videos to MP3 format. One popular way is to use a YouTube video downloader. These downloaders will allow you to download the video to MP3 format directly.
Another way to convert YouTube videos to MP3 is by using a video converter. There are a lot of different converters out, but it's important to note that the video converter you choose should preferably have the ability to download YouTube videos directly. Typically, you will need to download the video converter software and then follow the instructions on how to convert the YouTube video. The process is usually pretty simple and only takes a few minutes.
5. Any Video Converter Free
Any Video Converter Free is such a powerful video converter that can download YouTube videos and convert them to MP3 format. Unlike Syncios, Any Video Converter is designed to freely convert videos between any format, such as converting MP4 format to MP3 format. In addition, Any Video Converter also supports downloading videos from YouTube for free, which makes it possible to download YouTube videos to MP3.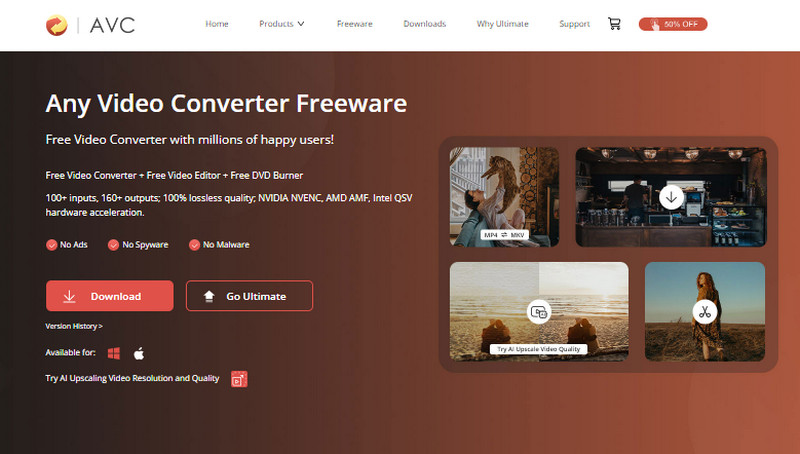 6. Convert YouTube Video to MP3 Using Any Video Converter Free
Step 1 Download and run Any Video Converter Free, you will see the clear interface.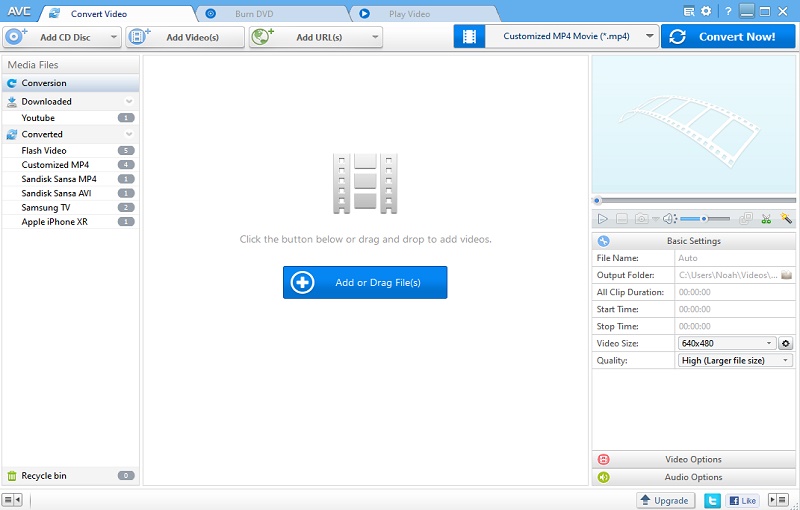 Step 2 Click the settings button in the upper right corner and select online video. Filling in your account information here allows you to download some age-restricted videos. All information will be kept safe.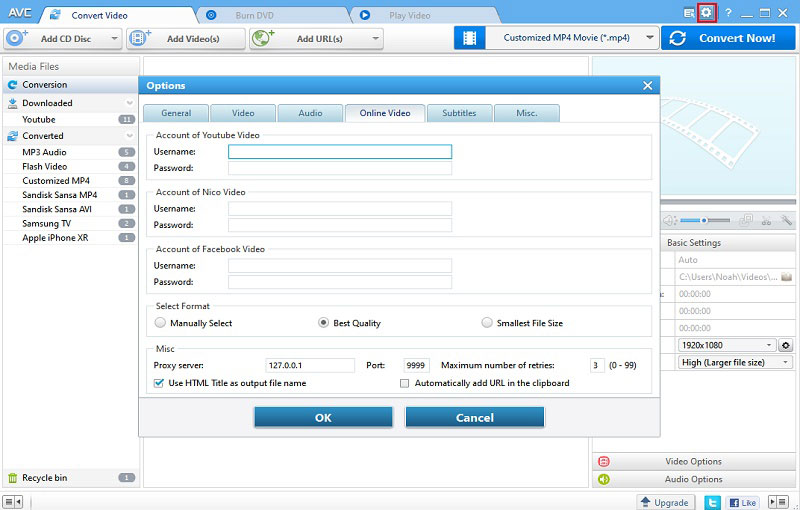 Step 3Click on the "Add URL(s)" button to add YouTube video file(s) you would like to convert. Just copy the YouTube video link into the search box, if you need to convert multiple YouTube videos at one time, you can click the plus sign to increase the search box. After all the YouTube videos are added, click Download.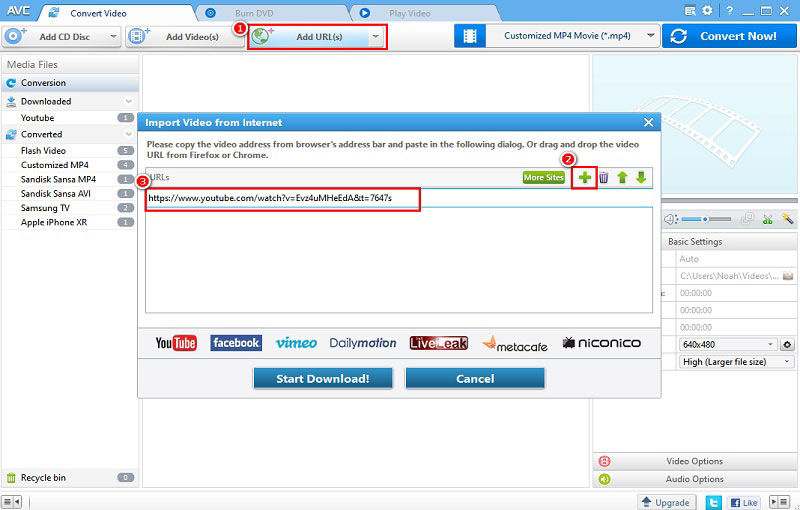 Step 4 After the download is complete, the video will automatically appear in the Convert section. At this time, you can set the output file format. As mentioned earlier, Any Video Converter is a powerful multi-format video converter, so you can browse various formats here. All you need to do is choose "MP3" and then click "Convert Now!"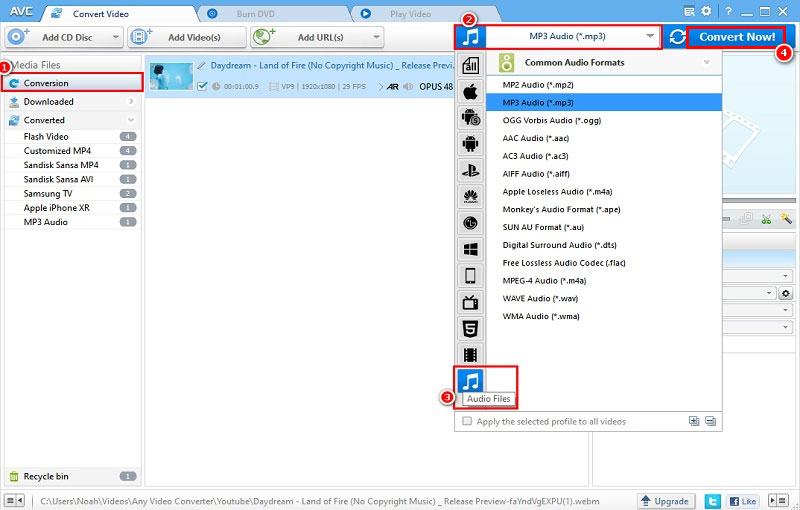 Step 5 Once the conversion is complete, the window to save the MP3 music will automatically pop up. Then you are free to enjoy your MP3 files.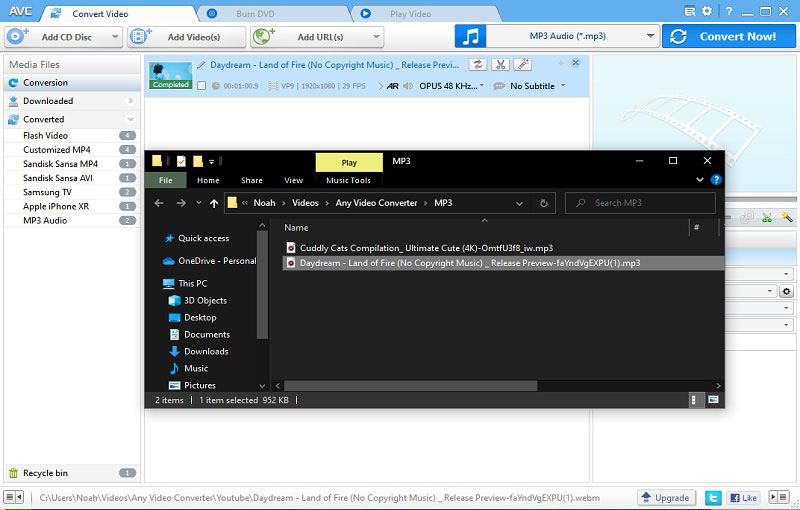 Conclusion
If you are looking for a way to download YouTube videos to MP3 so that you can listen to them on your own time, we have two great suggestions for you. Both Syncios YouTube Video Downloader and Any Video Converter Free allow you to convert YouTube videos into MP3 with just a few clicks. So, if you want to take your favorite music or lectures with you wherever you go, either of these programs will do the trick. Give them a try today!
Download Syncios YouTube Video Converter
Download Any Video Converter Free