How to Download YouTube Video to MP3
I came across a YouTube video today and I really like the soundtrack. Can I save this video in MP3 format for offline listening? And how do I do that?
YouTube has the world's largest collection of videos, which makes it a popular place for people to browse, relax and even learn skills. Many of the best videos are often accompanied by a very attractive soundtrack. Now and then, someone falls in love with a video's background music and goes to great lengths to find out how to strip the audio from the video and save it in MP3 format for offline listening. Searching, trying, and sifting through safe and effective software on your own can be time-consuming. Well, now you can find out how to download YouTube videos to MP3 files and the detailed steps in just one article, which will save you time in finding the right program and learning how to use it.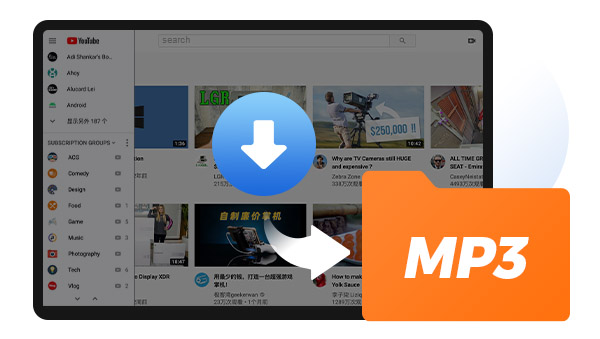 ---
1. Best Choice: Download with Any Video Converter Free
There are so many desktop programs and websites dedicated to YouTube video downloads on the market today. The program that this article are highlighting today, Any Video Converter Free, is slightly different from these.  It is of course also an excellent program for downloading YouTube videos, but it is more than that. The main functions of Any Video Converter Free are converting videos between any formats freely, convert CDs and videos to MP3 and downloading videos for free. The program supports a wide range of platforms for downloading videos, not only YouTube, but also Facebook, Vimeo, etc. Read on to see how it works.
Steps to Download with Any Video Converter Free
Step 1 Download and run Any Video Converter Free, you will see an interface like this.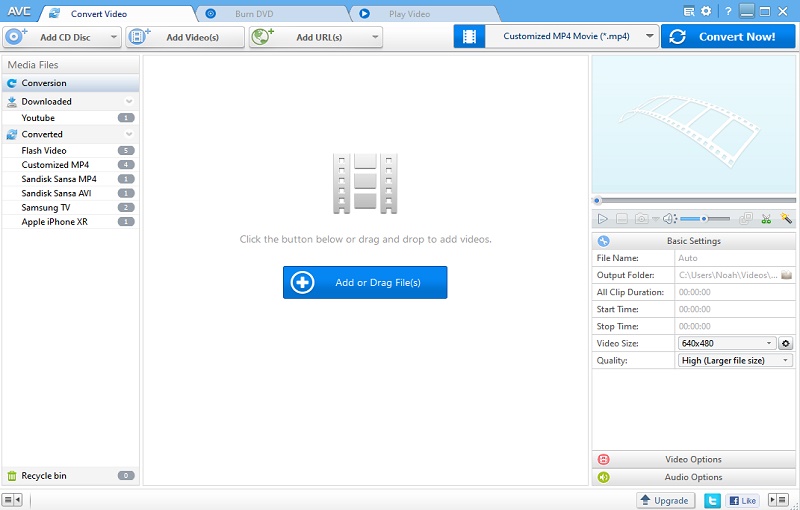 Step 2 Click on the Settings button in the top-right corner. Then click the online video button, here you need to enter your account information. Don't worry, this is mainly for your convenience to download some age-restricted videos. All information will be kept safe.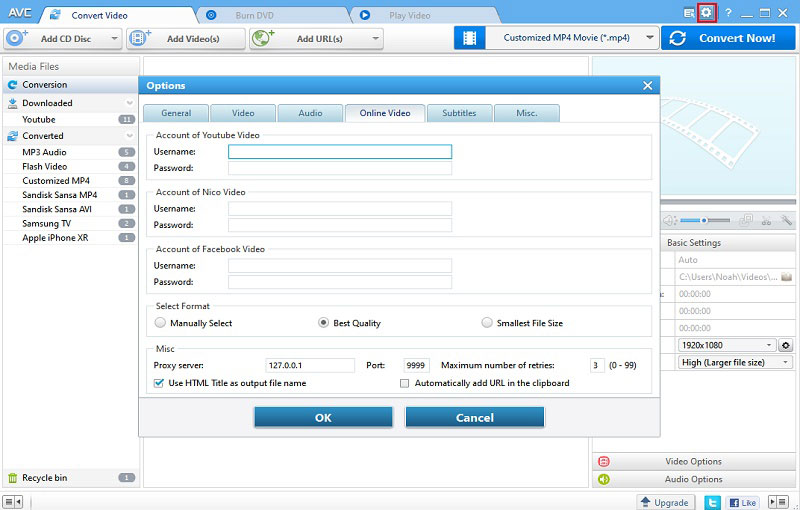 Step 3 Add the video. Click on the "Add Link" button, then click the green plus button and a box will appear below it. Copy the link of the video you want to download from YouTube and paste it into the search box. If you want to download more than one video at a time, you can continue to repeat the previous steps, copying and pasting the link into the box after pressing the plus button. After all the links have been added, click Start Download to start the process.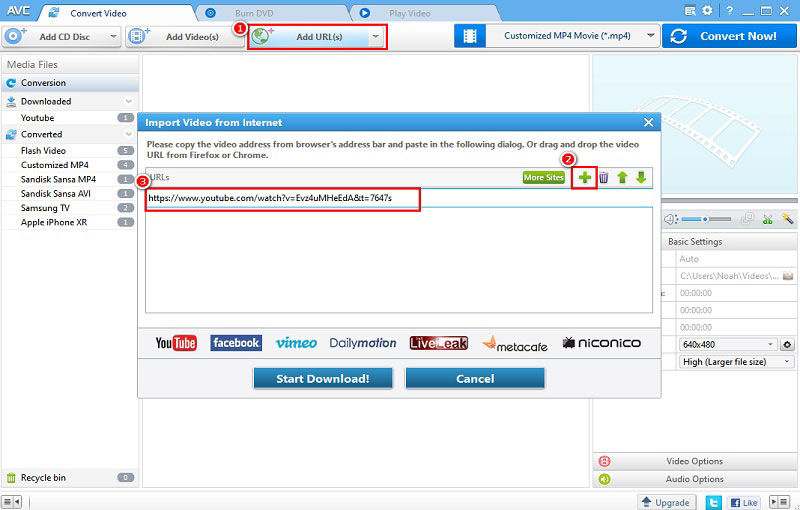 Step 4 Convert the video. Once the download is complete, the video will automatically be presented in the Conversion section. As mentioned before, Any Video Converter has a wide range of formats available for conversion. Browse all formats according to the instructions in the picture. Select the last audio files, there are 14 formats for it alone. After selecting, click on convert now to start the conversion.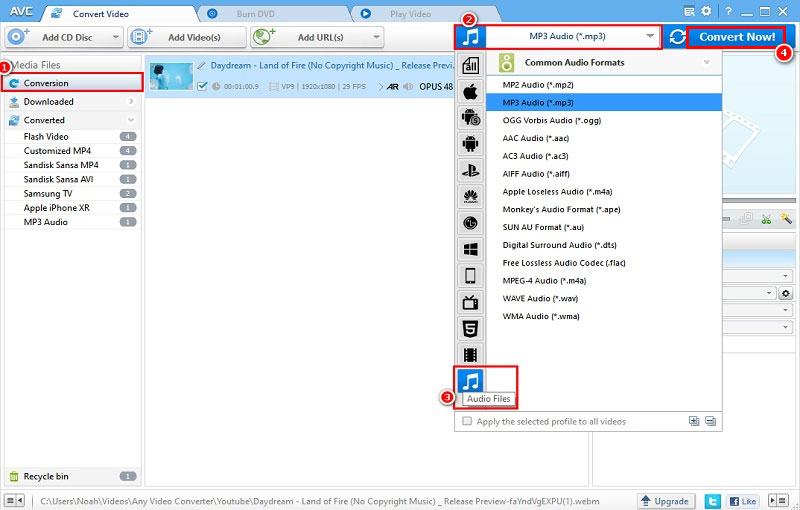 Step 5 Once the conversion is complete, the window to save the MP3 music will automatically pop up. Then you are free to enjoy your music.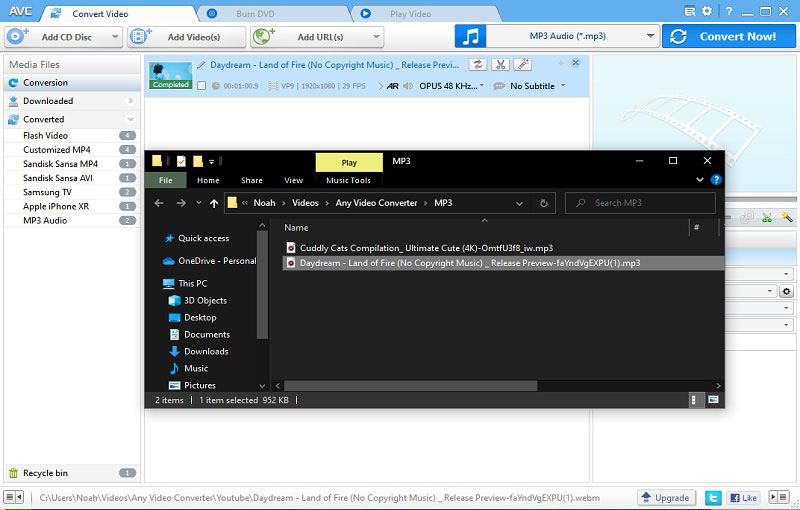 ---
2. Additional Information about Any Video Converter Free
Another highlight of Any Video Converter is that it has a built-in basic video editor. Once the video has been downloaded, it can be edited. The main functions are as follows.
Function 1 Crop the video. If you don't want the whole video, you can cut a clip of it to convert and save it.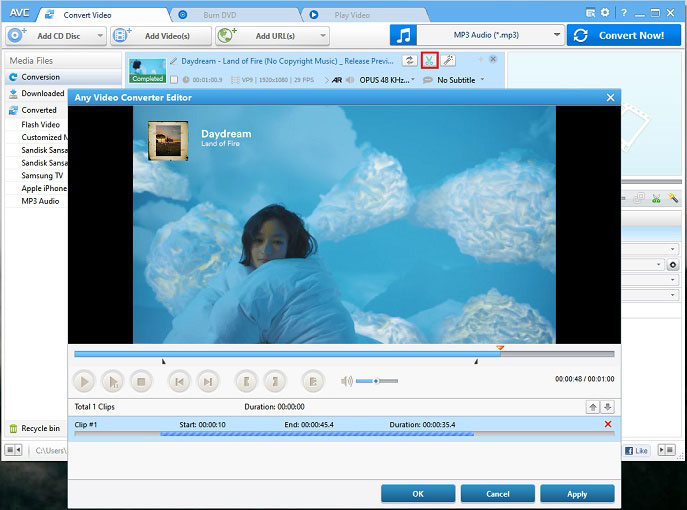 Function 2 Add effects. Adjust the brightness, contrast, saturation and other effects of the video as required.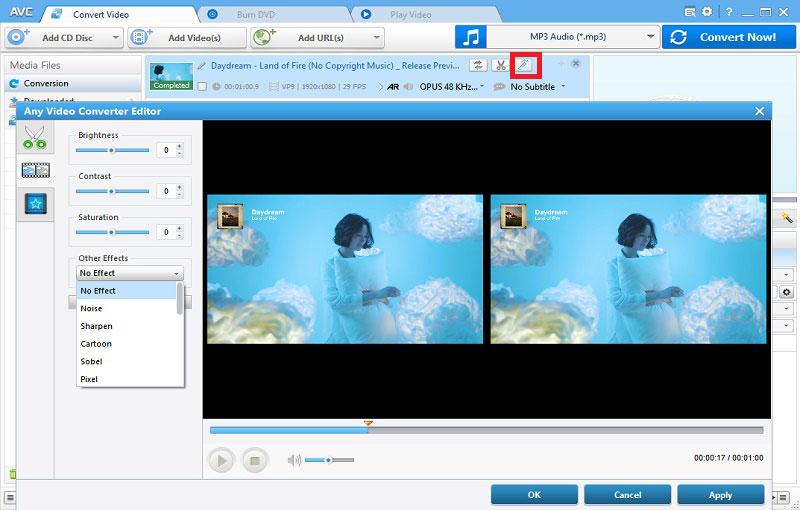 Function 3 Add subtitles. Click on Add subtitles, select the subtitle file you have prepared in advance and open it.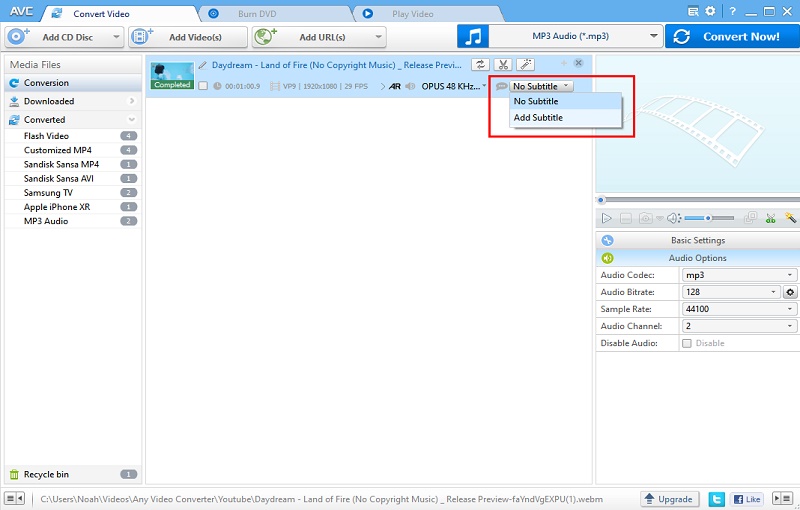 ---
Legal Warning
YouTube's Terms of Service has expressly stated that "You shall not download any content unless you see a 'download' or similar link displayed by YouTube on the service for that content. You shall not copy, reproduce, distribute, transmit, broadcast, display, sell, license, or otherwise exploit any Content for any other purposes without the prior written consent of YouTube or the respective licensors of the content ". Of course, this does not mean that downloading videos from the YouTube platform is completely illegal. For this kind of problem, it is necessary to analyze specific problems and give full consideration to "fair use". Generally speaking, there is no infringement of intellectual property rights as long as the activity is not commercial in nature and for profit, so you can use the downloaded video or audio for private enjoyment, research, teaching or other non-profit-making activities. Copyrighted works must be used with the permission of the author or other copyright owner. It is not easy to create good works and everyone should strictly abide by the rules and respect the works of others.
---
Conclusion
In fact, there are far more tools that can download YouTube videos to MP3. The demand for downloading YouTube videos and music has prompted the emergence of a wide selection of YouTube to MP3 converters. Although there are many downloaders on the market, they vary in effectiveness, security and price. This article focuses on Any Video Converter Free. Foremost, it is completely secure, has no bundled programs and the functions are comprehensive. Having this software is equivalent to having a video converter, video downloader, and video editor. The best part is that it is also completely free. So, what are you waiting for? Just download it and try it out.
Download Any Video Converter Free