How to Download YouTube Video to MP4
Have you ever been in these situations? When you are watching a video, the network is unstable and then forced to terminate, or the business trip is too far, and you are bored on the way to watch videos to pass the time, but there is no Wi-Fi? If you are suffering from these problems, then the best solution is to download the video in MP4 format for offline viewing. This format is supported on Windows PCs and Macs as well as most devices such as smartphones, tablets, etc. This article will show you three simple ways to download YouTube videos to MP4 and detailed tutorial on how to transfer them to mobile devices like mobile phones or iPads.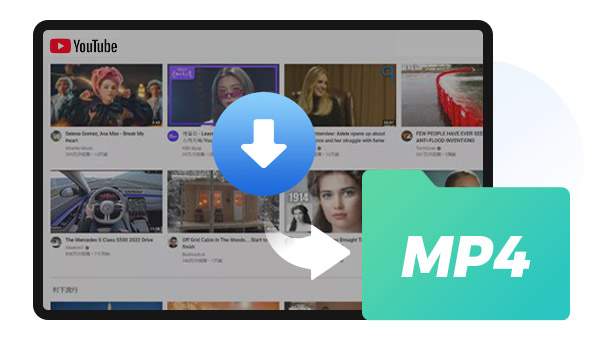 ---
Required Reading
In accordance with YouTube's Terms of Service, you may not download any content unless you see a "download" or similar link displayed by YouTube on the service for that content. You may not copy, reproduce, distribute, transmit, broadcast, display, sell, license or otherwise exploit any content without the prior consent of the YouTube author. Well, it also says that in the United States, works of commentary, criticism, research, teaching or news reporting may be considered fair use, but this may depend on the circumstances. That is, downloading in these cases is the reuse of copyrighted material without the permission of the copyright owner. However, fair use is determined on a case-by-case basis and different countries/regions have different rules on when material can be used without the permission of the copyright owner. Therefore, the best practice is to first seek permission from the author before downloading a video or using it for any other purpose.
---
1. Download Video to MP4 with Syncios YouTube Video Downloader
Syncios YouTube Video Downloader is definitely the most reliable video downloader online. This free downloader supports downloading videos and music from YouTube by copying and pasting video URL from YouTube, as well as searching for videos and music. It is free and simple to use, ad-free, and has no malware, spyware, and bundled extra software, so you can download and install this YouTube Downloader at ease.
What Syncios YouTube Video Downloader can do for you:
Download online YouTube videos and music for offline playing.
Free download YouTube videos to MP4, MKV, M4A, and WEBM.
Download YouTube videos at fast speed.
Select video quality: 144p, 240p, 360p, 480p, 720p, 1280p, 1440p, 4K.
Free offer and no extra fee.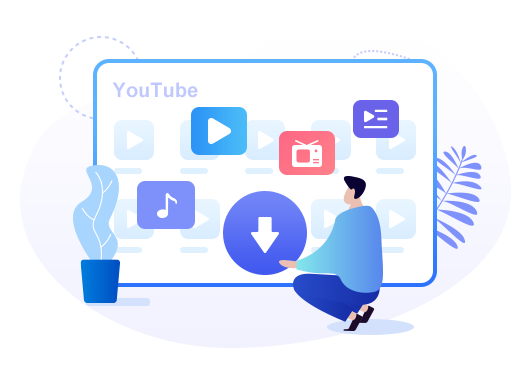 Steps to Download with Syncios YouTube Video Downloader
Step 1 Download and install Syncios YouTube Video Downloader.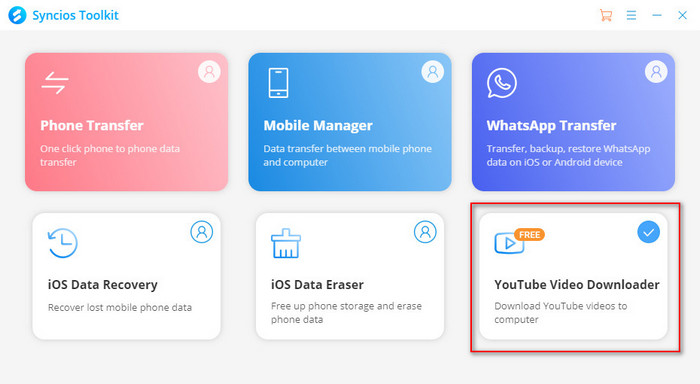 Step 2 Click on the Settings button in the top-right corner to set the video quality, output path and whether you need a proxy.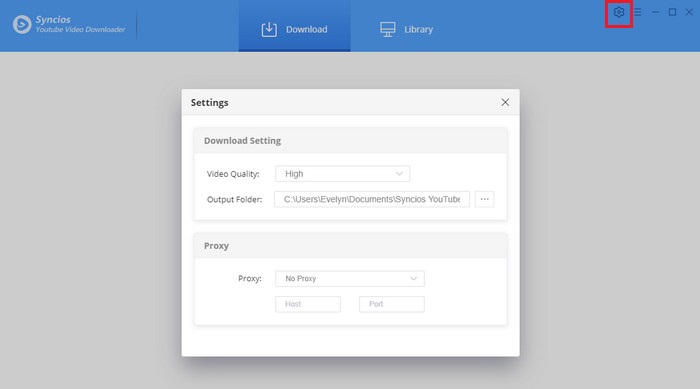 Step 3 Copy the link of the video to be downloaded and paste it into the search box. Click on the magnifier button or press Enter to start the search directly.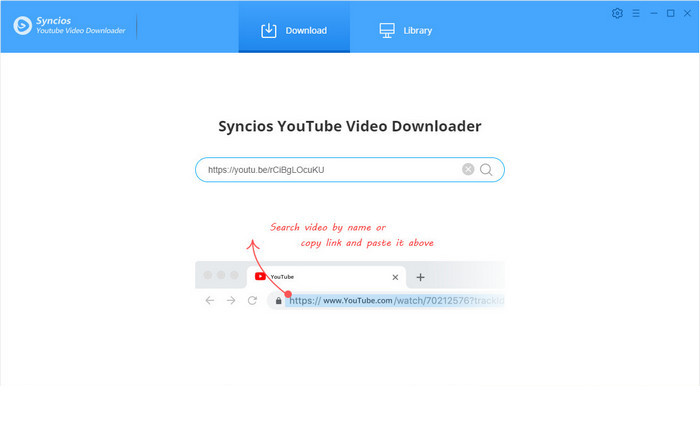 Step 4 Click the menu button. You can choose from a wide range of formats and resolutions, from 144P to 2160P HD, in the video download links section. Not every video has the same resolution. The upper limit is determined by the highest resolution of the video itself.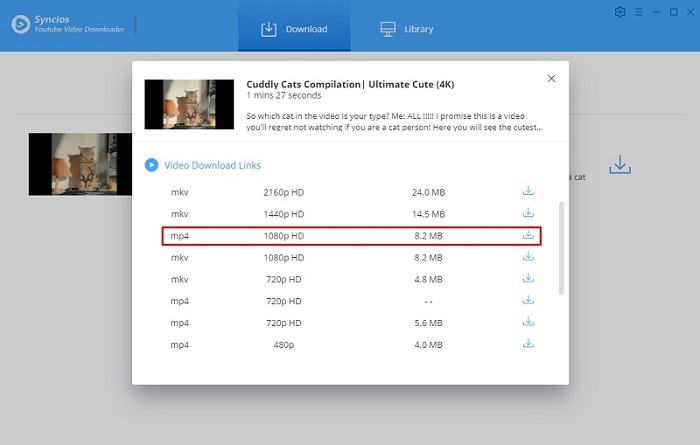 Step 5 Click on the download button. Once the download is complete, you can check the history of all downloaded videos in the Library.
---
2. Download YouTube Video to MP4 with Any Video Converter Free
The main features of Any Video Converter Free include converting between video and audio formats, editing videos using clips, cropping, flipping, merging, special effects, as well as adding watermarks and subtitles, burning media files to blank DVDs and playing them on any DVD player, helping to download videos including but not limited to the YouTube platform.
Step 1 Download and run Any Video Converter Free.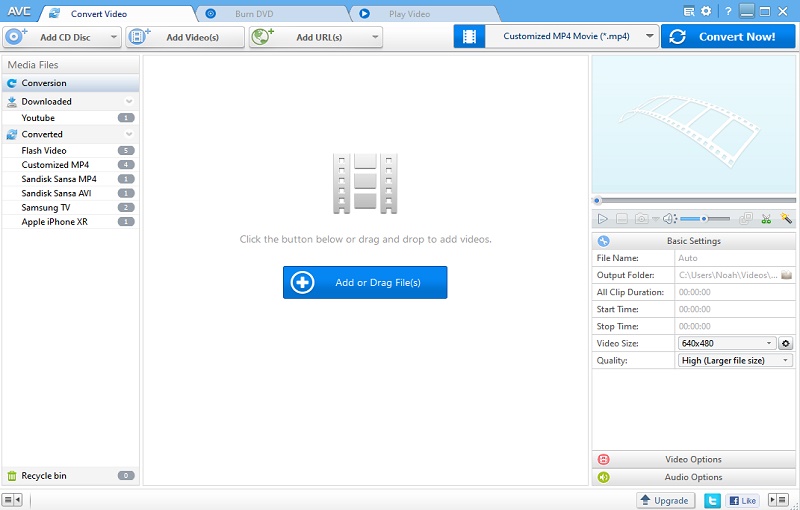 Step 2 Add videos. Click the "Add Link" button, then type the green plus button, and a box will appear below. Copy the link of the video you want to download from YouTube and paste it into the search box.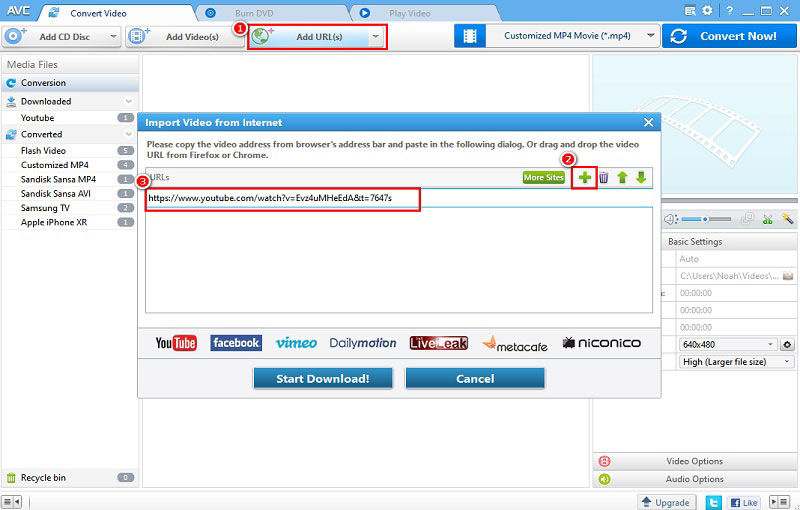 Step 3 Convert the video. Once the download is finished, the video will be automatically presented in the Conversion column. The default format of downloaded video is WEBM, so it needs to be further converted to MP4 format. Before converting, you can click on this button

to edit the video briefly, corp it and add effects. Finally, follow the instructions in the picture to find the Customized MP4 Movie and click Convert Now to start the process.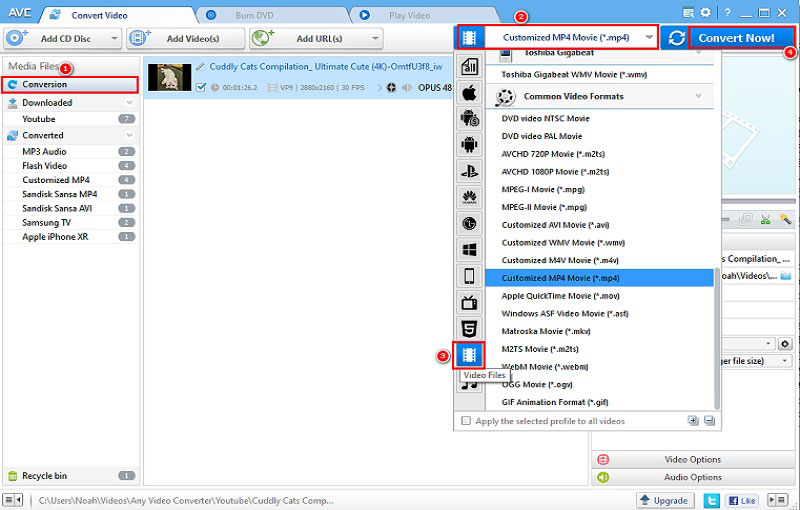 ---
3. Download YouTube Video to MP4 with YouTube Video Downloader
YouTube Video Downloader provides online service, which means you don't have to download any software to your desktop and with only one website, you can easily download video to MP4.
Step 1 Open the website.
Step 2 Copy and paste the link of the video you want to download and search.
Step 3 Select the appropriate resolution and click Download.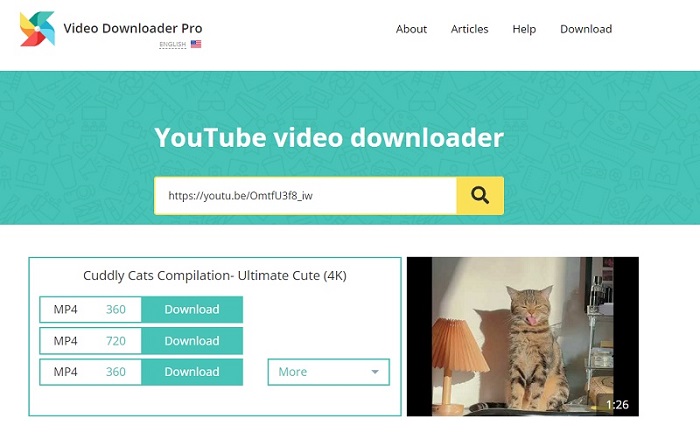 ---
4. How to Transfer Videos from Computer to Mobile Devices
The videos downloaded through the above three ways are saved on your computer. What you need to do next is to transfer them to your mobile devices. To solve this problem, you will consider whether your phone is Android or iOS, and whether your computer is windows or Mac, since the solution varies from model to model. However, the next method is applicable regardless of your cell phone or computer system.
Syncios Mobile Manager, an all-in-one mobile manager helps you back up, transfer and manage iOS and Android phone data, sync files from computer to phone.
Key Features of Syncios Mobile Manager:
Selectively back up and restore contacts, messages, call logs, music, video, photo, eBooks, apps, etc.
Manage iOS devices/Android music, edit song details and deduplicate tracks.
Preview and export SMS, Call History & Contacts to readable format on the computer.
Handy tools: One-Click Backup/Restore, HEIC Converter, Photo Compression, Ringtone Maker, Audio Converter and Video Converter.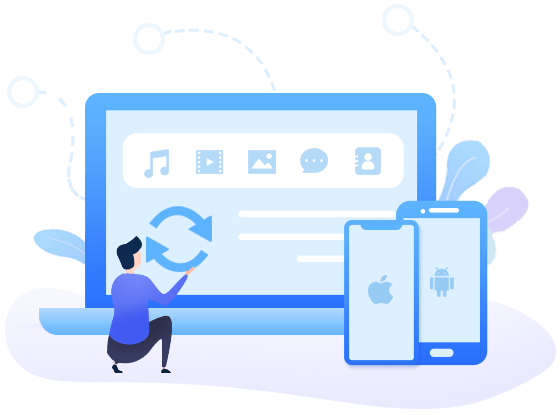 Steps to Transfer YouTube Videos from Computer to Mobile Devices
Step 1 Click Mobile Manager and connect your computer to your phone with a data cable.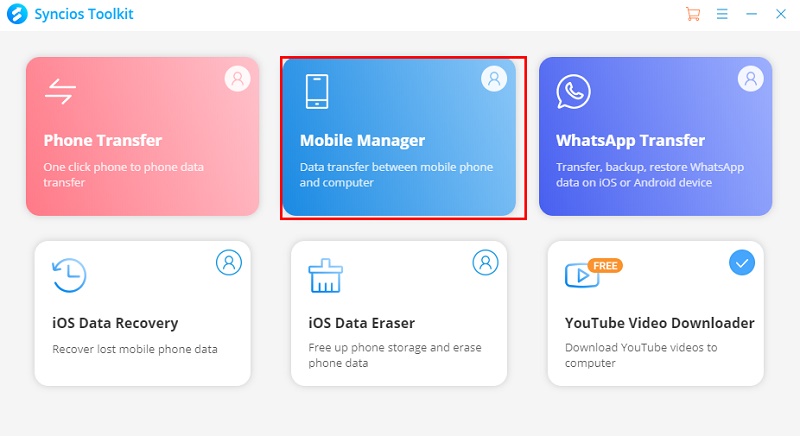 Step 2 Import downloaded videos. Select the video directory on the top menu bar, and then click on "Add". You can choose "Add files" to select a single video that you want to transfer, or choose "Add Folder" and transfer all the videos in this folder at one time.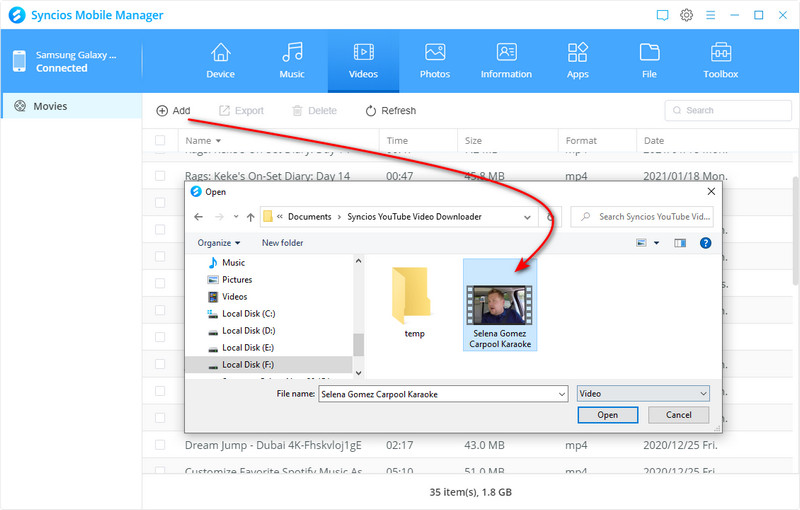 Step 3 After the transfer is complete, click the Refresh button to check if the transfer has been imported to the target device.
---
Conclusion
There are many applications and online service websites that enable downloading YouTube videos currently, but many of them have security problems. Especially online services, some of them will jump to other pages during the trial. When picking a downloader, be careful if it carries viruses or ads. The three YouTube downloaders reviewed in this article all do a good job of downloading YouTube videos. But in general, desktop programs are still more recommended, as they are probably the better choice in terms of security and the highest quality of the downloaded videos.
Download YouTube Video Downloader
Download Syncios Mobile Manager