The Fullest Tutorial on How to Save YouTube Videos
YouTube, founded in 2005, was originally created to facilitate the sharing of video clips among friends, but has since become a repository of memories for netizens. You may be able to browse, like and even upload videos on YouTube easily, but if you want to download YouTube videos, it is a bit difficult to do. YouTube does not allow users to download videos directly from the site without a premium subscription. Then this article is mainly to help you with this problem. In the following, you will learn about the most comprehensive list of different ways to save videos from YouTube, the pros and cons of these tools and approaches, as well as provide you with detailed steps on how to use these tools.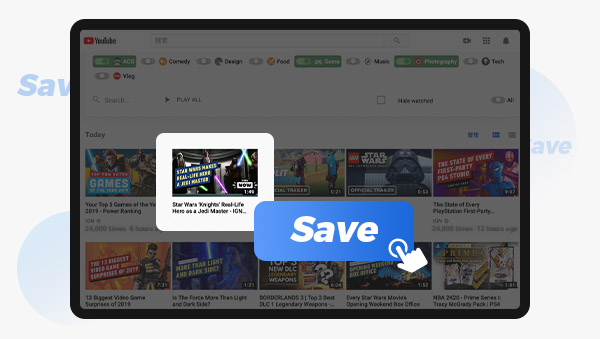 1. Save YouTube Videos with AmoyShare Free YouTube Downloader
The first way is to download YouTube videos via the online service. AmoyShare Free YouTube Video Downloader does not require you to sign up to the website, which eliminates a lot of hassle. Its main features are downloading YouTube videos to MP3, MP4 format, online playlists and shorts videos for free.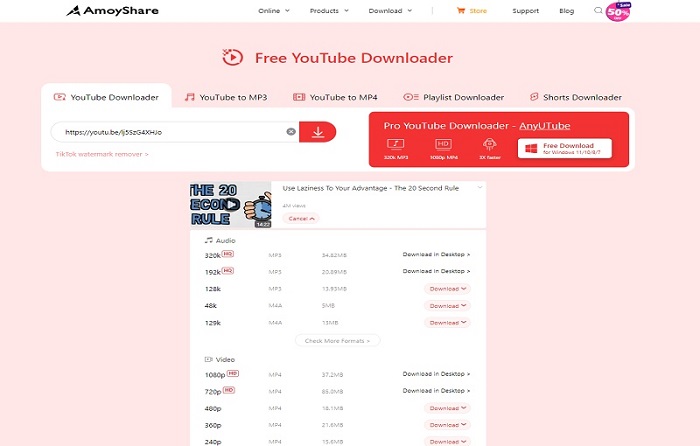 Steps: The AmoyShare Free YouTube Downloader simplifies your YouTube video download with two different methods; the first is to copy and paste the video link to the search box, then select the appropriate resolution and size and click on download. The second is to search by keyword. Enter relevant keywords in the search box, click the drop-down menu of the download button after the video is loaded, and then you can select the size and formats.
---
2. Save YouTube Videos with YouTube Video Downloader Pro
YouTube Video Downloader Pro is the second online service that has been tested and performs well. Its functions and procedures are similar to those of AmoyShare Free YouTube Downloader. The interface is more intuitive. However, this online downloader currently only supports searching by video links, not by keywords.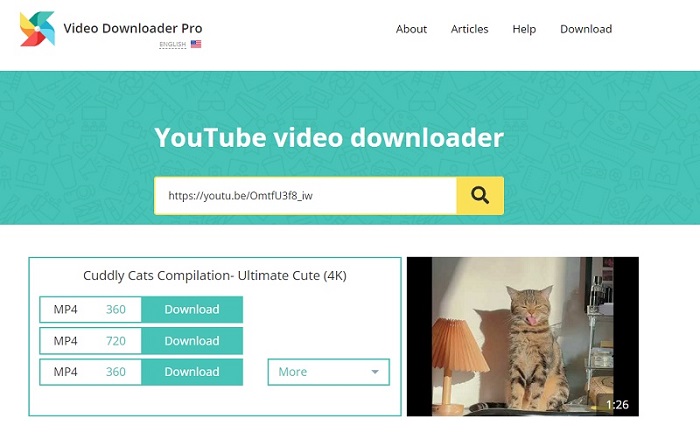 Pros: no need to download any programs, no registration required, can be used at any time even if you change your computer
Cons: Most online downloaders are not that secure and have those annoying pop-up ads. AmoyShare Free YouTube Downloader can only download videos in MP4 format with a maximum resolution of 480p, and download audio in MP3 and M4A formats with a maximum bitrate of 128k. To download the highest resolution, you will need to download the desktop application and may have to pay for it. Similarly, YouTube Video Downloader Pro only supports up to 720P.
---
3. Save YouTube Videos with Syncios YouTube Video Downloader
Since you still need to download desktop software to save videos with high quality and sound using online downloaders, then here are a few excellent desktop downloaders for you.
Syncios YouTube Video Downloader is highly recommended. It enables you downloading YouTube videos, music, playlist in 4K/HD/SD resolution and convert to MP4, M4A, WEBM and MKV. It has no bundled software, ads and extra charges, so you can download at ease.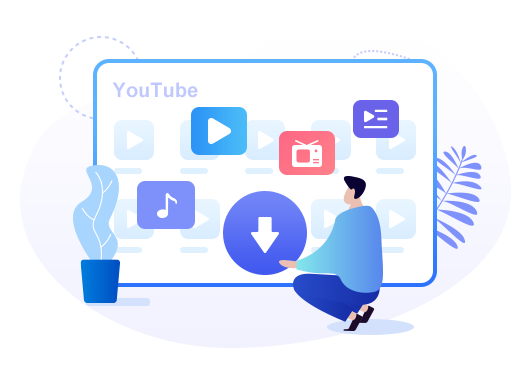 What can this Free YouTube Video Downloader do for you:

Free download YouTube videos to MP4, MKV, M4A, and WEBM.


Download YouTube videos, music, playlist in 4K/HD/SD.


Fast and smart search for YouTube video, music, playlist.


Download YouTube videos at fast speed.


User-friendly and intuitive interface, easy-to-use.
Steps to Download YouTube Videos with Syncios YouTube Video Downloader
Step 1 Download and install Syncios YouTube Video Downloader. If you are a Windows user, you will find an icon called syncios toolkit on the desktop. Double-click to open syncios toolkit and select the last section, Syncios YouTube Video Downloader.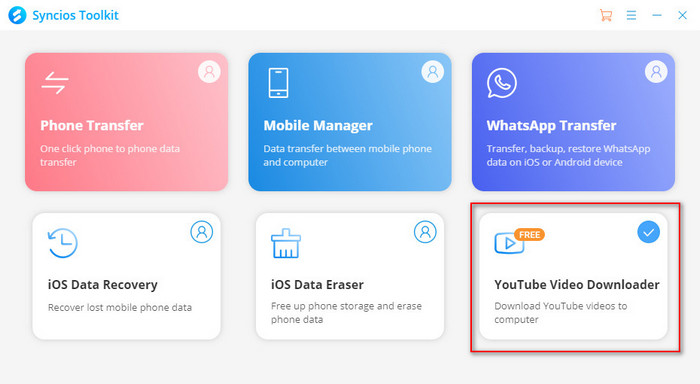 Step 2 Click the Settings button

in the upper-right corner to set the quality and output path.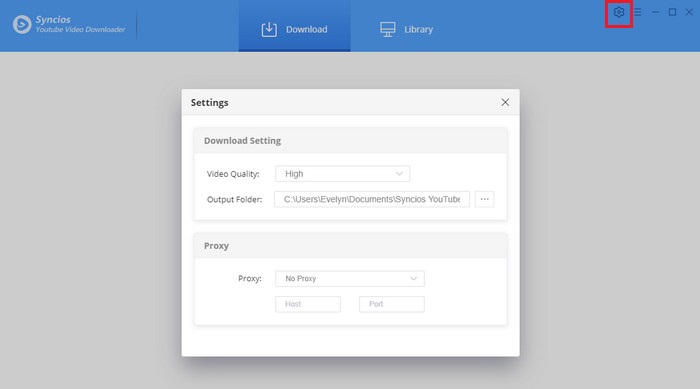 Step 3 Search for the video. Like the first online downloader recommended above, Syncios YouTube Video Downloader can be searched by copying and pasting the link into the search box and then clicking the Magnifier button or hit the Enter to start the search.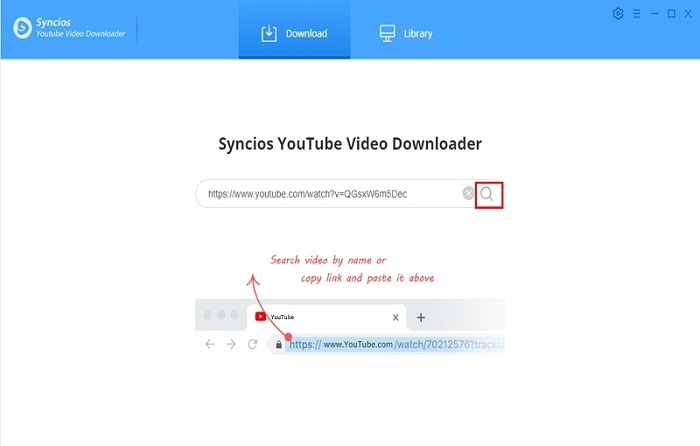 Alternatively, you can also directly enter a keyword in the search box, and then you will get a number of videos related to that keyword. Find the one you want to download among them and proceed to the next step.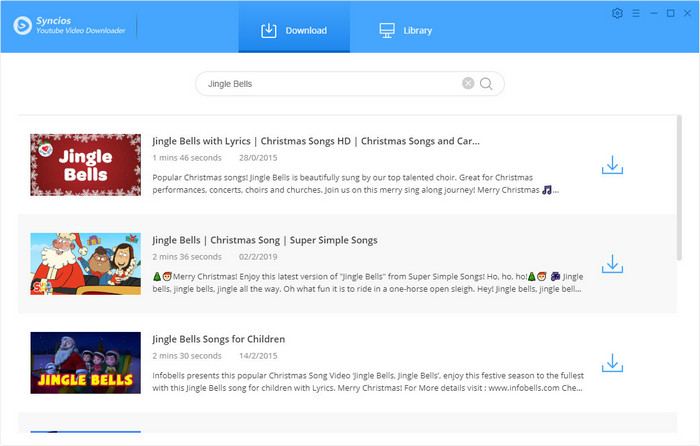 Step 4 Click on the Advanced Download

. If you select the format in the audio download links section, it means that the audio and picture of the video will be stripped and stored in audio format only. If you want to download the whole video, then select it in the video download links section, which offers a variety of formats and resolutions.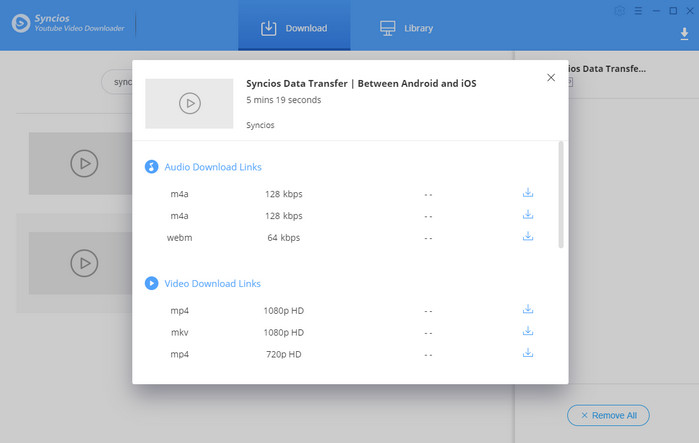 Step 5 Click on the download button. Once the download is complete, you can check the history of all downloaded videos in the Library. You can either find the downloaded videos according to the output path you set in step 2, or just click on the folder button to locate it directly.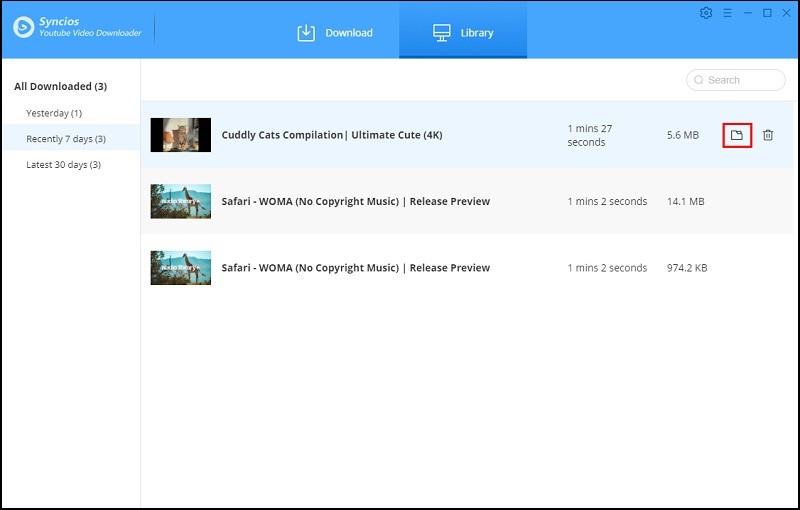 ---
4. Save YouTube Videos with Any Video Converter Free
Any Video Converter Free is a feature-rich, safe and completely free program. The main features of it can be summarized in four parts: converting videos between any formats freely, burning video to DVD or AVCHD DVD, downloading videos from the internet and editing videos. It currently supports downloading videos from YouTube, Facebook, Dailymotion, Vimeo, Metacafe, Niconico, etc.
Steps to Download YouTube Videos with Any Video Converter Free
Step 1 Download and run Any Video Converter Free.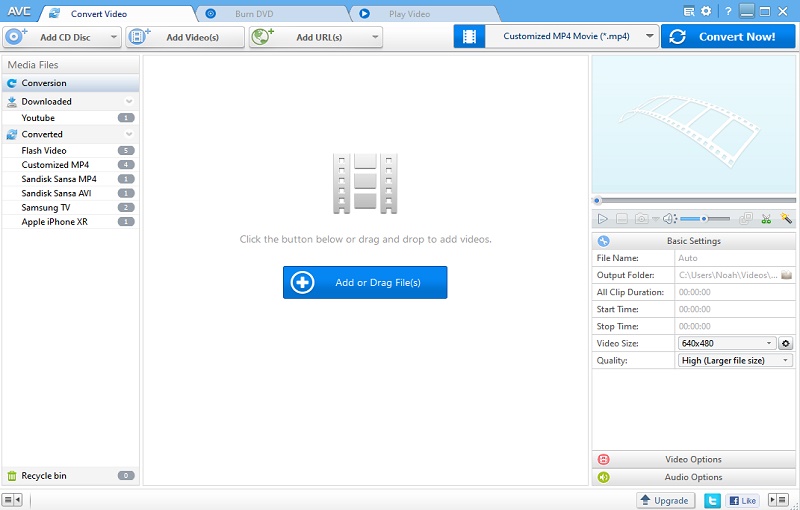 Step 2 Click the online video button, here you need to enter your account information. Don't worry, this is mainly for your convenience to download some age-restricted videos. All information will be kept safe.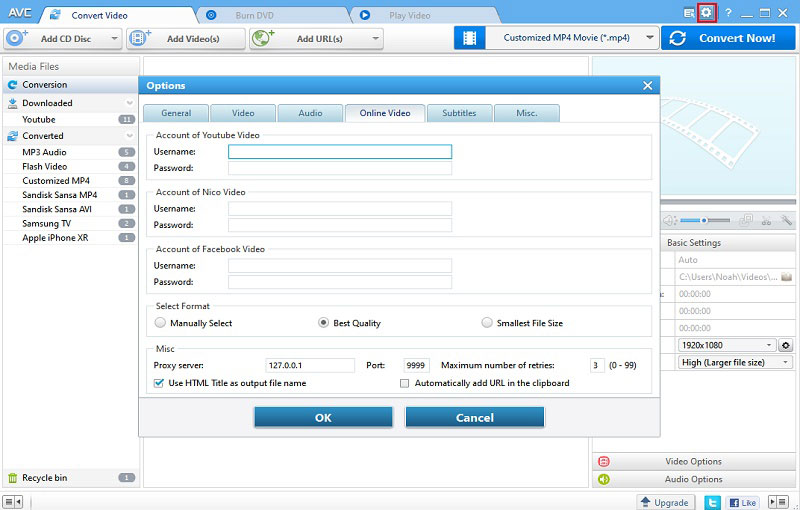 Step 3 Add the video. Click on the "Add URL(s)" button and then click on the green plus button, a box will appear below. Copy the link of the video you want to download from YouTube and paste it into the search box. The program supports downloading multiple videos at the same time, so you can simply continue to repeat the previous steps by clicking on the plus button and copying and pasting the link.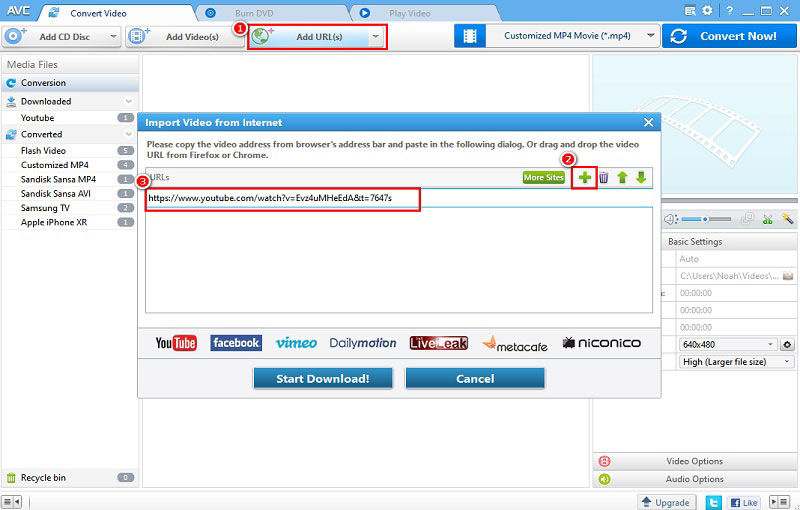 Step 4 Download the video. Once the video has been added, click on Start Download! After the progress is complete, the downloaded video will be automatically presented in the Conversion section.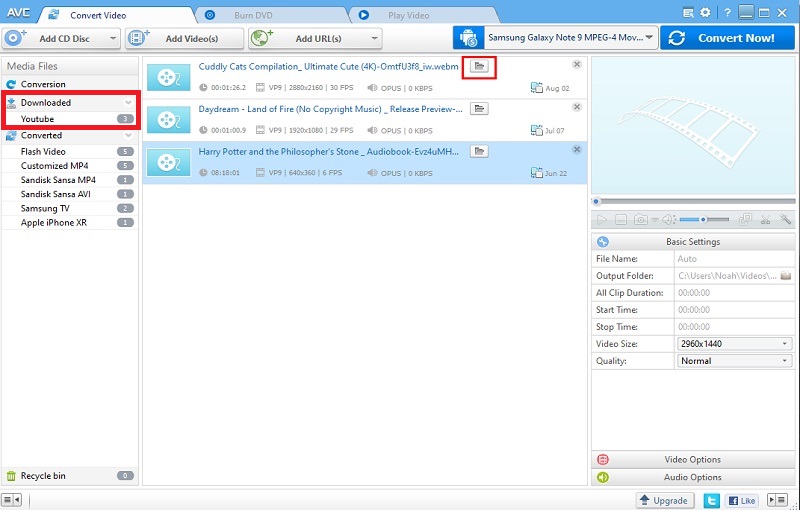 Before converting, you can click on

this button to crop the video, add effects, adjust the brightness, contrast, saturation, and other effects as required.
Step 5 Convert the video. For further conversions to other video formats, please follow the instructions below.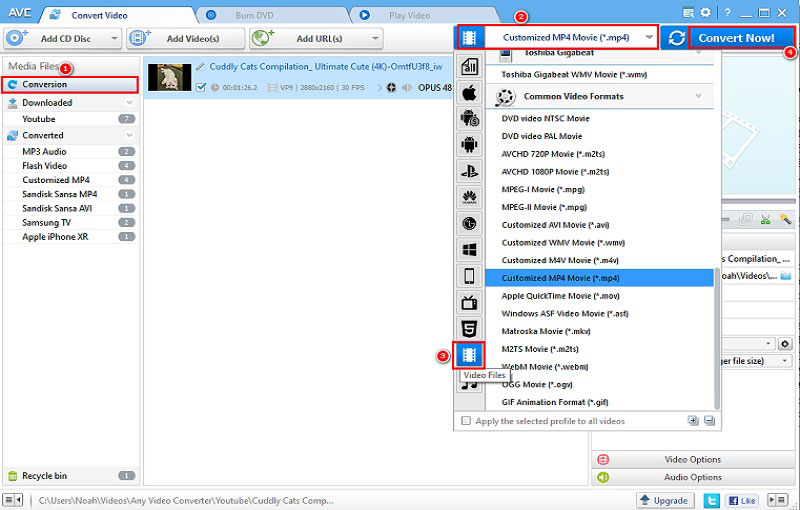 If you only want to save the audio, you can also convert it to an audio file.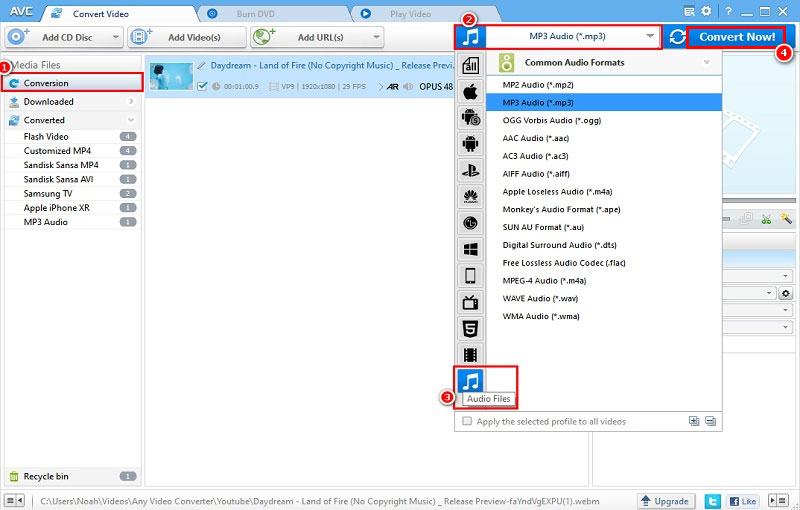 ---
5. Save YouTube Videos with Addoncrop YouTube Video Downloader
Addoncrop YouTube Video Downloader is one of the few extensions that is free and offers 4k video downloads. Its main features include downloading YouTube videos and shorts in HD quality, converting videos to MP3, MP4 formats without losing quality and cutting audio and video from YouTube. The extension is compatible with Windows, Mac and Linux. Downloading YouTube videos through the extension is not the same as the other two methods.
Step 1 Access to Addoncrop YouTube Video Downloader.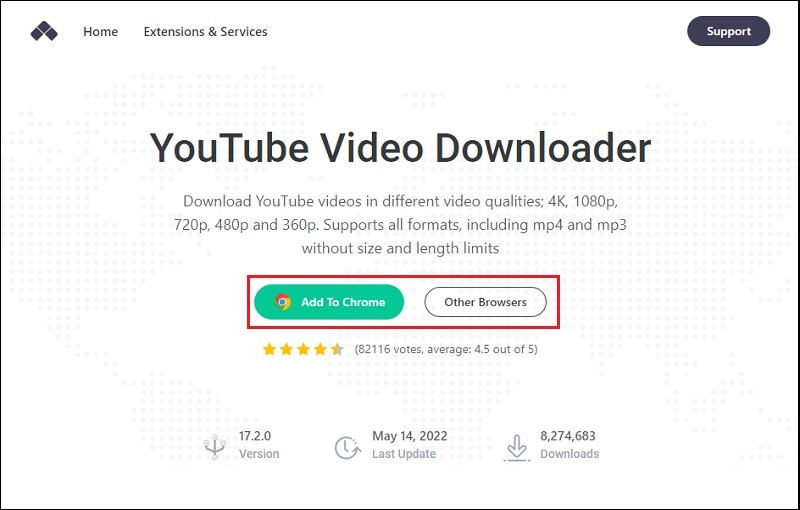 Step 2 The web page will automatically check your browser to make sure it is the same. If it's the same, click Add To Chrome, if not, click Other Browsers to find your browser and click Install. It basically covers the browsers in common use today.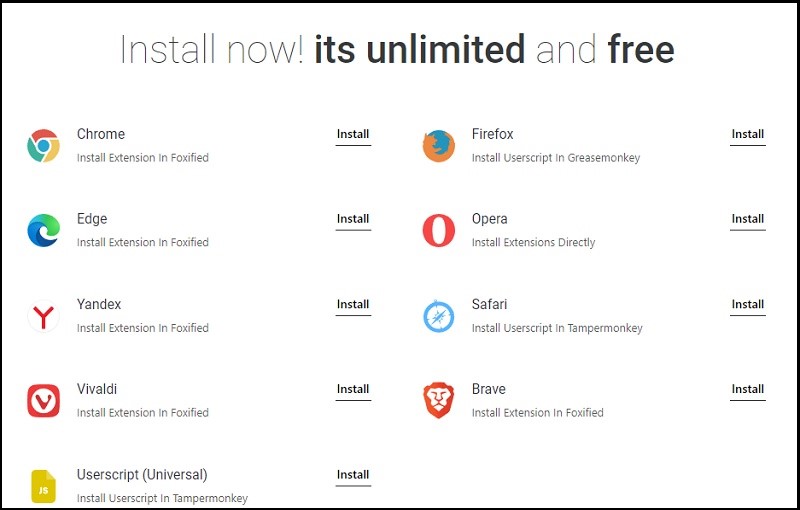 Step 3 Here taking Google Chrome as an example. Please click on Add to Chrome in the Google Play Store and then allow permissions after the download and installation is complete.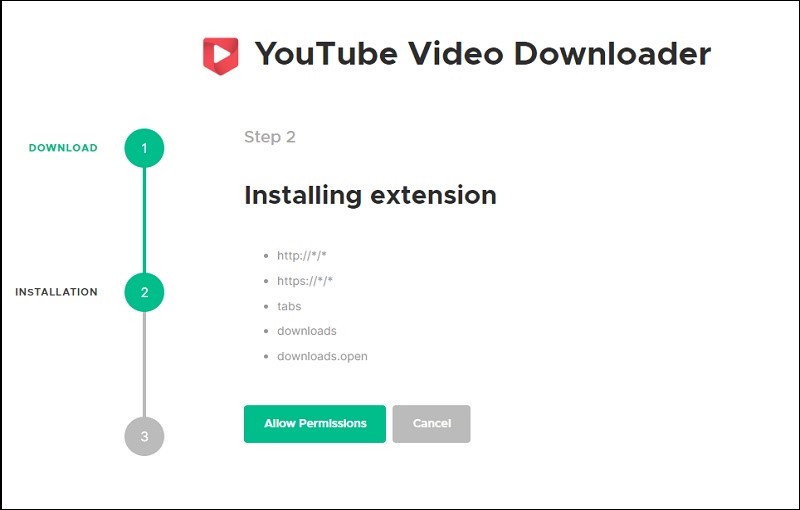 Step 4 Reopen the YouTube website and visit a video, you will see a row of tools beyond the title. Click on the camera-like download icon and then select the definition you want to download.

---
6. The Official Way to Save YouTube Videos
Now turn on your mobile phone or computer, log in to YouTube and click on a video at will, you can see that there is a download sign below some videos. But when you click download, a window will pop up prompting you to download this video with Premium Plus and enjoy YouTube ad-free, offline and in the background. Currently, YouTube has two subscription models, YouTube premium and YouTube Music Premium. Many people know that they can download videos directly after subscribing, but they may not know the difference between the two subscription models and how to choose. To help you have a better understanding and select the one that suits you best, here's a comparison of the two.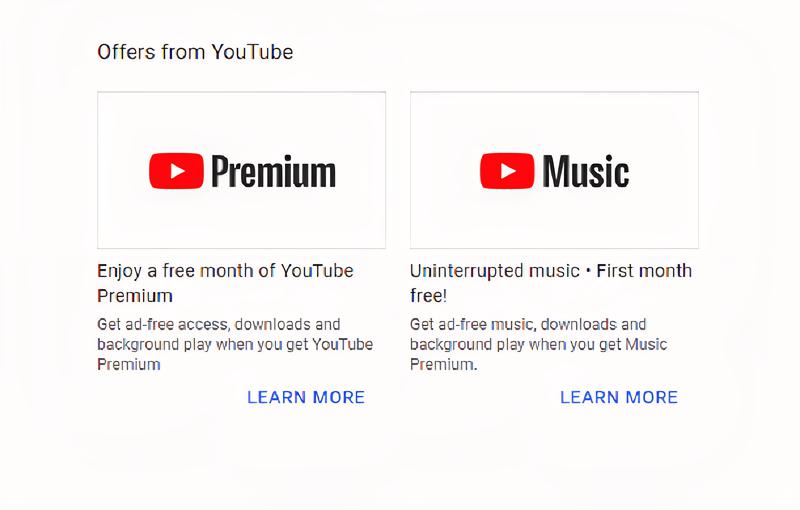 Price: YouTube Premium (YouTube Red) is $11.99 per month and costs $17.99 per month for its family plan (premium family plan can be used by 6 people in total). YouTube Music Premium is $10 per month. At present, YouTube Premium is currently available in more than 50 countries and regions around the world, but the price varies in each region.
Features: the benefits of YouTube Music Premium include enjoying all of your favorite songs and videos without ads, downloading music to your device for up to 30 days, and playing music in the background on your mobile device, even when you close the app. For YouTube Premium, the key benefits include watching videos without ads, downloading videos and playlists for offline viewing, background playback and picture-in-picture functionality, plus all the benefits of YouTube Music Premium.
Although YouTube Premium is a little more expensive than YouTube Music Premium, it is more comprehensive in terms of functions. If you really only focus on YouTube music, in this case, the $9.99 per month plan is best for you. Or, subscribing to YouTube Premium is much more cost-effective. If you still don't know how to choose after reading this comparison, the best option for you is to get a 30-days free trial, which is only available for new subscribers and then choose which one you want to subscribe.
After subscribing, you can easily download the video you like by clicking download button. And don't forget that you need to reconnect to the network at least every 30 days to keep downloading. The official channel is secure, and you don't have to worry about whether you'll be against YouTube's services and usage treaties, and there are no other drawbacks except that it can cost a fortune each month.
---
Disclaimer
Please check whether a video is copyrighted before downloading it through unofficial channels. In principle, under YouTube's Terms of Service, you may not download any content unless you see a "download" or similar link that YouTube displays on the Service for that content. However, given fair use, you may be able to use downloaded videos for nonprofit activities such as research, private enjoyment, and teaching. However, However, the fair use cases mentioned here apply only in the United States. The definition of fair use varies in different regions. In short, please keep two things in mind: First, it is best to get the owner's consent before downloading a video. Second: the downloaded YouTube videos are for personal use only, not for commercial use.
---
Conclusion
The above article introduces you to the four most common ways to download YouTube videos, with a total of five recommended YouTube video downloaders, and details on the specific features of each tool and how to use them, the pros and cons of each method are different, so you can choose your own according to your needs. When choosing a download method, you first need to consider whether you are willing to pay for it, and if so, then the last method, which is to subscribe to YouTube Premium, is definitely the best option. However, if you have no intention to do so, from the perspective of security and functionality, then it is still most recommended to save YouTube videos with desktop programs, followed by downloading with the extension.
Download YouTube Video Downloader
Download Any Video Converter Free