How to Prepare More Space on iPhone and iPad for the iOS 15 Upgrade
The public version of iOS 15 is on its way. No matter you want to upgrade or not, this is a chance of the year you should free up some space in your iPhone and prepare enough space for iOS 15. Here are some tips that can help you recover extra memory from your iPhone and iPad.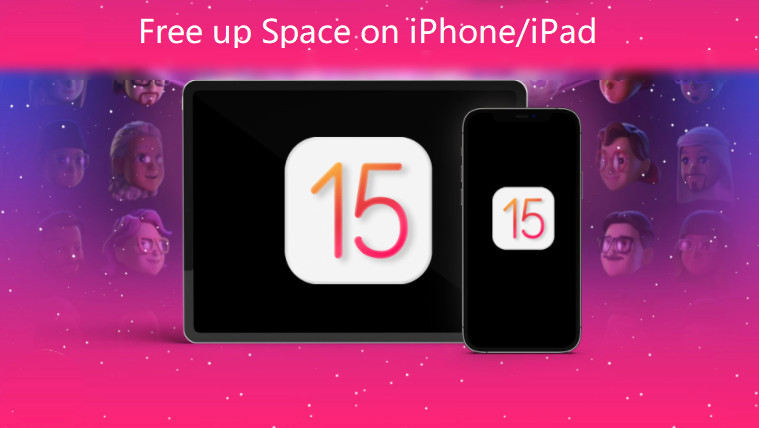 Basic Storage-Saving Tips
Step 1 Get to know the amount of free space.
At first, we need to know the amount of free storage you have on your iPhone/iPad. This will help you decide whether you must delete more apps, photos, or messages to free up some storage. Launch the
Settings
app and select
General > iPhone/iPad Storage
, and the amount of storage space you've used is shown in the colored bar at the top.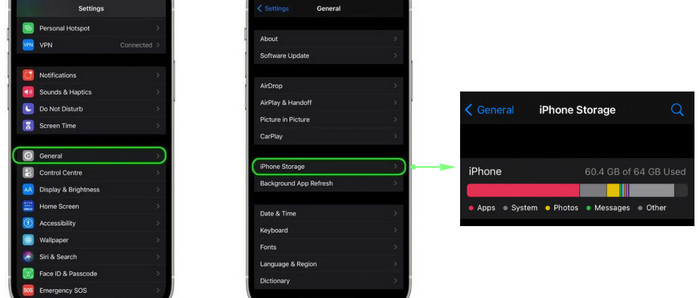 Below it, you may see a list of recommendations for optimizing storage, for example, by reviewing and deleting large attachments. These recommendations are followed by a list of installed apps and the amount of storage each one uses. The list also tells you when you last used each app, allowing you to easily find and delete the apps that you haven't used for a while or not at all.
Step 2 Identify non-essential apps, data or photos to remove.
You can delete the unwanted photos, or other files directly. Here we focus on apps.
For the installed apps, you have the option to offload apps or delete apps. Offloading apps can free up storage used by the apps when it was installed but will still keep the data and documents saved by the apps. Open the Settings app > App Store > turn on the Offload Unused Apps.
Deleting Apps will delete both the App and the data stored by the app on your device, thus freeing up more space for your iPhone. But if an app you use a lot is taking up a lot of space, it's worth checking if you can clear any cache associated with it via an Eraser tool.
---
Delete Lots of Messages At Once
The space taken by messages can also be huge. Since iOS 11.4 and macOS 10.13.5, you can store messages in iCloud and can access them from any device. So you do not need to store these old messages. Deleting messages might sound like a long-winded process, but you don't need to do this individually. You can kill them quickly by telling iOS to purge any messages that have been on the device for longer than a stipulated period - anything older than 30 days, or anything more than a year old. Follow these simple steps to clear all messages from your iPhone at once.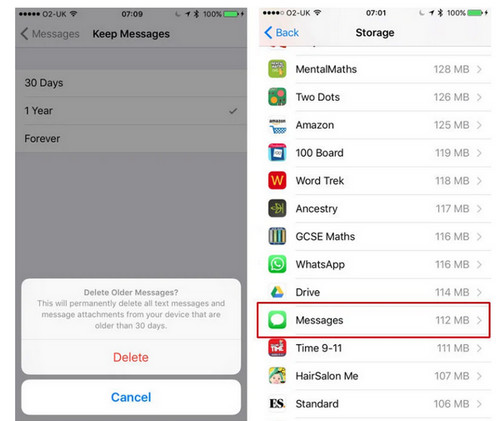 Open the Settings app.
Scroll down to Messages and tap it.
Under Message History, tap "Keep Messages".
There are three options: 30 Days, 1 Year, and Forever: choose the first or second option.
Confirm that you want to delete the old messages and then tap the "Delete" button.
If you select the 30-day option you'll delete the majority of messages on your iPhone and make substantial storage savings. If you want to modify the job, you can open the Messages app, hit Edit, select the small number of remaining conversations and tap Delete.
---
Free Up More Storage Taken Up By Photos
The photos that you keep on your iPhone or iPad in full-resolution naturally take up storage space on your device, which can fill up quickly depending on the available storage capacity and how much content you have. You can replace them with smaller versions. The full-resolution photo will still be available in iCloud, and will automatically download it when you access or edit the photo. The steps are as follows:
Launch Settings on your ‌iPhone‌ or ‌iPad‌.
Scroll down and tap Photos.
Make Sure ‌iCloud Photos‌ is toggled on.
Tap Optimize iPhone/iPad Storage.

And if you have used the Burst Mode to take photos, check and remove the duplicated photos. The Burst Mode of the camera on your iOS device will capture a series of photos in rapid succession. It's a great way to shoot an action scene, but it also generates a lot of unwanted images, so it's better to pick out the best image for safekeeping, and delete the rest to save on storage space.
In some cases, you can find your photo library getting bigger even when you haven't been taking pictures on your device. For example, the media that people share with you over WhatsApp may be automatically saved to your iPhone's Camera Roll. Fortunately, you can easily prevent this default behavior by disabling "Save to Camera Roll" in WhatsApp's in-app settings. And another way is to export the media from WhatsApp to your computer.
---
Reclaim Space Taken Up By Videos
Video is a big space-consumer on iPhone/iPad. Following are two ways to reduce the space it takes.
Way 1: Customize the resolution of the video
Video will also take large space on the iPhone/iPad. You can customize the resolution and frame rate of recorded video to reduce the file size.
Launch the Settings app on your iOS device.
Scroll down and tap Camera.
Tap Record Video.
Select a resolution and frame rate to record video. Note that shooting the 4K option takes the most space. If you want to significantly reduce video file size, choose between 720p and 1080p HD at 30 fps.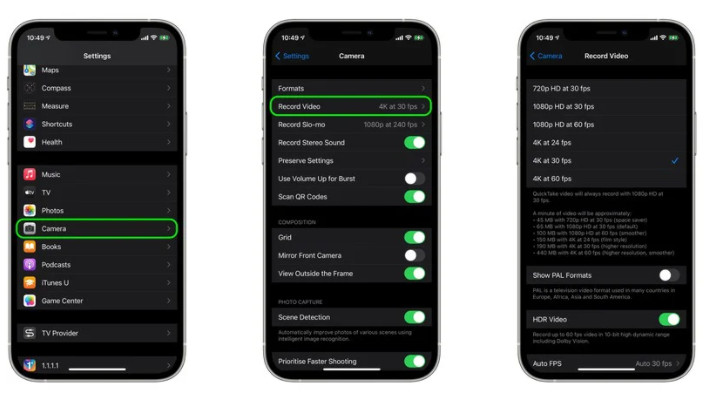 Way 2: Delete the downloaded videos
Steps:
Launch the Settings app on your iOS device.
Tap General.
Tap iPhone/iPad Storage.
Under "Recommendations," tap Review Downloaded Videos
To delete a video from your device, swipe leftwards across it in the list, then tap the Delete button. Alternately, to delete multiple videos, tap Edit in the top-right corner of the screen, tap the red minus buttons next to the videos you want to remove, then tap Done.
---
Use An iOS Eraser Tool
Another effective way of permanently freeing up iPhone storage is by using Syncios iOS Eraser. It's a versatile tool that helps you manage your iPhone Storage.
What Can Syncios iOS Data Eraser Do for You:
One-click clean up to free up space for iPhone/iPad.
Permanently erase the deleted files on your device.
Permanently erase incomplete fragments or traces left by WhatsApp, Instagram, Facebook, Twitter, and 10+ apps, to protect your private info from being leaked.
Clear Safari data including Search histories, caches, cookies thoroughly.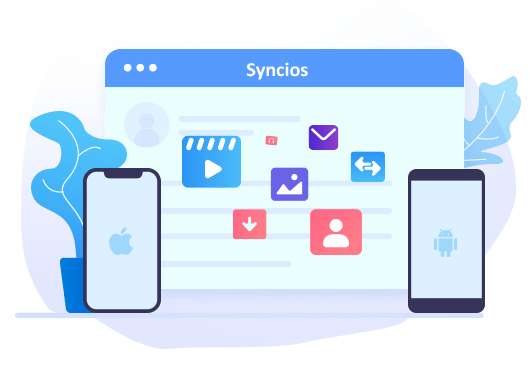 ☛ How to free up the spaces in one-click
Step 1 Download Syncios iOS Eraser on your computer and install it. Then on the start-up interface of Syncios Toolkit, please choose iOS Data Eraser to download this program. After the installation, tap iOS Data Eraser again to launch this program.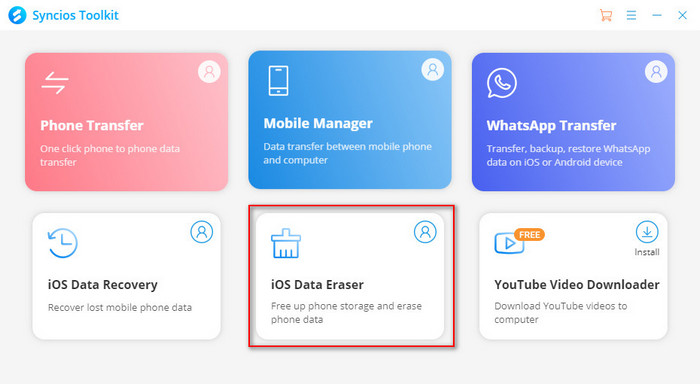 Step 2 Connect your iPhone to the computer and launch the tool. And please remember to turn off Find My iPhone firstly. If you meet the problem with the device connection, please take reference to the guide on this page.
Step 3 Once your device is connected successfully, you will see the main window of Free Up Space by default. There are 6 options as "Junk files", "Temp Files", "Camera Roll", "Photo Library", "Large Files" and "Apps".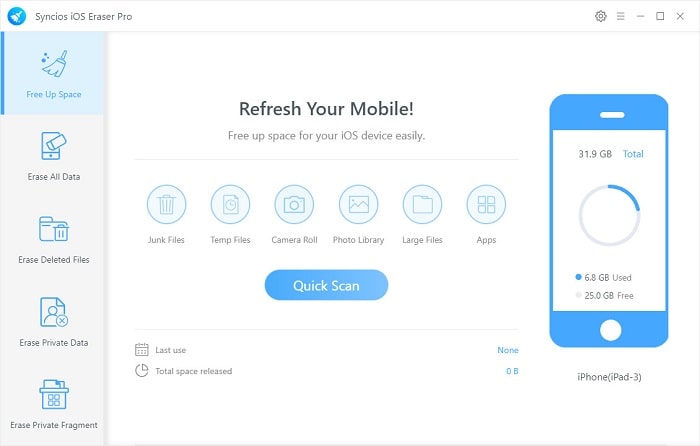 Step 4 Click on the Quick Scan button to let the program analyze and scan your device. If it is the first time, the scan will take few seconds. When it is finished, you will see a result list of scan.
It shows the spaces taken by Junk files, Temporary File, Camera Roll, Photos Library, Large Files and Apps.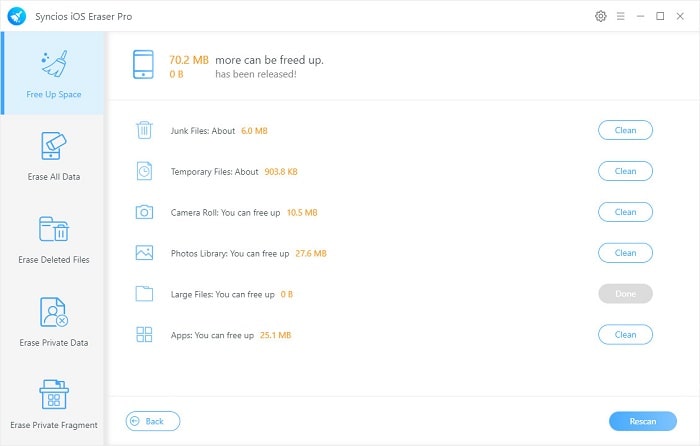 Step 5 You can click the Clean button beside the group you want to clear so as to delete these files and free up space.
To remove the above files is not enough. We also need to clear the deleted files.
Erase Deleted Files on iPhone
Do you know the deleted files may still be stored in your iPhone/iPad? Yes, the files you've deleted on iPhone could still exist on iPhone and take spaces. Syncios iOS Eraser Pro can help in finding and clearing up all these deleted files and promise they will not come back anymore.
Step 1 Launch Syncios iOS Eraser and switch to Erase Deleted Files panel.
Step 2 Connect your iPhone/iPad to the computer through a USB cable. When it connects successfully, click Erase to start the process and scan all deleted files on your iPhone.
Step 3 When the program finishes scanning, you just need to select contents and click Erase Now to start the erasing process.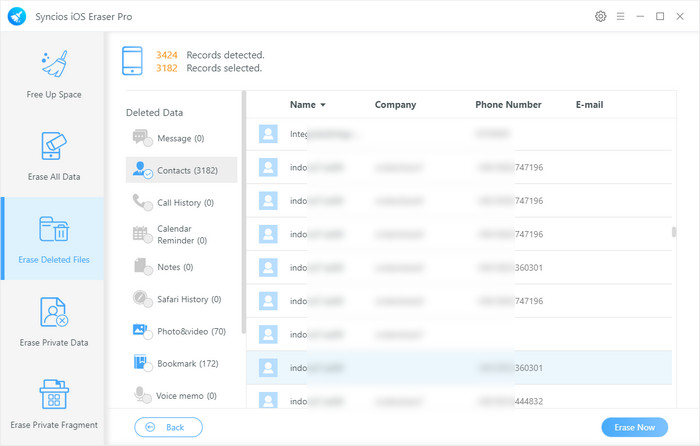 Syncios iOS Eraser supports scanning out 12 categories of deleted files concealed on your iPhone. Deleted Files include messages, contacts, call history, calendar reminders, notes, Safari history, photos & video, bookmarks, voice memos, Viber, WhatsApp and Wechat can all be erased on your iPhone completely.
---
Conclusion
Storage shortage is a reality for many iPhone owners: whether the culprit is apps, music or (most commonly) photos and videos, most of us will run out of space at some moment. And we even can't upgrade the OS due to the lack of space. We can not change iPhone/iPad's internal storage, but really there are some tips for managing and optimizing the storage available on the iPhone, which are just introduced above. Hope these tips will help you free up space for iOS upgrade, new apps and photos. If you want to make things easier, just try an eraser tool. Syncios iOS Data Eraser makes things simple. Try it free!
---
Tips

What's next? Download Syncios iOS Data Eraser now!
---