Fix iPhone 7/7 Plus battery draining fast and overheating issues
For me, the day Apple released the iOS 10.2 official version, I upgraded my iPhone 7 Plus to the latest. Then after two days, I suddenly found that my iPhone 7 was overheating even if I haven't use it for multiple tasks or complicated works, especially the area under the dual cameras where adjoined the lock button(That's exactly where Apple chip locates). What's worse, the battery was draining extremely fast, and yes I was just doing some easy jobs like sent messages and viewed Safari web pages. So I checked out with my phone, turned off Background App Refresh, App Notifications, Siri, Location services, even turned on Low Power Mode, nothing works, frustrated.
If you ever met the same terrible situation like me and now looking for some effective methods to fix it, luckily enough you've found the right place. I bet this article will carry you through it. Please keep reading the following of this article to make the difference.
Probable cause of the issue: Battery issues, incompatible software, improperly installed system.
Step 1. Call Apple support or go the Apple store to check your battery.
Firstly, the most important thing is to make sure that your battery is without problem, otherwise, things couldn't be easier. Change for a new battery or new iPhone. To check out the battery, I recommend that directly call Apple support for remote detection. You just need follow some instructions the Apple support asked, then they can detect your battery remotely. Of course, you can also make an appointment with Apple store to check your battery. Basically, there is no problem with your battery, move on.
Step 2. Find out what Apps consume battery life, get rid of it.
There is a simple method to self-check your battery draining. Tap Settings>>Battery, write down the time of Usage and Standby, then lock your iPhone, five minutes later, check the time again. If the Usage time increased within 1 minute, and the Standby time increased by 5 minutes, which means basically there is no problem with your battery consume.
If you installed some certain apps, after that your iPhone 7's battery is draining fast, which may resulted from some incompatible software. Due to Apple's update, some apps may not get compatible with the latest iOS version that ate your battery life. If in this case, navigate to Settings >> Battery, on the Battery Usage option, you can learn the battery level each app consumed, if one of apps consumed much battery life obviously but you haven't used it too often, then please do not hesitate to uninstall it.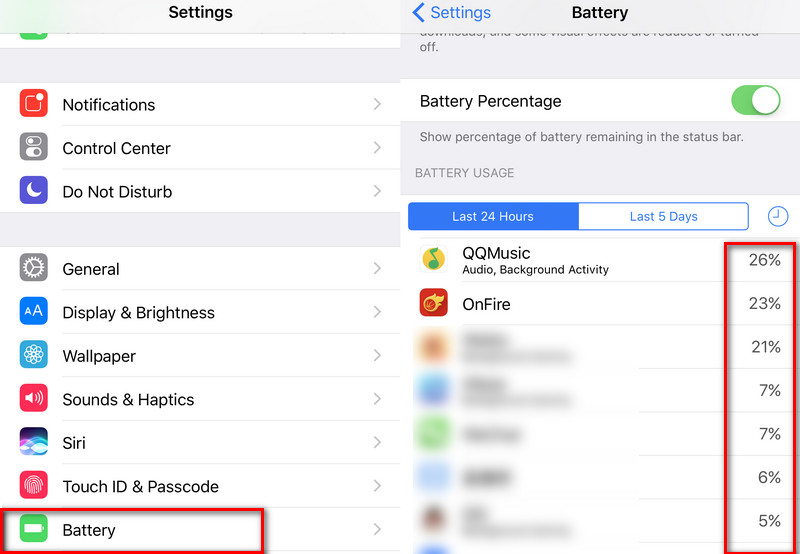 Step 3. Reset your iPhone 7.
If with the steps 2 you have no idea what app or file that drains your battery exactly, then a simple way to help is factory resetting, it will erase all your data and system settings, only in this way can you get avoid of the apps or other file whatever it should be that lead to the battery drain issue. Simply go to Settings>>General>>Reset>>Erase All Contents and Settings. Of course, before performing this, don't forget to backup your iPhone 7/7 Plus. And the factory resetting won't reset your iOS version, you will be still on the same iOS version with before.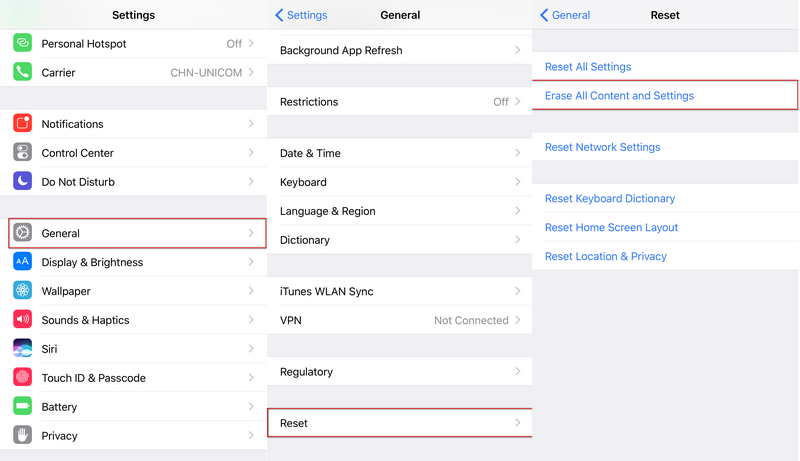 Actually, my iPhone 7 Plus's overheating and battery issues are solved after resetting. Wish the same to yours.
Step 4. Re-install System via iTunes.
If all steps above are with no efforts, then there must be something wrong with your OS, especially if you have just updated to the latest iOS version, the system may not get properly installed on your iPhone 7. Here are two options for you: Upgrade to the latest version via iTunes if you are not the latest iOS version; Reinstall your iOS version via iTunes if you are up-to-date. The former is simple, download the latest version on iTunes, and then connect your iPhone 7 to iTunes to upgrade. For the latter, we need to activate DFU mode first, follow the steps below:
Turn off your iPhone 7 if it's on, connect it to your computer with the USB cable and make sure iTunes is running.
Press on the power button lasting for 3 seconds, then press the lower volume button with the power button still held down, and keep holding both buttons for about 10 seconds.
Release the power button while keep holding the lower volume button for 5 seconds, then there would be a pop-up window on your computer to prompt that you've activated DFU mode on your iPhone 7: "iTunes has detected an iPhone in recovery mode. You must restore this iPhone before it can be used with iTunes."

Tips: If you saw the Apple logo displayed on your iPhone or a plug into iTunes prompt on your computer during the process, which means you may held the button too long, you need to try again.
With the DFU mode activated, restore your iPhone 7 via iTunes. This process will erase your data and reset your settings too, so remember to backup your iPhone. After restore process done, to solve the battery drain issue, I recommend to set your iPhone 7 as a new iPhone.
---
Recommendation: Comprehensive iPhone Manager Tool
Syncios iOS manager, a powerful management tool for all smartphones, supports backing up your iPhone data to computer easily and efficiently. Besides, it enables you manage, create, edit, delete device contents straightforward and one-click backup&restore your iPhone, so if you want to backup your data before cleaning up your phone, it can be a great alternative.
There are more features on its toolbox, like making ringtone, converting HEIC on phone or computer to JPG, compressing pictures and etc. Truly a trick. Simply install it on your computer, worth a try.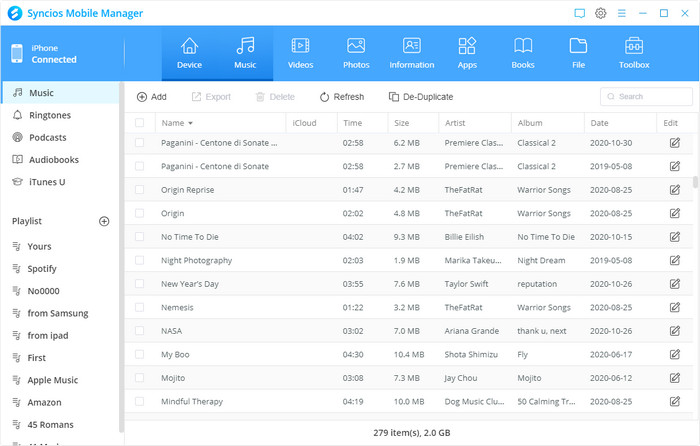 ---