How to Sync Outlook Contacts to iPhone (iPhone 11 supported)
If you're a royal Microsoft Outlook user like me and own an iPhone such as iPhone 6s or Plus, need to import an entire Outlook contact list to the iPhone, tried but still have no idea how to transfer Outlook contacts to an iPhone.
Don't worry, this article will demonstrate three ways to sync Outlook contacts to iPhone. This tutorial also works with an iPad or iPod touch.
Method One: Sync Outlook Contacts to iPhone with iCloud
Note: please back up your Outlook .pst file first before you start syncing Outlook contacts to iPhone and make sure the iCloud control panel for Windows has been already installed on your computer. Otherwise please Download and install iCloud Control Panel to your computer.
Step 1 Run iCloud and sign in your iCloud ID and password.
Step 2 Copy the default Outlook .pst file to iCloud, and set iCloud .pst as your default. Take care of the syncing and updating of changes on your contacts list between your iPhone and Outlook.
Step 3 In iCloud primary window, tick Contacts with Outlook, and then click "Apply".
Step 4 From your iPhone screen, go to Settings > iCloud, sign in your iCloud account, then turn on Contacts to enable syncing contacts with Outlook.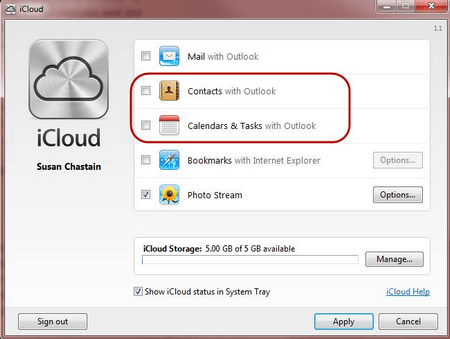 ---
Method Two: Sync Outlook contacts to iPhone via iTunes
This method enables you to sync Contact info from the device with Outlook.
Note: iCloud must be disabled for this method to work.
Step 1 Plug your iPhone to computer and launch iTunes.
Step 2 Go to the Devices entry and select the icon for your device.
Step 3 Click on "Info" tab in the left panel.
Step 4 Check the items you could sync, then select or."Sync Contacts with" > "Outlook". (You are able to choose to sync all your contacts or sync only selected groups. )
Step 5 Click "Apply" to complete the setup.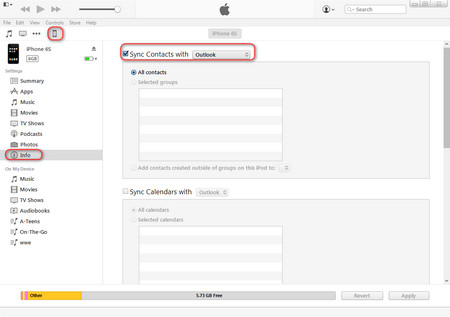 ---
Method Three: Sync Outlook contacts to iPhone through Exchange
This method is only available under the circumstance that your iPhone is connected to your internal corporate network, maybe your company have an Exchange server you can sync Outlook contacts with.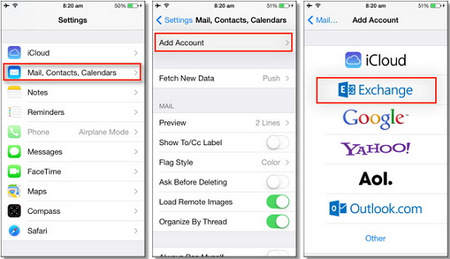 Step 1 Set up your Outlook account by using Exchange.
Step 2 On your iPhone screen, head to "Settings" > "Mail, Contacts, Calendars". ( Note: If this is your first time to have setup items in this area, simple select "Exchange", otherwise, please select "Add Account" > "Exchange".
Step 3 Fill in your email, user name and password and click "Next".
Step 4 Now, your iPhone will contact the Exchange Server and you need to enter the address of the server.
Step 5 Select information you want to sync with your Outlook account from options "Emails", "Contacts", "Calendars", "Notes".
---
More Tips: How to Sync iPhone Contacts to Outlook
If you have a need to sync your iPhone contacts to Outlook, you can also use iTunes to accomplish the transfer job with the same guide as above-mentioned. Here we would like to introduce a professional third-party software for more convenient iPhone contacts syncing.
Here is the way for you to sync iPhone contacts to Outlook with free third-party software: Syncios iPhone Manager, simply download and have a try: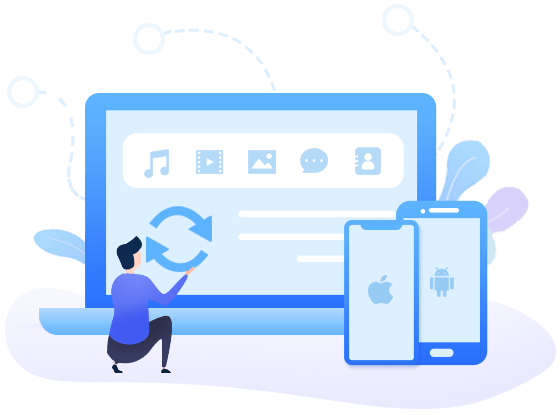 Syncios Mobile Manager
Support to transfer, edit, backup, manage, view mobile data such as contacts, apps, photos, music, ringtone, videos, SMS messages, eBooks and more.
Manage iOS devices/Android music, edit song details and de-duplicate tracks.
Fully compatible with latest Android and iOS devices.
How to Sync iPhone Contacts to Outlook with Syncios Mobile Manager
Preparation: Download and install Syncios Toolkit on your computer and run it. And click into 'Mobile Manager' on Syncios Toolkit interface to intiate the Syncios Mobile Manager. If you are on Mac computer, directly click the download button above to get into it.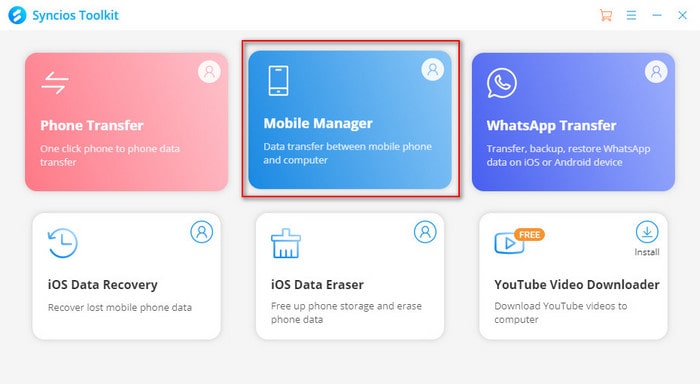 Step 1. Connect your iPhone to the computer and run this Syncios Mobile Manager.
Step 2. Export iPhone contacts to Outlook.
Click Information tab on the top menu of Syncios iPhone Manager. And then press Contacts tab on the left panel, all contacts on your iPhone will be listed in the main window. So choose the contacts you need and press Backup option. Simply select " to Outlook " by the drop-down option.
At last, log in to your Outlook account as the prompts asking you to do. And you will successfully sync the iPhone contacts to Outlook at ease.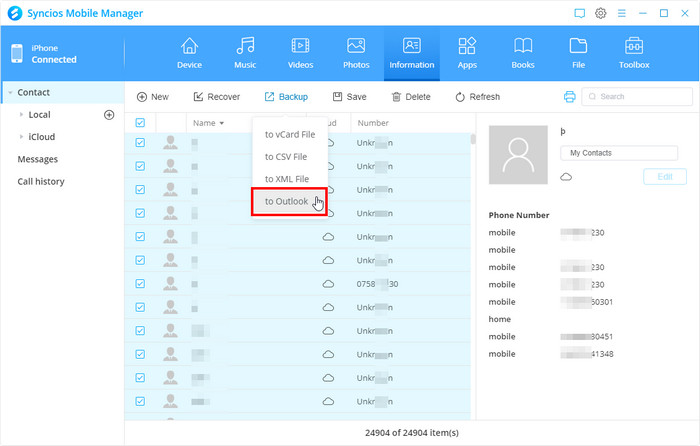 Conclusion
I bet now you must know how to transfer the Contacts from Outlook to your iPhone. As you can see, all three methods are simple enough to sync Outlook contacts with iPhone. And if you encountered some issues or have any other questions while syncing Outlook contacts, you can simply leave a comment below or contact us, we are very willing to help you solve them.