How to Add Metadata to files in iTunes
"I've got a confession to make: I have a compulsion about iTunes track data: I'm obsessed with making sure it's accurate and, more importantly, consistent. This is especially true of classical music: I have a format that I like all my classical tracks to follow when it comes to name, artist, and album that I think makes it easier to find the music I want on my Mac and on my iOS devices."
Many people want to get accurate and consistent data about their files on iTunes and don't know how to do it. In fact this is an easy thing which can be done by iTunes.
>> How to Add Metadata to files in iTunes?
Step 1. Install iTunes on your computer and open it
Please make sure iTunes has been installed on your computer, otherwise please download it from Apple official website. Then, please open the iTunes.
Step 2. Select the files that you want to add metadata
iTunes allows people to add metadata to music, videos, TV shows and others. Here, I will take add metadata to music for example.
Right click the song and click Get Info.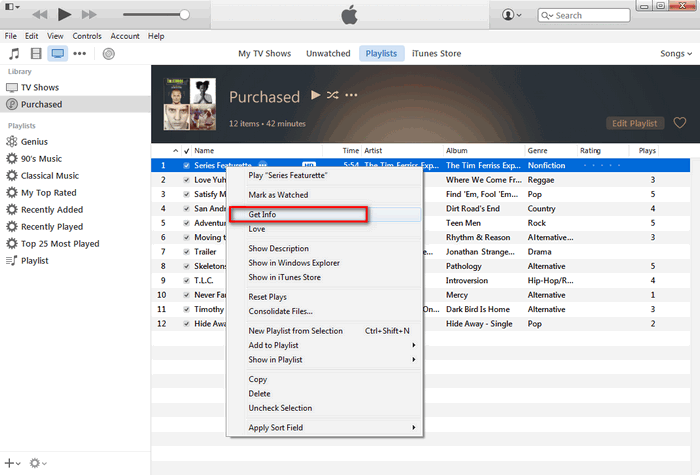 Step 3: Add Metadata to the song
Then, you will see the interface below. In Details column, you can add title, show, album artist, episode and so on to the song. After that, please click OK to save the changes.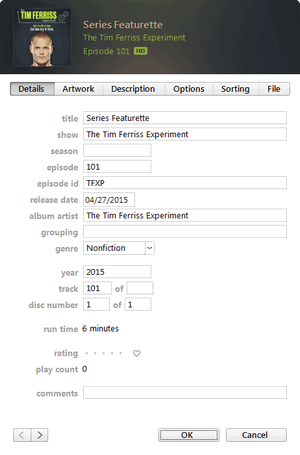 After adding Metadata to your songs is finished, you can sync your songs to your iPhone/iPad/iPod. However, when your iTunes syncs with your iPhone/iPad/iPod, it keeps a separate backup files which contains all your data, photos, contacts, calendar, sms messages, recordings, videos, voicemails, notes, and call history, which are not readable. Now you need Syncios iTunes Backup Extractor to get data from the iTunes backup to your PC. Which supports extracting SMS, Contacts, Photos, Call History and more from iTunes Backup of any iPad, iPhone or iPod Touch onto computer.
>> How to backup your songs from iTunes to PC?
Step 1. Download and install Syncios iTunes Library Sharing tool.
Download
Win Version Download
Mac Version
Please be sure that iTunes has been already installed on your computer for running this free Syncios iTunes Library Sharing tool correctly. But you do not have to run iTunes.
Step 2. Click iTunes Library and Export to PC.
Click iTunes Library under Toolkit, a window will pop up. You can see Music, Videos, Podcasts, TV shows, Audiobooks, iTunesU tabs. Press one of the tab, corresponding files will be listed on the main window. Simply choose the songs selectively you need and hit Export to PC button.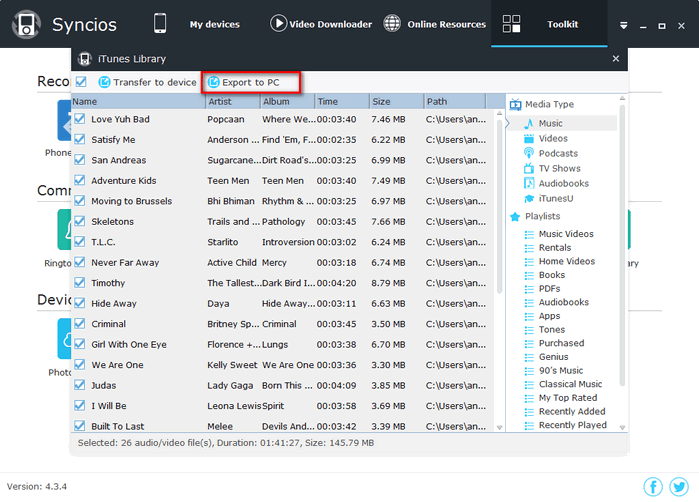 Note: If you backup all your iTunes songs to PC, all the artwork of the songs will remain.
Supported Apple Devices and iOS Versions
| | |
| --- | --- |
| iPhone | iPhone 6s, iPhone 6s Plus, iPhone 6, iPhone 6 plus, iPhone 5S, iPhone 5C, iPhone 5, iPhone 4S, iPhone 4, iPhone 3GS |
| iPad | iPad Pro; iPad mini 4;, iPad mini 3/2/1, iPad with Retina display, The New iPad, iPad 2, iPad |
| iPod | iPod touch 5, iPod touch 4, iPod touch 3, iPod Touch |
| iOS | iOS 5, iOS 6, iOS 7, iOS 8, iOS 9 |
Have something to say about this tutorial? Share your comments below! Need help with something else? Submit your question via online form, we will reply you within 24 hours.