How to Keep iTunes Media Folder Organized
By default, your iTunes Media folder is in your iTunes folder, and it contains all of your media files, including:
1. Songs that you imported from CDs;
2. Items you purchased from the iTunes Store, such as songs, music videos, or movies;
3. Any other items you added to iTunes, if you turned on "Copy files to iTunes Media folder when adding to library" in iTunes Preferences.
How can you keep the iTunes Media Folder organized if you have thousands of items which make your iTunes more difficult to use than before? What to do if you want to transfer the organized media out to your computer or your iOS device? Now let me show you a guide step by step.
Part 1: How to Keep your iTunes Media Folder Organized on PC/Mac
Step 1. Find your iTunes library files on your PC/Mac.
Your iTunes library files track the media you add to iTunes, how you've organized it, and other information such as playlists. By default, these files are in your iTunes folder. To find your folder:
Windows 7 or later: Open C:\Users\username\My Music\iTunes\
Mac: Make sure that you're in Finder. From the menu bar at the top of your computer screen, choose Go > Home > Music > iTunes.
Step 2. Find and open the Preference setting on iTunes.
Windows: Hold down the Control and B keys on your keyboard to open the iTunes menu bar, then choose Edit > Preferences.
Mac: From the menu bar at the top of your computer screen, choose iTunes > Preferences.
Step 3. Keep iTunes Media Folder Organized.
On the Advanced tab: Select Keep iTunes Media folder organized to put your files into folders based on artist and album, and to name your files based on the disc number, track number, and song title.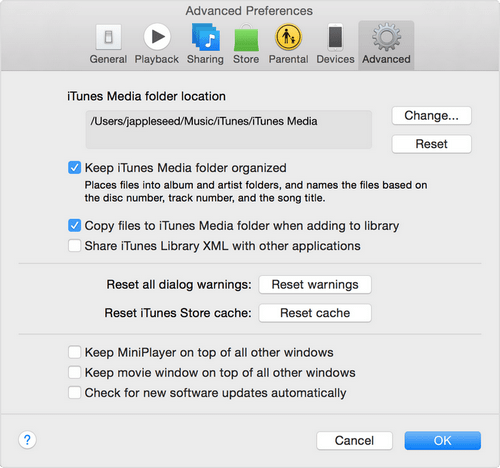 Part 2: How to Export iTunes Media to PC or iOS Devices
Step 1: Download Syncios iTunes to iOS Transfer into your computer and connect your iOS devices to PC.
Download
Win Version Download
Mac Version
Please be sure that iTunes has been already installed on your computer for running this free Syncios iTunes Library Sharing tool correctly. But you do not have to run iTunes.
Step 2: Click iTunes Library and Export to PC/iOS Devices
After connected, you can see your files of iOS devices listed on the left panel of the interface of Syncios, and at the top of Syncios, you will find four icons, My Devices, Video Downloader, Online Resources and Toolkit. Click Toolkit, then hit iTunes Library, a window will pop up.
You can see the whole iTunes Media Folders, including Music, Videos, Podcasts, TV shows, Audiobooks, and iTunesU tabs. Press one of the tab, corresponding files will be listed on the main window. Simply choose the files selectively you plan to transfer and hit Transfer to device or Export to PC button. Now, your iTunes media folder will be copied to your connected iOS devices or your computer.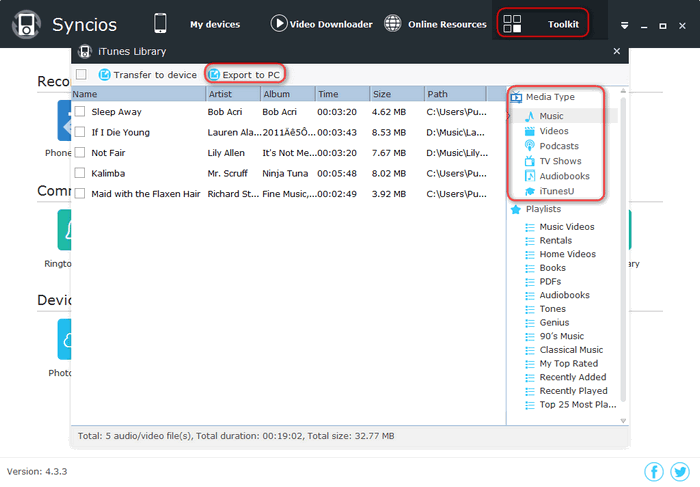 ---
Supported Apple Devices and iOS Versions
| | |
| --- | --- |
| iPhone | iPhone 6s, iPhone 6s Plus, iPhone 6, iPhone 6 plus, iPhone 5S, iPhone 5C, iPhone 5, iPhone 4S, iPhone 4, iPhone 3GS |
| iPad | iPad Pro; iPad mini 4;, iPad mini 3/2/1, iPad with Retina display, The New iPad, iPad 2, iPad |
| iPod | iPod touch 5, iPod touch 4, iPod touch 3, iPod Touch |
| iOS | iOS 5, iOS 6, iOS 7, iOS 8, iOS 9 |
Have something to say about this tutorial? Share your comments below! Need help with something else? Submit your question via online form, we will reply you within 24 hours.