How to Tag your songs in iTunes
Most of time, songs in iTunes are equipped with their tags (also called ID3 tag) which include artist, album, genre, year and so on. The tags are useful which can show the information about the songs, and iTunes can use it for categorizing music.
However, sometimes, the information of songs may be missing or wrong, and we have to change it by ourselves. Here, we could have a look at how to add tags to multiple songs or tag songs one by one in iTunes.
>> How to Tag Multiple Songs in iTunes?
Step 1. Select Multiple songs in iTunes
Hold down Command or Shift to select continuous multiple iTunes files when click files or hold on Command + A or Ctrl + A (Mac and Windows) to select all files in the current view.
Step 2. Right click on selected files and choose Get Info.
At this step, you will get a pop-up box to ask if you want to edit information for Multiple items and just click on Edit items.

Step 3. Add tags to selected songs.
You will see 4 tabs: Details, Artwork, Options and Sorting.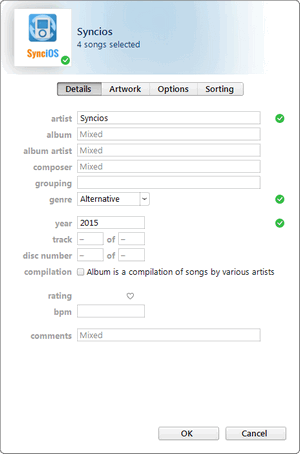 The Details tab allows you to edit multiple tags including Artist, Album Artist, Album, Grouping, etc.
The Artwork tabs shows the album art associated with the song. You can add new art by clicking the "Add Artwork" button and selecting image files on your computer. Alternatively, you can use iTunes' built-in album art downloading tool to add available art to all the songs and albums in your library.
The Options tab lets user control the volume of the song, automatically apply an equalizer setting, give or edit a star rating, and determine the start and stop time of the song. Click the Skip when shuffling box to prevent the song from appearing in Up Next or a shuffle playback.
The Sorting tab determines how the song, artist, and album show up in your iTunes library when it's sorted by those criteria.
After you have finished, please click OK to save your changes.
>> How to Tag your songs one by one in iTunes?
Tagging songs one by one allows you edit more information about songs like description, file.
Step 1. Select the song that you want to add tags
Right click the song and click Get Info.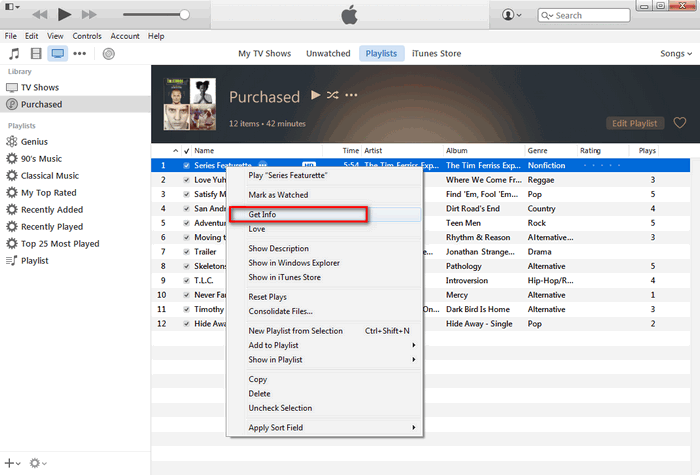 Step 2: Add Tags to the song
The pop-up window is similar to the window in step 3 of last tutorial, but it is more detailed which has two more windows: Description and file.
Then, you can edit these windows as you like and click OK to save the changes.
Recommended Software:
---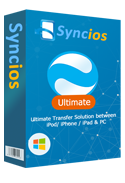 Transfer Data between PC & iOS: Music, videos, photos, apps, ebooks, contacts, messages and more.
Download videos from 100+ video sharing sites and transfer to iPad/iPhone/iPod.
Handy toolkit: Audio converter, video converter, ringtone maker, etc.
Manage your iPad/iPhone/iPod Touch data easily.
Download
Win Version Download
Mac Version
Have something to say about this tutorial? Share your comments below! Need help with something else? Submit your question via online form, we will reply you within 24 hours.