How to rescan and fix iTunes Library
Just upgraded your iPhone/iPad/iPod, but found that your iTunes Library got lost? Have googled it but still felt puzzled. Actually, no one really knows why or how this problem happens but for sure many people have lost their entire iTunes library.
There is no need to worry about it now, because you can recover your lost iTunes library back. In this guide, we will offer you three methods to restore the lost iTunes Library.
Method 1: Retrieve the lost iTunes Library with professional third party tool--- Syncios
If you have synced your Apple devices (iPhone, iPod, iPad) before, we strongly suggest you to use Syncios to restore your missing iTunes library back, it enables you to transfer music, playlists, videos etc. from your iPhone/iPad/iPod to the iTunes library, keep the lost library a complete one instead of just retrieving it.
Step 1. Download and install Syncios on your computer, then plug your iPhone, iPad, iPod into your computer
Download
Win Version Download
Mac Version
Please be sure that iTunes has been already installed on your computer for running Syncios properly. But you do not have to run iTunes.
Step 2. Run Syncios
After your iOS device was connected with computer, this program will detect it immediately.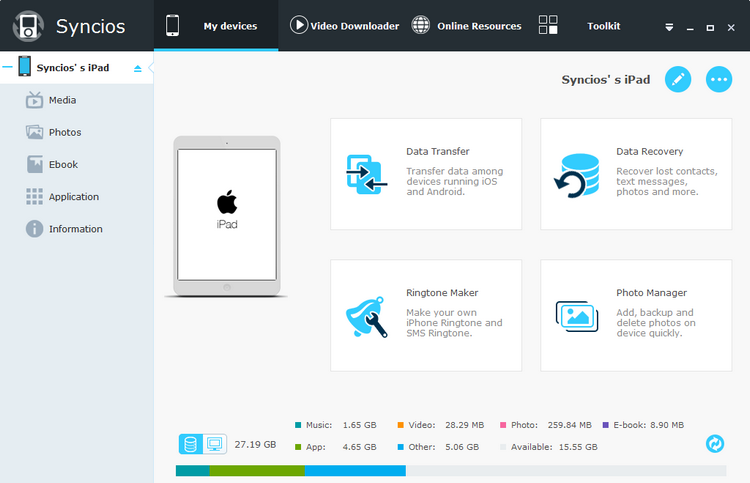 Step 3. Transfer the music to your iTunes Library
1. Export music from your iPhone/iPad/iPod to the computer.
Go to My Device module, click Media on the left panel and highlight Music icon on the right column, choose the music you need and hit Export Button. Now, you've successfully transferred music from iPhone/iPad/iPod to your Computer.
* You will see media files list on the right panel: Music, Videos, Ringtones, Podcasts, TV Shows, Audiobooks, Music Videos, Voice Memos, iTunes U and Playlists. Highlight Music, then you will find those options: Import, Export, Delete and New Playlist, which enable you to manage your music freely and quickly!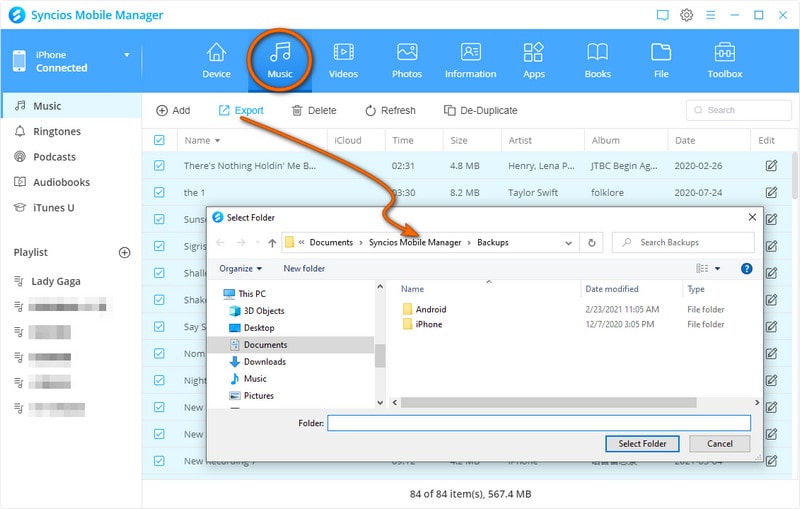 2. Import music to iTunes Library.
Open iTunes, click Edit > Add File to Library, select files that you need to transfer to the iTunes library by highlighting it and clicking on the 'Open' button at the bottom of the window. You finally successfully transfer music, video in your iPhone/iPad/iPod to iTunes Library.

Method 2: Recover missing iTunes Library by replacing its old files
If you have some old iTunes Library files, you can just replace the current but ruined iTunes library file with a previous one. In this way, you can bring your lost library back.
Step 1. Find the folder where stored your iTunes Library file, and then delete the latest library file from it or just drag it to your desktop.
Step 2. On your computer, go to "Libraries" , and then click "Music"-> "iTunes" -> "Previous iTunes Libraries". Copy the latest library file named as YYYY-MM-DD.itl to the folder mentioned in Step 1, then rename it as iTunes Library.itl.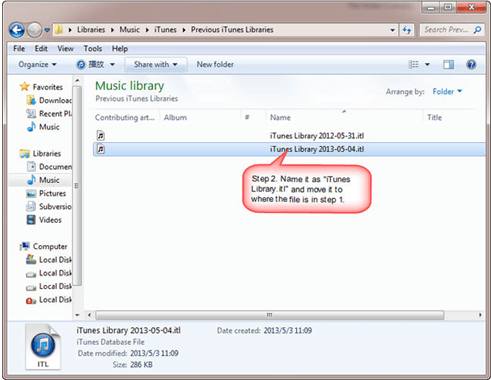 After the broken iTunes Library.itl file was replaced with an older one, you can get your missing iTunes Library back.
Note: Please make sure that there is no anything new in the current library compared to the previous one, or you may lost them forever.
Method 3: Rescan the original media files to fix the lost metadata of your iTunes Library
You can refresh the library file by replaying the them in iTunes, which will add the lost media again to your iTunes Library.
Step 1: Run iTunes,
Step 2: Click "File"-> "Add to Library".
Step 3: Just choose the location of your iTunes Library.
Now, iTunes will re-add all files that has been already in your library and rescan each file to change the metadata of the existing entries in your library.
---
Supported Apple Devices and iOS Versions
| | |
| --- | --- |
| iPhone | iPhone XR, iPhone XS, iPhone XS Max, iPhone X, iPhone 8, iPhone 7, iPhone 6s, iPhone 6s Plus, iPhone 6, iPhone 6 plus, iPhone 5S, iPhone 5C, iPhone 5, iPhone 4S, iPhone 4, iPhone 3GS |
| iPad | iPad Pro; iPad mini 4, iPad mini 3/2/1, iPad with Retina display, The New iPad, iPad 2, iPad |
| iPod | iPod touch 5, iPod touch 4, iPod touch 3, iPod Touch |
| iOS | iOS 5 - iOS 14 |
Have something to say about this tutorial? Share your comments below! Need help with something else? Submit your question via online form, we will reply you within 24 hours.