MediaWidget Review & Difference Syncios iOS Manager and MediaWidget
Both MediaWidget and Syncios are tools to help copy songs, videos, photos and podcasts from your iPod or iPhone to your computer easily. MediaWidget costs $29.99, while Syncios is free of charge. What is the difference between MediaWidget and Syncios? Is it worth to buy MediaWidget? Why Syncios is better than some paid similar programs? Here is the review of the two software. You can choose the one you prefer.
1. MediaWidget
MediaWidget turns the transfer of music and media on your iPod back into a two-way street, letting you easily access files on your Apple portable player or iPhone.
Transfer from iPod to Computer and back to iTunes
Transfer Music + Photos + Videos + more all in one
Transfer iPod Cover Art + Playlists + more back to iTunes
Copy iPod to computer AND Copy computer to iPod
Simple and Easy to use - iPod to Computer Transfer Wizard
Supports all iPod Models including iPod + iPod Touch + iPhone + iPad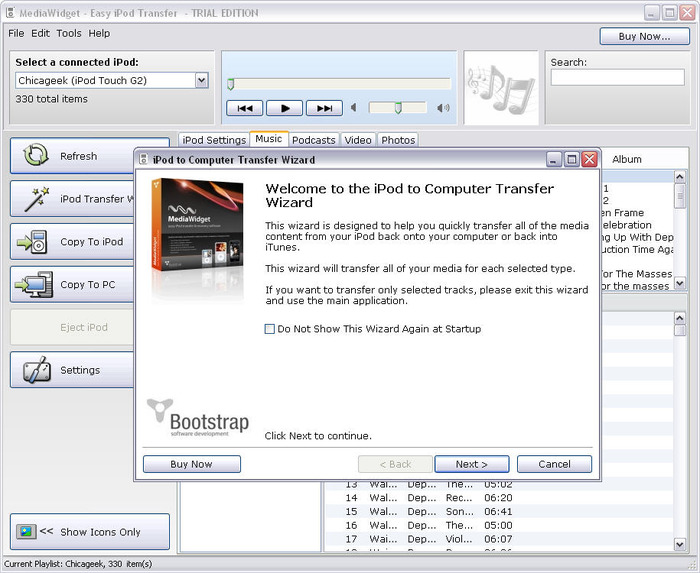 Editor's Comment on MediaWidget:

"MediaWidget, one of the many programs that copies the contents of an iPod or other iOS device to a desktop iTunes library, stands out from the pack by virtue of one unfortunate feature: it's by far the slowest such program that I've tested to date. Combine that with a sparer feature set than that offered by other programs and I can't recommend it."
2. Syncios iOS Manager
Syncios is a free application that gives you much more control over your iOS device than iTunes does.
Manage your iOS apps without iTunes.
Add music, book and video files.
Manage playlists.
Play music directly from your device.
Backup music and apps.
Access iOS file system.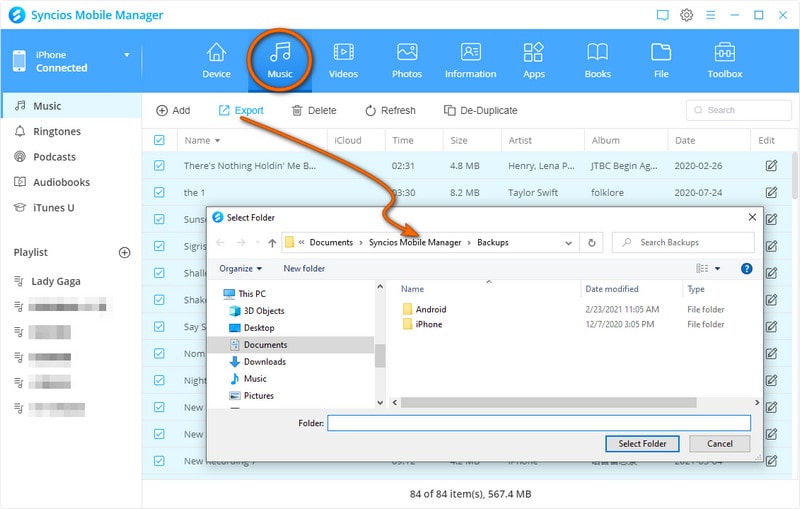 Editor's Comment on Syncios:
"Are you looking for an alternative to iTunes for copying all kinds of files to your iOS device? If you want another way to copy apps, music, eBooks and more to your device without iTunes, Syncios is an awesome option. It is packed full of features designed to make managing your device as simple as possible."
-- by Dave LeClair from Makeuseof.com
3. MediaWidget
VS

Syncios iOS Manager
| | | |
| --- | --- | --- |
| | Syncios iOS Manager | MediaWidget |
| Audio Converter | | |
| Video Converter | | |
| Ringtone Maker | | |
| Audio Management | | |
| Video Management | | |
| Playlist Management | | |
| Photos Management | | |
| Ebooks Management | | |
| Apps Management | | |
| Contacts Management | | |
| Notes Management | | |
| SMS Management | | |
| Bookmarks Management | | |
| Mac Version | | |
| Multiple Devices Supported | | |
| Price When Rated: | Totally Free | $29.99. Free Trial |
Mediawidget® is a registered trademark of Bootstrap Development.
Apple®, iPod®, Mac and iTunes® are a trademark of Apple Inc., registered in the U.S. and other countries.