MobileGo Review & Comparing MobileGo to the free Syncios iOS Manager
iTunes is an excellent tool for managing the content on your iOS device from your Windows PC. But it's been pretty clear that most people don't like iTunes. There is no doubt that iTunes is a bit complex and has some limitations. You can't sync contacts, or convert audio and video files to an iOS-compatible format. The most unbearable is that you need to sync your iPad even you are going to upload only one music to your device.
There are programs, which all appear to do similar things and make similar claims, to help you transfer things between your iOS device and computer. Our Syncios iOS Manager is one of them, so as the MobileGo to iOS. In order to get the full details, read on to learn which iOS-to-computer transfer programs get your eyes. Both of them could give you much more control over your iOS device than iTunes does.
1. MobileGo for iOS(Newly TunesGo)
Wondershare's MobileGo for iOS ($40, free demo with limited imports and exports) offers some nifty features that iTunes leaves out, making this application an excellent companion to Apple's software.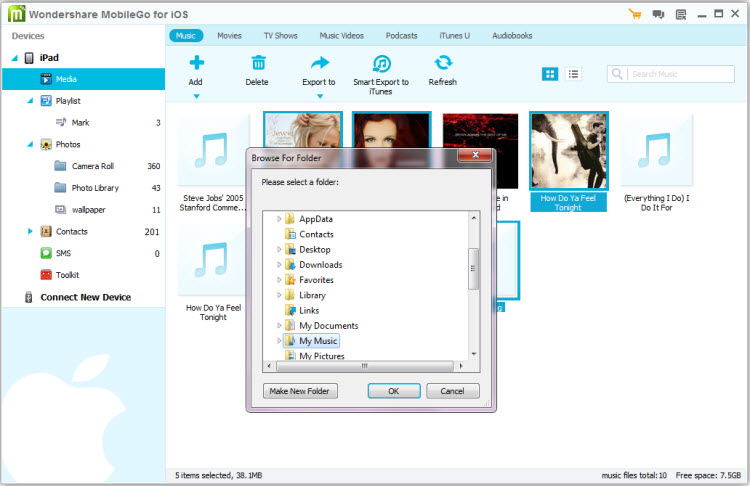 Features:
Transfer songs, videos, playlists, iTunes U, Podcasts to & from Your PC/iTunes
Copy photos & albums to/from Your PC & iDevice
Manage iPhone contacts: Import, export, remove duplicates & sync with Outlook
Load your iDevice with music and video incompatible with iTunes
100% compatible with iPhone 5, 4S, iPod touch 5, iPod nano, iPod classic, iPod shuffle, iPad mini, The New iPad, & more!
Pros:
Nice interface
Support transferring content between iOS devices
Cons
No apps management
A bit expensive
MobileGo automatically detects your iPod, iPhone, or iPad when it's connected to your computer, and displays its contents in a column on the left side of the application. You can manage media, playlists, photos, contacts, and SMS, to browse in a larger window on the right side of the application. iTunes users who have yearned to manage their contacts or view their text messages on a big screen will appreciate MobileGo's approach. Its Media, Playlist, Photos, and Contacts tools are a bit more useful, as you can use each of these sections to add content to your device or sync it back to your PC. MobileGo's interface is clean and attractive, and its large icons make it easy to figure out how to accomplish all of these tasks.
MobileGo also includes a Toolkit, from where you can perform some additional tasks, including Copy iDevice to iTunes, Export Music to PC, Convert Video to MP3 and Convert Music to iOS-supported format. But it lacks an option for converting video to an iOS-compatible device.
MobileGo allows you to transfer contacts from Outlook to your iPad/iPhone/iPod. This will be handy for users who rely on Outlook. Easily to import/export contacts to/from vCard files, Outlook Express, Windows Address Book, Windows Mail and Outlook 2003/2007/2010.
And users with more than one iOS device will appreciate how easily MobileGo allows you to transfer contents between them. The software supports multiple iOS devices at a time, and allows you to export content from one to the other easily.
MobileGo for iOS is available in a free trial version, but the full version costs $40 -- a hefty price when you consider that iTunes is free. MobileGo for iOS includes many features, including a robust contact manager and the ability to transfer content between 2 iOS devices, that make it worth its price.
2. Syncios iOS Manager
Syncios is a software solution that can help you transfer files to and from your iOS device, which can work with iPads, iPods and iPhones, and allows users to transfer files, applications, playlists, photos, videos in the easiest way possible. What's more, it is completely free of charge.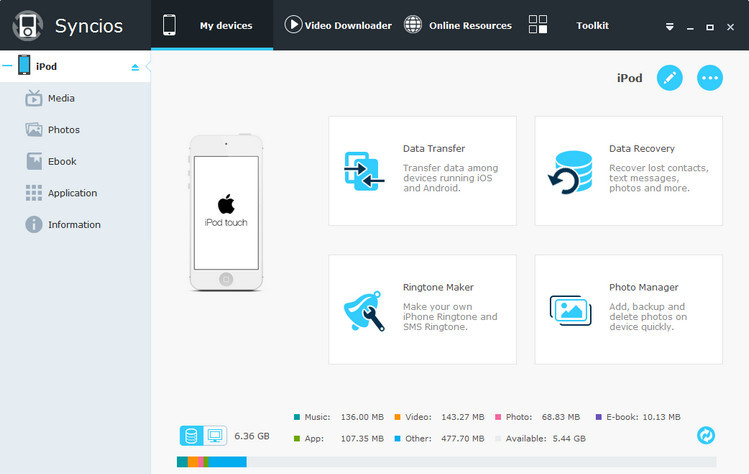 Features:
Convert audio & video to iPhone/iPod/iPad
Backup & Manage Music, Ringtone, Audiobook, Voice Memos, Playlist
Transfer videos between iOS devices with PC
Transfer photos between iOS devices and PC
Transfer & manage eBooks on iOS devices
Manage iPad/iPhone/iPod Apps, backup apps and data/documents to computer
Use your iOS device as an external USB Key for extra convenient storage.
Pros:
Free

Nice layout
Easy to use
Cons
No mac version
Still need iTunes to be installed.
Once you have connected the device, the application is able to display the device name, model number, device color, iOS version, serial number, battery status and others. You can view your phone's media, photos, ebooks, apps, file system and information, and copy the files into your computer. It also provides information about the total size capacity and the used space of your device. As an iOS manager, Syncios supports accessing any iPod touch, iPhone or iPad to export apps, photos, music, ringtone, videos, and eBooks to your PC for backup. Transfer files from your PC to iOS devices will be also available.
Syncios is a useful application that not only provides the ultimate transfer solution between iOS devices and PC for users, but also conversion options. You can easily transfer content from the iPhone or iPad to your computer, and vice memo. While iTunes makes it easy to transfer songs and videos from your PC to your iPad, transferring photos isn't as easy. Syncios, like MobileGo, handles this task easily. You can also create an album on your iOS device, load it with photos from your computer, and sync it in seconds. Also simple is transferring content that's not in a compatible format. Syncios recognizes this content and converts it for you, making it easy to get all the songs and videos you want on your iOS device. You can even make you own ringtone with Syncios.
With Syncios Software, you can play music directly from your iPod, iPhone, iPad without iTunes. Even create and edit playlists for your iPod/iPhone/iPad, transfer or delete files between your devices and PC. Syncios is also a perfect assistant for you to add, delete or backup your local eBooks (Epub/PDF) seamlessly between your computer and iPod/iPhone/iPad. If you are still looking for a perfect iOS manager, Syncios will be the best choice.
Though Syncios is a handy iTunes alternative for Windows, there is one downside. iTunes is still required to be installed. The good news is once it is installed you won't ever have to deal with iTunes interface again.
3. MobileGo for iOS
VS

Syncios iOS Manager
| | | |
| --- | --- | --- |
| | Syncios iOS Manager | MobileGo for iOS |
| Audio Converter | | |
| Video Converter | | |
| Ringtone Maker | | |
| Audio Management | | |
| Video Management | | |
| Playlist Management | | |
| Photos Management | | |
| Ebooks Management | | |
| Apps Management | | |
| Contacts Management | | |
| Notes Management | | |
| Bookmarks Management | | |
| SMS Management | | |
| Outlook Supported | | |
| Mac Version | | |
| Multiple Devices Supported | | |
| Price when rated: | Totally Free | $39.95. Free Trial |
MobileGo® is a registered trademark of Wondershare Ltd.
Apple®, iPod®, Mac and iTunes® are a trademark of Apple Inc., registered in the U.S. and other countries.