PhoneStick Review: Forget iTunes! The Best iPhone File Manager for Windows
You know that on an Android phone, you can add anything as easily as copy-paste into folders. That's why we hate iTunes because that's the only way to add anything to the iPhone/iPad/iPod. And that's why we choose PhoneStick. It is enormously versatile.
PhoneStick doesn't just let you access the iPhone filesystem as a file manager but it actually mounts the iPhone in multi-part drives. It really brings seamless experience - plug USB cord to an iPhone, iPad or iPod touch and your device appears in Explorer. Transfer files both ways like you do it with local folders explorer. It's like your iPhone shows up as four different drives. Each drive targets one specific aspect. One of the mounted drives has folders labeled, Music, Videos, Music-videos, etc. You just copy-paste your songs/tracks into the folder and it gets automatically cross-synced to the Music app on your iPhone! All you need to do is just copy-paste.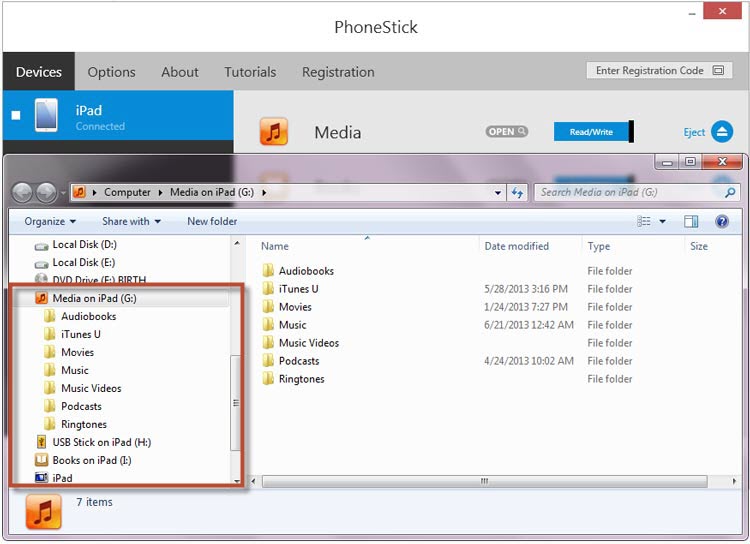 Pros:
Free for 1GB Transfer
Use iPhone/iPad/iPod as USB device
Cons
Keeps crashing
No Mac version
No Application Management
No Photo Management
PhoneStick also lets you access to iOS's filesystem so if you're able to play around with system files, here's one for you. And PhoneStick is also for the normal Windows user who's happy to see that the iPhone can also work like an Android phone when it comes to copying files and pasting them around. Just the way you've always wished it would be. Just copy-paste.
Syncios iOS Transfer
Syncios is also an easy-to-use yet powerful iOS device manager, which is well-designed for users who want to manage media contents between iOS devices and PC. Syncios enables you to synchronize your iPod, iPhone or iPad with the local Windows pc. You can see the content of your iOS device and pick the products that you need to copy to your pc or import to your device, when you connect Syncios and your device.
Syncios is quite different from PhoneStick. To be honest, PhoneStick is easier to operate. Just copy and paste as a storage device. Connect your iPad/iPhone/iPod to computer, and import or export files between your device and PC through Syncios. And then your would find the files imported in your iPad/iPhone/iPod or the files exported in your computer.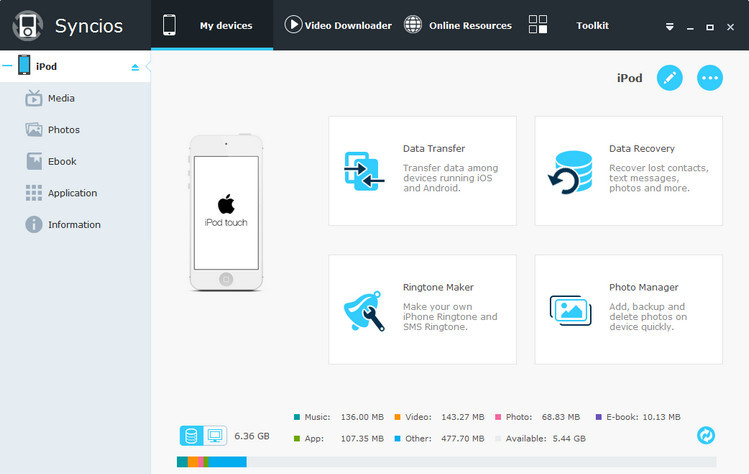 Pros:
Free

Nice layout
Easy to use
Cons
No mac version
Still need iTunes to be installed.
What Users Say About Syncios:
Like this freeware. It helps do almost everything I want for my iPod Touch 5. It even supports converting and syncing videos for my iPod Touch 5. Easy to use. Great product!
--- echochen
It provides the ultimate transfer solution between iOS devices and PC for users. Syncios allows you to transfer and manage your apps, photos, music, ringtone, audiobooks, videos, TV shows, MV, playlist, eBooks and more between iPod/iPhone/iPad and PC freely and easily.
--- tucows.com
Much better than iTunes and other software!!! Easy to install and use. Nice Appearance and organized well. Please keep on improving this software continuously. People will love it!!!
--- jblue0056
3. Differenc between PhoneStick
&

Syncios iOS Manager
| | | |
| --- | --- | --- |
| | Syncios iOS Manager | PhoneStick |
| Audio Converter | | |
| Video Converter | | |
| Ringtone Maker | | |
| Audio Management | | |
| Video Management | | |
| Playlist Management | | |
| Photos Management | | |
| Ebooks Management | | |
| Apps Management | | |
| Contacts Management | | |
| Notes Management | | |
| Bookmarks Management | | |
| SMS Management | | |
| iOS System Management | | |
| Mac Version | | |
| Multiple Devices Supported | | |
| Price when rated: | Totally Free | Free for 1GB Transfer |
Phone Stick® is a registered trademark of Softorino Inc.
Apple®, iPod®, Mac and iTunes® are a trademark of Apple Inc., registered in the U.S. and other countries.