Important Notice: All Syncios Products for Win & Mac Currently Support iOS 15 & iPhone 13!
Recently Apple has released its latest operating system iOS 15 that contains multiple amazing features. Simultaneously, Syncios Tech also released the lastest version of all Syncios products which can support all iOS 15 devices including iPhone 13.
Let's see what we can do with the newest Syncios products below.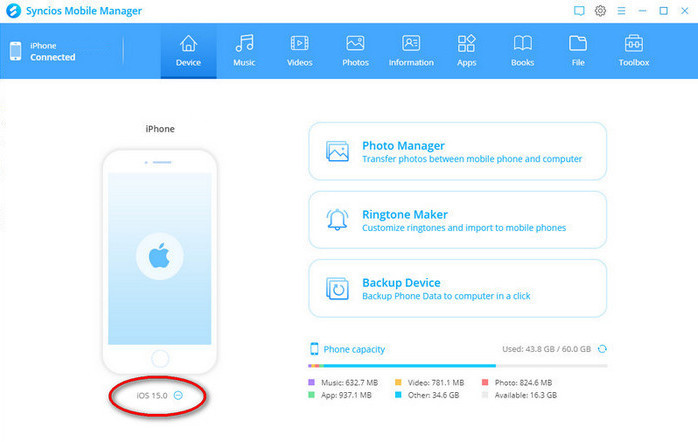 Transfer Music Between your iOS Devices and The PC:
If you are a music lover and have hundreds or thousands of songs on your iPhone, we bet that you will like our Syncios Mobile Manager since it can help you transfer multiple songs between the PC and the iPhone easily. When you find that some songs you prefer are not in Apple Music due to the Copyright issue, you can download the song first on the PC then using Syncios Mobile Manager to import them to your iPhone. What's more, we all know that duplicate songs would be generated occasionally during the iTunes backup process because of the tech issue, with Syncios Mobile Manager, you can delete all duplicates on your iPhone within one click.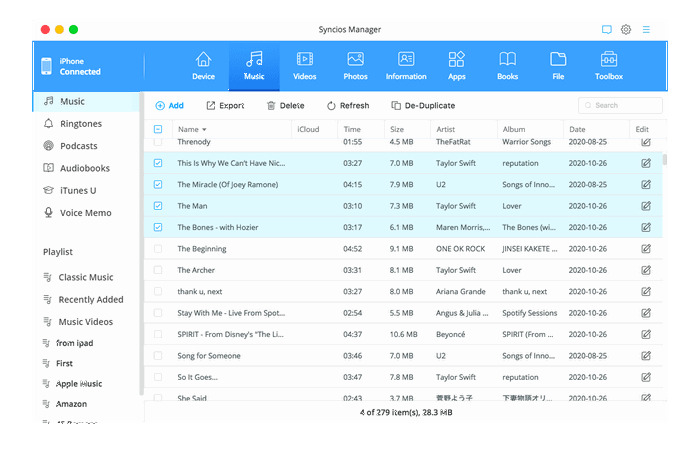 Selectively Back up or Restore Different Kinds of Files on Your iPhone:
If you are disappointed at the complicated iTunes backup process and limited iCloud storage, we highly recommend you to try Syncios Mobile Manager that supports selectively backing up different types of data on your iPhone. The photo below shows that you can back up photos, audio files, videos, contacts, messages, and E-book with one click using Syncios Mobile Manager. In addition, if you don't like the one-click backup feature, you can also save files individually by navigating 'Music', 'Videos', 'Photos' on the top of the main interface.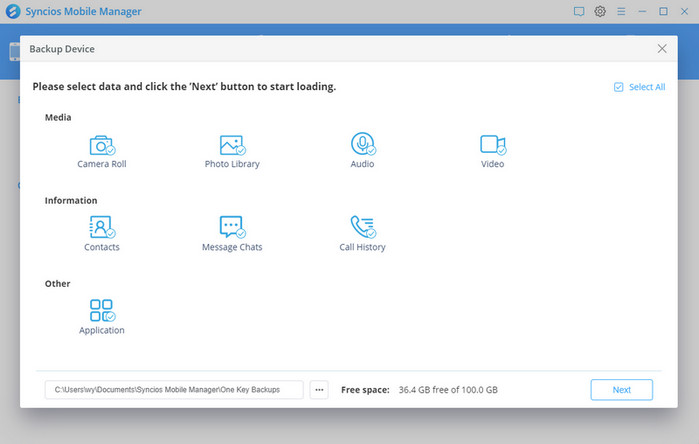 Your Best iPhone Ringtone Maker:
We know that a lot of iPhone users may get tired of built-in ringtones on their iPhone and find it is kinda complicated to make a customized ringtone on an iOS device. You can make your ringtone easily in just a few minutes by using Ringtone Maker in Syncios Mobile Manager Toolbox and import it to your iPhone directly.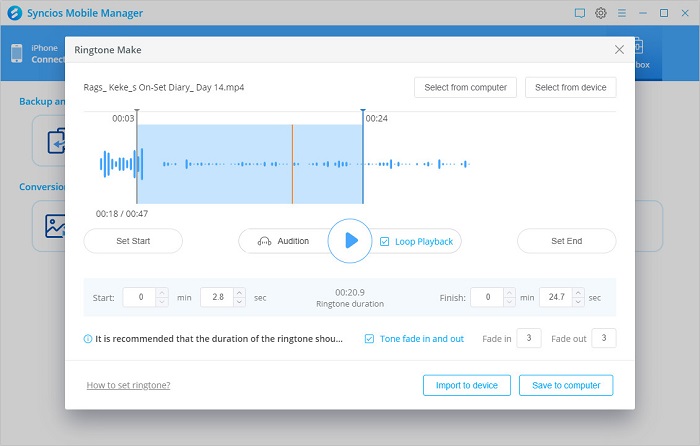 Export Messages, Contacts, and Call History to Your Computer in A Readable Format:
We have noticed that some iPhone users complained that they usually delete some important text messages, contacts, and call history by mistake since there are so many junk messages mix in. Once you delete them without any backup, it's too hard to get them back since Apple Inc. has its privacy policy. Therefore, it seems that back up your iPhone text messages, call history and contacts regularly is the optimal choice to get rid of that trouble. With our Syncios Mobile Manager, you will have 2 options to back up them on your iPhone: directly back them up to your computer in an unreadable format or save them to your computer in a readable format. In addition, you can easily print them out if you save them to a readable format like CSV.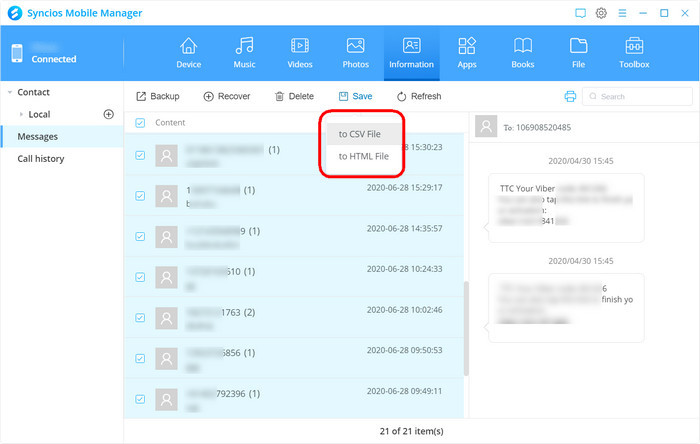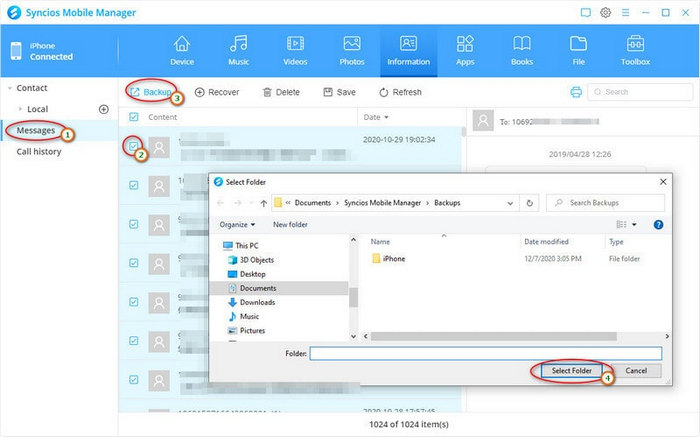 Help Organize Your iOS Devices File:
As we have already mentioned before, you can transfer all types of data between your computer and iPhone easily with Syncios Mobile Manager. You can also delete the data that you don't like to keep using Mobile Manager and release some available space for other use. With the help of Syncios Mobile Manager, it's much easier for you to manage your data than directly operate on your iOS devices.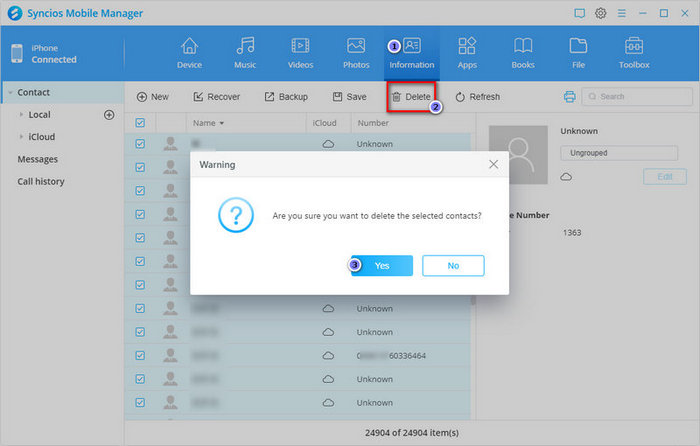 ---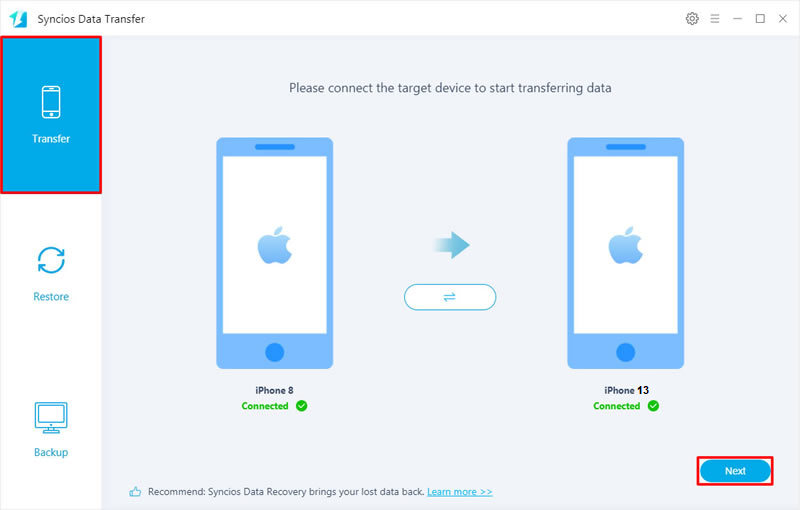 Transfer Data Between 2 Mobile Devices:
If you think Apple's iCloud service is kinda expensive or you want to transfer data directly from an iPhone to an android phone, you must try Syncios Data Transfer since it allows you to transfer all types of data directly from one phone to another. For instance, you can transfer photos, audio files, videos, and contacts between 2 devices even if they are not the same OS.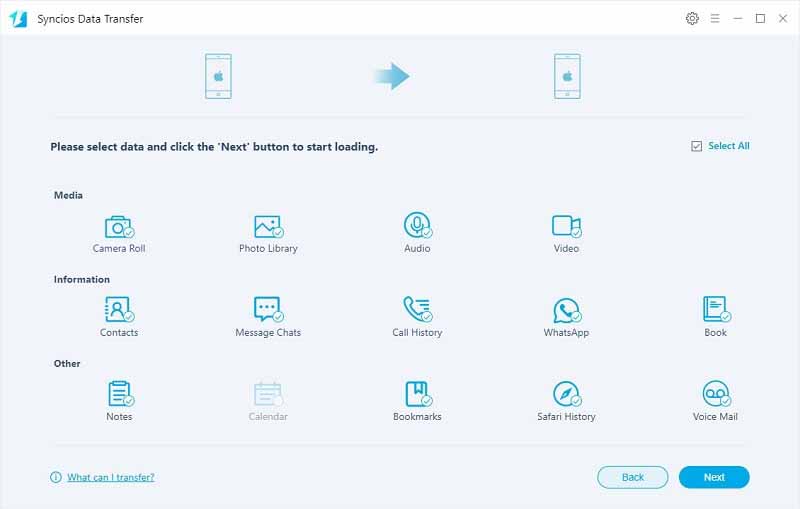 One-click to Back up Your iOS Devices:
Besides Mobile Manager, you can also selectly back up your iOS devices in just one click by using our Syncios Data Transfer.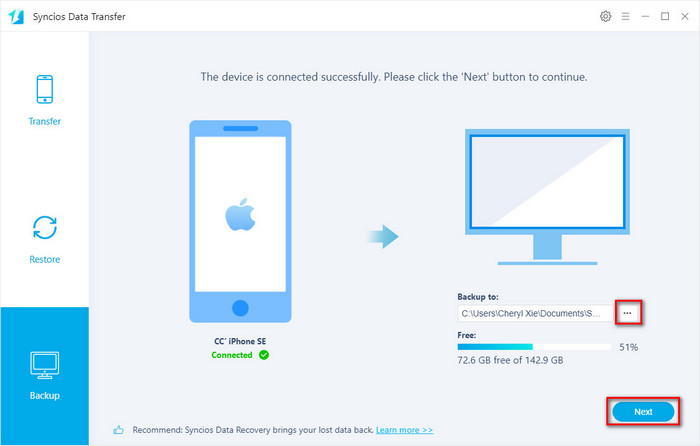 ---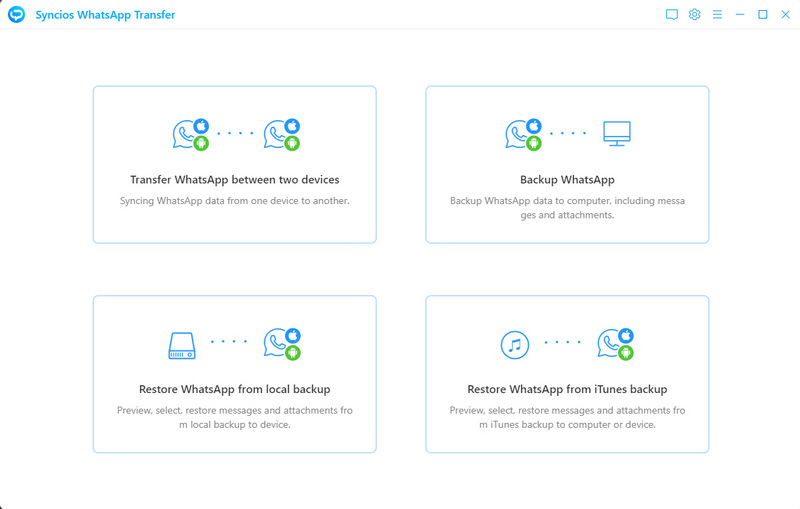 Unlike Mobile Manager and Data Transfer, Whatsapp Transfer is a Whatsapp data management software that can help you transfer or back up your Whatsapp messages, photos, and videos easily. In addition, Syncios Whatsapp Transfer also allows you to restore Whatsapp data from the local backup or iTunes backup. We usually heard that Whatsapp users complain about the built-in backup feature, we highly recommend you to try this software since it will never lose your Whatsapp data.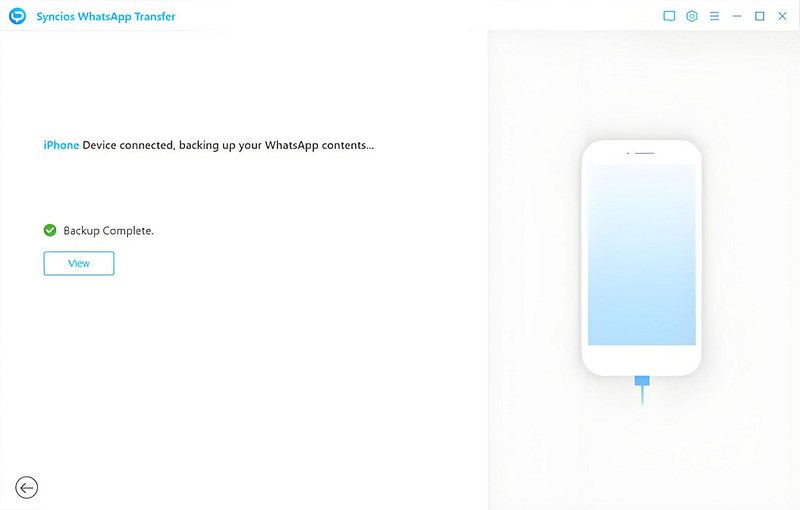 ---
We know that sometimes we may delete some messages or photos by mistake and it's too hard to find them back if we never back up our iPhone. With Syncios Data Recovery, you can easily get back lost Notes, Photos, App Photos, App Videos, Messages, Contacts, Call History, Safari Bookmark, Voice Memos, WhatsApp, Viber, Kik, and other important files from your iOS device in minutes.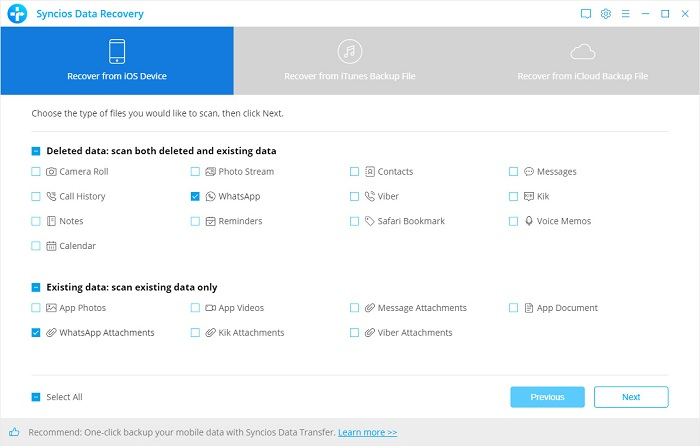 ---
Syncios iOS Eraser is a data cleaning software, it is commonly used to free up space and erase data deeply on users' iPhones. With this software, you can clean up all the junk files and caches in just one click, iOS Eraser will automatically detect temporary files, junk files, and caches. The only thing you need to do is selecting files you want to delete. In addition to this, you can also set the security level when you want to erase all the data on your iOS devices, this feature is loved by people who have a strict requirement for their private security.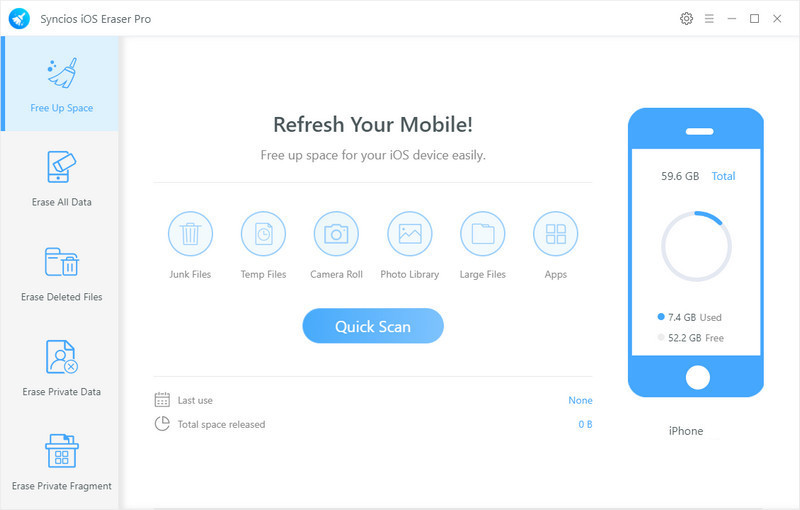 ---
Summary
The newly updated Syncios products are fully compatible with Android 3.0 - Android 11 and iOS 9 - iOS 15. iOS devices cover iPhones like the latest released iPhone 13, iPhone 13 Mini, iPhone 13 Pro, iPhone 13 Pro Max; iPads and iPod Touch (the 5-7 generation), etc. Don't be hesitating to try our products if you need a professional mobile data management software
About Syncios Inc.
Syncios technical team has made their efforts to develop WhatsApp data transfer, manager and recovery tools. Syncios devotes to improving the functions and performance of the products in order to attract more users. Its great quality and good users experiment gain trust by millions of users all around the world.
Company: Syncios Inc.
Contact Email: [email protected]
Official website: https://www.syncios.com