How to download and install Spotify on Android?
Spotify music app on Android gives you access to millions of songs whenever and wherever you want, which could be the best way to listen to music on mobile or tablet. It enables you to search for any track, artist or album and listen for free; Make and share playlists; Build your biggest, best ever music collection, etc.
Most importantly, Spotify is now free on your Android phone and tablet and play any song, artist, album, or playlist in shuffle mode. Even if you have used Spotify on your laptop to save songs and playlists, you can access all your saved songs and playlists right on Android app and all you need to do is to log in to your account.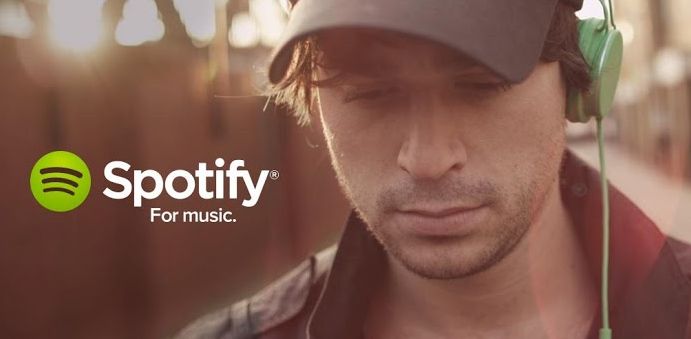 To download and install Spotify app on Android doesn't sound like a big deal for most people, but what if you move or travle to a country where is not avilable for download and doesn't provide such service? What's more, some might uninstall Spotify but could no longer install from the Play Store, or could not access Spotify on mobile data, etc. Hence, we would like to introduce 2 methods to install Spotify App:
---
Part 1. How to install Spotify directly from Play Store? ?
Spotify android is available for download in different places online but the major places to easily get Spotify for android are:
However, installing from Google Play Store could be the easiest way, just needs to tap the install button and the installation will be taken care of by the Google Play Store itself. Of course, you should have an Google account firstly. To do so:
Step 1. Open your Google Play Store App in your device
Step 2. Search for Spotify Using the search bar.
Step 3. Tap on Install to install the app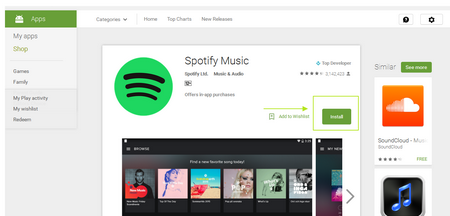 ---
Part 2. How to install Spotify Music App manually?
Step 1. Download the raw .apk file for the app from Spotify website : https://www.spotify.com/us/download/other/
Step 2. Go to your device settings and scroll down to security.
Step 3. In the security section, scroll down and look for "Unknown Sources" and click the checkbox. This is because Android devices don't allow manual installation of apps without the user allowing this feature in the settings; you can always turn it off by un-checking the box if you are done.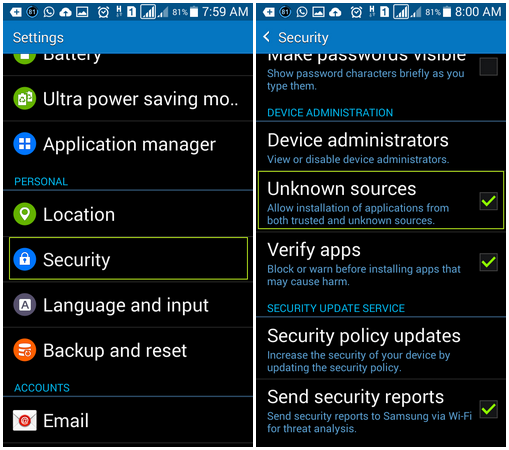 Step 4.Go to your download History and open the downloaded Spotify App.
Step 5.Click on "Next" button and then tag "Install" to install the Spotify app.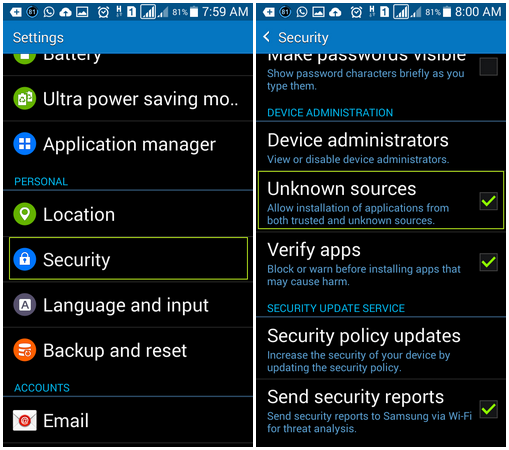 That's it, Spotify music app has been successfully installed in your android device. Just enjoy the music.
---
Part 3. FAQ
Q1: For Android users, maybe usually encounter following circumstance, how to fix it?
Black screen on startup
Offline data not storing on SD card
Random crashes or FC's
Track degradation or skipping
Playlists and tracks no longer available
Answer: To solve this problem : 1. Uninstall the app from phone by going to 'Settings' -> 'Apps' then scroll to the Spotify app and tap on it. Once loaded press 'Uninstall'.
2. Using a file manager make sure that the below folders are deleted if they still exist:
3. Next; reboot your phone.
4. When all folders are removed and the phone has rebooted go to the play store and install the Spotify Music app again. You can refer to our above (Part 1 or Part 2) tutorial to reinstall the app.
NOTE: You will lose all preferences & offline playlists in doing this! So, please perform backup before doing this.
Q2: Tried a clean install but still having finding the Spotify app crashes.
Answer: - If your device is using an SD card; try removing it and then seeing if the app runs without issue. Try a complete format of the card and if it still fails it may be time to invest in a new SD card.
- Unable to format or delete the folders? It might be the card is set as 'write-protected'. Some micro SD cards come with an adapter with a little hardware switch enabling read/write access. Try putting the card in this adapter and toggling the switch to enable then disable the read/write protection. If possible, use a PC to format the card while it's in this adapter.
- Is the SD Card mounted and readable by the system? Go to phone settings - Storage and scroll down to SD Card. Try un-mounting the re-mounting the card.
Q3: How can I transfer Spotify songs and playlist between computer and Android device (Backup Spotify music files)?
Answer: Given this situation, you have to turn to the third-party app, such Syncios Mobile Manager. It supports to copy music, playlist, artist, album from your Android Phone or table to computer, import audio and video files from PC to Android/iOS deivce as well. With this tool, you can also share you Spotify music and playlist with your friends and familes freely without spending a penny.
Note: Spotify lets you pay a flat monthly fee to play unlimited tracks without no Ads, but those songs from Spotify are stil DRM protected, which can't be played anywhere besides the Spotify. In order to solve this issue, we suggest that you can consider Spotify Music Converter, which allows you to convert all your Spotify music and playlist to unprotected MP3, AAC, WAV or FLAC format, so that you can sync all your Spotify Music to anywhere as you like.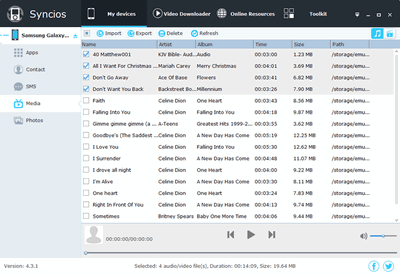 ---
Extra Tips: How to Download Streaming Music to Android?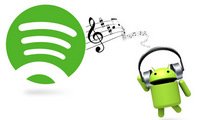 Is it possible to download and move your Spotify music or playlists to Android phone or Android tablet? Tried a number of ways and services but feel exhausted? Here Spotify Music Converter provides you the best solution to download Spotify music or playlists to audio formats like MP3, AAC, WAV, or FLAC, then you can move your Spotify playlists to Android devices effortlessly.