How to Monitor Employee/Children Emails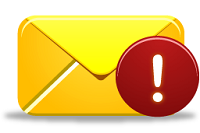 Are you taking email security seriously? Email security should taken into consideration seriouly no matter for yout company or for your family. At some firms, email inboxes are flooded with hundreds of copies of the email messages bearing the malicious link. Beside, there is a posibility that some emails come from burglary or distribution of sensitive information in the realm of the company. And for some parents, they have children who are too young to identify inappropriate email messages. They need to protect their children from some harassment.
---
Monitoring employee email is also one of the most effective methods for both identifying and preventing insider threats to your orginization. And the monitoring of email activity is also extremely valuable for knowing who your children contact frequently. In this article, we are going to discuss how to ensure a secure email environment with emails tracking freature.
Is it leagal to monitor employee's emails?
We know we could protect our children which should be leagal. But how about monitoring employee's emails? After all, emails should be private infornmation. But there are several valid reasons for monitoring employee email. Foremost, it helps secure your company from burglary or distribution of sensitive information in the realm of the company. Moreover, tracking employees emails might give you evidence in case of a lawsuit while it can also make you aware of any office harassment and also whether employees comply with company's regulations.
However, despite these valid reasons, is it possible and legal then to monitor employee emails? It is absolutely possible to watch employee emails. On the contrary, it is only legal under certain circumstances such as when there are set written policies. Create balanced policies that govern internet usage and electronic code of conduct that employees will sign. Furthermore, to make monitoring legal, inform your workplace. Make it clear to the employers that the reason for monitoring is to maintain a compliant workplace and not to dig in to their personal interactions. Lastly, use technology tools that alert you to potential problems so that you do not pry into personal information.
What email monitoring can do for you?
An e-mail monitoring software can help you to record all information related to the action, prevent security compromises and sensitive data from being transferred out of a system. No need to take the guess work out of knowing who your employees or children are sending emails to, what is being shared, and if sensitive files are being attached. All email details, including the exact date and time stamps of all incoming and outgoing emails, all contact details of senders and recipients, are able to view directly from your Control Panel.
How to monitor emails?
Are you curious about what is call monitoring? Actually, Call monitoring allows you to keep a check on the detailed call data such as number of call received, call made, incoming or outgoing details, time of call, duration etc. Through PanSpy, you can find out exactly what calls were received and made. Best of all, this cell phone tracking software is completely hidden, meaning that your children or employees will have no idea that you are keeping tabs on them. Besides, you can easily find out who they spoke to and how long for. Find out whether they phone a specific person more regularly than others. You can even check which calls were missed, which ones were unsuccessful and which ones they rejected.
PanSpy allows you to read content from all incoming and outgoing emails of Gmail and Outlook. The date and time stamp of every email could be checked on your control panel remotely and secretly. Besides, by viewing the senders and recipients saved in the address book, you'll know who they get in touch with. Being aware of who you child or employee is communicating to, you are able to keep they away from dealing with the wrong people.
Step 1. Firstly, choose the subscription of your choice and set up a new account for your email ID. Then follow the instructions to log in.
Step 2. Install the app on the target phone using the link in the setup page and sign in using the credentials of the PanSpy account you have already created. Using Control Panel on your phone and track the emails in the stealth mode.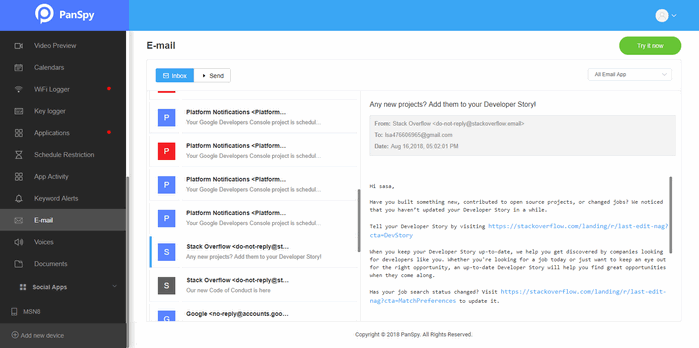 Since all incoming and outgoing messages are tracked, you'll know who your employees or children are sending emails to, what is being shared, and if sensitive files are being attached. All concerns will be removed with monitoring emails remotely.
---
Related Articles