Why would you get this error message?
Since OS X Mountain Lion, the Mac add a new security feature called "Gatekeeper", it can get in the way when users install software. It defaults to block installing applications that are not from Mac app store or created by unidentified developers. You'll discover the message in OS X 10.8 or above when you try to launch a Mac app that didn't come from the Mac App Store, and you'll get an alert dialog that says "Syncios data transfer can't be opened because it is from an unidentified developer".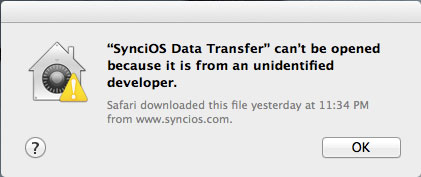 Solution 1: Temporarily Get Around "App Can't Be Opened" Gatekeeper Alert Message
This maybe the best option for most users, since it maintains some security:
1. Right-click (or control-click) the application in question and choose "Open".
2. Click the "Open" button at the next dialog warning to launch the app anyway
You can do this with any third party app that gives you this warning dialog and open it anyway.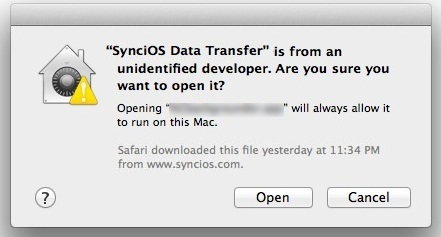 Solution 2: Disable GateKeeper's Unidentified App Developer Prevention Completely
If you think that's annoying to right-click apps to app constently, you can directly turn off Gatekeepers app verification completely. Follow the steps below
1. Launch System Preferences and click on it.
2. Click on the Privacy & Security icon in the top row.
3. Go to General Tab. We recommend using the middle setting which is Mac App Store and Identified Developers. You can also choose between Mac App Store Only for tighter security or Anywhere which will allow any app to be opened regardless of the source or developer.
4. Accept the security warning and allow. You can now launch any app from any location or developer.
Note: If your mac is protected with password, you may click the lock icon and enter the passcode to make the changes.
Screenshot for your reference