How to Transfer Text Messages from iPhone 4s to Samsung Galaxy S6
Since the roll-out the Samsung Galaxy S6 and S6 Edge in several markets around the globe. When you get a coveted Samsung Galaxy S6, as most of the users, you just want as quickly as possible to enjoy your new phone. However, before you can use your Samsung Galaxy S6 as the old phone you have been used, you may need to transfer data such as contacts, text messages, photos, music, videos, apps and more from the old phone to the new Galaxy S6, so as to more convenient to use the new phone.
iPhone to Samsung Transfer would be a good choice for you to transfer old phone data to Galaxy S6 from iPhone, HTC, Moto, LG or Sony Android smartphone easily.
How to Text Messages from Old Phone to Sansung Galaxy S6

Step 1 Download Galaxy S6 Transfer on your Windows PC or Mac OS X.
Download Syncios data transfer program and launch it, you will see the intuitive interface as following.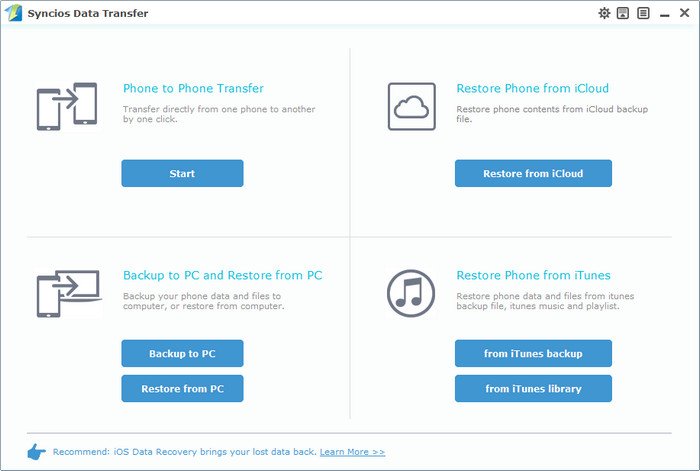 Step 2 Connect iPhone 4/4s/5/5s/5c and Galaxy S6 to the Computer
Select Phone to Phone Transfer mode by clicking Start button, which prompts you to connect your source phone and destination phone via USB. Plug in your devices with USB cords. Then, the program will detect your device automatically.
Note: If it's the first time to connect your Samsung Galaxy device to PC, driver needs to be installed. Windows Explorer will search and prompt you to install the driver. Then you would need to enable USB debugging on your Android device.
After USB debugging mode is enabled, Syncios Data Transfer can connect to your Android device. Important notice: Please do not forget to authorize this computer on your android phone screen like shown below.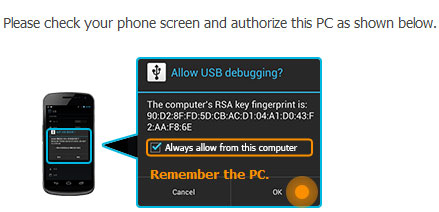 Step 3 Transfer Data from iPhone to Android
Once both phones are successfully connected to Syncos Galaxy S6 transfer, you can click Flip button to switch the positions of two phones, make sure your old phone is in source phone position, new Galaxy S6 on target phone. Preview and select whatever you want to copy by clicking the box of "Contacts","Text messages","Call logs" and "Photos". Now you would need to transfer text messages, uncheck other boxes, then click Start Copy button.
During the transferring process, you would notice that an App named Syncios has been installed to your Samsung Galaxy S6.
You will get the prompt to asking you to change the default SMS application, click Yes to grant Syncios the access to SMS. The Syncios data transfer desktop program will start move all text messages to your new Galaxy S6 Edge.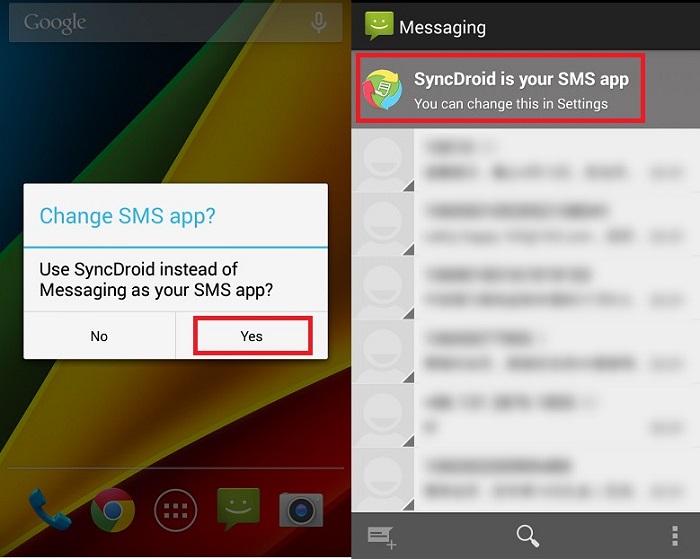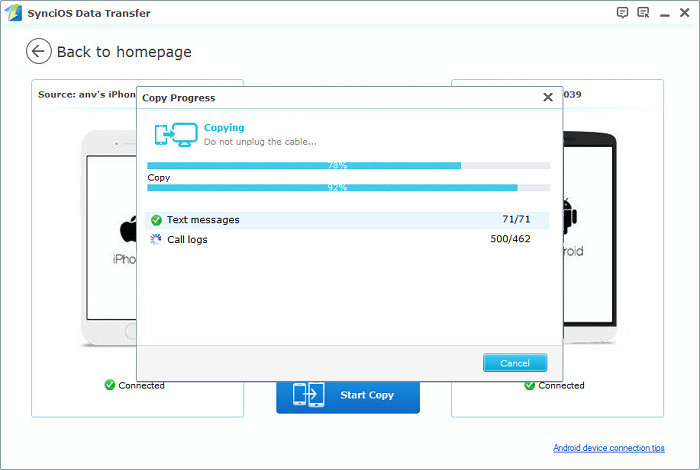 Please do not worry, after the completion of sms transfer, you can change the messaging application in setting. Follow the steps below shown in below screenshot.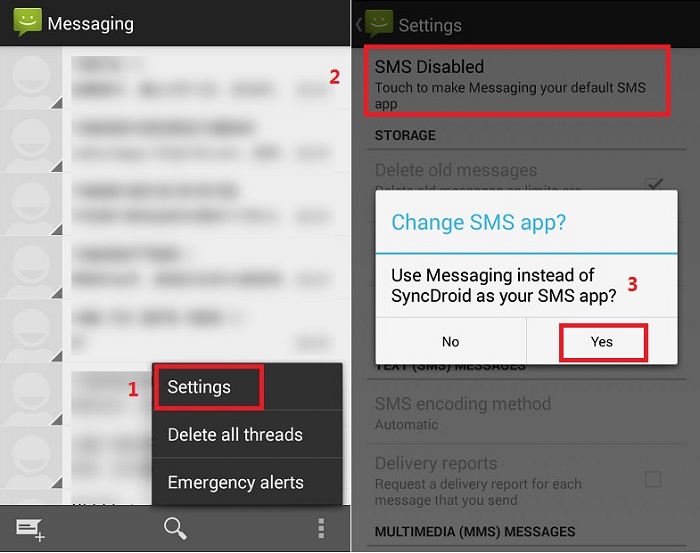 Important notice: Please keep both the devices are well connected to your PC, otherwise the transfer process will be terminated. Then you would have to start it over again.
The one-click phone transfer tool not only lets you transfer contacts, SMS, photos, music and more between iOS and Android, it also enables you to backup and restore phone data without quality loss.