How to Backup and Restore Xiaomi Mi 10

"There're always a large number of messages, photos and music on my phone, and I really need an effective method for me to backup my new Xiaomi Mi 10 phone and then can easily restore them back to my phone whenever I need. Do you have any good idea? Need help!!"
In many cases, when we're going to change a new phone, when we would like to restore factory default settings to fix some problems, or just because of there're too many data, such as photos, on your phone and it's urgent to save them in other places, we all need to backup and then restore data of our Xiaomi phone. Anyway, it's no difficult for us. If you want to know detailed methods, this article will guide you how to backup and restore Xiaomi Mi 10. Other types of Xiaomi/Redmi phones are also suitable. Now read on it and find a solution that you like the best.
Method 1. Backup and Restore Xiaomi Mi 10 For Free
When it comes to backup phone data, the thought uppermost in your mind might be computer, though now so many handset makers published phones with larger storage than before. In that way, you should consider trying our Syncios Manager free version. Syncios Manager free version can be described as the best alternative of iTunes, with the program, you can backup phone photos, videos, music, messages, contacts, call history, apps and more to your personal computer. It can fully compatible with 6000+ devices (both iOS and Android devices) and thus it can also backup numerous other device models as well. What's more, it has many handy toolkits, such as ringtone maker, help you customize and save songs that you like into ringtones. Here's how you can take Xiaomi Mi backup to PC selectively using Syncios Manager.
Step 1Download and install Syncios Manager

Syncios Manager(Free version)

Manage photos, videos, music, contacts, apps and etc. between computer and phone devices.


Free to download and then edit online videos from most-used websites, like YouTube, Facebook and etc.


One-click backup and restore toolkit supports types of phone data.


Make Unique Ringtone for iPhone & Android devices.


Fully compatible with the latest Android OS and iOS system.
Step 2Connect your Xiaomi Mi 10 to the computer
To connect your Xioami Mi 10 to computer, you're supposed to get ready for an USB cable. And it's important for Android users to unable debugging mode on phone, however, the premise is that Developer options should be unlocked. The steps is simple. If you don't know how, just follow the guide of Syncios when you receive prompts.
Step 3Backup Media files to computer
Your Xiaomi Mi 10 data are classified into five categories: Apps, Contacts, SMS, Media and Photos. If you're going to backup songs this time, click on 'Media' tab. You will see all songs on your phone are listed there. Click on 'Export' to Browse output location, then press on 'OK' option. If you want to backup videos too, find 'Videos' icon from the top right-hand corner of interface, then tap on it to change the list from music into videos. Next repeat the previous steps again.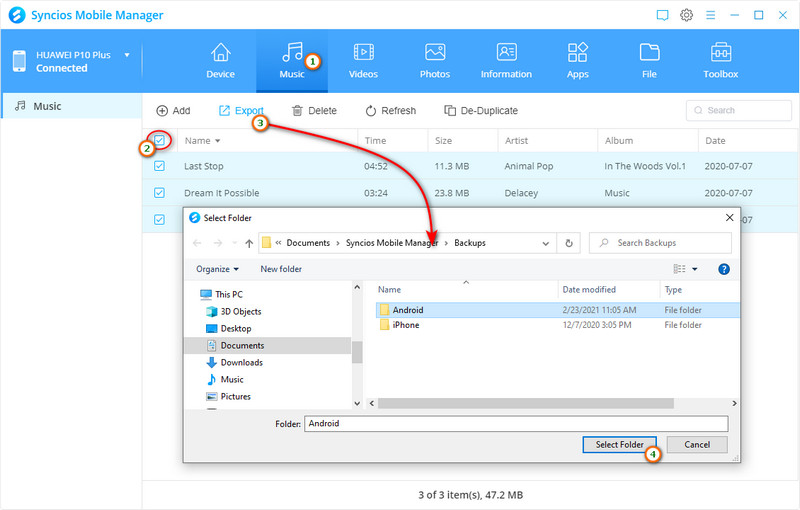 Step 4Backup Contacts/Messages/apps to computer
Also, your contacts, messages and applications can be backed up to computer via Syncios Manager. We set contacts as an example, go to 'Contacts' module, select desired contact numbers, click on 'Backup' button, and you will be amazed at more than one option is available to you. You can back up contact as 'Single/Multiple vCard File, CSV File and XML File'. And it provides a convenient way to sync your contacts to Outlook. Simple choose one you like. For example, press 'to Outlook 2003/07/10/13' option. Wait for a moment and you can login your Outlook to check these contacts.
As you can see, you can click 'Recover' option to retrieve contacts later from Syncios backup files to your Xiaomi Mi 10 or any other supported phone.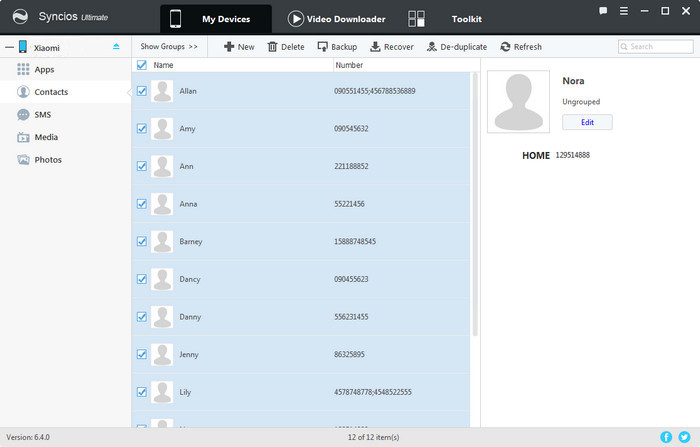 Step 51-click Backup and Restore
Press on 'Toolkit' tab at the top of Syncios page. You will find '1-click Backup' and '1-click Restore'.
First of all, click on '1-Click Backup' and you will see four main options: Media, Photos, Apps and Information. Taping the 'expand' icon at the far right of each option to select more detailed items to backup. Check items that you need to backup. Then click 'Start Backup' to launch data backup process.'
Secondly, click on '1-Click Restore' option and every backup that you've made by '1-Click Backup' will show on the interface. Select the one backup file and types of data that you want. Finally, simply press on 'Start Recover' option.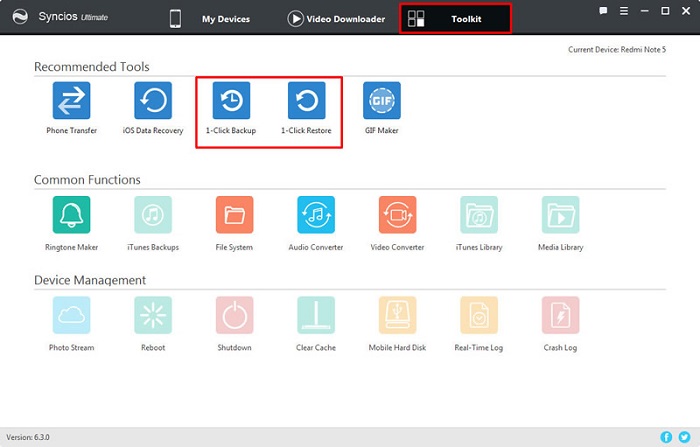 Method 2. Backup and Restore Xiaomi Mi 10 on One-Click
In comparison with Syncios Manager, Syncios Data Transfer is a faster solution for backing up phone data to computer as well as sharing phone contents between unlimited devices. On one hand, the program allows us to backup Xiaomi phone's media files and personal information to computer on one-click. On the other hand, it enables us to recover data from Syncios/iTunes/iCloud backup to iOS or Android devices. And here's how you can take Xiaomi Mi 10 backup to PC and data restore to Xiaomi Mi 10 using Syncios Data Transfer.
Step 1Download and install Syncios Data Transfer
There are three main parts of Syncios Data Transfer:
Transfer: transfer almost all files, including contacts, video, SMS, photos, call logs, music, bookmarks and more between unlimited mobile devices.
Restore: restore data from iTunes/iCloud backup or from iTunes Library to mobile phones. (Android devices and iOS devices)
Backup: backup your phone data to Mac without any loss.
Step 2Go to Backup module
Launch the program and connect your Xiaomi Mi 10 to the computer via usb cable. Enter 'Backup' module. 'Backup to' option shows you the default save path. And free space of the path is also clear. If is not enough or you would like to customize a path, you can click on 'Browse' icon to save to a different path. Then click 'Next' option for more information. If you want to backup all phone data, so you can directly click 'Next' > 'Next' > 'OK' to launch the process.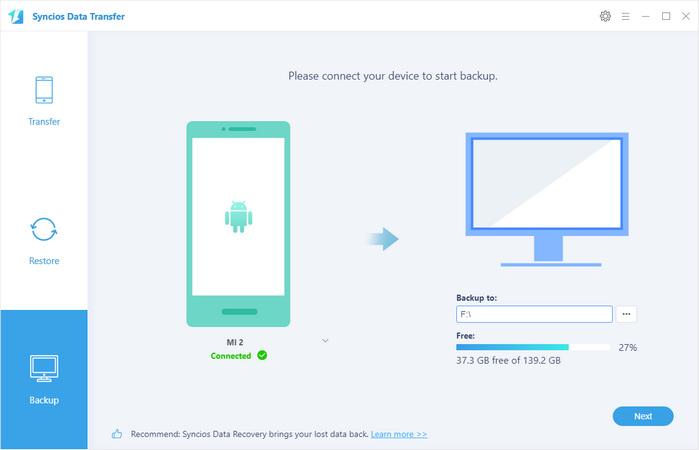 Step 3Go to Restore module
①From Syncios Backup —— Once you click this option, all backup you've ever made just now or early with Syncios program will be listed there.
②From iTunes Backup —— If your old smart phone is an iPhone, and you have a habit of syncing iPhone data via iTunes regularly, you can click on this button to load all iTunes backup files on your computer and then click ''Next' to continue.
③From iCloud Backup —— Restore iCloud backup is also available. But you should sign in your iCloud account first. Once login successfully, Syncios program will load your data automatically. Pick one file and click on 'Download' button.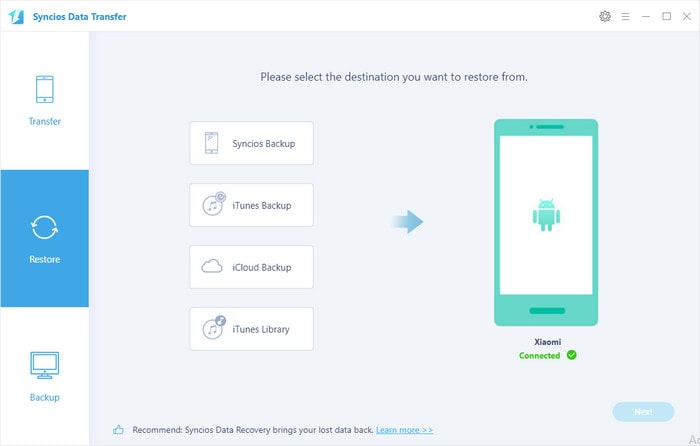 NOTE: Please note that if you have a large quantity of data to transfer, it will be a little time-consuming. Please don't disconnect your device and wait patiently until complete.
Method 3. Backup and Restore Xiaomi Mi 10 via Mi Cloud
Like many major smartphone manufacturers, Xiaomi has its own cloud service with 5GB free space. It's a good choice for someone who like cloud service better than transferring data via usb cable. Here's how you can take Xiaomi Mi backup and restore using Mi Cloud.
Step 1Unlock your Xiaomi Mi 10, go to 'Settings' > 'Accounts', and tap on your Mi Account.
Step 2Tap on the 'Back up Device' option under Backup & Restore, then turn it on.
Step 3Enable the 'Mi Cloud backup' and choose what you wish to sync via the cloud.
Step 4 When you want to restore your data, tap on 'Settings' > 'Accounts' > 'Mi Account' > 'Mi Cloud' > 'Restore from Backup' option. Simply select the existing Mi Cloud backup and begin the restore process.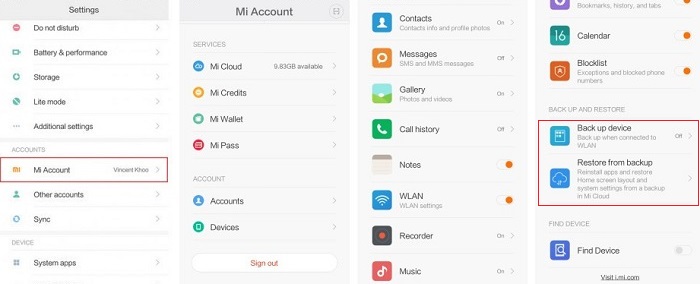 Conclusion
Now you know how to backup and restore a Xiaomi Mi 10, Syncios Manager free version can meet your requirement of backing up data selectively, while Syncios Data Transfer provides you a one-click answer. What's more, you can choose to use Mi Cloud.