Transfer Contact/Message/Call history/Photo/Audio/Video from iPhone to Xiaomi Mi 10
Several days ago, the Xiaomi Mi 10 and Xiaomi Mi 10 Pro have been officially launched in China. With many surprising feature, the new Xiaomi, especially the Pro version, will be a tough opponent of other brands' 2020 flagships. By contrast, we users are always more concerned about how to move data from old phone to a new one. For Android users, there are many options, so that's not the point of the post. This article is for someone who was an iOS user before and now make up his or her mind to try Android phone. To transfer iPhone contacts, messages, call history, photos, music and videos to Xiaomi Mi 10, here is the best answer.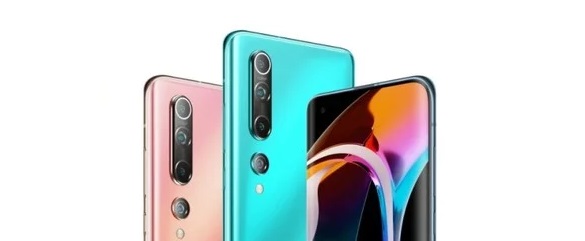 Method 1. Transfer Data Directly from iPhone to Xiaomi Mi 10
If you need a direct solution to transfer all sorts of data from phone to phone without restriction within the same system. In other words, make it possible to share data from Android to iOS, iOS to Android, Android to Android and iOS to iOS, look no further than powerful Syncios Data Transfer. When you're going to do iPhone to Mi transfer, you should follow the steps:
Step 1Download and install Syncios Data Transfer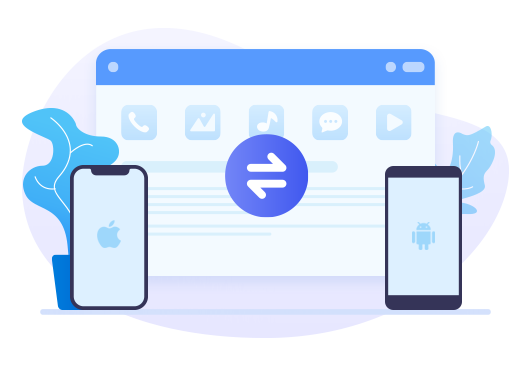 Tool Required: Syncios Data Transfer(for win/mac)
Syncios Data Transfer(for win/mac) — One Click Phone to Phone Transfer on Windows or Mac
Data backup and retrieve in lossless quality by one-click.
Transfer contacts, messages, music, photos, videos and more from phone to phone
Recover iTunes/iCloud backup to iOS or Android devices.
Step 2Connect your Xiaomi Mi 10 to computer
To connect the phone smoothly, you should keep unlocking your phone during the whole process and set up some important permissions. If you don't know how to enable debugging mode on your Xiaomi Mi 10, please check Q1 below, And if syncios program can't detect your phone for apk installation problem, please check Q2 below.
Step 3Go to Transfer module
'Transfer' module is to transfer types of phone files, including contacts, videos, SMS, photos, call logs, music, calendars and more between iOS devices and Android phones. In that way, after your iPhone and Xiaomi Mi 10 being scanned completely, your phone icons will show on the main interface. The position is surely important. You need to make sure the source device(iPhone) is on the left side, while the target device(Xiaomi Mi 10) should be on the right. Simply press on the 'Flip' icon if the position is reversed. Tap 'Next' option.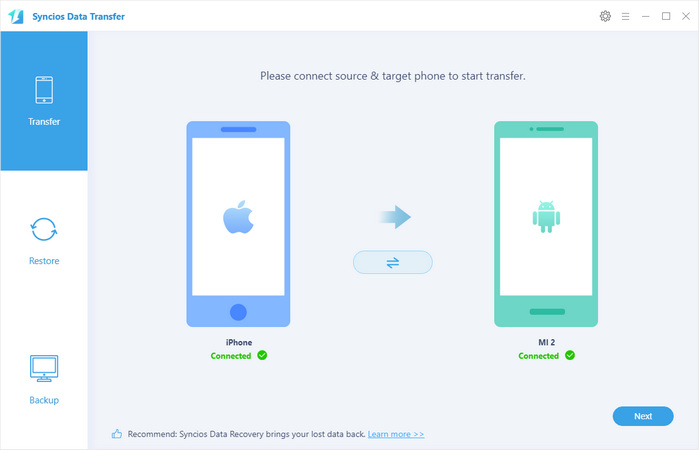 Step 4Pick data that you want to transfer
If you want to transfer all available types of data to Xiaomi phone, directly click on 'Next' to load these data, since 'Select All' is a default option. Instead, if you're going to transfer, such as pictures, you need to uncheck 'Select All' option first and pick 'Camera Roll' and 'Photo Library'.Then click on 'Next' to load these data.
Step 5Begin the data transfer process
Tap 'Next' > 'OK' option to begin the data transfer. If you have a plenty of photos to transfer, it may take time, so don't lock your phone or disconnect them with computer during the process.
Note: To transfer messages from iPhone to Xiaomi Mi 10, you will see a prompt to ask you to set Syncios app as your default sms app, just follow the guide and reset assured that you can change it back later.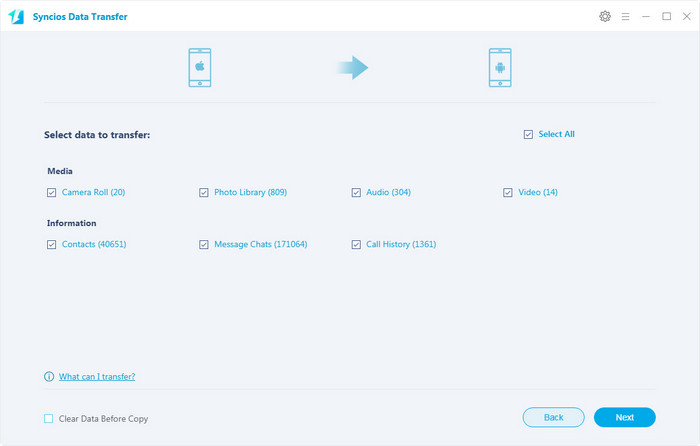 Method 2. Transfer Data from iTunes Backup to Xiaomi Mi 10
Can we still transfer data on old iPhone even though the iPhone has been lost or sold to other people? Well, if you've ever backed up your phone via iTunes or iCloud, Syncios Data Transfer can help you with ease. Let us follow the steps to restore iTunes backup files to Xiaomi Mi 10 first.
Step 1 Go to 'Restore' module, and click on 'iTunes Backup'. All available iTunes backup files will be automatically loaded in th pop-up window.
Step 2 Choose certain backup file and you will see the picture on the right. Now, tap 'Next' to the next step. Check the types of data that you want to transfer. Tap 'Next' > 'OK' to begin the process of transfer.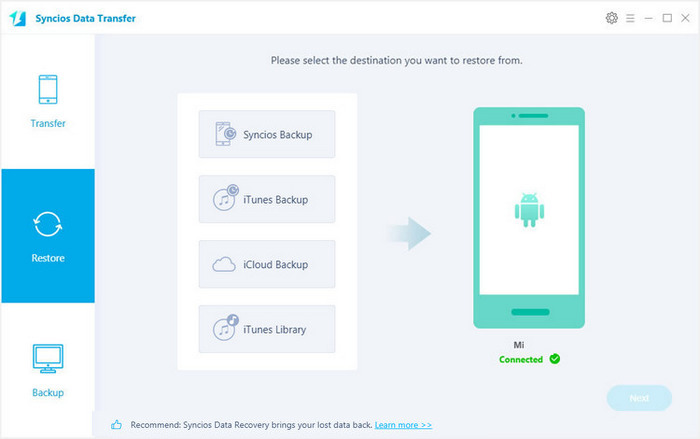 Method 3. Transfer Data from iCloud Backup to Xiaomi Mi 10
With Syncios Data Transfer, you can also transfer iPhone data from iCloud backup files without iPhone. Let's see how it goes:
Step 1Back to last interface and then tap 'iCloud Backup' option.
Step 2Sign in your iCloud account. Once login successfully, Syncios program will detect and then load your data automatically.
Step 3All iCloud backup files are listed as the screenshot. Pick one desired backup file and click on 'Download' button.
Step 4 Data in the backup file will be divided into three types: Media, Information and Others. Simply choose what you want and then tap 'Next' option to begin data transfer.

Can't login iCloud?
1. Scrupulously check your Apple ID and password is correct or not.
2. Update your iOS to its latest version. If you have done, then a reboot can fix the problem.
3. Your Apple ID was locked when you used it on other sites or programs. You can reset new password to unlock it and please rest assured that Syncios programs would never do any harm to your personal data.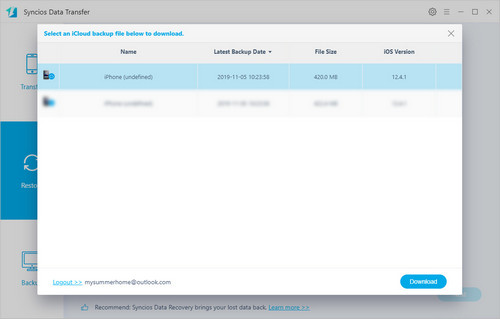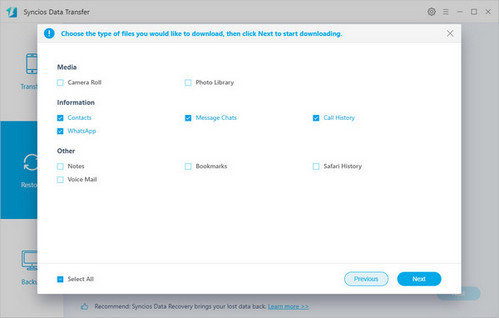 Extra tool – Transfer iPhone Data to Xiaomi Mi 10 Selectively
Syncios MobiTrans Free, a free Android & iOS manager launched by Anvsoft, is now trusted by millions of users. It's such an up-to-date program that the latest Android OS and iOS system are well matched. No matter you're using iPhone, Xiaomi, Samsung, Huawei, OnePlus, Google,Motorola, LG or other brands of phone, it suit you very well. If you're always selective in the content to do data transfer, use the program to extract photos, music, videos, contacts, messages, call log and other phone files from one phone, and then directly import the Syncios backup file to another phone.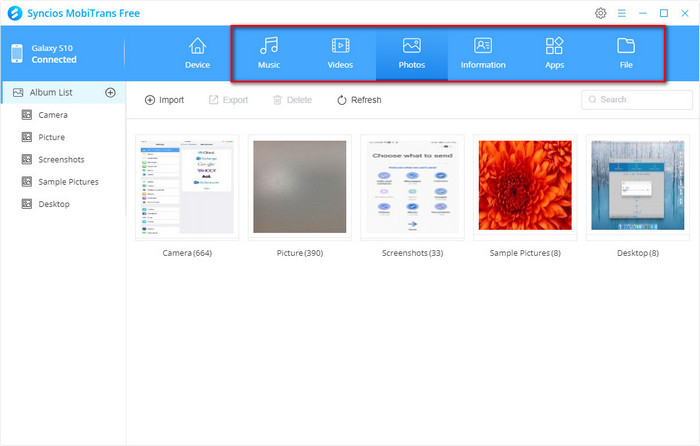 Conclusion
You know how to transfer data from iPhone to a new Xiaomi Mi phone via multifunctional Syncios Data Transfer now. 'Transfer' module allows us to transfer data directly between iPhone and Xiaomi Mi 10, while 'Restore' module enables us to transfer data to Xiaomi Mi 10 from iTunes/iCloud backup files.
Xiaomi Phone Detection Tips:

Q1: How to enable debugging mode on my Xiaomi Mi 10?
Step 1: Unlock your Xiaomi Mi 10 and navigate to 'Settings' on your device.
Step 2: Scroll down to tap on 'About phone' option.
Step 3: Locate MIUI Version and tap seven to ten times. (You should see a message saying "You are now a developer".)
Step 4: Now go back to 'Settings'. And then click on 'Additional Settings' > 'Developer Options'.
Step 5: Turn on the toggle beside 'USB Debugging' option under DEBUGGING.
Step 6: Tap 'OK' option and now you have successfully enabled USB Debugging on your Xioami Mi 10.

Q2: What to do if I didn't received a prompt asking me to install Syncios apk?
Step 1: Go to 'Setting' > 'Security'.
Step 2: Find and check 'Unknown sources' option to allow installation of apps from Syncios.
Step 3: Back to last page and click on 'Additional Settings' > 'Developer Options'. Scroll down to allow 'Install via USB' option under DEBUGGING.
Step 4: Launch Syncios program, connect your Xiaomi Mi 10 again to the computer and then the apk will be installed automatically.