Five Methods to Free up Space on Samsung Galaxy S10
A new Samsung Galaxy S10 always surprise us with its fast running speed. However, some downloaded videos, numbers of photos, unused apps, unknown cached files and other are taking up our phone memory space, which will slow down the speed of your phone as time passed. That's to say, we're supposed to do somethings to free up space on our Galaxy S10. And here are five methods for you.

Method 1: Move to external SD card/other Android phone
If there is no enough space on your Samsung Galaxy S10, it's a good choice for you to download Syncios App for Android, which enables us to easily backup and restore SMS, bookmark, call log, contact, audio, photo, SD card photo and video on your Android phone and tablet.
Download and install Syncios App for Android
Step 1First of all, from the Home screen, swipe up to view your apps. Find and tap '

' icon on your Samsung phone. Tap 'Tools' option, there are New Backup, Restore, Schedule, Manage, Sync and Exchange assist six modules.
Step 2Now click 'New Backup' option. All the data in your Samsung phone are listed here. Select types of data that you want to backup, go to 'Backup to' > 'SD Card' to backup your phone data from phone to SD card.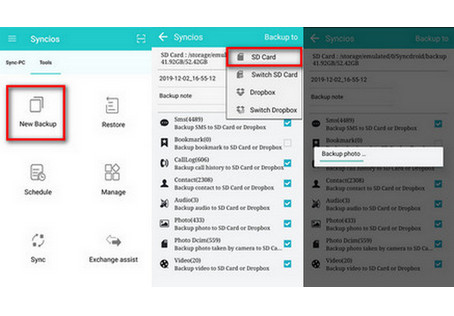 What's more, if you want to move data on Samsung phone to your another old spare Android phone, Syncios app should also be your best answer. You can share data between unlimited brands of Android phones wirelessly.
And you need to make sure the following two points:
1. Both of your Android phone should install Syncios App
2. Your phones should connect to the same Wi-Fi
Step 1Open Syncios App on your phones, you can see page like this. Tap 'Tool' > 'Exchange assist' option to a new page.
Step 2Then, choose 'I am a receiver' option on your spare phone, while click 'I am a sender' option on your samsung.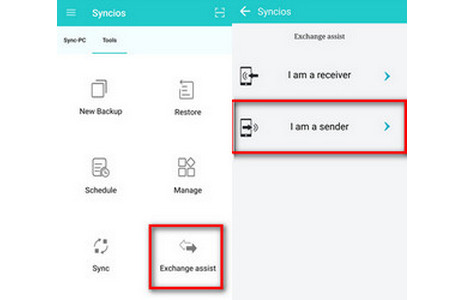 Method 2: Backup data to your computer
For someone, photos and videos on phone save their treasured memory with their famlies, lovers and friends. They're not willing to delete any of these photos or videos. And sometimes feel afraid of deleting them accidentally. In that way, backup important data to computer can keep the good points of both. It can help you backup photos, videos, music, contacts, messages and etc. to PC as well as free up your phone space for a better device maintenance. To backup certain content, you can choose Syncios Manager. To backup all data as soon as possible, Syncios Data Transfer is your best choice.
Backup data to computer selectively
Step 1First of all, download and install Syncios Manager and connect your Samsung Galaxy S10 to your computer.
NOTE: Please don't forget to enable debugging mode on your Samsung. And if your Samsung still can't be detected by Syncios, you can check the following occasions:
① Haven't enabled USB debugging mode on your Samsung S10—If Developer options isn't available, go to 'Settings' > 'About phone' then tap Build number 7 times. Press on the Back icon to 'Settings' page, then select 'System' > 'Advanced' > 'Developer options'.
② If 'Allow USB debugging?' appears, tap 'OK' to confirm.
③ Failed to install Syncios Apk on your phone—go 'Settings' > 'Security', check Unknown sources to allow downloading Syncios.
④ Tap 'Connected as a media device' or 'Connected as a camera' on your phone, use connection mode as MTP / PTP.
⑤ Mobile ADB driver should be installed.
⑥ USB cable or USB port is for normal use.
Step 2If you want to backup the videos, tap 'Media' option on the left panel of the interface. Then find and click the 'Video' icon in the upper-right. You can see all your videos are listed here. Check the ones that you want to transfer to your computer. Tap 'Export' > 'browse for computer' > 'OK' > 'Export' to begin the process.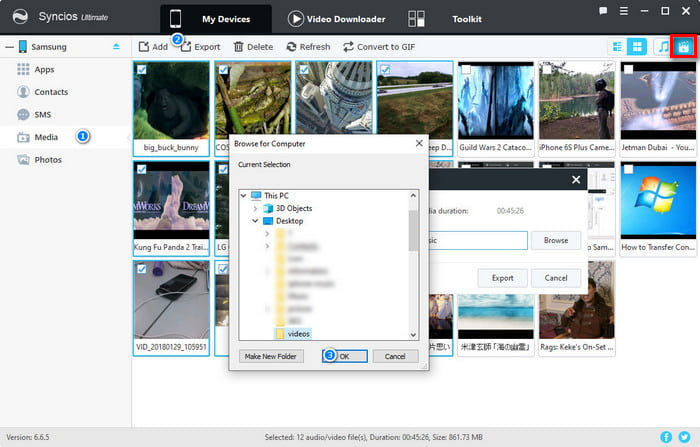 Backup data to computer by one-click
Step 1First of all, download and install Syncios Data Transfer and connect your Samsung Galaxy S10 to your computer.
Step 2As you can see, there are three different modules:
Transfer: transfer almost all files, including contacts, video, SMS, photos, call logs, music, bookmarks and more between unlimited mobile devices.
Restore: restore data from iTunes/iCloud backup or from iTunes Library to mobile phones.
Backup: backup your phone data to computer by one-click.
Go to Backup module like the following screenshot.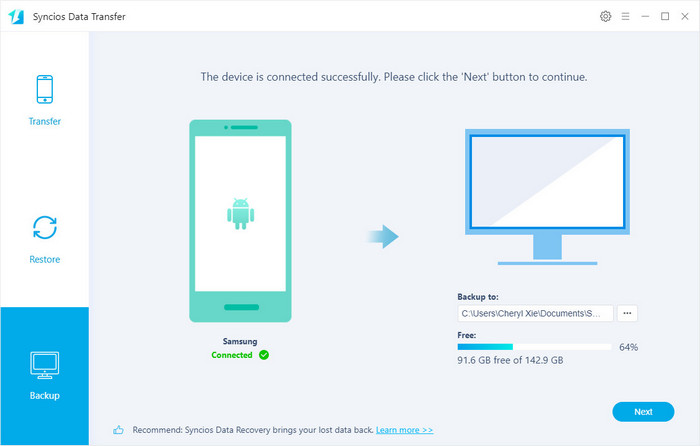 Step 3You can customize the backup folder if you want. If not, directly tap 'Next' option to the next page. And you can see all types of data that you're allowed to transfer. Select all or merely pick your target data, click 'Next' to load these data. Then tap 'Next' >'OK' again to start backup.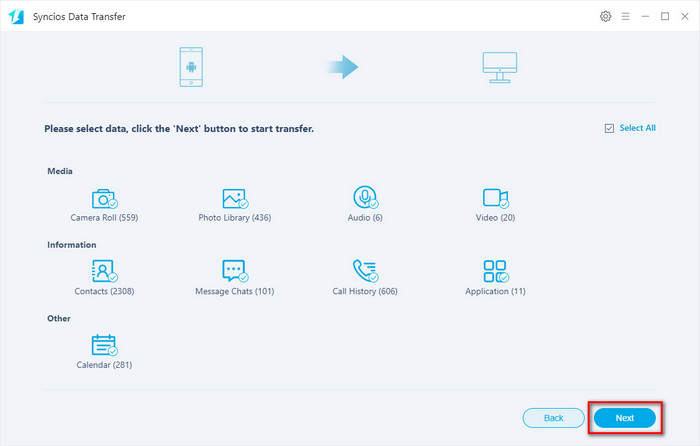 Method 3: Uninstall unnecessary apps
How do you feel when the on-line chat app automatically quit when you're answering the messages from your friends? Terrible? Why don't we uninstall the unused aopps? This situation indicates it's high time to free up your phone space. Because things will get worse and worse, when you downloaded massive apps on your Samsung phone. As you know, Syncios Manager is such a powerful tool for Android users. You can also use it to manage your apps. Choose to add, uninstall or backup as you like.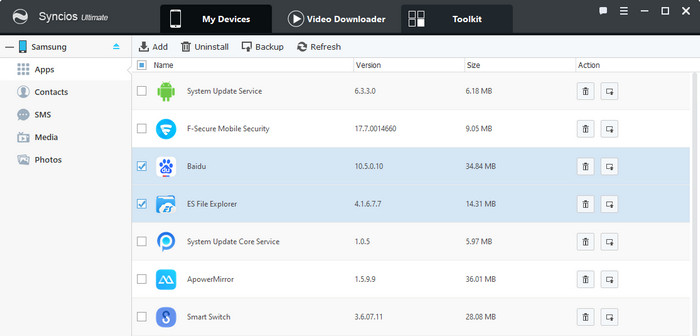 Method 4: Delete downloaded and miscellaneous files
You should know even we delete certain app, there are also downloaded files remain on your phone. If you don't know where to find these files, Syncios Manager will save your time and energy. Open Syncios Manager, go to Toolkit module. In this module, there is a handy but free toolkit for you, including audio/video converter, ringtone makers, gif makers and file system. Tap 'File System' icon, a pop-up window appears and you can find out the rebundant pdf flies or APK files. Check them and click 'Delete' option to completely move them from your phone.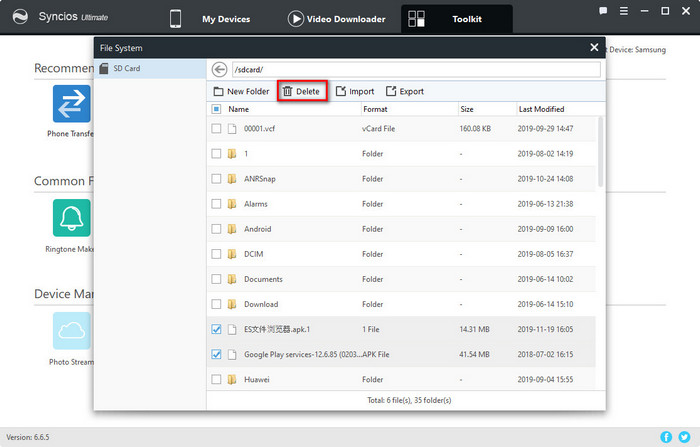 Method 5: Restore the factory settings
If you meet some more elusive problem, you might think of a method to restore the factory settings, which will make you lose everything on your phone unless you've backed up some of them before. For Syncios users, especially who has a habit to backup important data regularly, they can choose to restore the factory settings on their phone with ease. But how can we do that on Samsung S10 if we want to? The operation is simple, let's follow the steps:
Step 1Go to 'Settings' and tap 'Backup and reset' > 'Factory data reset' option.
Step 2Tap 'Factory reset data' option. At this moment, the screen will warn you that all the data and apps will be about to be erased. Scroll down to tap 'Reset' option.
Step 3Enter your PIN or Password. Finally, tap 'Delete all' option.

---
Conclusion
Now you know how to free up space on your Samsung Galaxy S10 in an effective way. There are five methods to free up Samsung phone space. You can move data to external SD card or other spare Android phone free of charge via Syncios App for Android, to backup your phone data to computer selecively via Syncios Mobile Manager and by 1-click via Syncios Data Transfer. Also, Syncios Mobile Manager can help you uninstall unnecessary apps and delete downloaded and miscellaneous files on your phone. Certainly, you can directly restore the factory settings.