How to Custom and Apply Ringtones on Samsung Galaxy S10
Today Samsung announced the Galaxy S10, Galaxy S10 Plus, Galaxy S10e, and Galaxy S10 5G, a flotilla of phones making up the company's flagship series for 2019. The fresh hardware from Samsung delivers iterative design updates and incorporates tons of feature-driving silicon. The Samsung Galaxy S10 family includes a core set of shared features, such as multiple cameras, with only minimal tweaks differentiating the various models.
If you are one of the lucky people who own a Samsung Galaxy S10, then we have got good news for you. A lot of times, users of Samsung Galaxy S10 have wondered about how they can customize or create ringtones on their device, and now, we are gald to tell you that the process involved in customizing your MP3 ringtones for entire agenda, individual contact, text messsage on your Samsung Galaxy S10 is straightforward. Four parts will be discussed regarding customizing ringtones, setting general ringtones, contacts ringtones and text ringtones. Let's check every part below.
Part 1. Custom Samsung Galaxy S10 Ringtones
We begin with ringtones customizing. Choose some favorite songs and turn them into ringtones should be the first thing we do. With the help of a free tool, Syncios Phone Manager, we can customize any piece of audio file including your favorite songs into Samsung Galaxy S10 ringtones. Besides, you can manage, edit, add, delete, multiple files on Samsung Galaxy S10 with the free tool, including app, videos, music, photos, contacts, messages and more.
Step 1Download and install Syncios Phone Manager to your computer for free. Then run this program and connect Samsung Galaxy S10 to computer. According to the prompt, turn on the USB debugging mode on your Samsung Galaxy S10. Pay attention to phone screen and keep phone unlocked when connecting. Wait for phone analyzing and data loading.
Step 2Firstly, we guide you on how to transfer music from Samsung phone to computer. If you've already saved mp3 files to computer, you can skip this step. On the main interface, Syncios will show you all data of your Samsung Galaxy S10 in category. Navigate to Media > Audio, choose songs you need then click on Export to transfer music from Samsung to computer.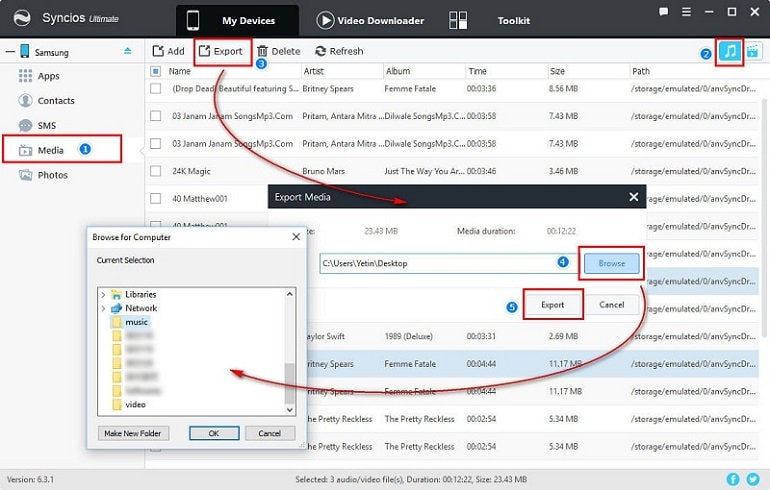 Step 3On the top manu bar, you can find Toolkittap, click on it. Many free tools are available here. Find Ringtone Maker and start it.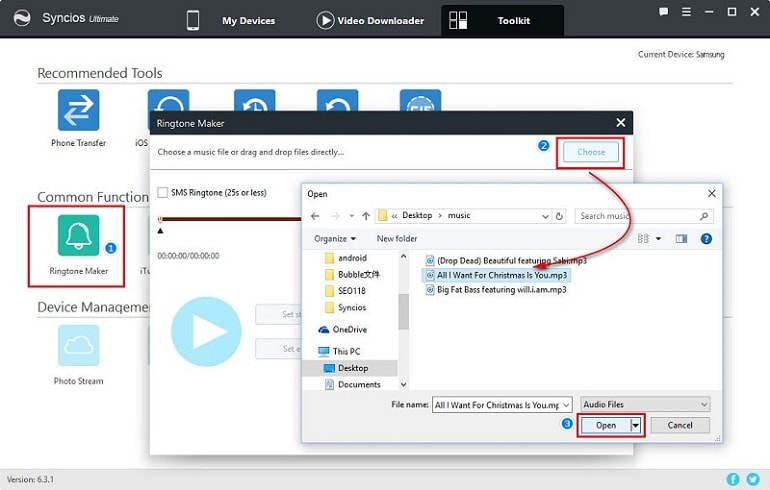 Step 4Choose a mp3 file from your computer and customize it by setting its start and end. Lastly, tap save & Import button to import this ringtone your S10 device. Or you can also save the ringtone to computer for using one day.
Tips: This free tool, Syncios Manager, also provides more tools like audio/video converter, file system, and management to your contacts, messages, music, videos, photos, apps. More free functions are waiting for you, try it!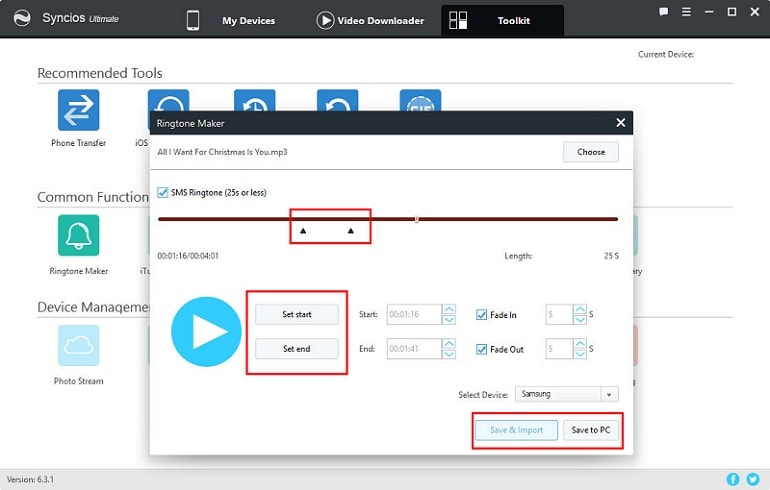 Video Tutorial - Simple to Customize Samsung Galaxy S10 / S10 + Ringtones
---
Part 2. Apply New Custom Ringtones on S10 for the Entire Agenda
You didn't settle for a default ringtone, so why would you settle for a default notification tone? Now, we are going to apply the new custom ringtones on our Samsung Galaxy S10. Firstly, we learn how to set a new custom ringtone for entire agenda.
Step 1Open Settings on your Galaxy S10 and head over to Sounds and Vibration. Then scroll down, tap Ringtone.
Step 2Scroll all the way to the bottom and tap the option that says Add from phone. A new pop-up menu will ask you to choose the app you want to use to complete this action. If prompts, tap the Sound Pick, then if prompts tap Allow.
Tips: If you do not see any pop-up message, or are not taken to a screen displaying your audio files, you may need to do a settings reset. Go to Apps > Settings > Backup and reset, tap on "Reset settings", then choose RESET SETTINGS, and click on "Reset" if prompts.
Step 3Then you can select the ringtone of your choice from the list under Tracks. If you could not find the custom ringtone under Tracks, choose "Folders" to locate the file stored on your phone. Select the custom ringtone and tap on Done button to set this ringtone for your entire agenda. Make sure that the audio file is optimized to be used as a ringtone otherwise you might end up missing all your incoming calls.
Tips: The phone chooses by default the highlighted part of your audio file. If you want your ringtone to the play the entire song, uncheck the box on the left side of the highlights only option.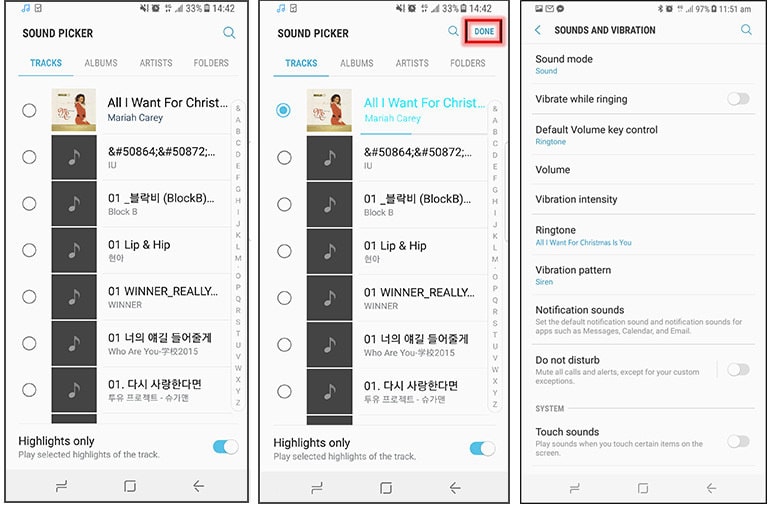 ---
Part 3. Apply New Custom Ringtones on S10 for the Entire Agenda
You didn't settle for a default ringtone, so why would you settle for a default notification tone? Now, we are going to apply the new custom ringtones on our Samsung Galaxy S10. Firstly, we learn how to set a new custom ringtone for entire agenda.
For different people, you are allowed to set different ringtones on Samsung Galaxy S10. When calls incoming, you will know who is calling quickly. By giving each of your most-used contacts a special ringtone, you can tell who is calling without having to scramble across the room and grab your phone off the charger. This is useful at all times but especially during work hours, when answering personal calls can earn you a reprimand but missing a client call could slow down your progress.
Step 1Open the Contacts app and select the contact of your choice for which you want to set up a custom ringtone.
Step 2Open contact details, tap Edit and followed by More - Ringtone. Tap Add from phone to locate stored ringtone files.
Step 3Tap Sound Picker inside the Complete-Action-Using window. You will then be asked to grant storage permission to the "Contacts" app. Once granted, select the ringtone of your choice. Then tap Done to confirm your changes and exit the menu for the changes to take effect. (Note: you need to have the specific music file downloaded onto your device. If not, you can refer to part 1 to custom and save ringtones to your Samsung firstly.)
---
Part 4. Set Up Custom Text Message Notification Tone Per Contact
Up until Oreo, Samsung allowed users to set up a custom text message notification tone for a particular contact. However, post the Oreo update, that is no longer possible. Irrespective of how much you dig deep into Samsung's Experience UI, you will not find the option to set a custom notification tone for incoming text messages from a particular contact. There's a simple workaround to this problem though. You cannot set up custom text message notification sound for each contact in the default Samsung Messaging app. But if you are an old Samsung user, you may need this tutorial.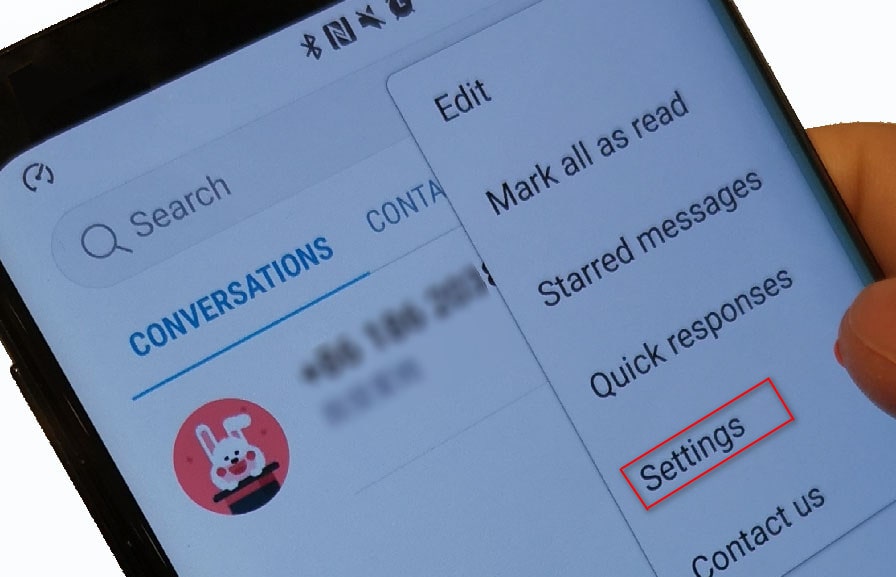 Step 1Open Messages app on your Samsung phone, find three dots on the top right and click on Settings in the 'Conversations' primary interface. Then you'll find Notificationsoption, tap on it.
Step 2Slide to enable messages notification setting if it is closed. Generally, it should be turned on already. Then you'll see many settings options. Go to General notifications > Sound, and just change your text notification sound to your desired one.
Syncios Mobile Manager
Syncios Mobile Manager is an easy-to-use and powerful iOS&Android Mobile manager, which is well-designed for users who want to manage device contents on PC. It allows you to export contacts, apps, photos, music, ringtone, videos, SMS messages, eBooks and more.
Support to transfer, edit, backup, manage, view mobile data.
Download videos from 100+ video sharing sites.
Handy tools: Audio converter, video converter, ringtone maker, etc.