How to Transfer data from Android 5.0 to Android 6.0 Marshmallow?
Compareing with Lollipop, what's new on Android 6.0 Marshmallow?
Google released Android 6.0 Marshmallow on September 29, 2015, along with the two new Nexuses.
With Android 6.0 Marshmallow, as it's officially called, Google focused on a few big new features, like Now on Tap, and smaller changes for better battery life and performance. Though it's not only for Android 6.0, the new update goes hand in hand with Android Pay, Google's new mobile payments system. If your phone has a fingerprint reader, like the new Nexus 5X and Nexus 6P do, you can authorize payments with your print, as you can with iOS. In this new version, Doze, an automatic energy-saving feature save more power than the current standby mode.
In the past, you would concern about security problem while installing an app . Now apps will ask for access to parts of your phone or Google account when they need it, and you can approve those requests or not. Besides, Google's Nexus devices now support fingerprint reader. Now you can use a fingerprint scanner to unlock your phone as well as apps, plus you can now use your fingerprint to authorize payments.
How to move files from Android 5.0 to 6.0 Marshmallow?
Of course Google had already taken this issue into account, they offer Google Cloud for android users to backup and restore phone data, like contacts and photos. However, for some reasons, Google Cloud have limitation on tranferring almost all kinds of data between two cell phone. Moreover, it only offer 5GB spaces for free backup. Therefore, we'd love to use an thrid-party tool.
Syncios Android Data Synchronizer is a easy-to-use and trust worthy phone to phone data tranfer tool, which perfectly meets your need to transferring all kinds of data from Android 5.0 Lollipop to 6.0 Marshmallow. It transfers up to 12 kinds of data on your cell phone on one click, including messages, call logs, notes, photos, apps, music, videos and more.
Step 1. Install and launch Android data Synchronizer
Simply download this Android data transfer program on you computer or mac, according to your operating system. After downloaded, double-click the program to launch it, then you will see there is three modle on the homepage: 1) phone to phone transfer; 2) backup Android phone data to computer; 3)restore data to Android phone.
Click on the "Start" button to bring out the main page.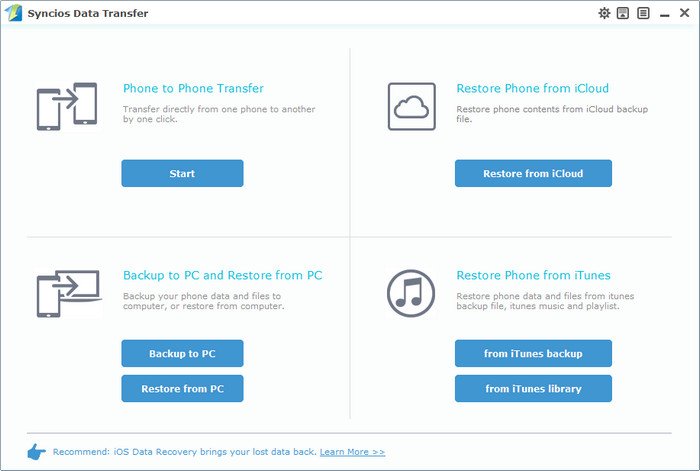 Step 2. Select data to Transfer
-- Connect both of your Android Loliipop and Marshmallow phone. The program will detect and recoginse youe device automatically. You can change your target phone by clicking "Flip" butoon.
-- On the middle panel, all of the files would be checked automatically, such as contacts, messages, call logs, photos, videos, apps, bookmarks, etc. You can uncheck the file you won't like to copy.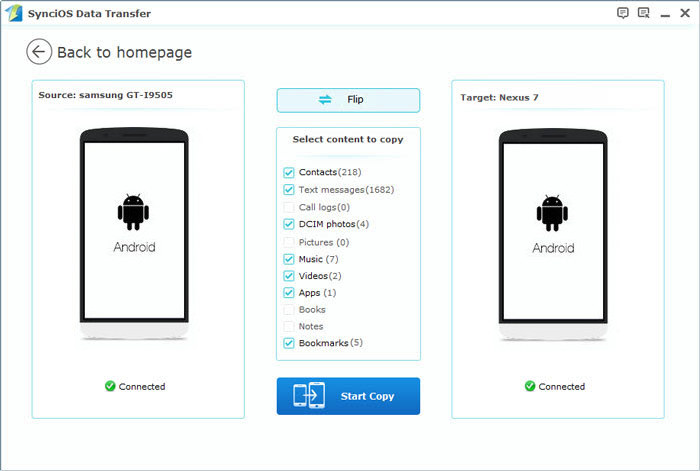 Step 3 . Start to tranfser data to Android 6.0
Click on "start copy" button. A pop-up window showing the copying progress will appear and it's progress measured in percentages. Once it has reached this stage, don't unplug the devices and the only thing to do is to seat back, relax and wait for the Syncios Data Transfer to notify you of the process completion.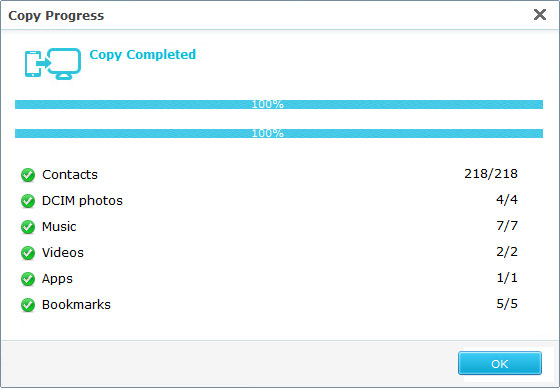 Syncios Data Synchronizer does not only support moving data from Android to Android, but also supports cross-platform data transfer. View more supported phone mode, please visit here. If you got any questions, please not hesitate to leave down your comments.
Supported Apple Devices and iOS Versions
| | |
| --- | --- |
| iPhone | iPhone 6s, iPhone 6s Plus, iPhone 6, iPhone 6 plus, iPhone 5S, iPhone 5C, iPhone 5, iPhone 4S, iPhone 4, iPhone 3GS |
| iPad | iPad Pro; iPad mini 4;, iPad mini 3/2/1, iPad with Retina display, The New iPad, iPad 2, iPad |
| iPod | iPod touch 5, iPod touch 4, iPod touch 3, iPod Touch |
| iOS | iOS 5, iOS 6, iOS 7, iOS 8, iOS 9 |
Have something to say about this tutorial? Share your comments below! Need help with something else? Submit your question via online form, we will reply you within 24 hours.