Transfer Data from Samsung to Xiaomi Mi 11
Xiaomi Mi 11 has been launched recently. It impresses users owing to its lower price compared with the good configuration. If you are deciding to give up an old Samsung phone, and now you are going to switch from a Samsung to this Xiaomi Mi 11 or 11 Pro.
When it's excited to get the new Xiaomi Mi 11, you must be wondering about how to transfer data from the old Samsung phone to this Xiaomi Mi 11 or 11 Pro. Well! No more worries now since we have considered all your concerns. We have brought you a full tutorial guide on what to do for transferring data when switching from a Samsung to a Xiaomi Mi 11/11 Pro. Just be prepared and start reading this post. You will be having a great knowledge on this topic.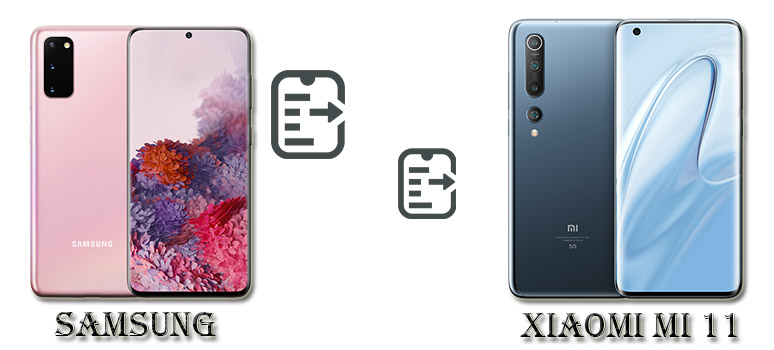 Way 1. Selectively Transfer Data from Samsung to Xiaomi Mi 11
When moving data from one phone to another, it's important to preview all details and choose files you need to transfer. On the old phone, it's stuffed owing to various useful or useless files. Every time when we get a new phone, we prefer moving data selectively instead of migrating all kinds of data at once. It's a waste of space on the new phone. Syncios Mobile Manager helps you to preview all details of phone data before any transfer. Compared with other solutions, you will find the best way is to transfer data from a Samsung to a Xiaomi Mi 11 with the help of Syncios Mobile Manager.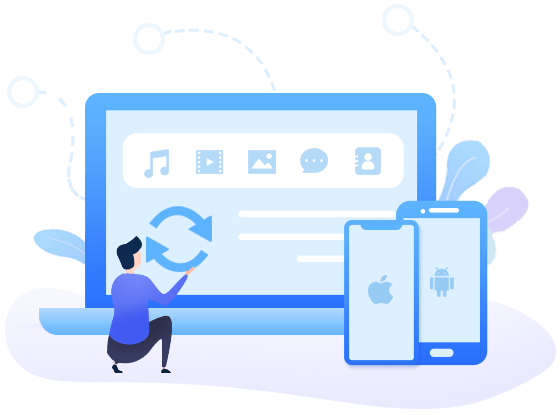 Why this Syncios Mobile Manager is most helpful
💡 Fully compatible with iOS and Android devices.
💡 Manage Contacts, Message, Call log, Music, Video, Photo, Apps and more on iPhone/iPad/Android.
💡 Handy tools: One-Click Backup and Restore, HEIC Converter and Photo Compression.
💡 Preview the backup content and selectively restore backup.
Step 1: Get the Samsung phone connected
Start Syncios Mobile Manager after its installation. Then on the main interface, choose Mobile Manager. Do not open the wrong app even though they are named similarly. When this Mobile Manager is opened, connect Samsung phone to computer via USB cable. On an Android device, you need to enable its USB debugging mode. It's a common requirement to get access to your files on your mobile phones.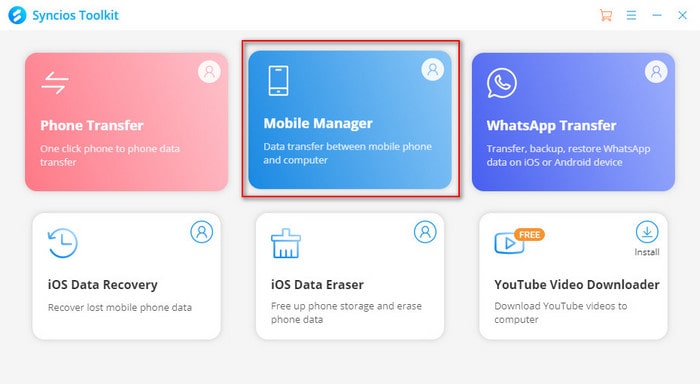 Step 2: Backup Samsung files to computer with preview
You can see all files on your phone are categorized under several tabs. Now, we are going to backup Samsung phone data to computer then restore the backup to Xiaomi Mi 11. Navigate to any tab then choose files you need, click Export/Backup. Locate a proper saving path and save files on your computer.
😘 For instance:
If you want to backup Samsung messages to computer, then go to Information > Messages. Unlock your phone, in case any prompts appear on your phone screen. Syncios will start loading messages from your Samsung phone and display them clearly in original format. View details of Samsung messages and select messages you need, then click Backup. Choose a proper backup path at this time. You will get a backup file on your computer. Do not move it after backing up in case Syncios could not detect it when restoring.
All details of messages will be displayed, you can select messages according to your needs. It helps you avoid unnecessary transfer.
If you just need to export messages for a better view or want to print them, you can tap Save button. But the messages saved to computer via this option could not recovered. Just choose Backup if you need to restore.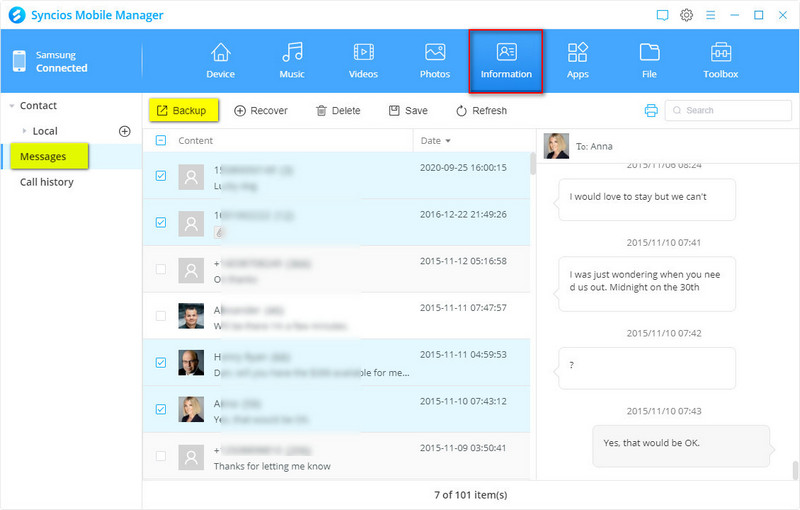 Step 3: Restore Samsung backup to Xiaomi Mi 11
Now we are going to restore Samsung backup to your Xiaomi Mi 11. Connect Xiaomi Mi 11 to computer via a USB cable. Just navigate to the corresponding tab, and click Restore Then Syncios will pop up a backup list. All previous backup will be enlisted. Choose the one you need then restore it. After a while, the backup is transferred from Samsung to Xiaomi Mi 11.
😘 For instance:
If you want to restore Samsung messages to Xiaomi Mi 11, then then go to Information > Messages. Unlock your phone, in case any prompts appear on your phone screen. Tap Recover button will pop up a backup list. Choose Samsung backup and restore it to Xiaomi Mi 11.
When this process is completed successfully, disconnect your Xiaomi Mi 11 and check messages.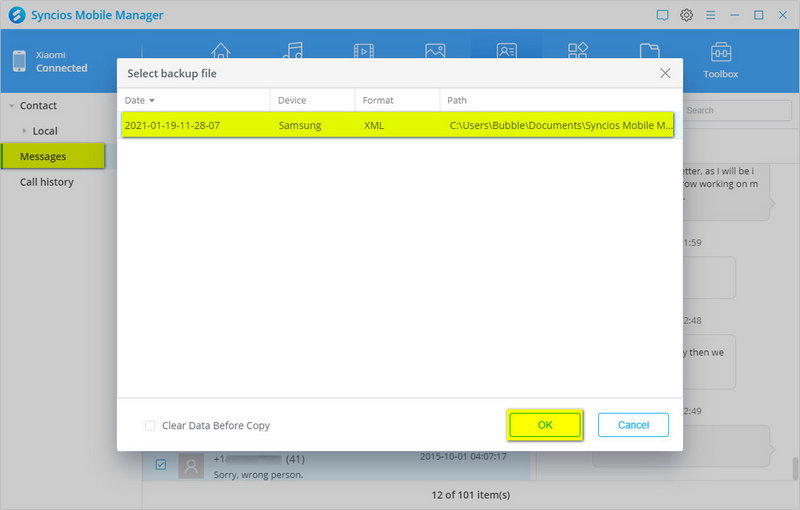 ---
Way 2. One-Click Transfer Data from Samsung to Xiaomi Mi 11
If you only find one solution by using Syncios Mobile Manager, then it will not be highly recommended. Actually, you can find another solution by using this tool. If you want to transfer certain kind of content at once, there are more tools hidden under "Toolbox". Check detailed steps below.
Step 1: Connect Samsung phone to computer
Start "Mobile Manager" on the main interface of Syncios. Connect your Samsung phone to computer by USB connection. Then go to Toolbox column. You will find more handy tools here to manage your phone data.
Step 2: One click backup Samsung phone
Tap One click backup to pop up a window. Afterwards, you are allowed to select contents you need to backup, including photos, music, videos and etc. Syncios will load the counts of all contents. Then you can decide which content to backup.
If you don't know where the backup is saved to, you can go to top right, click the "setting icon". Here you can check the output path. If you want to change the backup path, change it before the backup process.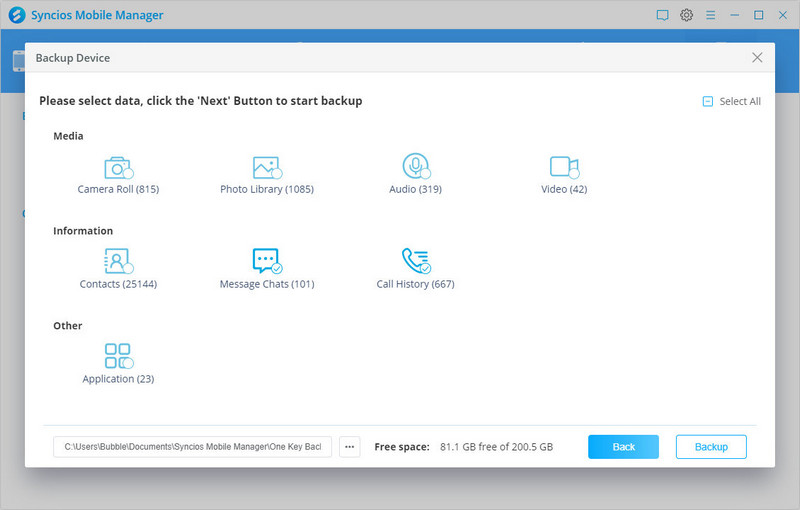 Step 3: One click restore Samsung to Xiaomi Mi 11
All data on your Xiaomi Mi 11 will not be erased after the transfer. It's safe to use. Tap One click restore then select Samsung backup among all backups and go to the next step. Select contents you need and click Restore. Soon after, all data from that Samsung backup will be restored to Xiaomi Mi 11.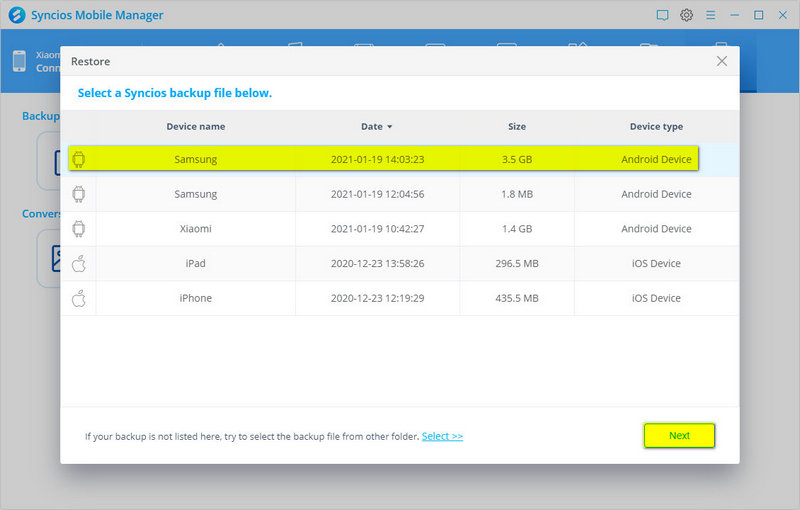 ---
Conclusion
Here in this tutorial, several practical ways are shared to transfer contacts, photos, SMS, music, videos and more easily from Samsung to your Xiaomi Mi 11. Even you are not a Xiaomi Mi 11 user, you can also follow this tutorial with the same steps above. Thus, keep this guide in case any time when you need to backup, restore and transfer phone data. If this guide helps, don't forget to share it with your friends.
Syncios Mobile Manager (Win or Mac)
---
Recommended Program:
Syncios WhatsApp Transfer allows you selectively transfer WhatsApp messages between Android and iOS devices, backup WhatsApp messages and attchments to computer.

Syncios WhatsApp Transfer Supports to backup WhatsApp messages to computer, restore WhatsApp backup to a new phone, restore WhatsApp from iTunes backup. Or you can directly transfer WhatsApp data from iOS to iOS, Android to Android, Androd to iOS, iOS to Android. It also allows you to export WhatsApp messages as html/csv files. Learn More 💁