Transfer Photos between Xiaomi Redmi Note 5 / Note 5 Pro and PC
People pay more attention to camera pixels of their phones these days. Some of them even pay more attention on the pixels rather than the phone performance itself. Some people are addicted to post their lives on Instagram or on other social media. They may spend a lot of time on editing their pictures to make it more pretty. And you may be the one of them!! Anyway, a phone with a good camera pixel can definitely save your time. Xiaomi Redmi Note 5 can be a good choice for you, and wonder how to export and import your photos on Xiaomi Redmi Note 5? We are going to discuss more details in the following post.

Attention: Follow this post to learn how to manage your photos with free Syncios Mobile Manager. You can download it from below. After downloading and installing Syncios Manager on your computer, connect your Xiaomi Redmi Note 5 to computer via USB cable. Select 'Photos' option on the left panel then wait for the next step.
For Photo Album
To transfer all photos to computer quickly, select the photo album you want and click Export on the menu bar. Choose a proper backup location and click Export to save Xiaomi Redmi Note 5 photos to PC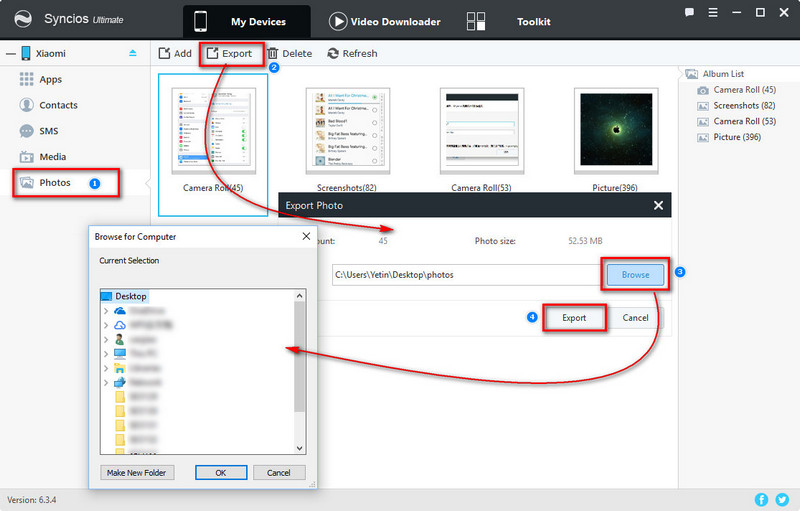 Add Photo Album:
Click Add button on the menu bar and select Add Folder. Then you are able to select the photo folder on your computer. After choosing one photo folder, click on OK to import the photo folder as a new photo album.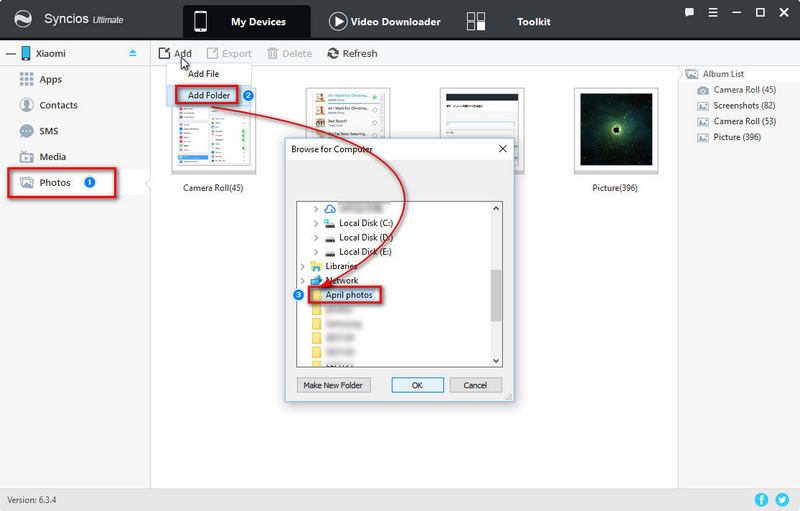 After importing the whole photo album from computer, you'll see a new photo album appears on Xiaomi Redmi Note 5. So you can categorize all photos then import folders one by one.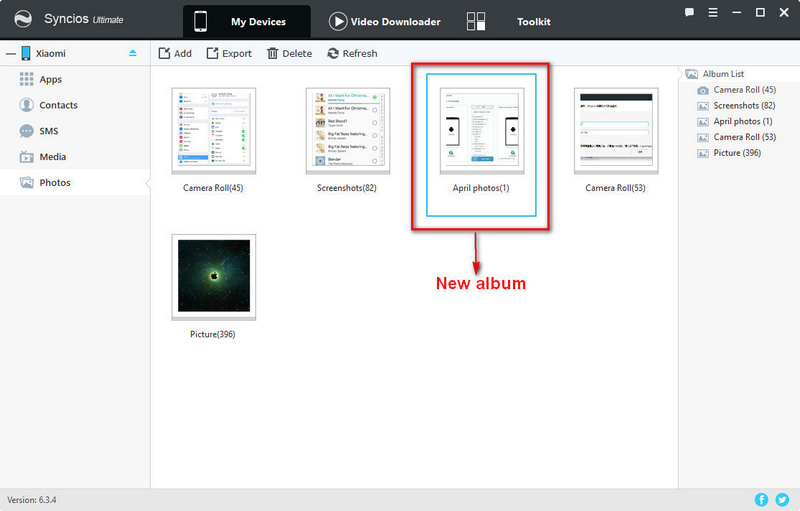 ---
For Photo Files
Sometimes, what we need is to save some pictures to computer but not the whole photo folder. With this intention, we only need to enter a photo album on Xiaomi Redmi Note 5 with Syncios and select some photos we need, then click on Export option on the top bar. You need to choose a proper saving location before exporting by click on Browse. Now enjoy your achievement after transferring.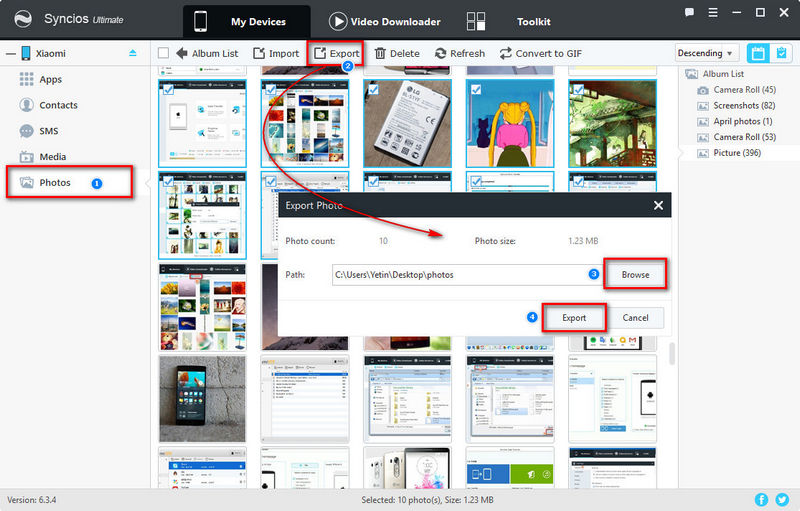 You should take a look at this when you need to import some photos into instead of a whole photo album to your Redmi Note 5. Select an existed photo album on Redmi Note 5 then click 'Import' button on the top bar. Choose multiple photos files with 'Ctrl' key then tap on OK after selecting. Photos are imported to your phone simply.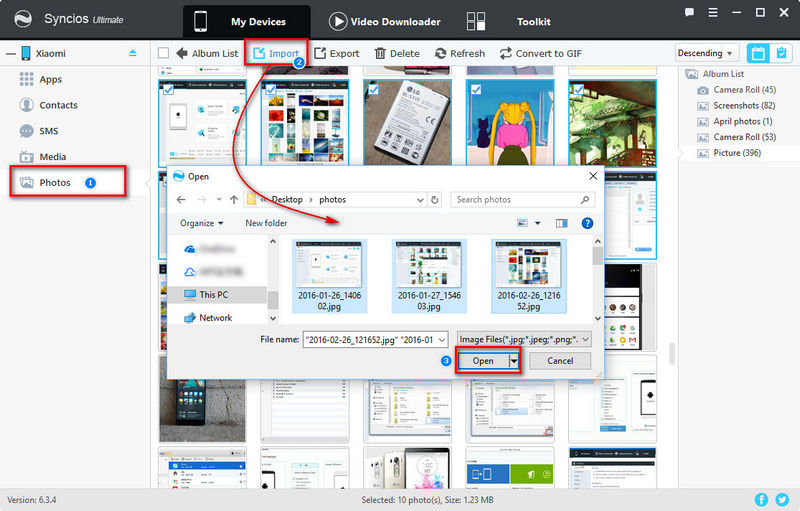 Beside, you are also allowed to open a photo folder on computer then drag and drop pictures into your Redmi Note 5 directly.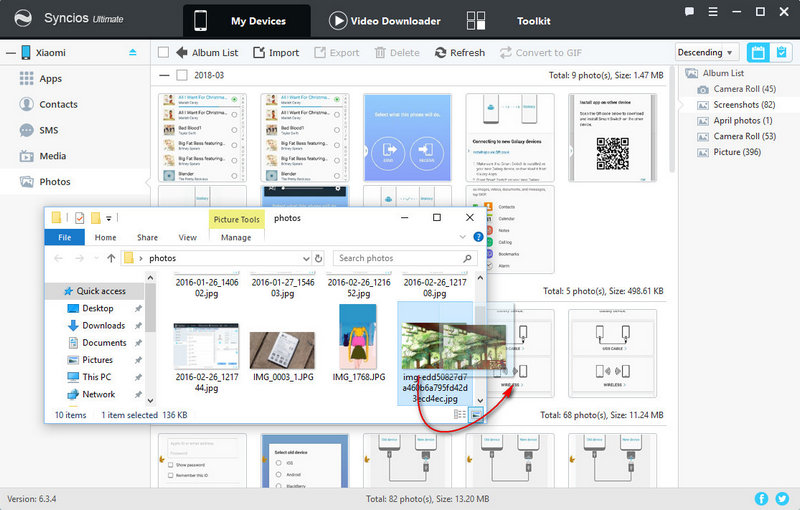 ---