4 Ways to Transfer Photos to OnePlus 7
To record every wonderful moment in our life, we takes photos from time to time. Taking photos using phone camera could be a great choice when you have not own a SLR camera. In addition, phone camera has been more and more professional and convenient with the rapid development of smartphones. Photos could be a powerful tool when sharing and recording life moments.
After switching to OnePlus 7, you may be looking for some ways to transfer photos to the new OnePlus 7. Those wonderful memories should keep company with no matter how many phones you've switched. Follow this post to learn how to export and import photos on OnePlus 7. Four different ways will be introduced regarding how to transfer photos to OnePlus 7.
Method 1. Export and Import Photos between OnePlus 7 and Computer
Things won't get easier without any help. A free and comprehensive phone data manager, Syncios Mobile Manager, should be highly recommended when exporting and importing phone data. It is well-designed for iOS and Android users who want to manage device contents on PC, which allows you to manage, backup, and restore contacts, apps, photos, music, videos, SMS messages, etc for free.
Step 1Get Syncios Mobile Manager installed on your computer. Then turn on USB debugging mode on your OnePlus 7. Connect your device to computer using USB/lightning cable. While connecting your device, make sure that you have selected media transfer option (and not charging only).
Step 2On the left sidebar, choose Photos. Syncios then loads all photos and pictures on OnePlus 7. From here, you can see that your pictures are divided into different albums. To export OnePlus 7 photos to computer, just select the desired photos, then tap on Export. A browser window will be opened. Just provide the destination where you want to save your backup and click on the Export button. This will initiate the backup and transfer your photos to the provided location.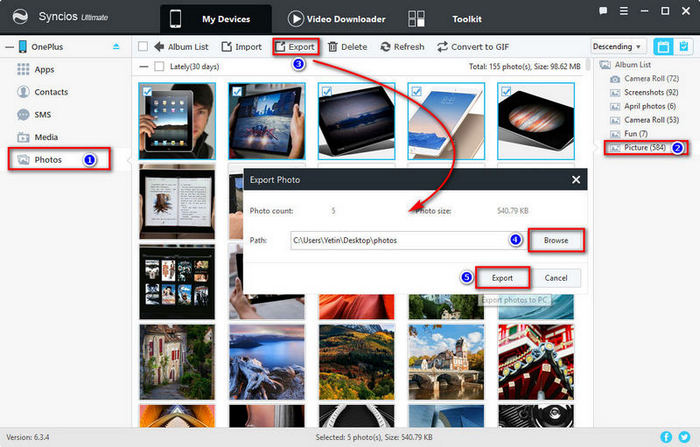 Step 3To transfer photos to OnePlus 7 from computer, click on Import and pop-up window allows you to select photos from computer. Just select the desired photos, then click on Open to import photos. Or you can open a photo folder on computer then drag and drop the photos to OnePlus 7.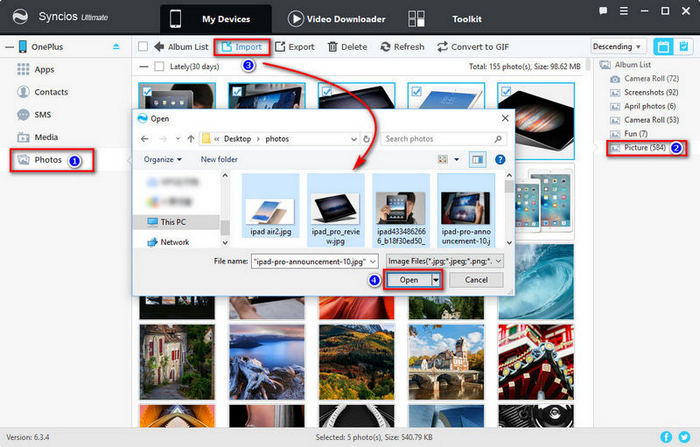 Tips: You may be tired of picking up photos one by one. Therefor you want a lazy method. In fact, you are able to export and import a photo album at one time. Go back to Album list, choose a photo album on OnePlus 7 and click on Export to save a photo album to computer at once. Or click on Add - Add Folder to import a photo folder from computer to OnePlus 7 at once.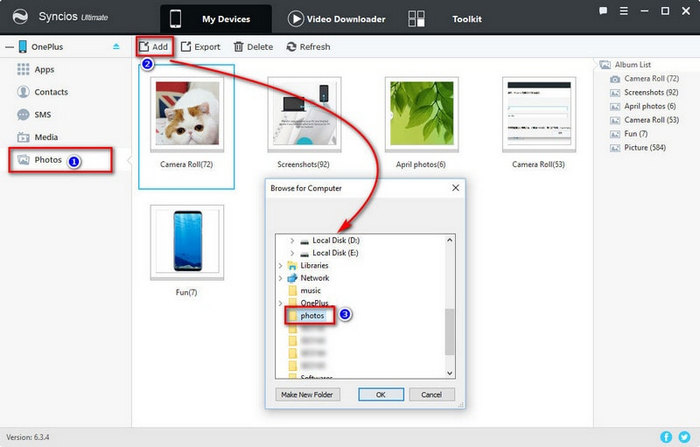 Method 2. Transfer Photos from Another iOS/Android Phone to OnePlus 7
Who knew that moving photos from phone to computer could be so easy? With Syncios Data Transfer, you can simply move your data from one device to another in a seamless manner. Now when you know how to transfer pictures from phone to computer, you can easily manage your data. This file transfer tool could also help you transfer photos and pictures from phone to phone, from iTunes backups to phone, and from iCloud backups to phone fast. Explore various other features provide by Syncios Data Transfer and make the most out of your device
Step 1Download and install Syncios Data Transfer on Windows PC or Mac, then launch the program. Connect both the old phone and OnePlus 7 to computer with USB cables. Turn on USB debugging mode on android device(s) according to prompts. Keep phones unlocked and check phone screen when device analyzing.
Step 2Three modes are available on the main interface of Syncios Data Transfer. Choose Transfer mode on the homepage to transfer contents from another phone to OnePlus 7 directly. Check if the old phone (source device) is on the left and the OnePlus 7 (target device) is on the right. If not, exchange their positions using the "switch" button on the middle.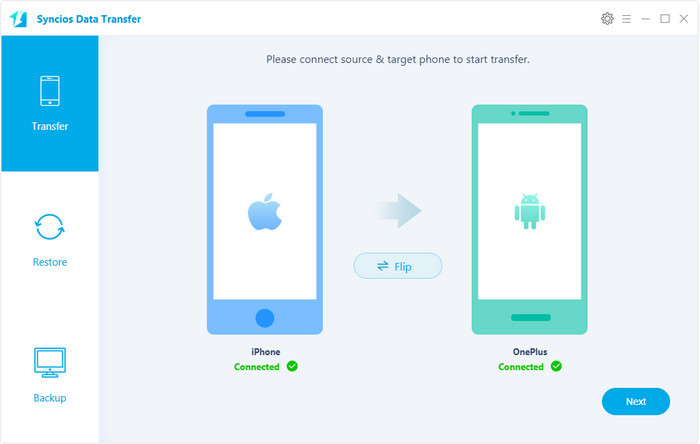 Step 3Click on Next then you are able to select contents from the source device. Select contents you need. To transfer photos, tick off Camera Roll and Photo Library. Syncios Data Transfer will start loading all photos on the source phone automatically. Then tap Next to initiate the transfer. Have a rest when transferring photos.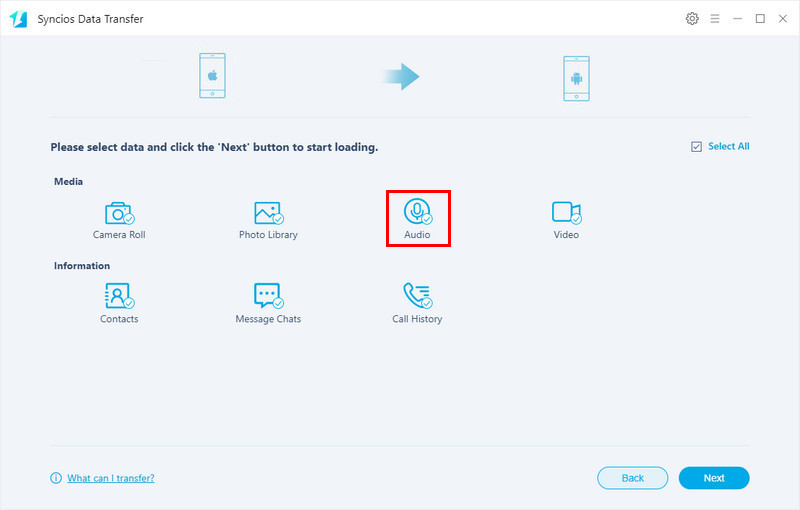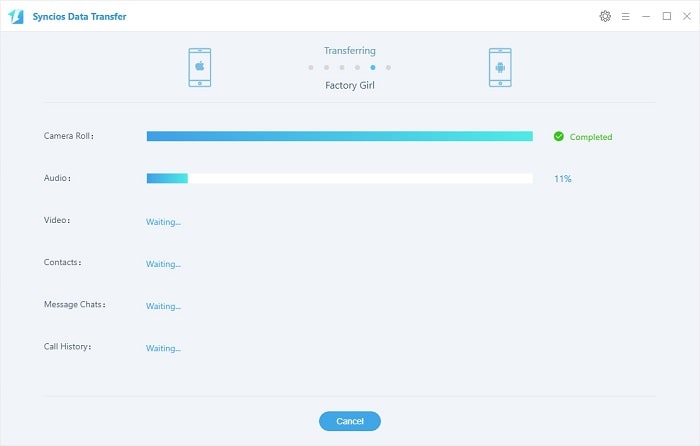 Method 3. Transfer Photos from iTunes Backup to OnePlus 7
With Syncios Data Transfer, only two steps to take regarding recovering iTunes backups to OnePlus 7. Let's check the detailed steps.
Step 1Launch Syncios Data Transfer, select Restore section and click on iTunes Backup. Without iOS device, you only need to connect OnePlus 7 to computer.
Step 2Syncios will list all saved iTunes backup. Choose one you need then return. And click on Next to transfer files from this iTunes backup.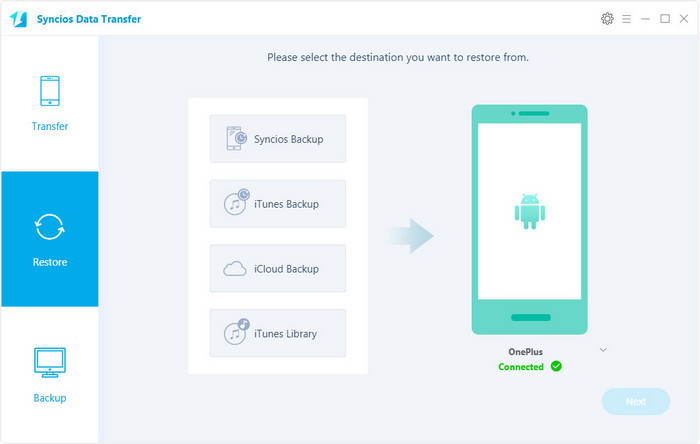 Step 3To transfer photos from the iTunes backup to OnePlus 7, just tick off Camera Roll and Photo Library, then click on Next to launch the transfer. After a while, all photos will be transferred to your new OnePlus 7.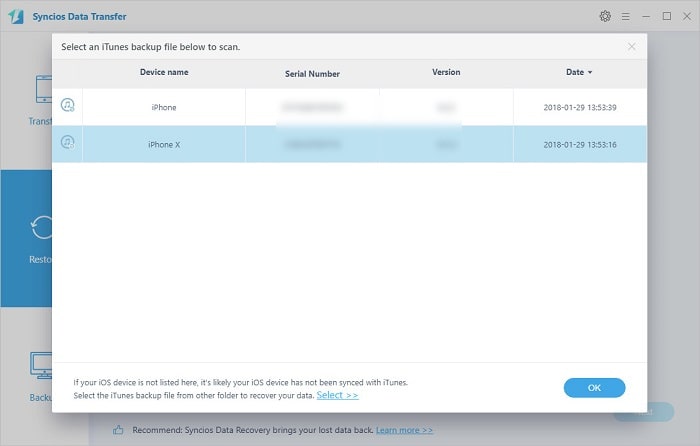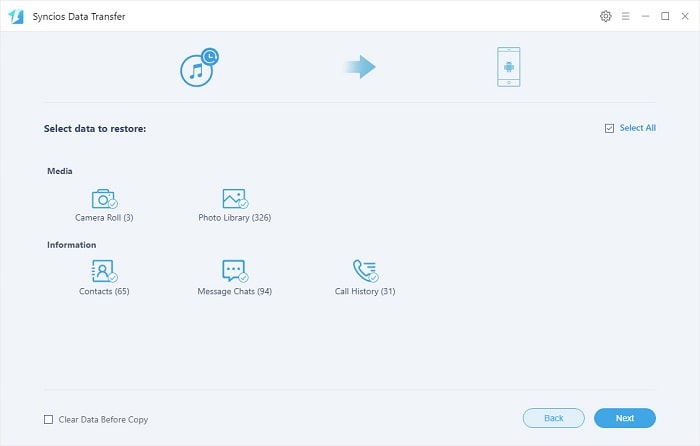 Method 4. Transfer Photos from iCloud Backup to OnePlus 7
With Syncios Data Transfer, similarly, you are able to retrieve files from iCloud backup to any iOS or Android device easily. Let's check the detailed steps.
Step 1Launch Syncios Data Transfer, then connect OnePlus 7 to computer via USB cable. Three modules are available on the homepage. Navigate to iCloud Backup under the Restore module.
Step 2If you've downloaded iCloud backups with Syncios before, just view and check the downloaded backups. If not, from here, you are required to log in with your iCloud account when the first time using Syncios. Choose an iCloud backup to download and return. Then click on Next.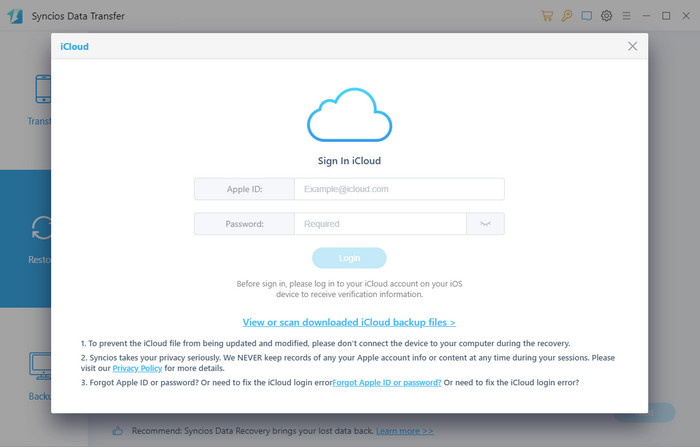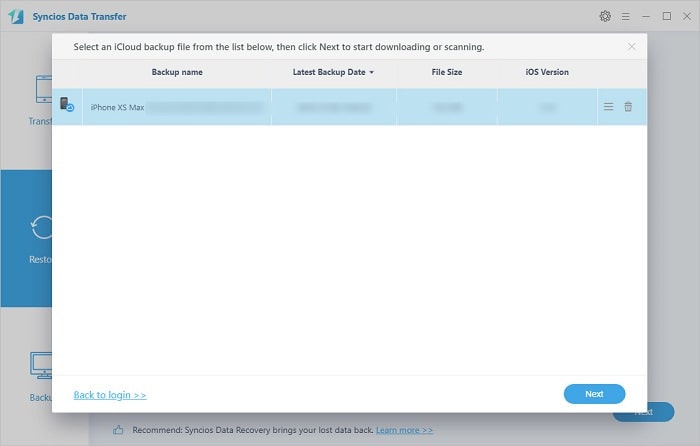 Step 3Then all contents of this iCloud backup will appear in category. Just tick off Camera Roll and Photo Library, then hit on Next to transfer all photos to your new OnePlus 7.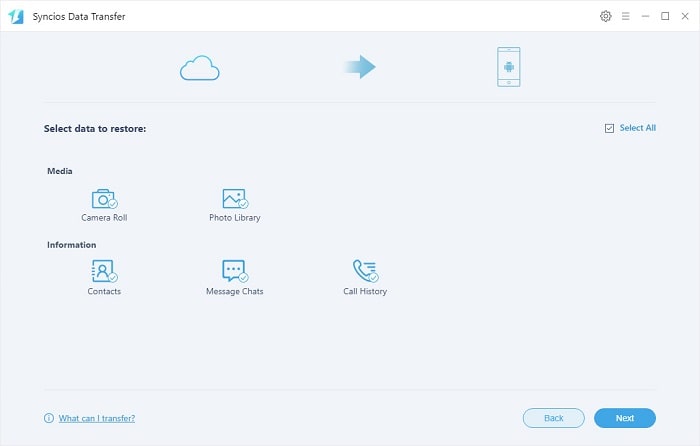 The End:
You've learned functions of Syncios Mobile Manager and Syncios Data Transfer. Worth to have a free try since there are so many simply ways to transfer photos to OnePlus 7.