How to Transfer Video from PC to Android
As life becomes more wonderful, people like to record their wonderful moment in the form of video. Whenever you are, you can still watch the video to share your moments with your friends or recall the good old days. With the rapid development of film and television career, new movie and TV series are shown every day. People now used to download on their phone or pc for watching at anytime. What if you want to transfer your list of videos from pc to android device effortless?
Syncios Video Transfer Manager can be a good choice for you. It just need some simple steps for you to transfer easily. Let's follow the couple of steps showing below!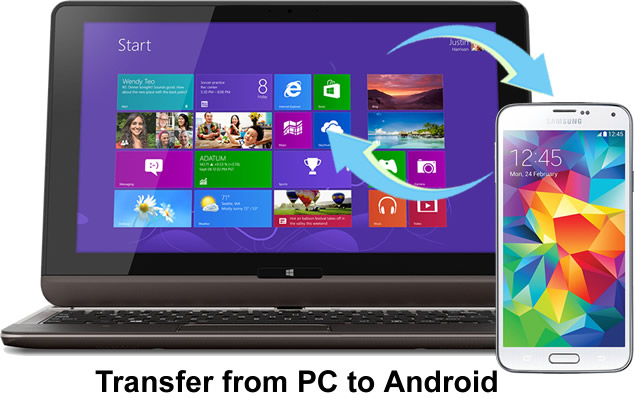 Solution 1. Transfer Videos from PC to Android for Free (Windows/Mac)
Step 1Connect your Android device and run Syncios manager
In order to transfer your video, please install and run the Syncios Free Android Manager on your computer as your first step. Then connect your android device to Syncios Manager via plug your device.(Any detection problem, please check our Android tutorials). While you connect successfully, you will see the main screen shows connecting devices is required.
Step 2 Click to 'Media' button and choose your category into video
For transfer video, you have to find the video file correctly.
Step 3 Open the video files
Click 'Add' button, and a dialog box will pop up, shows 'Add file' and 'Add folder'. You can import video files selectively via 'Add file', or import entire video folder to your phone via 'Add folder'. Browse video files on your PC you want to import to your Android device.
Step 4 Choose the video you want to transfer
Choose the video you want to import. Then click 'Open' to import selected video from your PC to the Android phone. The program can't assess your external SD card? (please check our ' How to Authorize Syncios to Write SD Card ' tutorials).
Step 5 Import completed
Once you import your video successfully, the video will be displayed in the queue.
Note: Please do not disconnect either phone during the copying process in case of some unknown errors.
For Windows: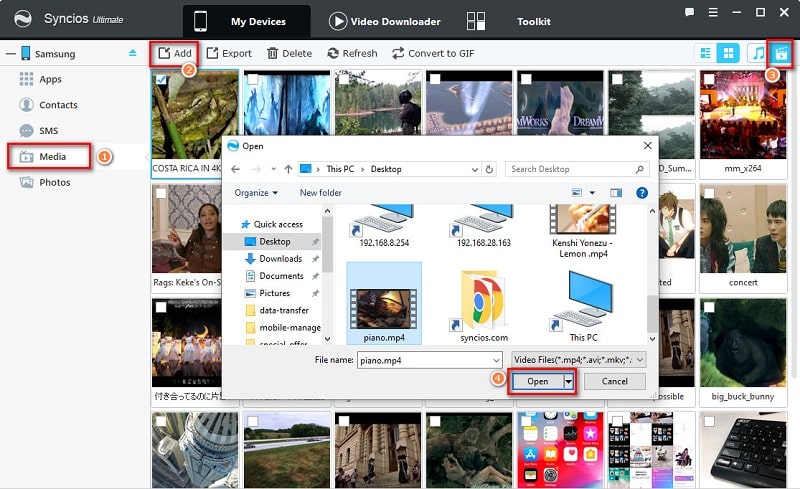 For Mac: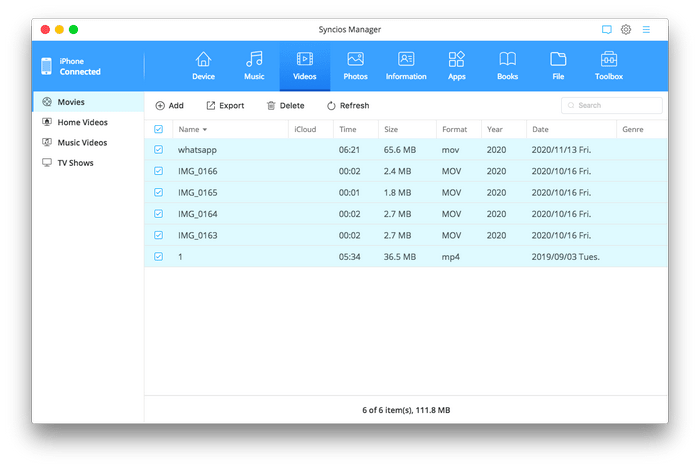 Solution 2. Transfer Videos from PC to Android with File Explorer (Windows)
If you are old-school, or not good at using professional tool. Then you can choose to transfer files, like videos, music, pictures and more with File Explorer. But what you should note is that, although the method and technique is really simple, but your devices would be vulnerable to be attacked by malicious. In the way, it should be considered as a last resort. By contrast, method 1 is more secure and effective.

Step 1Connect your Android to computer via USB cable. Please click on 'Connected as a media device' option on the notification panel.
Step 2Open 'This PC' in your computer, your Android phone will appear as a removable disk. Double click on the disk and there are many folders that stored different types of your phone files, such as videos, Pictures, Music and so on. Navigate to the local folder that save the videos you would like to transfer. You can 'copy & paste or directly 'drag-and-drop' the target file from PC into the phone file.
Video Tutorial - How to Transfer Video from PC to Android
Conclusion:
In brief, you can transfer videos from PC to an Android manually or use Syncios Manager to move your data in a more flexible way. Also, you can use the program to manage other media files, personal information, pdf files and so on. If you like this tutorial, share with friends around you.