4 Ways to Transfer WhatsApp from Samsung to Samsung Galaxy S21(Ultra)
Samsung Galaxy S21 smartphone was launched on 14th January 2021. The phone comes with a 6.20-inch touchscreen display with a resolution of 1080x2400 pixels at a pixel density of 421 pixels per inch (ppi) and an aspect ratio of 20:9. Samsung Galaxy S21 is powered by a 2.2GHz octa-core Samsung Exynos 2100 processor that features 3 cores clocked at 2.8GHz, 4 cores clocked at 2.2GHz and 1 cores clocked at 2.9GHz. It comes with 8GB of RAM. The Samsung Galaxy S21 runs Android 11 and is powered by a 4000mAh battery. The Samsung Galaxy S21 supports wireless charging, as well as proprietary fast charging.
Did you just get a new Samsung Galaxy S21 or S21 Ultra and want to move WhatsApp to it? It brings you a sense of joy when you've got a new phone, but meanwhile you need solve some problems come with transferring data. WhatsApp plays a significant role in your social life. Even switching to a new phone, all WhatsApp conversations should be migrated to this new phone. In this post, you will learn how to move WhatsApp chats, photos and videos from an old Samsung phone to WhatsApp application on a Samsung Galaxy S21(Ultra) without data loss.

We'll show you 4 different methods of transferring your WhatsApp messages to a new Samsung Galaxy S21. Here we are going to talk about the story about WhatsApp messages transferring. Choose one method you find it most suitable and get your job done.
Method 1. Directly Transfer WhatsApp from Old Samsung to Samsung Galaxy S21(Ultra)
We will discuss some official ways to transfer WhatsApp later, firstly, we want to share a most effective transfer solution. Without the help from a WhatsApp Transfer tool, it's not an easy job to transfer WhatsApp messages. Syncios WhatsApp Transfer is perfect for all WhatsApp users who need to transfer, backup, restore and even print WhatsApp data.
Why Syncios WhatsApp Transfer is necessary:
🍄 1. Fully compatible with Android and iOS devices.
🍄 2. Preview the backup content and restore only the data you want.
🍄 3. No need to link with the same WhatsApp account on both source device and target device.
🍄 4. Be able to print WhatsApp chats you select directly.
🍄 5. Export WhatsApp backup to HTML and CSV files.
🍄 6. Backup and Restore WhatsApp data without restrictions.
Step 1:Start Syncios WhatsApp Transfer on Windows PC or Mac
Download Windows version and Mac version of Syncios WhatsApp Transfer. After the installation of this program, start it. When you start this app, various Syncios tools are displayed on the primary interface. To transfer WhatsApp, definitely, we open WhatsApp Transfer.
Tips:
Failed to download or open WhatsApp Transfer? Check here right now.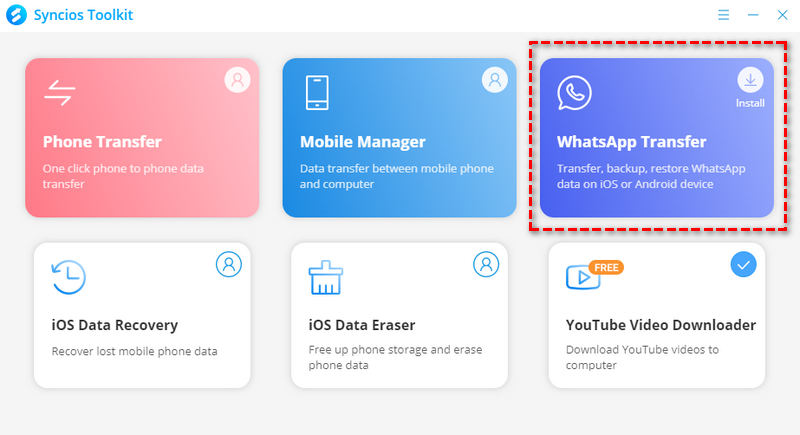 Step 2:Backup old Samsung WhatsApp
Four modes you can use: Backup WhatsApp, Restore WhatsApp from local backup, Restore WhatsApp from iTunes backup and Transfer WhatsApp between devices. To transfer WhatsApp from another Samsung to Samsung Galaxy S21, you can choose Transfer WhatsApp between devices mode to directly move WhatsApp data from old Samsung to Samsung Galaxy S21. But here I choose Backup WhatsApp, then restore WhatsApp to Samsung Galaxy S21. Because it's easy to transfer WhatsApp from one device to another, you can try it later by yourself. I want to share another way in case you need.
Click Backup WhatsApp. Connect old Samsung to computer via a USB cable. Click Start to back up WhatsApp directly. It will take an immediate backup of WhatsApp and attachments on your old Samsung.
Tips: If it's failed to connect your Android device, please check this tutorial.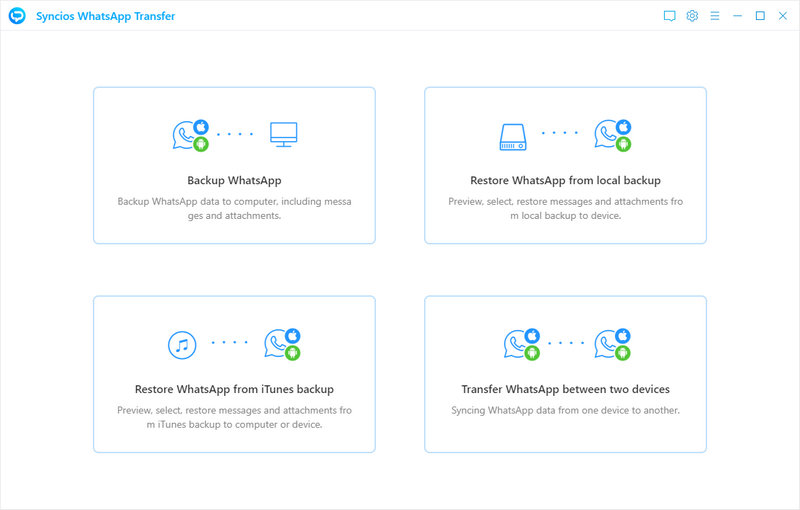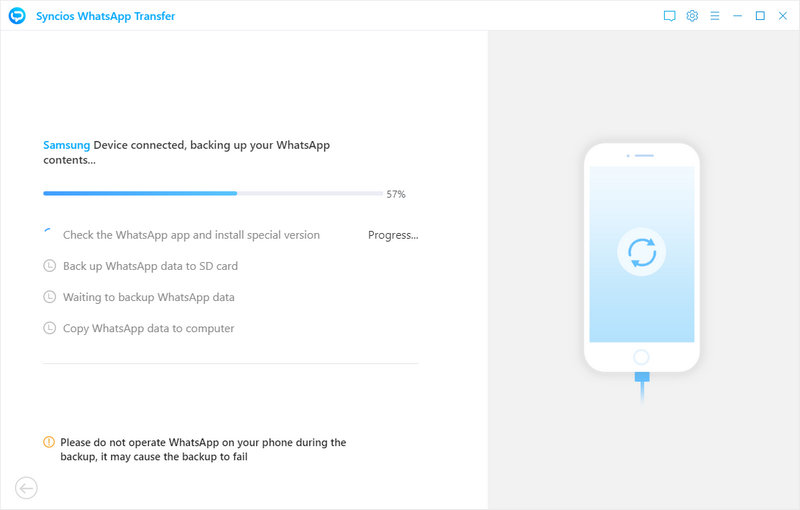 Step 3:Selectively transfer WhatsApp to Samsung Galaxy S21
When the backup process is finished, on the main interface, choose Restore WhatsApp from local backup. Then select the WhatsApp backup of the old Samsung phone, just tap Browse. Check all details of WhatsApp conversations. Then select WhatsApp conversations you need, click Recover to device. On a pop-up window, choose Restore WhatsApp to Samsung Galaxy S21 and tap Recover. The selected WhatsApp conversations will be transferred to Samsung Galaxy S21.
Notes: WhatsApp attachments will be transferred along with chats by default. WhatsApp photos and videos under "WhatsApp Attachments" column are provided for a better view. And it's for some users who need to export all WhatsApp photos and videos to PC easily.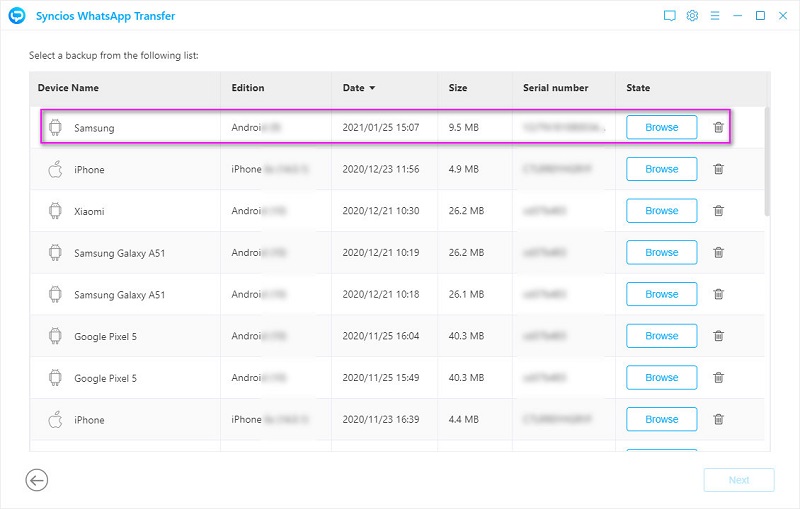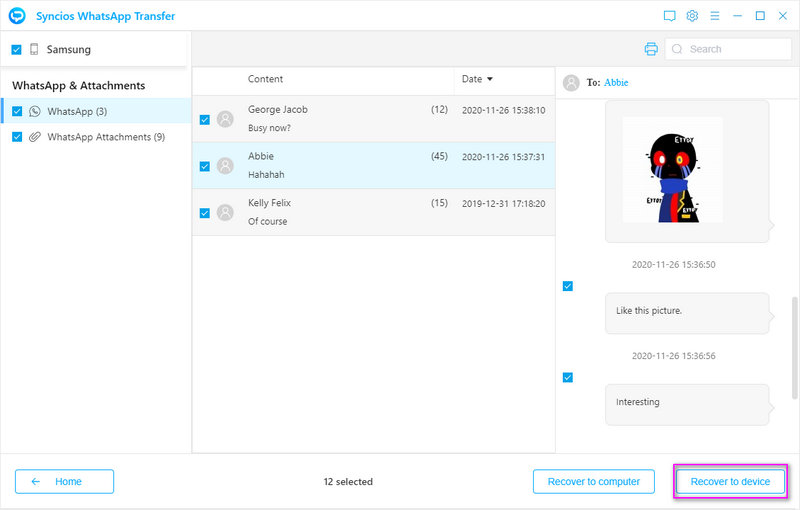 ---
Video Tutorial - Easily Transfer WhatsApp Data to Samsung Phone
---
Method 2. Transfer WhatsApp Backup from Old Samsung to Samsung Galaxy S21(Ultra)
Luckily, you are moving WhatsApp data from an Android device to Samsung Galaxy S21. There is an official solution to backup old Samsung WhatsApp and restore it to a new Samsung. But you need to log in with a same WhatsApp account. Or the old WhatsApp backup could not be detected on the new phone. Follow this method if you just want to replace the old Samsung phone with the new Samsung Galaxy S21.
Step 1: Backup WhatsApp on old Samsung phone
Get your old Samsung phone, open WhatsApp on it then navigate to the upper left. Tap the "menu icon" to pull down a menu list. Go to Settings > Chats > Chat backup. Once you tap Chat Backup, all existing WhatsApp data will be uploaded. Soon after, you will get a most recent WhatsApp backup in WhatsApp cloud.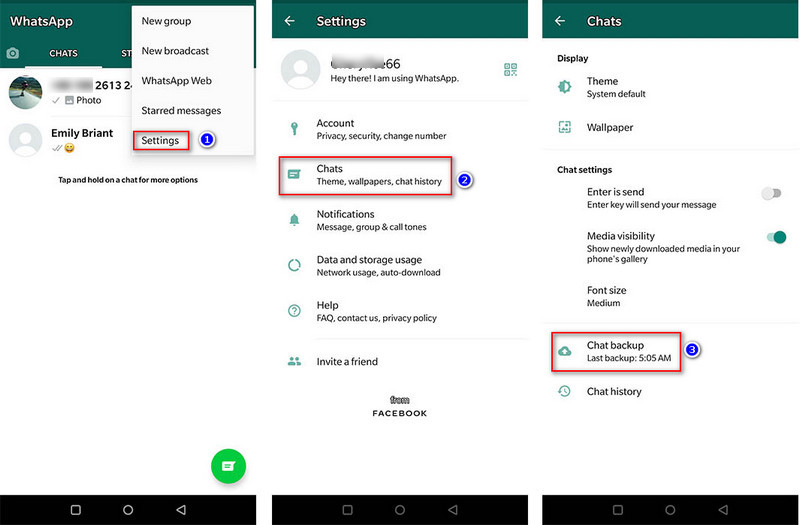 Step 2: Re-install WhatsApp on Samsung Galaxy S21
Now we can restore the backup to Samsung Galaxy S21. But you need to remove WhatsApp on your Samsung Galaxy S21 if you have installed it before. Then re-install WhatsApp from Play Store.
Step 3: Restore WhatsApp backup of old Samsung to Samsung Galaxy S21
When you re-start this app, and enter the same phone number linked with WhatsApp, the updated backup will be detected. You are asked if you need to restore this backup. Follow its onscreen instructions and choose restore chats and media from WhatsApp backup. After the restoration process is complete, tap Next and your chats will be displayed once initialization is complete. After restoring your chats, WhatsApp will begin restoring your media files. Just wait with patience and keep the internet connection stable.
Note: All existing WhatsApp will be removed when you removing WhatsApp. Therefore if you are not a new user of Samsung Galaxy S21, it's suggested to backup WhatsApp via Syncios WhatsApp Transfer firstly. Then you can restore it once you are not satisfied with the result.
---
Method 3. Export WhatsApp Chats from Old Samsung to Samsung Galaxy S21(Ultra)
For some users, they only want to move some WhatsApp messages to new Samsung Galaxy S21 for check, then you can learn how to export WhatsApp chats from an old Samsung to it. In this method, you don't need to link with the same WhatsApp account on the new Samsung phone. It's a quick solution when you want to share some WhatsApp files with or get some WhatsApp files from your friend.
Step 1: Unlock the old Samsung and start WhatsApp on it. Tap a conversation and enter it. Check if you need this conversations then go to its "menu button" on the upper right, click it. From a pop-up menu list, choose More then choose Export Chats.
Step 2: You are allowed to share WhatsApp chats "With Media" or "Without Media". Then choose export chats via WhatsApp, Dropbox, Mail, Bluetooth and etc. Generally, we choose to share WhatsApp via mail. You are required to enter a sender's email address and a receiver's email address. When it's done, just send the email.
Step 3: The WhatsApp chats will not be transferred to WhatsApp application. Now open mailbox on Samsung Galaxy S21. Locate that email you've sent and find its attached files. Download and check WhatsApp messages on your Samsung Galaxy S21. Actually, you can download photos and videos to your phone.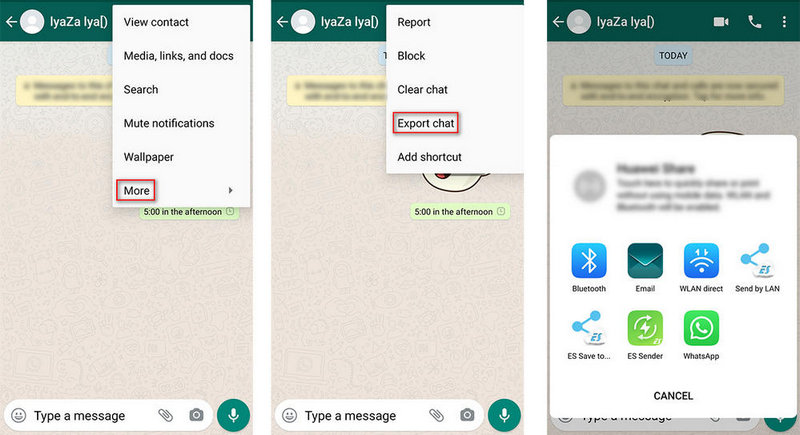 ---
Method 4. Copy Old Samsung WhatsApp Photos and Videos to Samsung Galaxy S21(Ultra)
WhatsApp data will be saved to a file folder called WhatsApp on an Android device. And we can get access to Android internal storage disk on computer easily via a USB cable. Thus, you can copy WhatsApp folder from an old Samsung to a new Samsung quickly.
Step 1: Connect your old Samsung phone to computer via a USB cable. Do not forget to change its connection mode. Some users may ignore prompts when connecting. Then you need to go to the top of the phone and pull down the "Notifications Center" to approach the option, change the connection mode as Transfer File.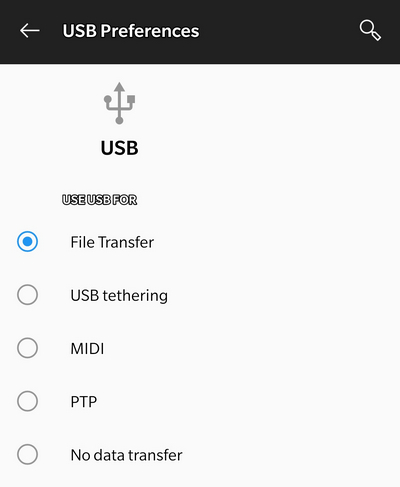 Step 2: When the old Samsung is connected, go to "This PC" to locate your phone disk. Open its internal storage, then go to WhatsApp > Media . You can see WhatsApp Images and WhatsApp Video folders. Open them you will find all WhatsApp photos and videos.
Step 3: Now get your Samsung Galaxy S21 and connect it to computer via the same way. In its internal storage, you can also find that WhatsApp folder. Copy and paste photos and videos you need from old Samsung phone to Samsung Galaxy S21.

---
Conclusion
All practicable solutions are listed above, pick a method you feel most helpful to finish the transfer. Actually, if you want to solve this problem thoroughly, it's suggested to download a professional WhatsApp transfer tool. If this guide helps, don't forget to share it with your friends.
Syncios WhatsApp Transfer (Win and Mac):
---