4 Methods to Transfer WhatsApp Messages to Samsung Galaxy S8
WhatsApp uses internet connection to send messages images, audio and video to other numbers. Now a day almost everyone has a WhatsApp because of features like group chatting, attachment sharing, Location tagging, and voice calling. Only a compatible phone and internet connection needed to keep you in touch with your loved ones living anywhere and organize the list of your contacts.

If you have been using WhatsApp for quite a time you will have record of many previous conversation history, including videos, texts, pictures, voice messages, and locations that you might have tagged. Most of the people would be reluctant to lose that history because it might be useful to them in the future. You may want your WhatsApp history to move to your new phone when you switch your phone and upgrade to a newer one. Here we are going to talk about the story between Samsung S8 and WhatsApp.
Method 1. Transfer Whatsapp from Android to Samsung S8 with Local Backup
Local backup is the automatic backup of your chat history to your phone's WhatsApp folder that occurs daily every 2AM. The folder is located in your device's internal memory or external SD card. To use local backup to transfer WhatsApp messages between Android devices, follow the steps below:
Step 1Launch WhatsApp on your phone then go to Menu Button > Settings Chats and Calls > Back up Chats. Make sure that the chats are backed up to your external SD card if your phone has one. Install the SD card into your new phone.
Step 2If the WhatsApp chats are installed on the internal drive of your Samsung device you need to transfer the backup files from the old Samsung to the same folder in your new S8. You can do this using file explorer or from the back up files on your computer. It is important to note that some files can be lost during this process so you will need to check if all the files are on your new Samsung S8.
Step 3Please enter the e-mail address and press the "Send" button. Go to your Samsung Galaxy S8 and log in your e-mail account. You can find out and view the e-mail with the WhatsApp messages attached, which would be stored in TXT format.
Method 2. Transfer WhatsApp from Android to Samsung S8 with Google Drive
Google Drive backup is the saving of your messages and media to your personal Google Drive account. To transfer WhatsApp from Android to Galaxy S8 by Google Drive can also work well.
Note: Make sure your iPhone and Samsung Galaxy S9 are well-charged, because it will take some time if there is a large amount of data to be transferred. The transferring will be interrupted if one of them is out of charge.
Step 1Launch WhatsApp on your old Android phone. Navigate to Settings > Chats > Chat backup where you can view the backup options under Google Drive settings.
Step 2You can back up WhatsApp automatically to Google Drive by choosing Daily, Weekly and Monthly. Or you can click on Back up now. All of your conversations will be backed to WhatsApp cloud server.
Step 3To transfer the Backup to the S8, download WhatsApp on Samsung S8 and after you have verified your phone number you could be prompted to restore chats and media from Google Drive. Click yes and all of your backed conversations should appear on the new S8.
Method 3. Transfer WhatsApp Messages from iPhone to Samsung S8
It's really a little difficult when it comes to data transfer between cross-platform devices. You may want to transfer WhatsApp chat histories immediately after getting Samsung S8. But if you've just switched from iPhone to Samsung S8. There is a little trouble for the limitations on Apple's part. But what we need to do is to find a solution instead of complaining. The first way I'd like to introduce is to transfer WhatsApp chat history from iPhone to Android phone via Email. It's easy to learn for everyone.
Step 1Launch WhatsApp app on your iPhone and navigate to the "Chats" option at the bottom side. And then you can select the WhatsApp messages that you'd like to transfer. Press the conversation and slide it to the left side. Then the options will be shown as below. Please hit "More" > "Export Chat" to go on.
Step 2Then there is a window with the message "Attach Media"/"Without Media" will pop up. You can just click on one of them according to your need. And please tap "Mail" after that.
Step 3After you have transferred the files you install Whatsapp on your new phone and the app will locate the backed up chats.
Method 4. Transfer WhatsApp Messages from iTunes Backup to Samsung S8 with Syncios
If the old iPhone is not available now, what to do if you would like to transfer iPhone WhatsApp data to Samsung Galaxy S8? At this point, you will realize the importance of backing up data in regular. Then you can easily restore WhatsApp data from iTunes backup to S8 selectively with Syncios WhatsApp Transfer. It has a user-friendly interface, so that it will never be a difficult and time-consuming process.
Step 1Run Syncios WhatsApp Transfer on your computer. Connect your S8 via a USB cable, then tap on Restore WhatsApp from iTunes backup.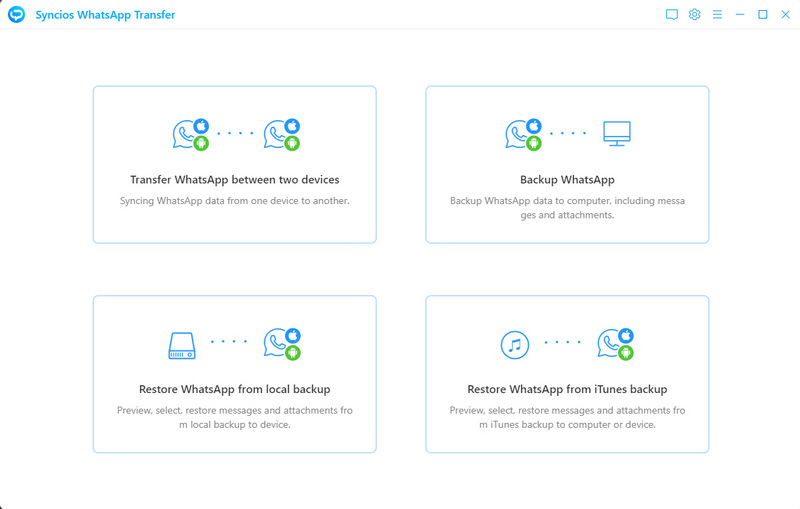 Step 2Syncios will then automatically load available iTunes backup files and list on the page. Click target one to browse by hitting on Browse button. Certainly, if it's the first time that you use Syncios WhatsApp Transfer to load the iTunes backup file, it always spends longer time than usual.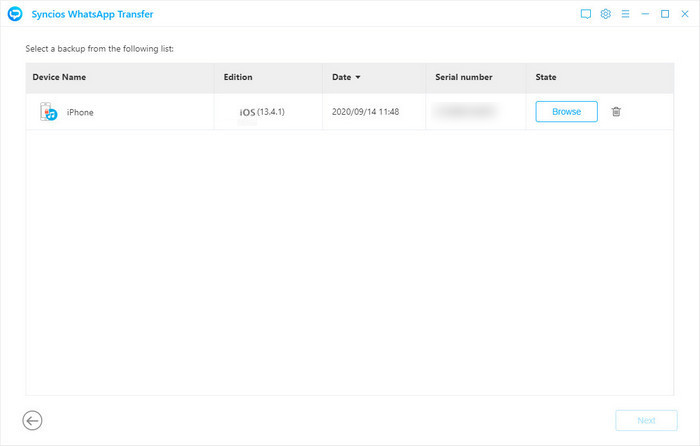 Step 3Check the data that you want to transfer from iTunes backup to Samsung Galaxy S8, click on Recover to device > Recover option.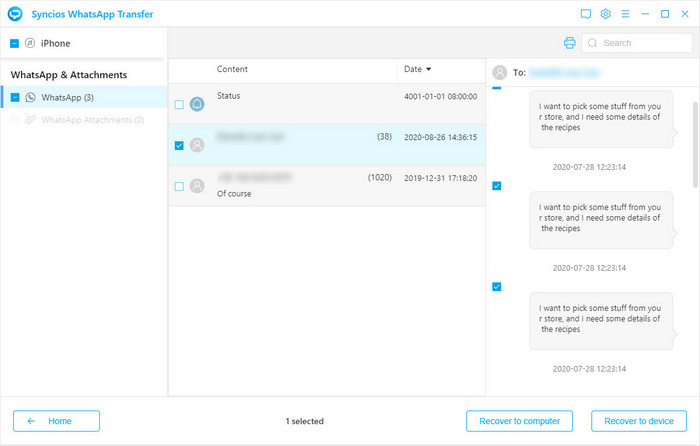 Video Tutotrial - Quickly to Transfer iPhone/Android WhatsApp to All Samsung Phones
---
What's next? Download Syncios WhatsApp Transfer now!
Syncios WhatsApp Transfer
Syncios WhatsApp Transfer is an easy-to-use and powerful WhatsApp data transfer tool, which allow users backup and restore WhatsApp data or directly transfer WhatsApp data from phone to phone.
Transfer WhatsApp between iOS devices and Android.
Backup and restore WhatsApp on iPhone/Android.
Export WhatsApp backup to HTML and CSV files.