How To Backup and Restore WhatsApp Messages on iPhone
WhatsApp is one of the most popular messaging services on iOS platform. Keeping a safe backup of message history is important. Now just imagine, you have had an important chat with a friend around evening and later that night, you plan to do a full reset on your phone. Well, you will lose that chat you had in the evening with your friend.
With this quick tutorial we demonstrate 4 approaches to backup and restore WhatsApp messages on an iPhone.
Solution 1: Backup and Restore iOS and Android WhatsApp Messages without re-installation
As one of the most used social app among phone users, WhatsApp data should be able to be migrated safely anytime. This is why we put this solution at the first position. This is a most convenient way to help you to backup WhatsApp chats, photos and videos offered by Syncios WhatsApp Transfer. And actually, without any help, it's difficult to backup and restore WhatsApp easily.
Why Syncios WhatsApp Transfer is necessary:
🍄 1. Backup and Restore WhatsApp data without restrictions.
🍄 2. Preview the backup content and restore only the data you want.
🍄 3. No need to link with the same WhatsApp account on both source device and target device.
🍄 4. Be able to print WhatsApp chats you select directly.
🍄 5. Export WhatsApp backup to HTML and CSV files.
🍄 6. Fully compatible with Android and iOS devices.
Best Way to Backup and Restore iPhone WhatsApp
Step 1: After the installation of Windows version or Mac version, you can start Syncios Toolkit. And to start Syncios WhatsApp Transfer, from the start-up interface, choose "WhatsApp Transfer", open it after its downloading. Then choose Backup WhatsApp. Connect your iPhone to computer via a USB cable. Then click Start to start backing up WhatsApp from the connected phone to computer. After a while, it finishes the backup process.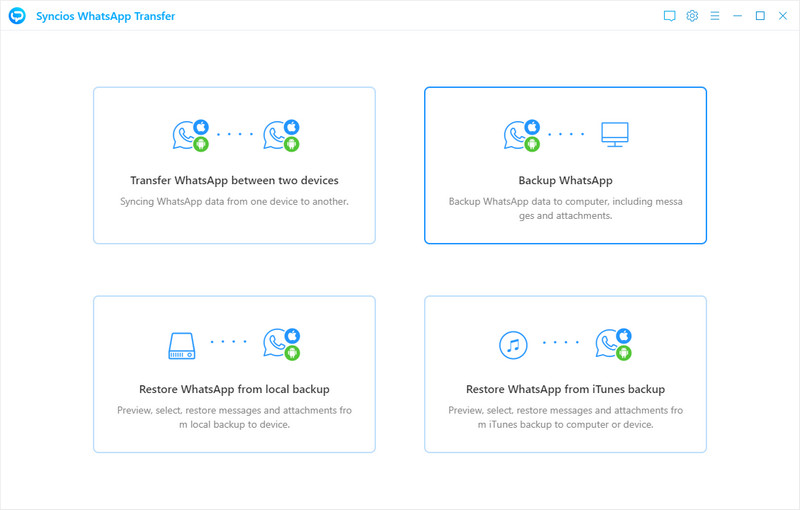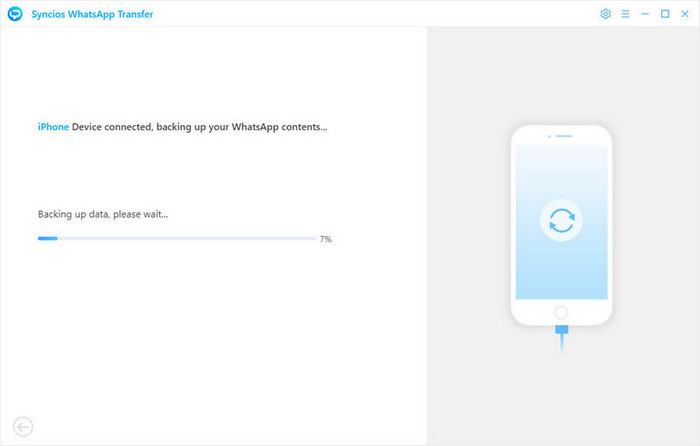 Step 3: You can see a View button when the backup is completed. You can ignore it if you don't need to restore the backup to your phone or any other phone. When you want to restore the backup, on the main interface, choose Restore WhatsApp from local backup. Then you can select the previous backup among all enlisted backups according to its device name, size and date. Click Browse, all WhatsApp chats and attached photos, videos are displayed.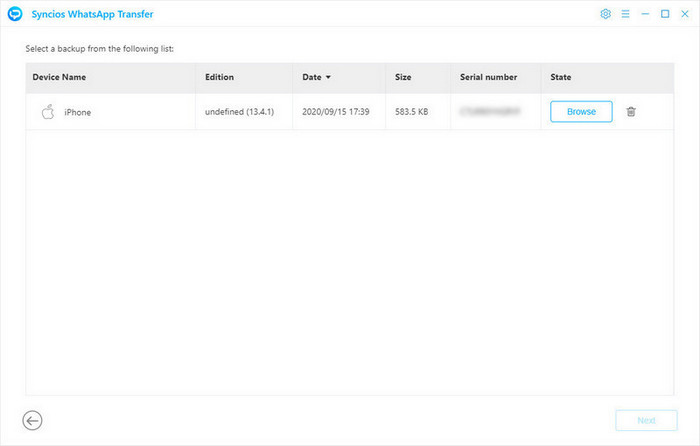 Step 4: To restore WhatsApp conversations to your phone, connect the target phone to computer. Select conversations you need. Then go to the lower right, tap Recover to device. And choose to recover to the target device you wish to restore WhatsApp to. Tap Recover to launch the recovery process. Wait till it's completed. Afterwards, check WhatsApp on your phone.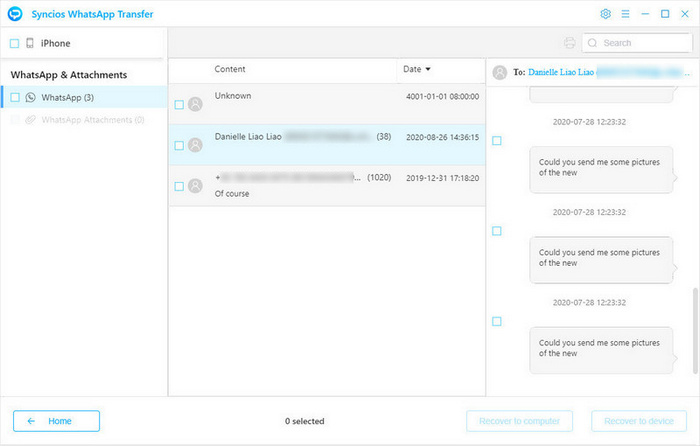 ---
Solution 2: Backup and Restore WhatsApp Messages via iCloud backup
You can save your WhatsApp conversations and media to your iCloud storage using iCloud backup. You can use this backup method in case you wish to transfer WhatsApp conversions to another iOS device or restore your device to factory setting. The iCloud backup process may take a while to complete, depending on your Internet connection and backup file size.
You can make a manual backup of your chats at any time by taking a trip into WhatsApp Settings > Chat Settings > Chat Backup and tapping Back Up Now.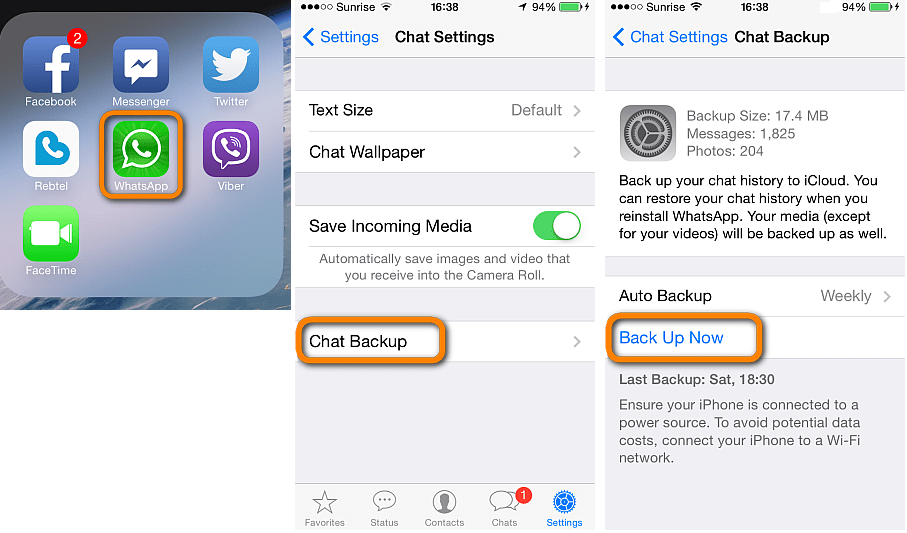 This will show you the Backup size currently stored in your iCloud account, displaying the backup details, including Messages quantities, Photos quantities.
You can also enable automatic, scheduled backups by tapping Auto Backup and then choosing your backup frequency. You can set up how often to automatically backup WhatsApp chats by tapping "Auto Backup" from the same screen.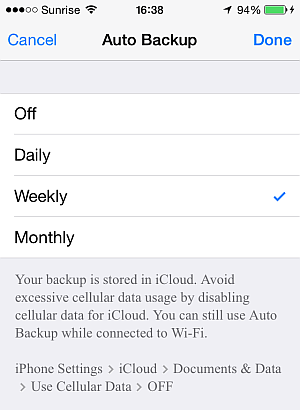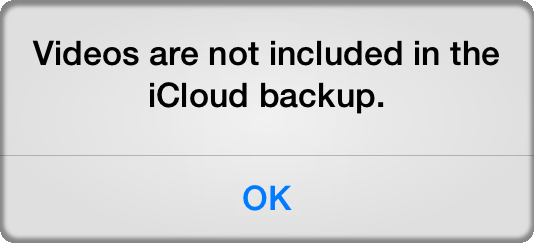 NOTE: Video clips are excluded from iCloud backup, in order to free up space in the backup. (For the typical user, a single iPhone or iPad backup should fit easily into the free 5GB iCloud allocation. )
Restore WhatsApp messages via iCloud
If you previously backed up WhatsApp chats via the iCloud option above, you are able to restore the messages back to the iPhone. To do so: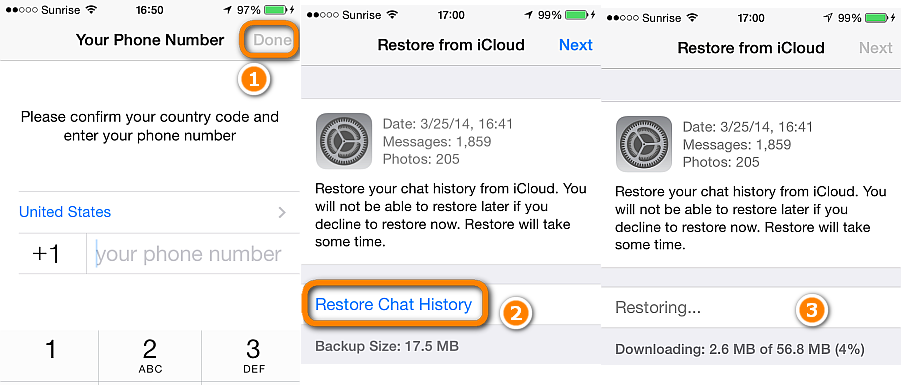 1. Once you install WhatsApp anew, enter your phone number and tap "Done"
2. From the next screen, tap "Restore chat history"
NOTE: the above option will only appear if you previously backed up the WhatsApp chats via iCloud. Otherwise the button will be greyed out. WhatsApp backup is not 100% reliable. In at least one occasion we were returned the following screen despite having previously backed up WhatsApp messages.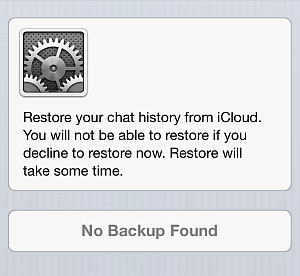 3. Stand-by until the WhatsApp messages are restored back to the iPhone.
The WhatsApp chat history is now restored to your iPhone.
Solution 3: Backup WhatsApp Messages to Computer via Syncios Data Recovery
Syncios Data Recovery is a perfect solution which allows to save messages and attached media offline to the PC (photos, audio, videos are included) and in different file formats. You can view photos on your PC and transfer them to any other portable devices. As the WhatsApp conversations, you can view the files as good-looking as they are on the iPhone.
1. Download and install Syncios Data Recovery to your computer by clicking below download button according to your computer system.
2.Run Syncios Data Recovery and connect your iPhone to it with USB cord. The program starts analyzing your iPhone information.
3.Once it's done, click "Start Scan" button, the program will start scanning all the data in your iPhone, the scan process will take a while depending the data of your iPhone.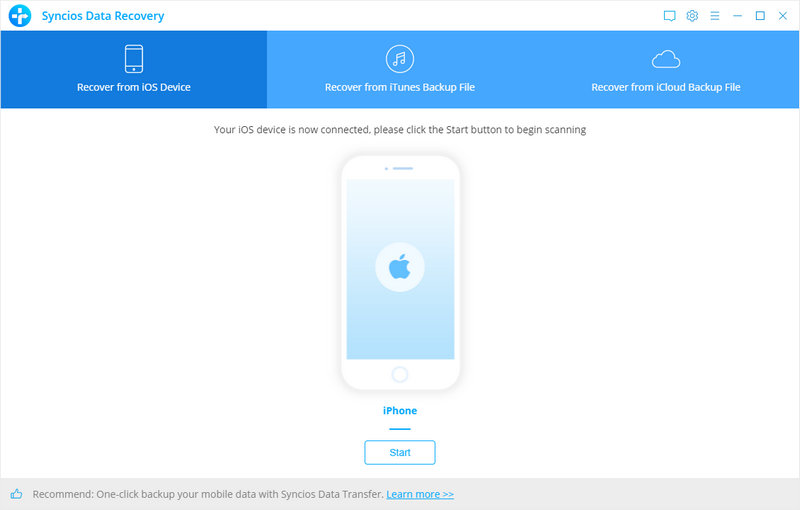 4.Once the scan is completed, all the recoverable data will be listed on the left column of the interface, the category will be automatically checked. Select "WhatsApp" from the pane. You will see a list of WhatsApp conversations on the iPhone in the interface.
5.Tick the checkbox next to WhatsApp thread on the left, this will select all conversations at once, then press Recover button on the bottom right corner. You can also select individual messages within each conversation by tick the checkbox when viewing the Whatsapp conversations, then click recover button.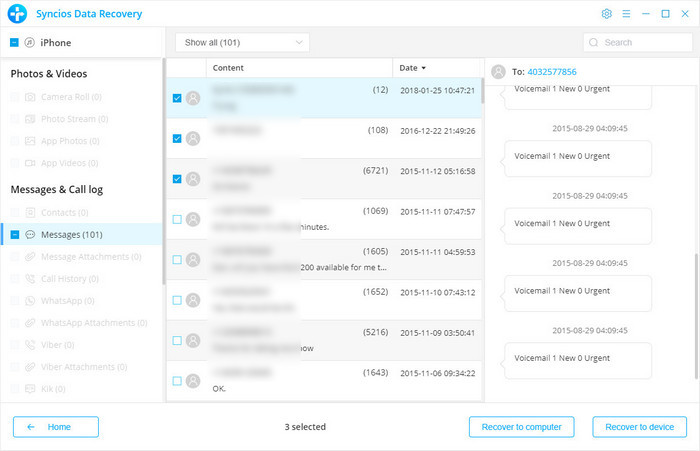 6.You will get the prompt providing to recover solutions, simply choose "Recover to Computer", pick a backup location, Pick a location on the PC where to backup the messages, for example the PC's Desktop and click Recover.
For now, the program supports backup WhatsApp messages in web page(html files). This allows for full interactivity when displaying the WhatsApp conversations on the PC.
7. The WhatsApp messages are backed-up at the PC location of your choice in html files . Photos will be stored in a separate folder. Double click on the file to open the message on the PC
8. You can now read through and interact with each WhatsApp conversation that you backed up off the iPhone directly from your computer.
Solution 4: Email WhatsApp conversations
Sending WhatsApp messages via email is easy but not ideal as this will only generate a TXT file containing plain conversation text which doesn't include images or other attachments. You can, however, send conversation images via email as individual attachments separate from the TXT file. To send WhatsApp conversations via email:
1. Open WhatsApp and navigate to the conversation or group you wish to email in the chat list. Swiping right on the conversations, tap "more", then choose Email conversation, Choose whether to attach media or not (i.e. attached photos or videos)
An email will be sent containing the chat history saved into an attached TXT document. If you chose to include media, all the most recent photos/videos from the conversation(s) will also be included as individual attachments. You are only able to send WhatsApp chats via email but not restore them back to the iPhone using this method.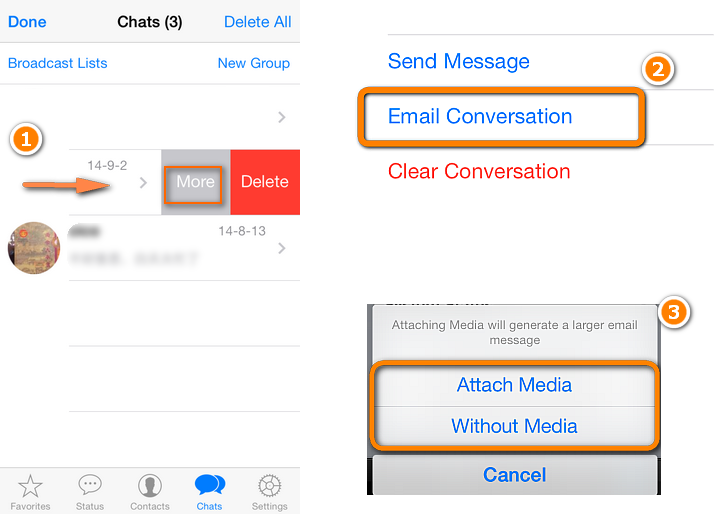 ---
Conclusion
Have you found a proper way to backup and restore your WhatsApp data in this article? I have listed four ways, and it's my honor if all solutions are helpful. In fact, when confronted with different cases, you may need different ways to deal with them. If this tutorial is helpful for you, please share it with people around you now.
Syncios WhatsApp Transfer (Win and Mac):
Syncios Data Recovery (Win and Mac):