Pandora VS Spotify: Which One You Would Choose?
People always say that music can heal souls, that's why it takes s a huge part of a lot of people's lives. The popular music streaming services Pandora and Spotify function very differently. Spotify listeners can choose the songs they want to play, when they want to play them. Meanwhile, Pandora is a radio service that does not let users choose the specific songs they want to listen to, whenever they want. Instead, users create a "radio station" based on artists, songs, or genres they already like; Pandora then finds songs that are "musically similar" by way of their Music Genome Project. Pandora is a way for users to discover new music that matches their tastes, while Spotify—even though it offers radio stations, too—is better suited to stream and share music that users already know and love.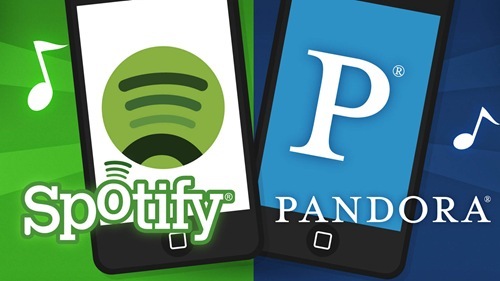 All the big music streaming services now have family plans that allow you to share your subscription with others to save yourself a little dough, but they each vary a bit in how they work. If you are still are on the fence about Pandora or Spotify, or considering to make a switch, here's what you should consider when choosing between Pandora and Spotify.
---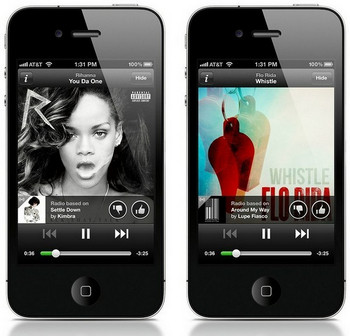 Price
Pandora Pandora's premium service, Pandora One, is $4.99/mo. Offers free version with ads and limitations.
Spotify Spotify offers a completely free option, as long as you don't mind having some of the worst and most grating advertisements popping up between every few tracks. It's $9.99 per month for removing those adverts, use the desktop app and mobile app for your iOS device, Android, or Windows phone.
For $14.99/month, you get two Premium accounts, and you can expand that to up to five people total for an additional $5/month per account. That's $29.99/month for five people, the price is a bit higher than iTunes and Google Music.
---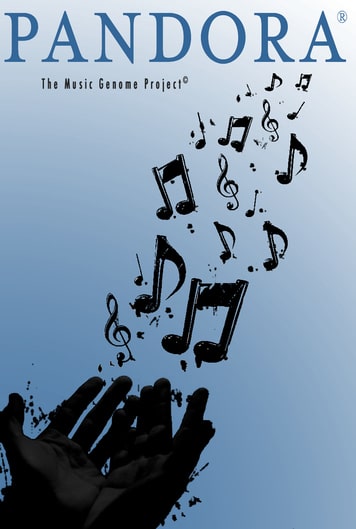 Music Selection
Pandora When a user visits Pandora and creates a radio station based on, for example, his or her favorite artist, Pandora searches for similar artists and songs using the complex algorithms of the Music Genome Project, a music database that Pandora has patented. The Music Genome Project compiles information on songs, first categorizing each one by genre. A musician then analyzes every song for up to 30 minutes at a time, finding unique characteristics with which to further categorize the music by (e.g., types of instruments used, gender of lead vocalist, rhythm, tonality, etc.). Most songs have hundreds of attributes that help Pandora determine the similarities and differences between one song and another.
Pandora users can further customize their personal radio stations by giving a thumbs up or thumbs down to songs that are recommended to them. They can also share their stations with friends; however, linking to specific songs directly is impossible due to licensing restrictions.
Spotify Spotify is less about new music discovery than it is about replacing traditional music players, like iTunes or Windows Media Player, with streamable music. Spotify depends on a large catalogue of roughly 20 million songs to accomplish this—a sticking point in some countries when major record labels have not wanted to make deals with the company. In theory, users should be able to create an account on Spotify, search for any song or artist that they like, and begin streaming that music with Spotify's online player.
---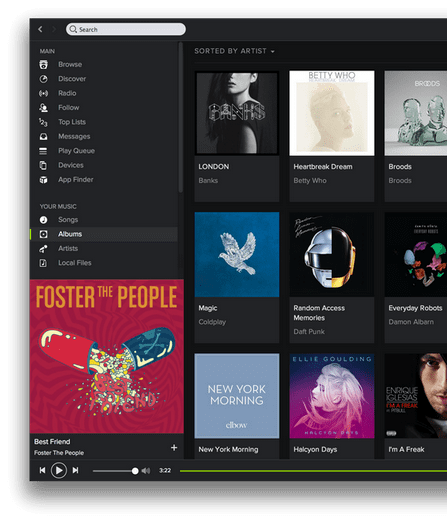 Restrictions on Free Membership
Both Pandora and Spotify put restrictions on non-paying users. The restrictions have changed numerous times over the years as both companies have tried out different pricing models and been affected by changing licensing fees or laws.
Pandora
Audio advertisements that last for 15 to 30 seconds periodically interrupt music. The number of ads served up in an hour varies depending on the operating device (i.e., whether listening to Pandora via computer, mobile, or car).
Restrictions on how many songs can be skipped in a day. Six skips are allowed, per hour and per station; only 30 skips are permitted across all stations in a 24-hour period. Clicking the "next" play button, selecting "I'm tired of this track," or downvoting (giving a thumbs down to) a song while it plays all count as a skip.
Reduced audio quality. Music for free members plays at 64 kilobits per second in an AAC+ format. Built-in apps for televisions> and other non-mobile devices, like Roku, may receive a slightly higher quality of 128 kbps.
Timeouts. To avoid paying royalties on songs that users might not be listening to, Pandora periodically times out if the player has not been used in a while.
Spotify
15- to 30-second audio ads.
Reduced audio quality. However, at 160 kbps in the Ogg format Spotify's free version offers a higher quality sound than Pandora does.
---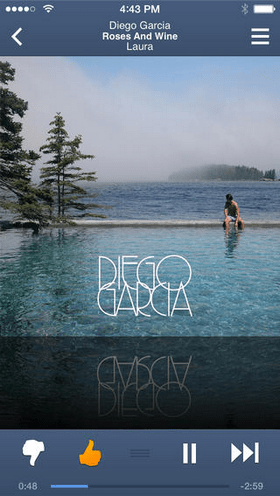 Premium Membership Benefits
Both Pandora and Spotify put restrictions on non-paying users. The restrictions have changed numerous times over the years as both companies have tried out different pricing models and been affected by changing licensing fees or laws.
Pandora
No ads.
Higher audio quality of 192 kbps.
Downloadable desktop application. Users are no longer limited to using Pandora on their mobile devices or in the browser.
Custom skins for the web application.
Fewer timeouts, allowing users to listen for longer periods of time without having to interact with the player.
Spotify
No ads.
Ability to download music for offline listening.
Higher audio quality of 320 kbps for some songs.
Use of Spotify Connect, which allows users to hook up other hardware to Spotify's mobile app.
---
Comparison between Pandora and Spotify, choose the best one for you !
| | | |
| --- | --- | --- |
| Features | Pandora | Spotify |
| Price | US$4.99 per month | US$9.99 per month, 3 month trial for $0.99 per month |
| Ads | Yes, on free version | Yes, on free version |
| Catalog | 1 million | 30 million |
| Bitrate | 64kbps for free users; 192kbps for Pandora One users. | 160kbps for free users; 320kbps for some Spotify Premium songs. |
| Can user pick songs? | No | Yes |
| Skipping songs | Yes, but with limitations: 6 skips / hr, per station; limited to 30 skips in 24 hours. | Yes, with no limits |
| Mobile/web/desktop app | Yes | Yes |
| Can user download music? | No | Yes, but only if Spotify Premium members. |
| Availability | In the U.S., Australia, and New Zealand. | Available in dozens of countries and territories. |
---
Recommend: Free Music Management Tool for iOS & Android
• Transfer all or selected media files among iDevice/Android including music, video, ringtone, Podcasts, audiobooks, TV Shows, MV, iTunes U, etc.
• Backup Songs with Playlist, Artist, Album, Lyrics, etc.
• Get control of playlists. Rebuild or export your playlists from your iPhone local PC or iTunes.
• Free download YouTube video, wallpaper, ringtone to smartphone or tablet .
• Work perfectly with Apple(iPhone/iPad/iPod), HTC, Samsung, Google, LG, Sony, Motorola,HUAWEI, Acer, and more >>
---
Recommend: The Best Spotify Music to MP3 Converter
• Convert Spotify song and playlist.
• Losslessly convert all your songs or playlist from Spotify to MP3, AAC, WAV or FLAC.
• 5X conversion speed; support batch conversion.
• Windows version supports burning Spotify music into CD easily.
• Preserve ID tags after conversion.
• Completely Compatible with latest Mac OS X Sierra or Windows 10.
---