How to make iPhone ringtones with free iPhone Ringtone Maker
Finally you have your own iPhone, and you discovered that iTunes charges at least 99 cents for ringtones to your iPhone, even if there are plenty of songs in your music library already. You wish you don't have to pay for your songs twice to get a ringtone for iPhone. You wish you could decide you iPhone, and actually there is nothing better than making your own favorite ringtones for iPhone with audio files in your computer freely and quickly.
Syncios iPhone Ringtone Maker is what you need, with which you are able to turn any piece of audio into an iPhone ringtone – any part of your favorite songs, or even audio from a YouTube video. Don't need to buy ringtones for iPhone from iTunes anymore, and can even make ringtones for your iPhone for free!


Make iPhone Ringtone


Transfer ringtone to iPhone

How to make iPhone ringtone? Here's how it works.
Download and install Syncios iPhone Ringtone Maker on your computer. The latest version supports to run in Windows 8 system and supports the latest iOS 7.
Run Syncios, and then click Ringtone Maker on the left to get the iPhone Ringtone Maker interface.
Step 1: Select file to make ringtones.
Click Browse, then get access to the audio file or even video file that you want to convert to a ringtone.
Step 2: Set Start and End to the iPhone ringtone.
Choose certain part of the source file and make it as your iPhone ringtone. You can play the song or video, then click Set start button and Set end button to adjust the start and end when playing.
You can also adjust the start time and end time of your ringtone in the text boxes next to Start and End manually.
More intelligent way is set the start time first, and then click 25S(SMS tones) button or 40S(Ringtones) button, then the iPhone Ringtone Maker will set the end time automatically. From the start time, the new iPhone ringtone would last 25 seconds for SMS tones and 40 seconds for ringtones.
Step 3: Name the output file.
Set the output file name. You can edit the name manually.
Step 4: Start to make iPhone Ringtone.
If everything is ok, simply click Generate button, then Syncios iPhone Ringtone Maker will start to make your personal iPhone ringtone quickly.

Step 5: Go to the output folder and get the output ringtone.
Find the output ringtone by clicking Open.
Step 6: Transfer the iPhone Ringtone to your iPhone with Syncios.
After converting, go to the output path you set, and you would find .m4r file in certain folder.
You can easily transfer the .m4r format ringtone to your iphone through Syncios, because it is not only a free iPhone Ringtone Maker, but also a strong iPhone Transfer Tool. Connect your iPhone to computer with USB and launch Syncios, go to the left panel of Syncios, unfold Media tab, highlight Ringtone on the right panel, then you will find those options: Import, Export, Remove, New Playlist, which enables you transfer audio files between your iPhone & PC easily! Click Import, then go to the output path and choose the ringtone file to sync your iPhone.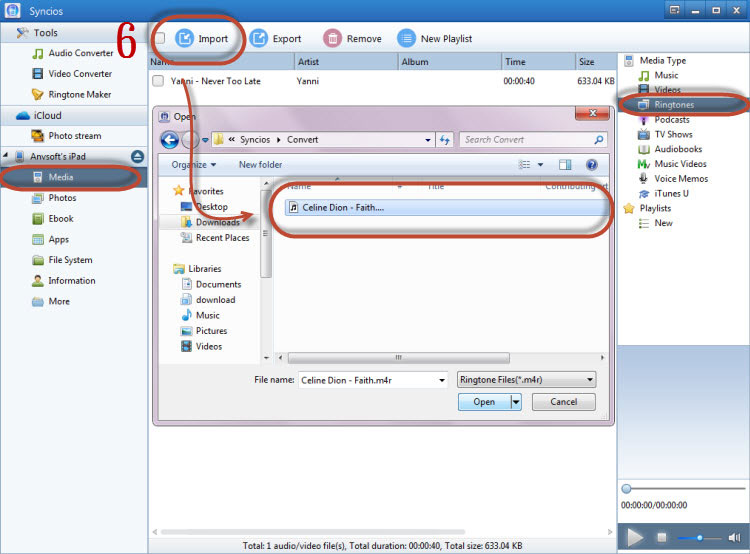 When it's done, you can head into the settings and select your new ringtone.
Step 7: Set the ringtone.
Go to your iOS device, click Settings > Sounds > Ringtone, then you would find the ringtone file you currently imported and choose it as your ringtone.
Do you know how to make your own iPhone ringtone? Download Syncios iPhone Ringtone Maker to have a try! Start to deside your iPhone from now on!
More features:
• Fully support latest iOS 7 and iTunes.
• App transfer and App document management
• Back up contacts to computer
• Export computer files to iPod
• Treat iPod as a portable hard disk
• Manage images by creating and editing photo albums
• Support several iOS devices simultaneously
• Support shortcut keys for operation
Supported:

iTunes Requirements for iPhone Ringtone Maker

Though you are able to transfer files from PC to iPhone and make your own iPhone ringtone easily with Syncios without iTunes, iTunes also needs to be installed in your computer to run Syncios iPhone Ringtone Maker correctly.
iTunes 9.0 or later is needed
iTunes 9.1 or later is needed to support iOS 3.2.2
iTunes 9.2 or later is needed to support iOS 4.0.2
iTunes 10 or later is needed to support iOS 4.1
iTunes 10.1 or later is needed to support iOS 4.2
iTunes 10.2 or later is needed to support iOS 4.3
iTunes 10.5 or later is needed to support iOS 5
iTunes 10.7 or later is needed to support iOS 6