Set Songs as Ringtone for Samsung Galaxy S21/S21+/S21 Ultra
Wanna make a unique ringtone for your phone? Or want some special when calls or messages notify you? If you are on Samsung Galaxy S21, lucky as you are, you are flexible to set any music file on phone as ringtone. But for a specific extraction of the song, that goes beyond what your phone can do for you. So here in this article, we will show you a universal way on how to tailor a music file and make it a perfect ringtone for Samsung Galaxy S21. Also, you will be taught to set ringtone off of Spotify. For further, let's go with the steps.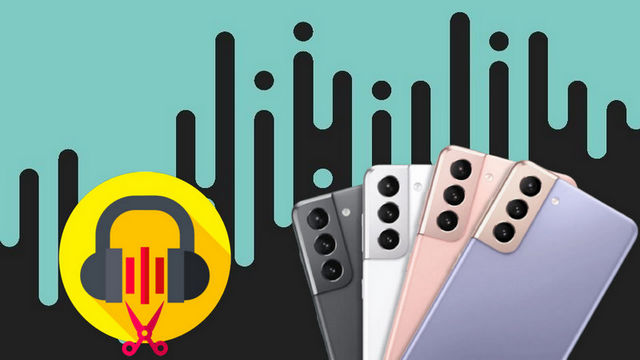 Part 1: Turn Any Song to Ringtone
If you want to set your PC songs as ringtone on your Samsung Galaxy 21, you can actually use Syncios Mobile Manager. That is a tool with Ringtone Maker function built in Syncios Mobile Manager, which is more secure, easier to customize song as ringtone, including messages notification sound. You can take any song from PC to the music track and tailor it into both messages notification sound and phone ringtone. If you are still confuse with that, let me show you with the program figures with steps required.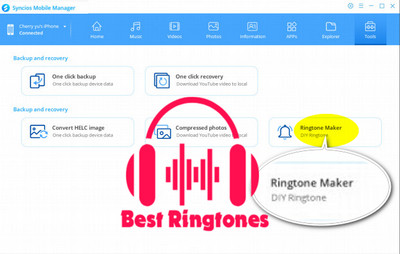 Syncios Mobile Manager
Support to transfer, edit, backup, manage, view mobile data such as contacts, apps, photos, music, ringtone, videos, SMS messages, eBooks and more.
Handy tools: HEIC Converter and Photo Compression, Ringtone Maker.
Fully compatible with latest Android and iOS devices.
Step 1:Run Syncios Mobile Manager on your computer. (For Windows user, please run Syncios Toolkit and tap into the 'Mobile Manager' module)
Step 2:Navigate to 'Toolbox' tab on the top menu, you can see some handy tools including One-click backup, One-click recovery, HEIC converter, Photos Compression and Ringtone Maker.
Step 3:Click into the 'Ringtone Maker' function. Right now, you are right here to start a ringtone customization.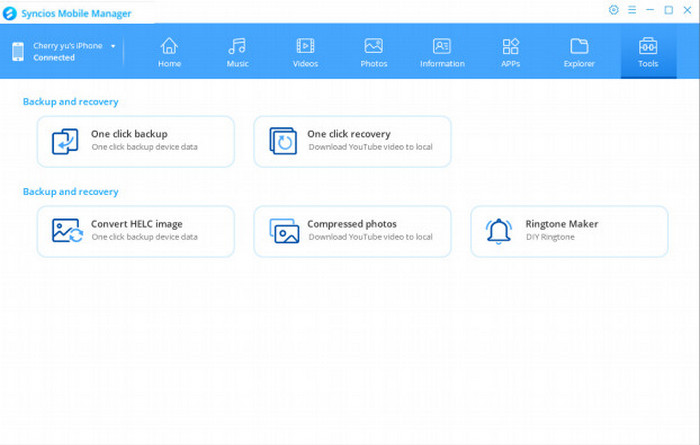 Option 1: Tailor Songs Existing on Samsung Galaxy S21 to Ringtone
Prefer to set songs on Samsung Galaxy S21 to ringtone? That's good. You can simply go with these steps below. Here need to remind that songs must be purchased from service or having directly downloaded to your device before, so that Syncios can read and load the songs accordingly.
1. Simply tap 'Select from device' and then program will load the music files existing on your phone.
2. On the list, choose one of them to make a further customization.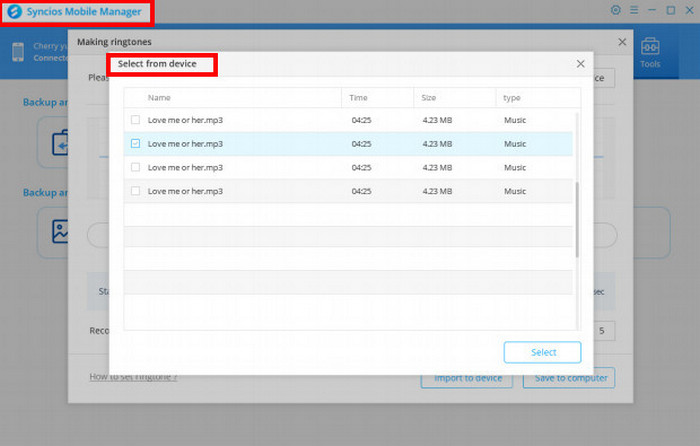 3. Trimming the start and the end of the ringtone based on the complete track. The recommended length for a ringtone is about 30 seconds. And to sound good, be sure your ring tones are loop-able, meaning that the end fits to the beginning.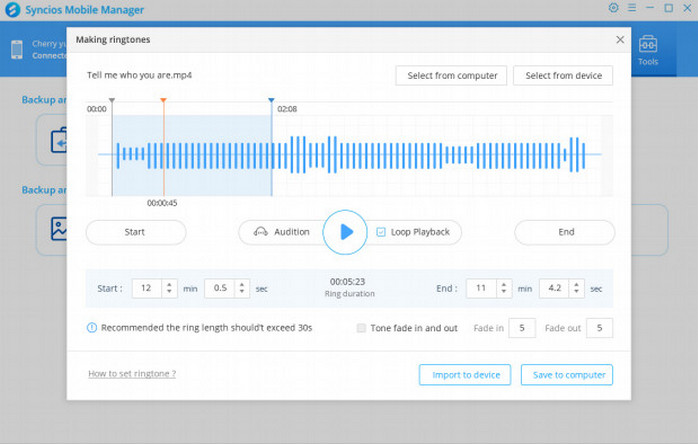 4. Finally tap 'Import to device' to save it to your phone. Or you can hit on ' Save to computer' for a backup. So that you can apply it to other phone as long as you want.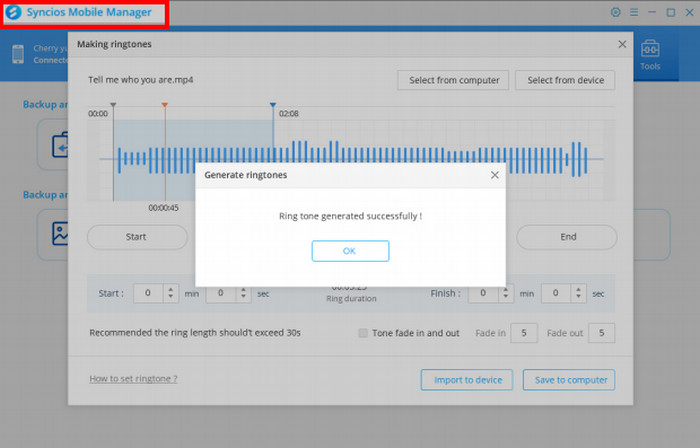 Option 2: Tailor Songs from Computer to Ringtone
If the songs are saved on PC exactly, you can directly choose to turn song to notification sound and save them as ringtone to your device.
1. Simply tap 'Select from computer' when you are prompted to select one music file from PC local folder.
2. On the music track, set the start and end point of the song. You can also add effects like fading in and out with exact seconds.
3. Right now, tap 'Import to device', and the just tailored sound track will export as ringtone and save to your phone.
By the way, if you are to set messages notification sound, tick of the 'SMS Ringtone' at the very beginning when start to edit the track. SMS ringtone will be limited to a length with 25 seconds at most.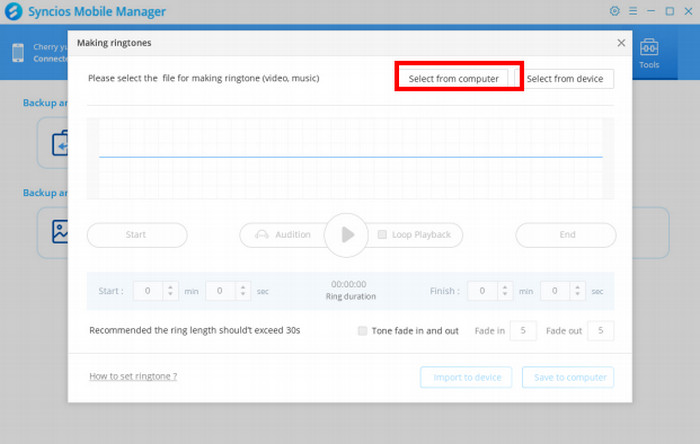 ---
Part 2: Apply Ringtone on Samsung Galaxy S21/S21+/S21 Ultra
Now, everything becomes fairly familiar as you do some settings on your phone. To apply the ringtones as messages or call notification, you can:
Step 1: Go to 'Settings', then tap 'Sounds and vibration'.
Step 2: Check that 'Sound' is selected as the "Sound mode", then tap 'Notification sound'.
Step 3: Select the music file, where you can see your customized ringtones are provided as option. Choose it ad then tap the return button to apply the changes.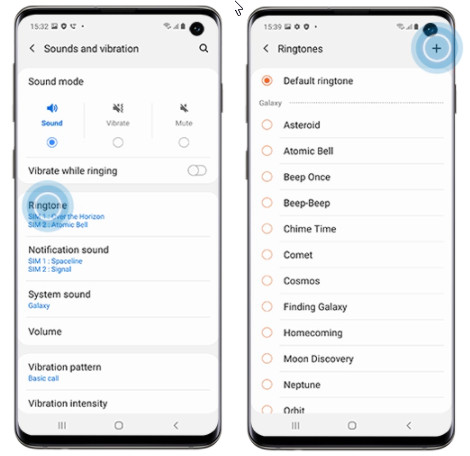 ---
Conclusion
Have you learnt that how to set your favorite song as ringtone? Above way is gone smoothly with all Samsung Galaxy S21 series phone. Besides ringtone maker, you can still own one Syncios Mobile Manager to organize your personal data on Samsung Galaxy S21 like Contacts, Messages, Photos, Videos, Apps and more. If you want more tips on transfer, backup and restore, tell us on the comment part, leave a messages to let us know.
Syncios Ringtone Maker (Win and Mac):