Top 6 Guides to Transfer WhatsApp [2021 Updated]
Ever you come across WhatsApp transfer in various situations, like when you are switching to a new phone? Or when you need to export the WhatsApp messages for a paper file? In large chance, you can't avoid a WhatsApp migration situation in 5 years as long as you are alive on WhatsApp. So to sort out all these situations, in this article, we are telling you 6 guides on WhatsApp transfer, which are the widely-used in 2021 and later. Every guide deserves your attention so you can simply help yourself out.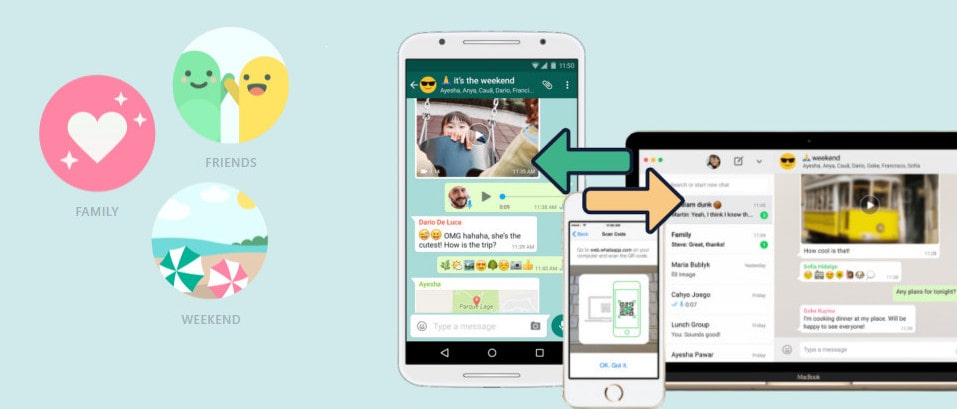 Guide 1: Transfer WhatsApp to Windows/Mac Computer
If you are to make a WhatsApp backup to computer, then in the first guide, you can learn how to transfer WhatsApp contents on your phone to Windows or Mac computer. It is always not a bad choice to backup things on mobile phone to a computer. And this thought will be uppermost when you are to transfer a large amount of WhatsApp data on your phone. Computer or desktop-like external drives will help to free up more available space for your phone after taking all or only the essentials of your WhatsApp data from the phone.
3 common situations happen a lot in daily life when people are dying to transfer WhatsApp to computer. Hence we list some how-to-fix steps in every situation. So let's take a look at guidance in each case.
📢Situation ①: Transfer WhatsApp from iPhone to Computer via iTunes
An iTunes backup includes almost all data and settings on your iPhone, iPad, or iPod, including WhatsApp and its data. However, although it's free to make a backup of your WhatsApp data on your iPhone using iTunes, it's really not a flexible solution given that you have to back up other data and settings together with the WhatsApp messages.
1. Connect your iPhone to your computer with a USB cable and wait for iTunes to launch automatically.
2. In iTunes, click the device icon and select the 'Summary' option on the left panel.
3. On the right panel, under the 'Backups', choose 'This computer' and click 'Back Up Now' to start a full iPhone backup. On this process, your WhatsApp chats and WhatsApp attachment will be synced and stored to PC as well.
It seems simple to complete an iPhone WhatsApp Transfer via iTunes, but you will need to restore the whole device from the iTunes backup, and further to re-access your WhatsApp conversations. But if you have done by this way, we share a laborsaving way in Guide 5 to restore only WhatsApp data from iTunes backup.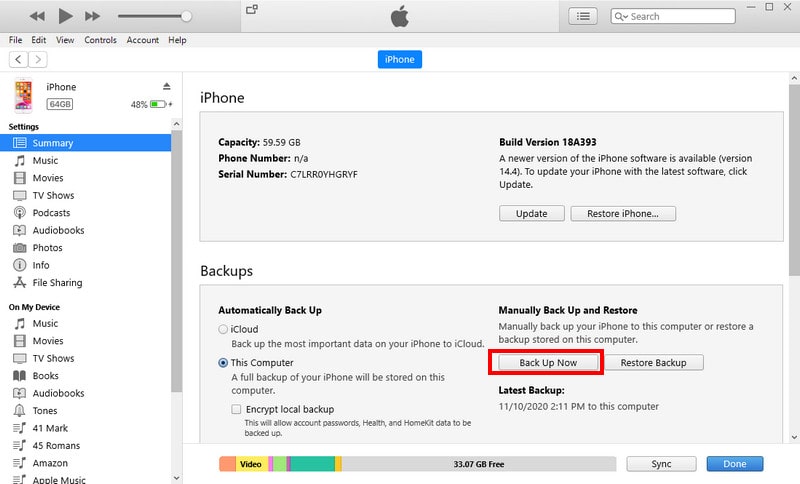 ---
📢Situation ②: Transfer WhatsApp Chat History from Android to Computer
WhatsApp also provides web service that users can use to easily backup their chat history. But this method is not applied for text and audio messages.
1. Go to "web.whatsapp.com" in the browser.
2. Open your WhatsApp on the phone. Press menu icon and tap on "WhatsApp Web", scan the QR code on PC screen.
3. Choose the contact, and you'll see all the conversations. Click the file and it will be displayed in a preview mode. Click the download button on the upper right corner. Then your WhatsApp messages can be transferred to PC/Mac.
---
📢Situation ③: Transfer WhatsApp from iOS/Android to Computer
Last situation comes with a solution that perfectly made up shortcomings generated in situation 1 and 2. If you own both an iPhone and Samsung or Huawei (Or any Android supported phone), you must be dying to find a wonderful solution, which is supported to transfer WhatsApp data from both iPhone and Android to computer, convenient to transfer a large size of WhatsApp data, easy to restore at any time, and able to preview before you restore backup from computer to your phone. So in this situation, we give an excellent solution letting you transfer WhatsApp to computer and save your time and effort to do an opposite transfer (PC to Android or iOS) if necessary. Go and follow with the steps below:
Step 1:Run Syncios WhatsApp Transfer on your Windows or Mac computer. If you have no idea what it is and where you can get one, directly tap the download button attached below to have a free trial.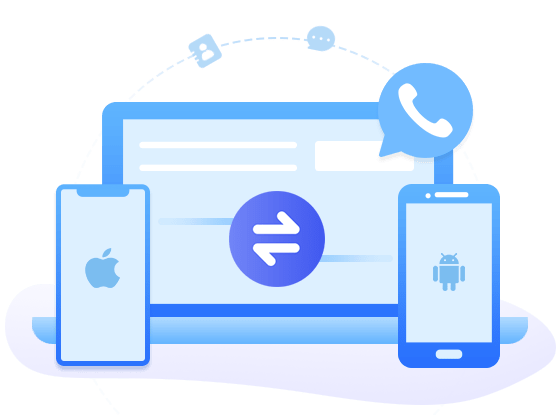 Backup WhatsApp on iPhone/Android to a computer.
Export WhatsApp backup to HTML and CSV files.
Preview the backup content and print all data you want.
Transfer WhatsApp between iOS devices and Android.
If you are on Windows computer, enter 'WhatsApp Transfer' mode on Syncios Toolkit to initiate the program. If you are Apple computer, choose the Mac version above to get the program right now. Mainly 4 functions you can handle with the WhatsApp contents with Syncios WhatsApp Transfer program. They are 'Transfer WhatsApp between 2 devices', 'Backup WhatsApp (to PC)', 'Restore WhatsApp from local path', and 'Restore WhatsApp from iTunes Backup'.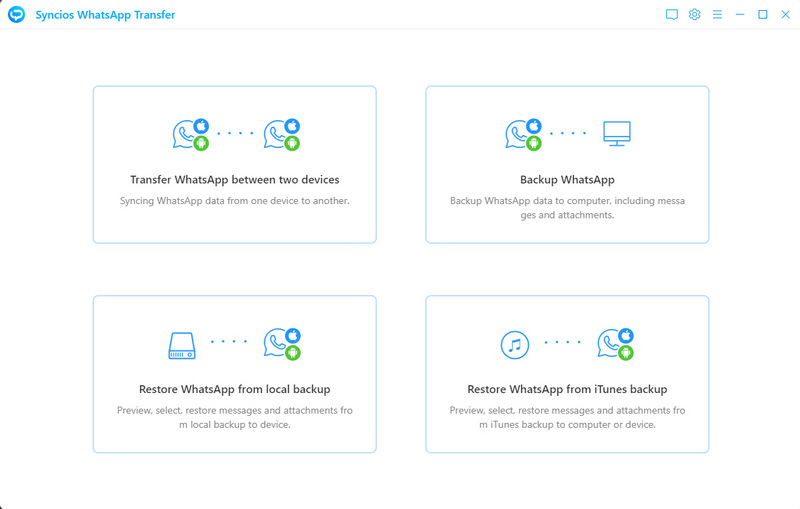 Step 2:On the homepage of the program, there is a 'Backup WhatsApp' module, which is supported to backup WhatsApp messages and WhatsApp attachment on iPhone and Android to Windows or Mac computer. Click into it.
Step 3:Right now, it is your turn to connect the phone. It depends on whether you are to back up the iPhone or Android WhatsApp data. Then connect the phone to computer with the USB lighting cable.
Step 4:As long as phone is connected, Syncios WhatsApp Transfer will go for the WhatsApp chats and attachment backup process. WhatsApp backup will be put on computer at local. Also you can further to view the contents within the program at any time.
By this way, if you want to restore the WhatsApp backup on PC to your original phone, you can go by 'Restore from Local backup' on program homepage >> Choose the backup file to 'Browse' >> Select certain contents and instruct 'Recover to Device' >> Connect receiving phone and proceed the transfer.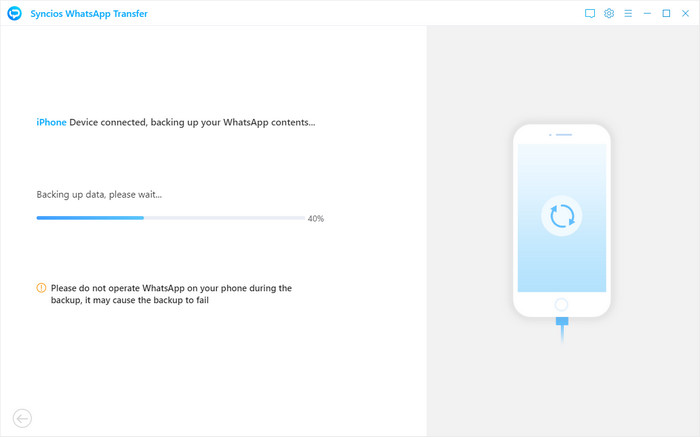 ---
Guide 2: Transfer WhatsApp Data from Android to iOS Device (Gmail Account)
You can transfer your WhatsApp messages from Android to iPhone using a Gmail account. But we have to admit that this is a tedious process as you can transfer only one chat at once.
1. On your Android device, open WhatsApp and go to 'Settings' on the upper right with 3 dots.
2. Click on 'Chats' and then select 'Chat history'.
3. Tap on 'Export Chat' and select the contact whose chat you want to transfer.
4. Now, you can select whether you want to include the media in the backup or not.
5. Select 'Gmail' way and enter the recipient email address. You can use your own email address here.
6. Tap send and restore this message in your iPhone.

---
Guide 3. Transfer WhatsApp Data from iOS to Android Device (Email)
Conversely, if you are to sync individual WhatsApp message from iPhone to Android, transfer via email could be enough for you. To Transfer WhatsApp data from iPhone to Android, you can export WhatsApp conversations via an email and then check the email that contains the WhatsApp chats from your Android phone. By the way, this solution is open for only a small amount of messages to transfer. If the WhatsApp messages to transfer are too large, you might need to check in Situation ③, Guide 1.
1. Open WhatsApp app on your iPhone and tap on 'Chats'.
2. Find the conversation you want to export. Swipe right to left across the conversation and tap on the 'More' button in the pop-up menu.
3. Select 'Export Chat' as well as 'Attach Media' from the Share selector and choose 'Mail' way to send the messages.
4. Enter the email address that you have access to the Android smartphone. After that, tap on the Send icon to the top right corner
Once you send the chat, this will appear in your email and you can retrieve it on your Android, follow the above steps for each chat conversation that you want to export and this will take some time and also end up in multiple emails before you are done.
5. From your Android device, open the mail application and find the mail that contains the exported chat history.
6. Download the file onto your smartphone. Now, delete the WhatsApp installation on your Android device and re-install it from the Google Play Store. Open the WhatsApp application and proceed with the setup, tap on the Restore option when prompted in the setup menu, the restoration will complete, and then tap on the Next button. And it's done.

---
Guide 4. Transfer WhatsApp Data between iOS to Android Device (Excellent)
Syncios WhatsApp Transfer provides 'a direct phone-to-phone WhatsApp transfer', which is fully compatible with iOS and Android device. You won't be restricted to the fact that the target phone is an iOS or Android. Instead, you can have a complete control of the transfer.
Step 1:Download and install Syncios WhatsApp Transfer onto your computer in advance. If you own a Mac computer, then do pick Syncios WhatsApp Transfer for Mac version to get start.
Step 2: Obviously, go and tap into the first function 'Transfer WhatsApp between 2 devices' to continue. At this moment, you are supposed to connect your iOS and Android phone to program with USB cable. If you are likely to transfer from iPhone to Android phone, make sure source phone are placed on the left, and target phone on the right. If they are not, tap the 'Flip' button to adjust them.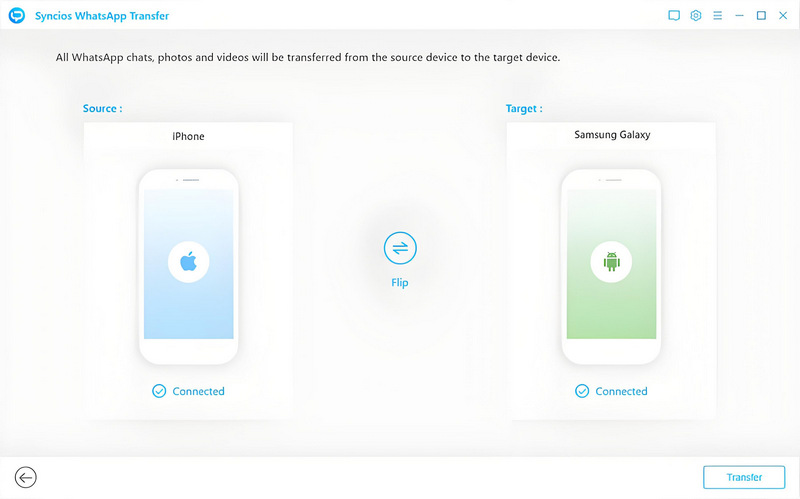 Step 3:Alright, click the 'Next' button to move on. It will pop up a prompt to remind you that data existing on target phone will be erased if you are to transfer WhatsApp data from iPhone to Android / Android to Android. Or a prompt noting that either merge or delete the old data on target phone when you are to transfer WhatsApp data from Android to iPhone /iPhone to iPhone.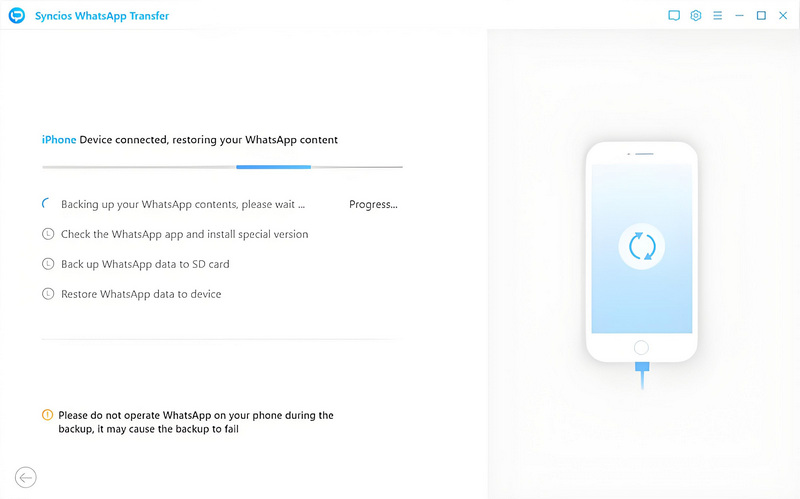 ---
Guide 5. Restore WhatsApp Data from iTunes Backup to Android/iOS Device
Whereas, iTunes backup is what most iPhone users are fond of storing WhatsApp contents on PC (Refer to the Situation 1, Part 1). The chief drawback of this one is that users are not able to view and select certain contents to backup to, nor do they know the smart way to restore the backup files if they are in need. If you have still kept Syncios WhatsApp Transfer in mind, this function you will love.
Step 1:Run on Syncios WhatsApp Transfer to the homepage. This time go and reach 'Restore WhatsApp from iTunes backup' module.
Step 2:All the WhatsApp backup you made to iTunes is now shown on the platform window. Pick up the latest one to restore and click the 'Browse' to preview in details.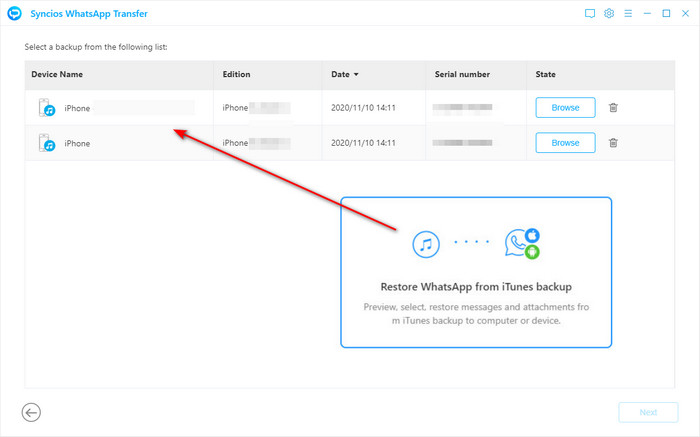 Step 3:Go ahead, select the WhatsApp messages along with the photos or video under WhatsApp Attachment tab on the left. And tap 'Restore to device' to next step.
Step 4:Last, connect your iPhone or Android to receive the the selected WhatsApp contents. Did you find that you can simply make an iTunes Backup restore to an Android phone, and this is what exactly iTunes alone is not able to make it.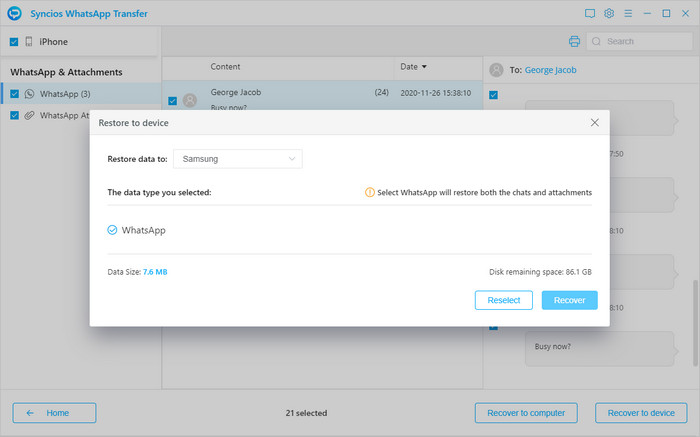 ---
Guide 6. Recover Deleted WhatsApp Data to iPhone/iPad
If someone is looking for guidance on recovering the lost or deleted WhatsApp data, they can refer to this guide to find out the data back to iPhone or iPad. So to recover the deleted and lost WhatsApp messages, you can easily work out with Syncios iOS Data Recovery tool. This one is designed to scan and analyze the data ever existed on iPhone and iPad. Then extract them back to program for preview. Based on this mechanism, users can find out the deleted data and instruct a recovery operation.
Step 1:Firstly is to install Syncios iOS Recovery on your computer and then connect the iPhone to program under the 'Recover from iOS Device'.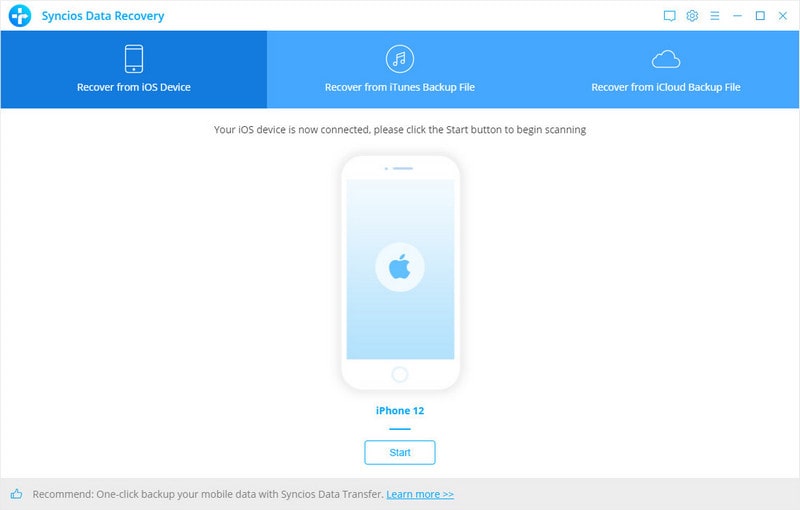 Step 2:Following, you are supposed to select types of the files you would like to scan from your iPhone. So choose option 'WhatsApp' and 'WhatsApp Attachment' then tap 'Next'. And then wait for a while to scan and it will show you result of the selected files.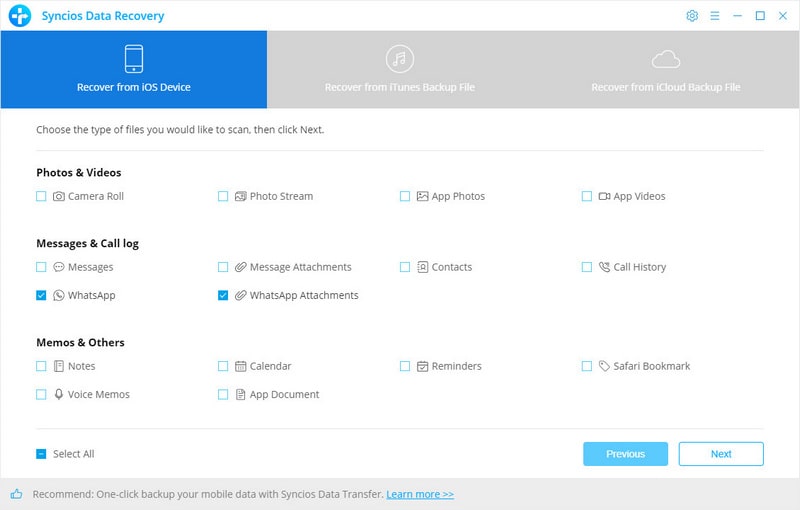 Step 3: The result after scanning shows you all the WhatsApp messages and WhatsApp attachment. By reaching out to the optional box, you can view the files by Deleted Data or Existing Data. Tap 'Show only Deleted Files' then selectively choose the real WhatsApp messages you need.
Step 4: Click 'Recover to iPhone', and it will then easily restore the deleted WhatsApp messages to your iPhone. And then for the recovery of WhatsApp attachment, just do as you do to recover the deleted WhatsApp messages with above steps. For the WhatsApp attachment, you just choose the files (Photos, Videos and Documents) you want and click on 'Recover to iPhone'. You will as well get the deleted WhatsApp attachment back easily.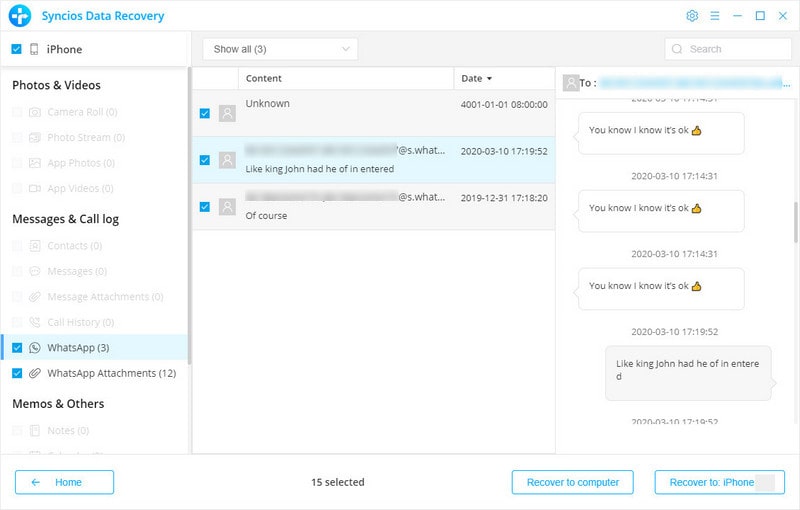 ---
Conclusion
In this article, we are mainly showing you 6 guides on transferring the important WhatsApp data on different situations. You will gain an overview of the data migration including backup and restore. Zoom through up to every guide to find out the best way you regard. If you have more ideas on WhatsApp transfer in 2021, would you like to share your experience with people in the comment part?
Syncios WhatsApp Transfer (Win and Mac):
Syncios iOS WhatsApp Recovery (Win and Mac):