Backup, Export and Print WhatsApp Messages on Samsung Galaxy S21/21+ (Ultra)
WhatsApp is a brilliant innovation on instant messaging in the world. People are able to freely chat and share information with their friends, partners and family. Even though WhatsApp users are confident about Signal's software to encrypt its messaging provided by WhatsApp, they should learn to know that backing up the WhatsApp messages and attachment is a big plus, eliminating the inconvenience of switching phone or phone loss at sometimes. So in this article, we are going to share with you how to take a global approach to backup, export also print out the WhatsApp messages and attachment (photos, videos, audios and document files attached in the chats) on your Samsung Galaxy S21/21+ (Ultra). And you, can also learn it how easy to complete a process of backup, export and print WhatsApp messages with only one tool, which needs less attention.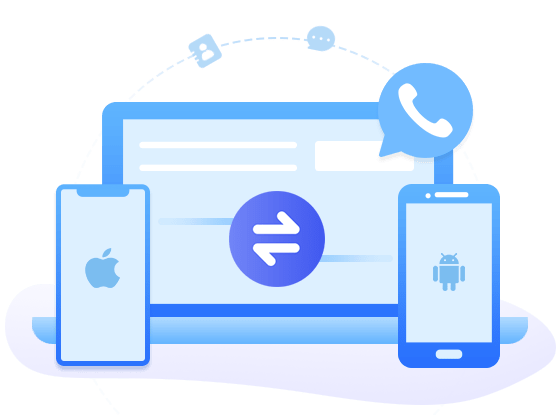 Backup WhatsApp on iPhone/Android to a computer.
Export WhatsApp backup to HTML and CSV files.
Preview the backup content and print all data you want.
Transfer WhatsApp between iOS devices and Android.
NOTE: 2 versions of the program are given for Windows and Mac computer. If you are Windows user, you will enter the program by installing Syncios Toolkit at first and then click into 'WhatsApp Transfer' module to formally start up Syncios WhatsApp Transfer on your computer. If you are on a Mac, directly tap the download button above to work freely with your WhatsApp data on Samsung Galaxy S21.
Part 1: Backup WhatsApp Messages and Attachment Samsung Galaxy S21/21+
Option ①: Backup WhatsApp to Google Cloud
In general for Samsung Galaxy S21 users, WhatsApp official enables Android users to upload the WhatsApp history generated in daily use to Google Drive. So to make you WhatsApp backup to Google drive, you can go and set up backups on your Samsung Galaxy S21. By this way, you can backup your chat history and media files to a certain Google account. But do make sure you have sufficient space on that cloud.
Things you need: 1. An activated Google Account. 2. Enough space for the backup file. 3. A good-working Internet connection.
Step 1: Run the WhatsApp app on your Samsung Galaxy S21 phone.
Step 2: Tap More options > Settings > Chats > Chat backup > Back up to Google Drive. Select a backup frequency other than Never.
Step 3: Select the Google account you'd like to back up your chat history to. If you don't have a Google account connected, tap Add account when prompted and enter your login credentials.
Step 4: Tap Back up over to choose the network you want to use for backups.
---
Option ②: Backup WhatsApp Messages and Attachment to Computer
For a large WhatsApp messages backup, the idea is to back up all WhatsApp history along with the attachment to computer, thus you can access to the backup contents without any limitation, that will be a much fun experience.
Things you should prepared for this way: 1. A transferable tool---Syncios WhatsApp Transfer. 2. An Original USB cable (That comes with Samsung Galaxy S21 will be better). 3. A Windows or Mac computer is ready.
Step 1: The very first thing will have to do is to download and run Syncios WhatsApp Transfer on computer.
Syncios WhatsApp Transfer is an incredible helper on WhatsApp backup, restore and transfer in every aspect. Especially it builds a safe and stable connection to iOS, Android and PC, so you can achieve a WhatsApp data transfer between any 2 platforms among them. On the whole, there are four functional sections in program interface: Transfer WhatsApp between 2 devices, backup WhatsApp, Restore WhatsApp from Local file and Restore WhatsApp from iTunes Backup.
Step 2: Start up the program and you can go directly to the module 'Backup WhatsApp', tap into it. And then connect your Samsung Galaxy S21 to computer with a USB cable until program successfully recognize it.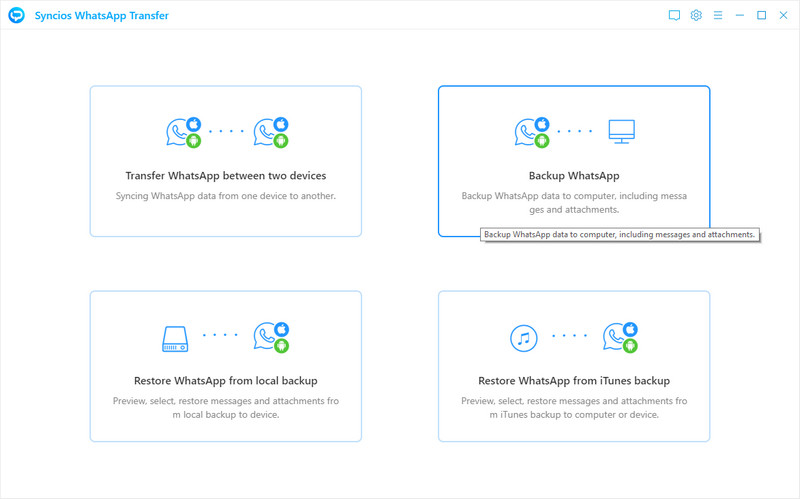 Step 3:At the moment, the program will do as you instruct to start backup the WhatsApp messages and attachment from your phone. Here need to remind you that a customized WhatsApp will be installed to your Samsung Galaxy phone, helping to read and write the WhatsApp data on device. The entire process is performed on users' mobile devices. It didn't collect any data. Therefore it is 100% safe to use the customized WhatsApp.
Step 4: After the process, the backup will be put on computer at local. And you can further to view the contents on program. To do that, turn back to the main interface and enter 'Restore WhatsApp from Local backup'.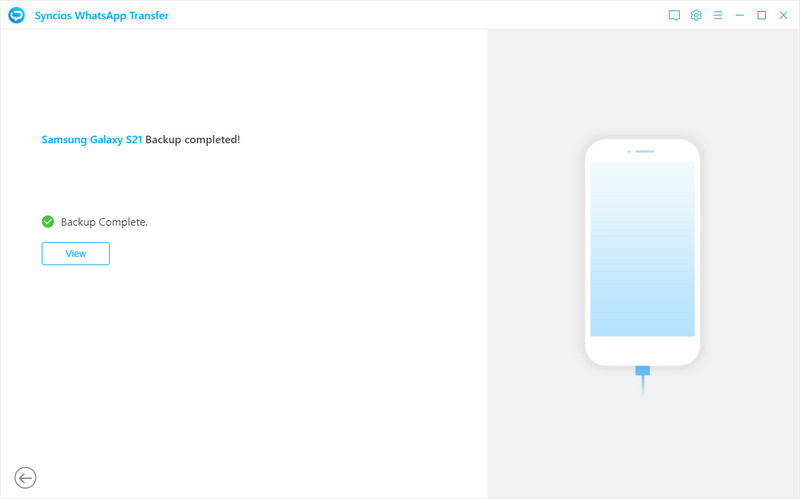 ---
Part 2: Print WhatsApp Messages on Samsung Galaxy S21/21+
Option ①: A Single WhatsApp Message Print out
Step 1: On your Samsung Galaxy S21, open the WhatsApp and go to the Settings >>> Chat Settings.
Step 2: Here, tap the option Backup Conversations. To export the history of an individual chat, tap and hold on the conversation or group and select Email conversation.
Step 3: Once the backup of the file is sent to your email, you can make the printout just like any other text file.
Apparently, this way to print out a single WhatsApp messages via Email, did take your efforts and patience. Except in extreme circumstances, it will not a special recommendation. I think the Option 2 in the following talk will be suitable for more.
---
Option ②: All WhatsApp Messages Print Out at One-Click
Continue with introduction in Part 1-Option2, you now get the WhatsApp messages and attachment backed up to computer. Still get assistance from Syncios WhatsApp Transfer, you can easily print out all the WhatsApp chats history along with WhatsApp photos, videos, audios and documents in one-click.
Step 1:On the homepage of Syncios WhatsApp transfer, head into 'Restore WhatsApp from Local backup'. This time, you dont' need to connect to your Samsung phone since all your previous WhatsApp backup files are all obtainable in the list.
Step 2:Tap into the backup file that just comes from Samsung Galaxy S21. Then tap the 'Browse' instruction to preview the backup contents in details.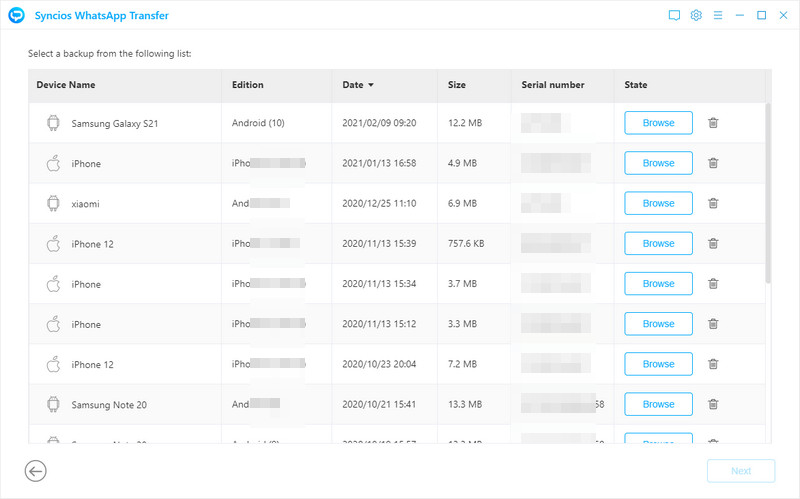 Step 3:As you can see, all the WhatsApp contents read on the window are much more comfortable than you preview on phone by single. Now choose the messages that you would like to print out by ticking off the box beside the contact. To print out all WhatsApp messages, you just directly click on the box in front of the WhatsApp and WhatsApp Attachment tab on the very left panel.
Step 4:Syncios WhatsApp Transfer gives a built-in option to print WhatsApp messages at your will. Now press the 'Printer' icon upper right the current window. Again click on the Print option to customize the printing parameters on printer and a final print operation to work it out.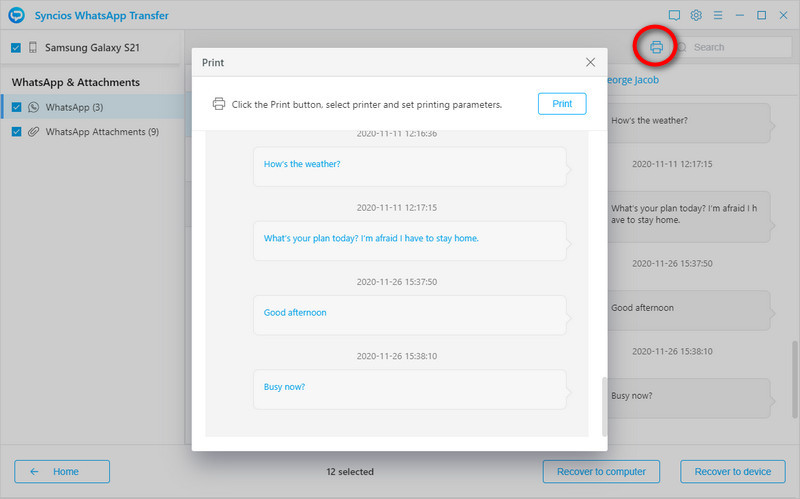 ---
Part 3: Export WhatsApp Messages and Attachment to Windows/Mac
Do you notice that there is a button 'Recover to Computer' provided when you preview the backup contents within Syncios WhatsApp Transfer. Exactly, this is a way giving users to export the backup contents from the backup to computer. And you can as well export the WhatsApp attachment to computer. If you have ever backed up WhatsApp on your Samsung Galaxy S21, this time, you can go with no need to connect your phone at this time, but you can simply export the WhatsApp data to computer at ease.
Step 1:On the homepage of Syncios WhatsApp Transfer, click into 'Restore from Local Backup'.
Step 2:Choose the WhatsApp backup of Samsung Galaxy S21 to browse. Here need to be noted that the place where you put the backup files at the time when you make the backup, should be unchanged, so the program can read and access the data as normal.
Step 3:Select both WhatsApp and Attachment option in the left panel. Then click on 'Recover to Computer'.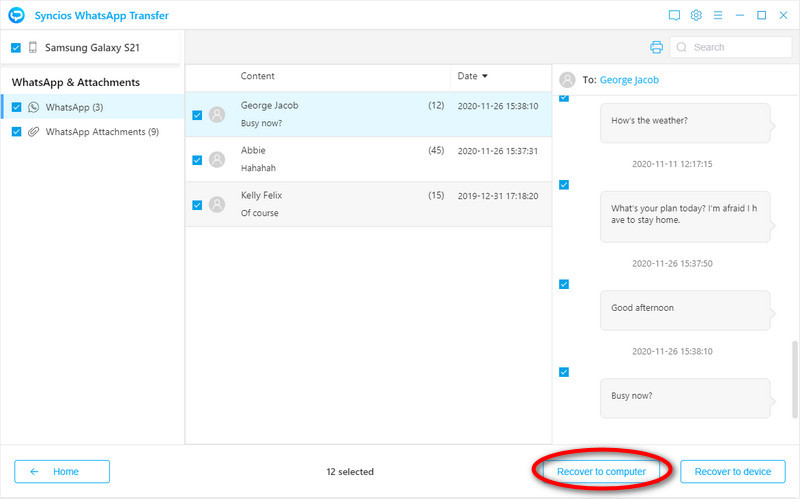 Step 4:Syncios WhatsApp Transfer supports several export formats, and will even export your entire WhatsApp chats in HTML for displaying on Web site. So decide which one you prefer to export and tap 'Recovery' to apply the settings as well as start the WhatsApp exportation.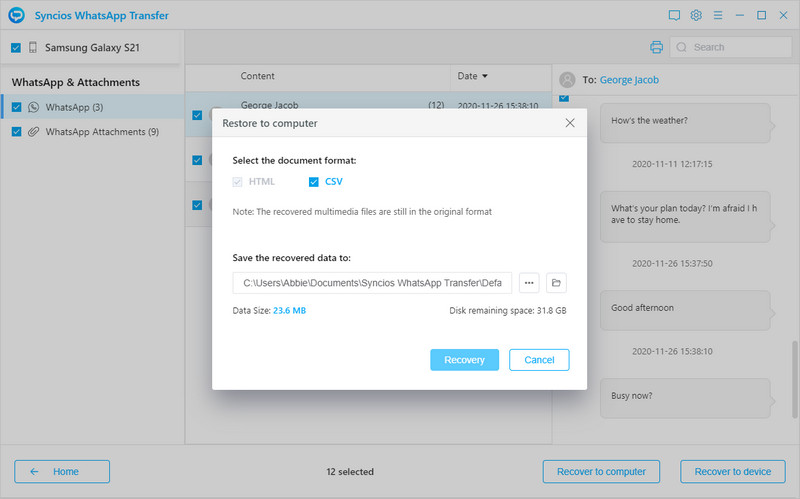 ---
Conclusion
So that was how you can simply get all over with your WhatsApp messages and attachment (photos, videos and audios) on Samsung Galaxy 21. Backup, Export and Print, all the steps that we think you will need for have been specifically introduced in this page. With Syncios WhatsApp Transfer, the whole process would be accomplished in a subtle way to avoid data loss or overwritten. You can clip this article to your collection and refer to it whenever you practice. If you have more ideas on the plans we come up with, tell us your views on the comment section.
Syncios WhatsApp Transfer (Win and Mac):