Transfer Data from Huawei P10/P20/P30 to Huawei P40/P40 Pro
Relying on Huawei P40 series, Huawei company catches people's eyes again. Huawei P40 series aim to revolutionize users' experience of speed, power and color precision. It might be a good choice for who like taking photos, since Huawei P40 series can take photos with high-quality whenever, whoever, wherever you want.
Anyhow, the first thing that we should do before change our Huawei P10/20/30 to the new Huawei P40 or P40 Pro, is to seamlessly move all data. If you've already got a new Huawei P40/P40 Pro now, simply read this tutorial to transfer everything from old Huawei to the new Huawei P40/P40 Pro.
Method 1. Transfer Data from Huawei P10/P20/P30 to Huawei P40/P40 Pro in one-click
Are you seeking for a one-click solution to transfer data between Android phones? Don't know which one is better? However, among so many tools to perform data transfer from Huawei to Huawei, Syncios Data Transfer should be the most multifunctional and recommended one. Why? That's because this program not only allows you to share types of data from old Huawei to Huawei P40/P40 Pro but also enables you to transfer data between cross-platform devices, from any other device, like iPhone and iPad, to your Huawei P40/P40 Pro. And Syncios program can support both the latest Android models and any older models. Let's see how to transfer data effortlessly between two devices in just a matter of single click.
Step 1Download and install Syncios Data Transfer
Step 2Connect Two Huawei to Computer

When you try to connect your Huawei to computer. You're supposed to enable debugging mode on it. Go to Huawei Settings >> System >> About phone to tap Build number for several times. Then, navigate to Back >> Developer options >> USB debugging. And please allow some necessary permission on your phone according to instructions, for example, when you see a message informs you 'Allow USB debugging?', simple choose OK.
After being successfully recognized, confirm the phone position is correct. Source phone should be put in the left-hand, otherwise, click on 'Flip' button to change.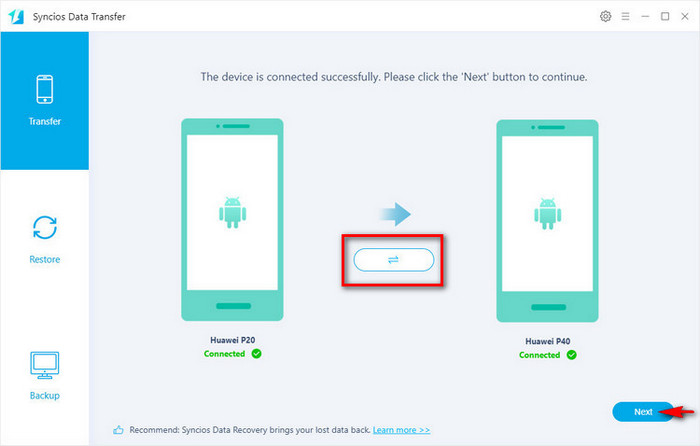 Step 3Select All Data to Transfer
Click on 'Next' button to continue, and in this page, you can click 'What can I transfer' option to view what types of data that you're allowed to transfer between two Android devices. As you can see, you can transfer photos, music, videos, messages, contacts, call logs, apps, bookmarks and calendar. Check all available items to load, then click on 'Next' > 'OK' button to start transferring.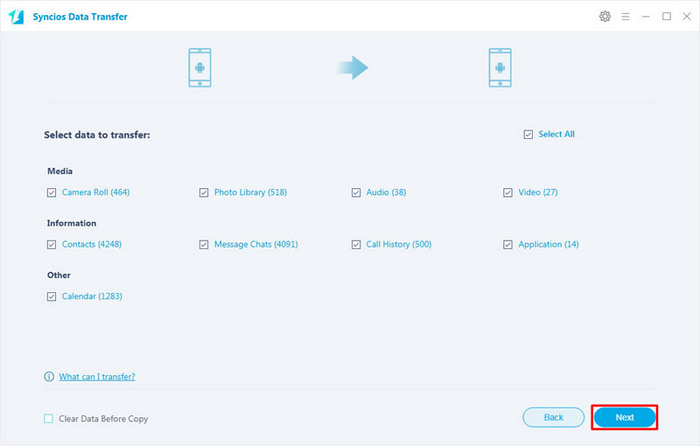 NOTE: Please keep unlocking the phone screens during the transfer process,
Method 2. Transfer Data from Huawei P10/P20/P30 to Huawei P40/P40 Pro Selectively
Certainly, someone might say, Syncios Data Transfer is really effective, but I think it not suit me perfectly, because I prefer to view detailed content and just choose part of them to transfer. Don't worry. Syncios team can always see your point. Syncios Manager can help you finish the steps with ease. You can flexibly manage Huawei music, videos, pictures, personal information and some other phone files free or charge. More importantly, Syncios Manager has the most human person's design. Several handy tools for you: ringtone makers, video downloader and etc.
Step 1Download and Install Syncios Manager
Connect your two Huawei phones to computer via usb cables, and if you encountered any Android device detection problems, you can find solutions here.
Step 2Backup desired content to Computer
As you can see, your Huawei data are divided into 5 modules: Apps, Contacts, SMS, Media and Photos. We will next take contacts as an example. To transfer contacts from old Huawei to Huawei P40/P40 Pro, go to Contacts module under Huawei P40. Wait a moment for loading, then you can view the content of every item. Check items that you wish to transfer, click on 'Backup' > 'OK' option to backup them to computer at first.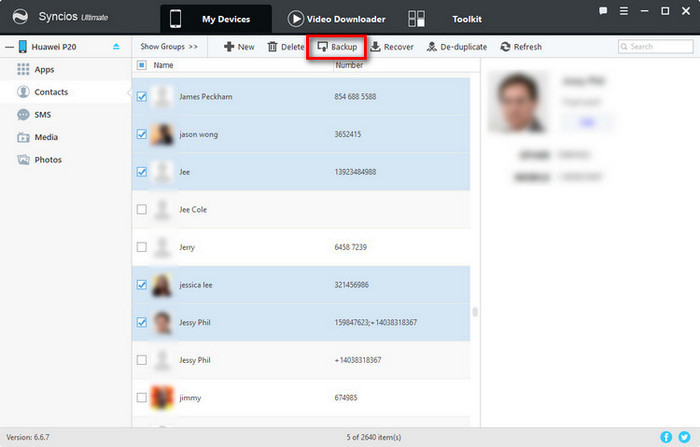 Step 3Restore the Data to Huawei P40/P40 Pro
Now, tap on 'Contacts' option under your old Huawei (Huawei P20). Then, click on 'Recover' button, find the data you saved just now from a pop-up windows, and click 'OK' to transfer them from computer to new Huawei P40/P40 Pro.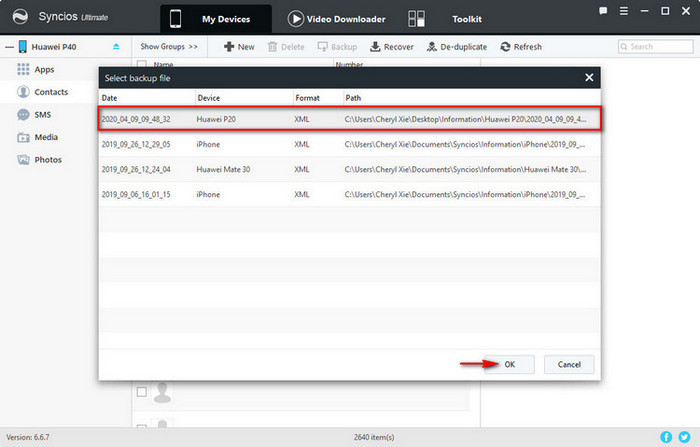 Method 3. Transfer Data from Huawei P10/P20/P30 to Huawei P40/P40 Pro via Phone Clone App
Phone Clone is a data migration app provided by Huawei. It aims to help Huawei users to easily and safely transfer photos, videos, contacts and so on with the wireless network encryption. Let's see how to move data between two Huawei phones with it.
NOTE: The App might not continue with the data transfer when being interrupted by Wi-Fi or other operations on phones, so please wait for patience until complete.
Step 1Install Phone Clone app on both Huawei phones, and you can download it from Google Play.
Step 2Then, just run Phone Clone on your new Huawei P40/P40 Pro, simple choose the 'This is the new phone' option. The QR code and a WLAN hotspot will appear on the screen.
Step 3Now, open Phone Clone on your old Huawei phone, touch 'This is the old phone', and scan the code on that screen. Certainly, you can choose CONNECT MANUALLY to connect your old pone via the WLAN hotspot number and password.
Step 4Check types of data that you want to move, tap on 'Transfer' button to begin.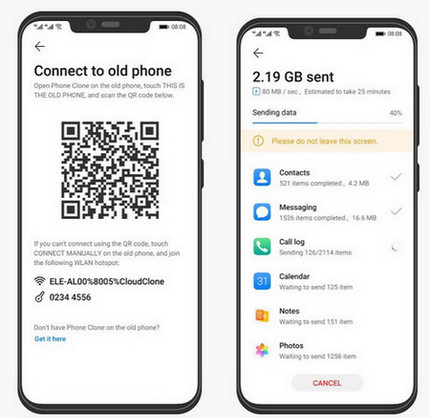 Conclusion
As above, you've learned about how to transfer types of data from old Huawei P10/P20/P30 to Huawei P40/P40 Pro. The easiest way is to use Syncios Data Transfer to move all data from one mobile phone to another simple in 1-click, or use Syncios Manager to transfer part of phone contents between phones selectively as you like. Also, application, like Huawei Phone Clone is also a good choice.