3 Ways to Sync Samsung Galaxy Note/S5/S6/S7/S8/S9 to Samsung Galaxy S10
The revolutionary camera that adapts like the human eye.
Have you ever thought of how to transfer data from Samsung to Samsung the fastest way? Whether you bought a new Samsung device or your existing Samsung device has broken. There are situations that demand data transfer from Samsung to Samsung. Knowing the right way would undoubtedly help you in transferring data from Samsung to Samsung devices. In case you are unsure about how to send data from Samsung to Samsung mobiles. We have these 3 amazing solutions for you. Follow this article to explore more!
Solution 1: Transfer Data to Samsung Galaxy S10 via Smart Switch
If are wondering about how to transfer files from Samsung to Samsung using Smart Switch Mobile app. We have got the answer for you. With this app, you are able to transfer a variety of data including contacts, messages, media files etc. You can wirelessly send data from an Android device to another. This app is primarily designed for switching to Samsung Galaxy devices at large. If you also need to move data from another Android phone to Samsung phone, you can jump to solution 2 and solution 3.
Step 1 Get Smart Switch on both of Samsung devices from its Play Store. Start the app on the old Samsung phone and select the mode of transfer. You can either transfer data from Samsung to Galaxy S10 wirelessly or by using a USB connector.
Step 2 You will be asked to select the kind of source device you have. In this case, select Android Device. Additionally, select the receiving device as well, which would also be a Samsung device. When you are done, connect both the devices together.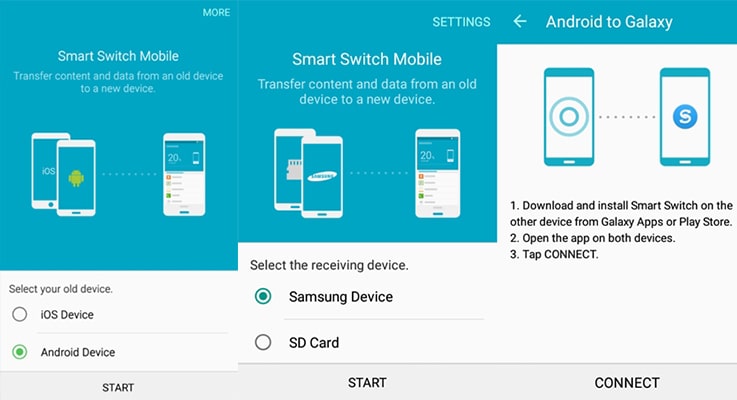 Step 3 You'll see a PIN on the receiving device. Match the PIN on both the devices in order to establish a secure connection before commencing the transfer process. Now, you can just select the kind of data that you wish to transfer.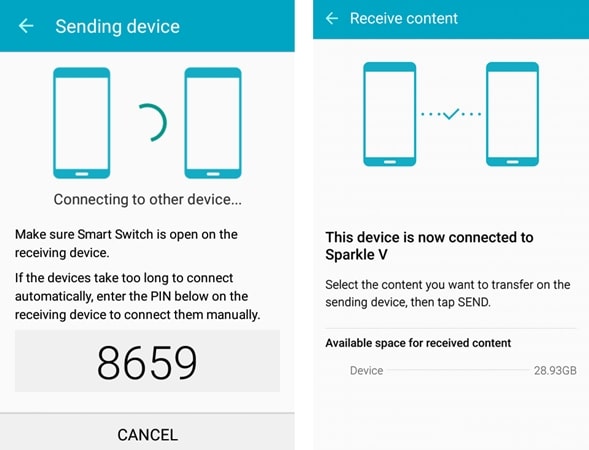 Step 4 After making sure that you have selected the data you need, tap on the Finish button. This will automatically initiate the transfer process. Now you just need to wait for a while as your new S10 will start receiving the data from your old Samsung phone.
---
Solution 2: 1-Click to Sync All Old Samsung Phone Data to Samsung Galaxy S10
Sometimes, Smart Switch could not give you a perfect answer. If you are looking for an alternative, then you can try Syncios Data Transfer. This can be used to transfer contacts, messages, call history, photos, videos, audio, and more from any Android phone or iPhone to Samsung Galaxy S10 with few clicks. Sounds pretty convenient, right?
Step 1 Get Syncios Data Transfer installed on a Windows PC or a Mac, launch it. Enable USB debugging mode on both old Samsung and Samsung Galaxy S10. Then connect both of phones to computer.
Step 2 Select Transfer mode from the main interface to migrate data between two phones. Make sure the source device (the old phone) is located on the left panel and the target device (Samsung Galaxy S10) is located on the right panel.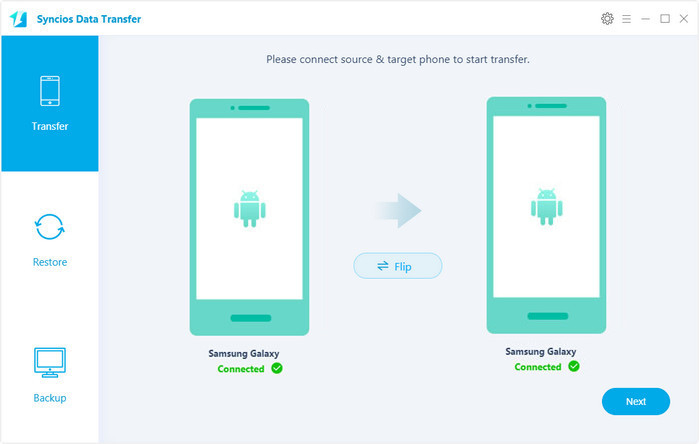 Step 3Syncios will start to load your source phone data. All old phone files are arranged one by one on the content box, including Contacts, Messages, Apps, Music, DCIM, Pictures, Videos, Call history, Apps and so on. Now you can choose any content to transfer at will. Hit Next button to transfer files from the old phone to Samsung Galaxy S10. The application will let you know as soon as the transfer process would be successfully completed. You can now disconnect your device and use it as per your needs.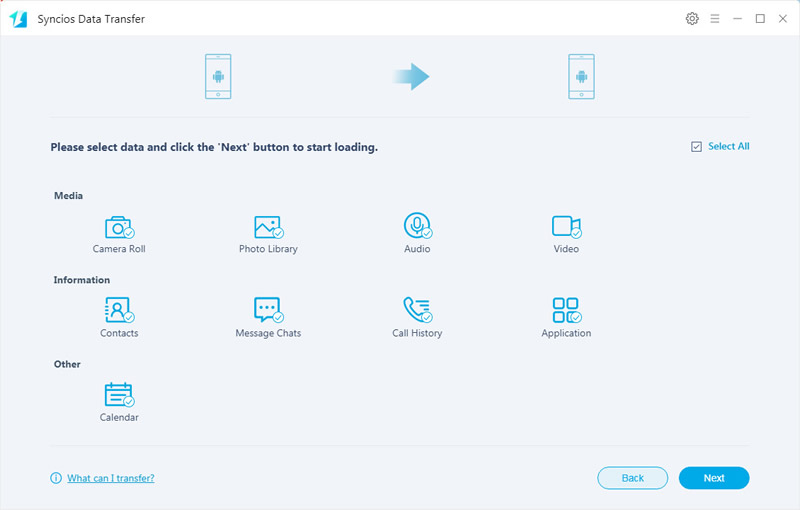 Video Tutorial - Sync Samsung Galaxy Note/S5/S6/S7/S8/S9 to Samsung Galaxy S10
---
Solution 3: Copy Old Samsung Phone Data to Samsung Galaxy S10 Selectively
Checking details of phone data before transfer is necessary for some users. It is recommended to use Syncios Mobile Manager. It offers a detailed phone data management for free. Try and explore more.
Step 1 Install Syncios Mobile Manager on your computer, then launch it. Connect the Old Samsung and the new Samsung Galaxy S10 to computer via USB cables. Keep both phones unlocked and check phone screen when connecting to make sure a successful connection.
Step 2 All data of both phones will be loaded and list on the left side. Firstly, make a complete backup of old Samsung to computer. Then restore them to your Samsung Galaxy S10 whenever you want. Navigate to any content, for instance, Photos. Choose a proper saving path. Select desired photos from old Android phone and click on Export to save them to PC.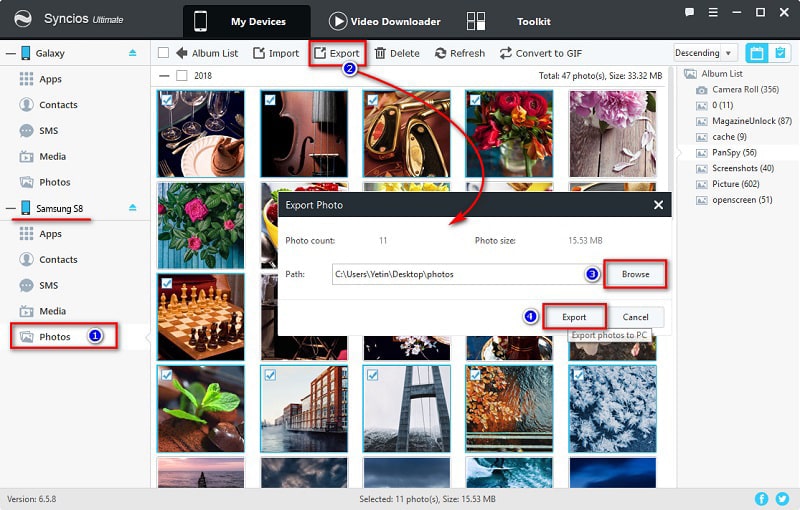 Step 3Then import those photos or pictures from computer to Samsung Galaxy S10. Under Samsung Galaxy S10 device, also choose Photos option. Tap Import on the top menu bar. Choose the saved pictures or images from computer and import them directly to your Samsung Galaxy S10.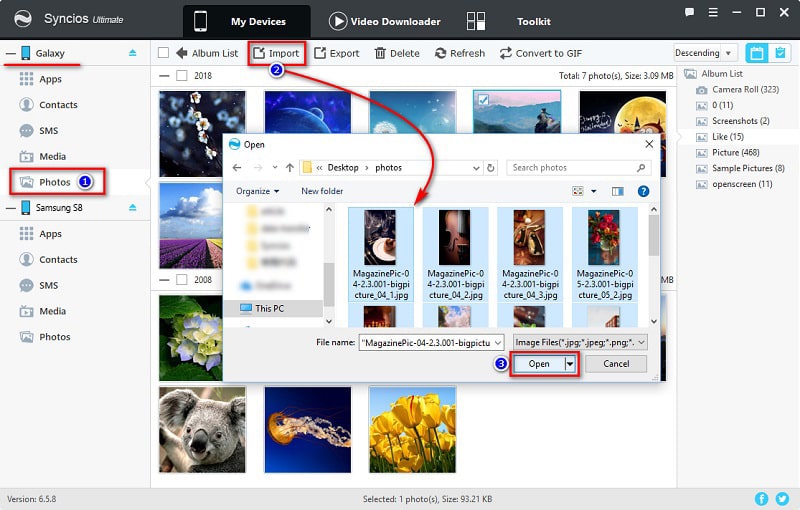 Tips:The options will be Export/Backup when transferring data to PC, and the options will be Add/Import/Recover when you need to import data from PC to device.
Conclusion
All these methods can achieve data transfer from old Samsung to new Samsung Galaxy S10. So every time when changing a new handset, you can use the methods above to realize data transmission stuff easily. Syncios Data Transfer able to sync all data from old Samsung handset to latest Samsung series directly while Syncios Manager supports to transfer desired contents between two Samsungs. You can choose the one you like to download. Have a try!
---