4 Ways to Transfer Android/iOS Data to Huawei P30/P30 Pro
With the development of technology, mobile phones have more and more memory, resulting in our mobile phones slowly accumulated very, very many contacts, text messages, call records, photos, pictures, documents, music, movies, video and other important data. And when we need to change a mobile phone, we need to face a problem! That's where the data needs to be transferred.
When you got the new Huawei P30 or Huawei P30 Pro, the first thing you need to do is to transfer all your data from old iPhone or Android phone to Huawei P30. And this tutorial is here to help you to transfer data from another device like iPhone, iPad, Samsung, Huawei, Sony, LG, Motorola, Google Phone, etc. to Huawei P30 easily. This tutorial shows you how to transfer data to Huawei P20 with few steps. Also, you can get knowledge of how to restore data from iTunes and iCloud to Huawei P30/P30 Pro.
Method 1. Transfer Data from iPhone to Huawei P30 Selectively
There are many ways to transfer data from an Android phone to Huawei P30. Unlike Android to Android, it is hard to move data from an iPhone or iPad to Huawei P30. Only with the help of a professional tool, the iPhone data could be copied to an Android device easily. The first way is to use a free tool, - Syncios iOS & Android Manager. It is well loved for its sleek and user-friendly interface, by which you are able to preview, edit, backup, restore or delete files of mobile phones more straightforward.
Start the Program and Connect the Phone
Step 1 : Download and install Syncios Manager on your computer. Run the program. Get your Huawei P30 and the old phone, turn on the USB debugging mode on Android device. Launch the installed Syncios Manager and use USB cables to connect both of old phone and Huawei P30 to the computer. Keep your phones unlocked in case of disconnection.
Backup Old Phone to Computer
Step 2 : The data of Android phone will be categorized into Apps, SMS, Contacts, Media and Photos. The data of iPhone will be categorized into Media, Photos, Ebook, Apps, and Information. Select files from old device and click on Export/Backup option to backup old phone data to computer.
Tips: For instance, to backup old phone messages to computer, go to Information > Messages under the old iOS device (go to SMS under the old Android device). Choose desired messages and click on Backup to save the selected contacts to PC.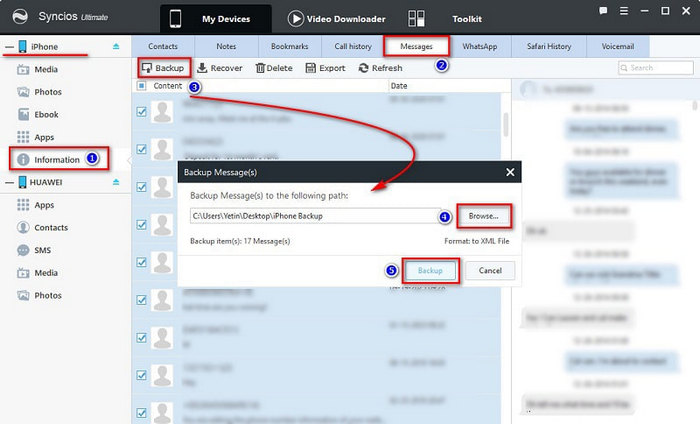 Restore Backup to Huawei P30
Step 3 : Navigate to Huawei P30 device, click on Import/Add/Recover option to restore backup files from computer to Huawei P30 from computer.
Tips: For instance, to restore old phone contacts from computer to Huawei P30, go to SMS under Huawei device. Click on Recover. Syncios will detect all backups. Choose the previous backup from the backup list to restore the saved messages from computer to Huawei P30.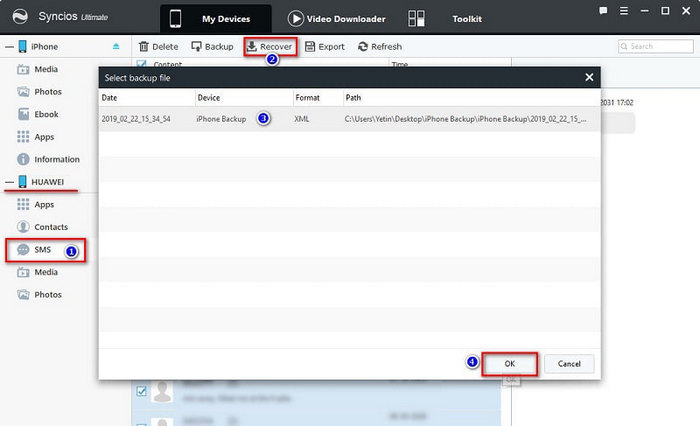 ---
Solution 2: 1-Click to Sync Android/iPhone Data to Huawei P30
Syncios Data Transfer is highly recommended for phone users as it makes it extremely easy to transfer all data from old Android and iOS devices without loss of quality, including SMS, contacts, photos, videos, call logs, audio files, and other files. In additional, you can also use this phone transfer software to backup and restore Huawei P30 data, as well as sync backup files from iTunes or iCloud to Huawei P30 easily.
Step 1 : Download and install Syncios Data Transfer on your PC, and launch the software. Choose "Transfer" mode from the primary interface. Now connect the source device (old phone) and target device (Huawei P30) to your PC using two good quality USB cables. Keep phones unlocked and check phones when connecting.
Step 2 : You have to differentiate between these two phones. The data will be transferred from the source device to the target device, in other words, please ensure that the old phone is located on the left panel, and the Huawei P30 is shown on the right panel. If they are in the wrong place, you can press the Flip icon on the middle to exchange their locations. After that, click on Next to continue.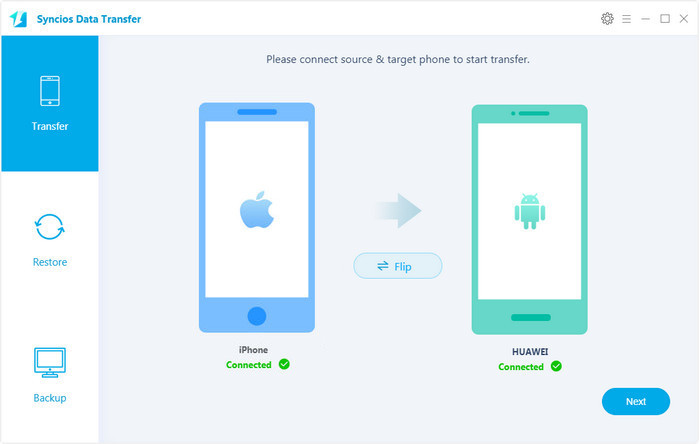 Step 3 : Check the data you want to transfer. Then click Next to start the process. In this process, you can see that the data you selected is being moved from your old phone to your Huawei P30. But you should be careful not to disconnect it until it's done. All your data from your source phone will be transferred to your target Huawei P30 phone.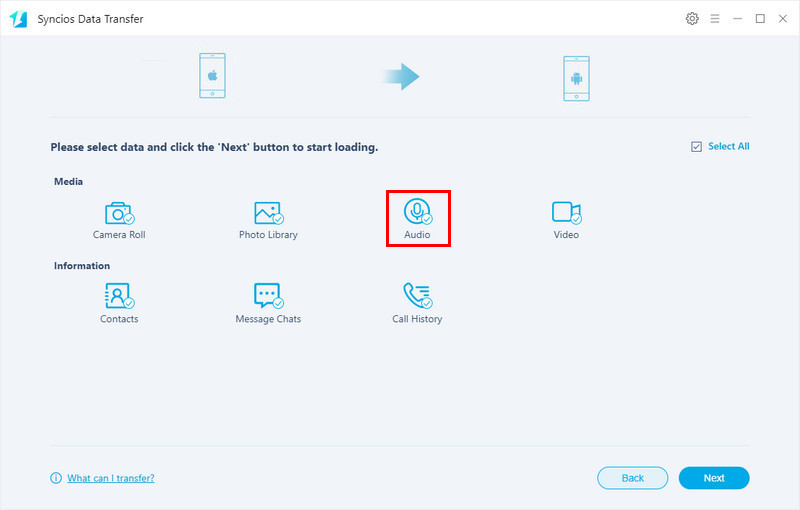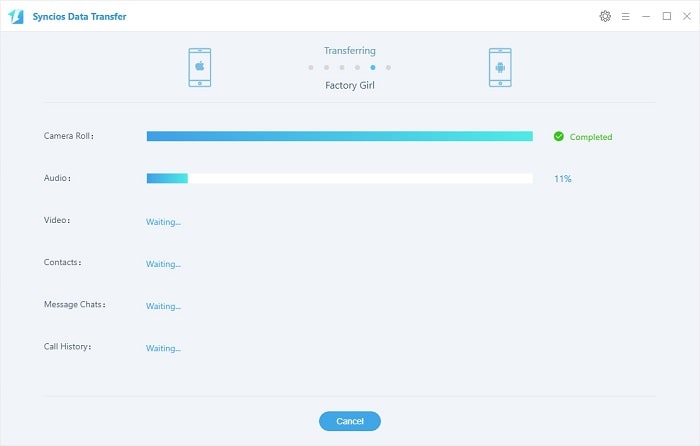 ---
Solution 3: Restore iTunes Backups to Huawei P30
Step 1 : Run Syncios Data Transfer on your computer. This time, you don't need old iPhone. Just connect your Huawei P30 to your computer via USB cable. Choose Restore mode and click on iTunes Backup. Syncios will load the saved iTunes backups from computer. Choose one iTunes backup from the pop-up list and return. Clck on Next to continue.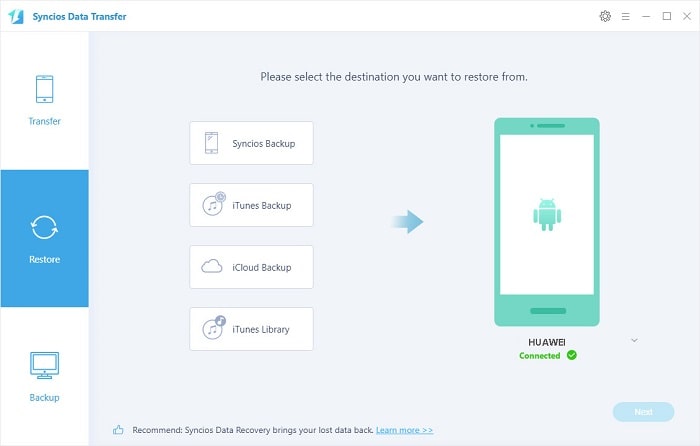 Step 2 : Select contents from the iTunes backup and click on Next to launch the transfer. Then wait till it completes.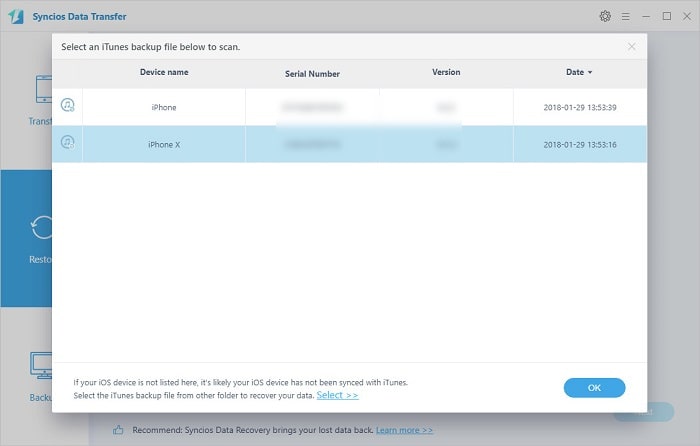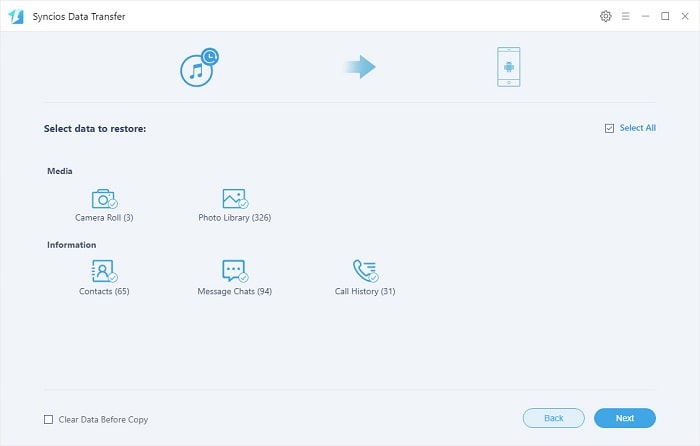 ---
Solution 4: Restore iCloud Backups to Huawei P30
Step 1 : Run Syncios Data Transfer on your computer. Just connect your Huawei P30 to your computer via USB cable. Don't need your iPhone. Click on iCloud Backup button under "Restore" mode. A pop-up window appears. You are required to log in with your iCloud account when the first time using Syncios.
Step 2 : Log in and choose one iCloud backup to download. Then return. Click on Next on the lower right.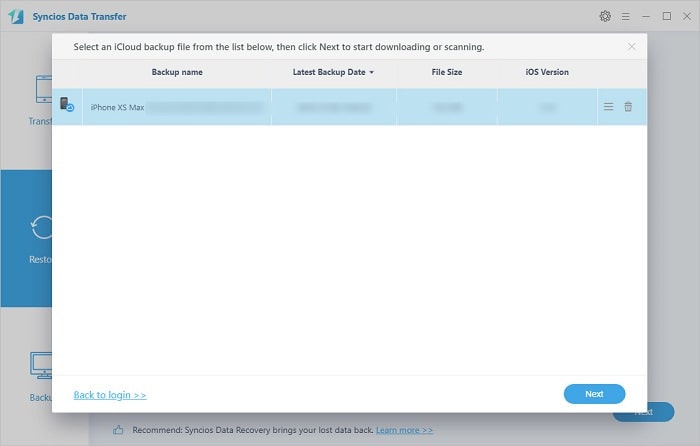 Step 3 : Select select files from this iCloud backup. Click on Next to start transferring iCloud files to Huawei P30.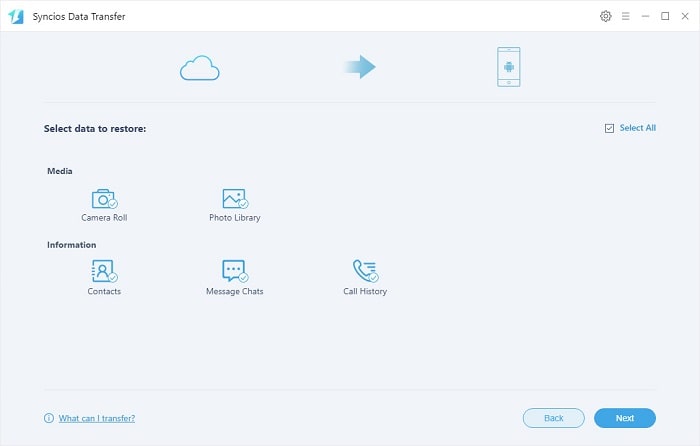 The End: Which solution do you prefer among 4 methods? Anyway, have a free try in case you need help from a professional phone management tool.
---